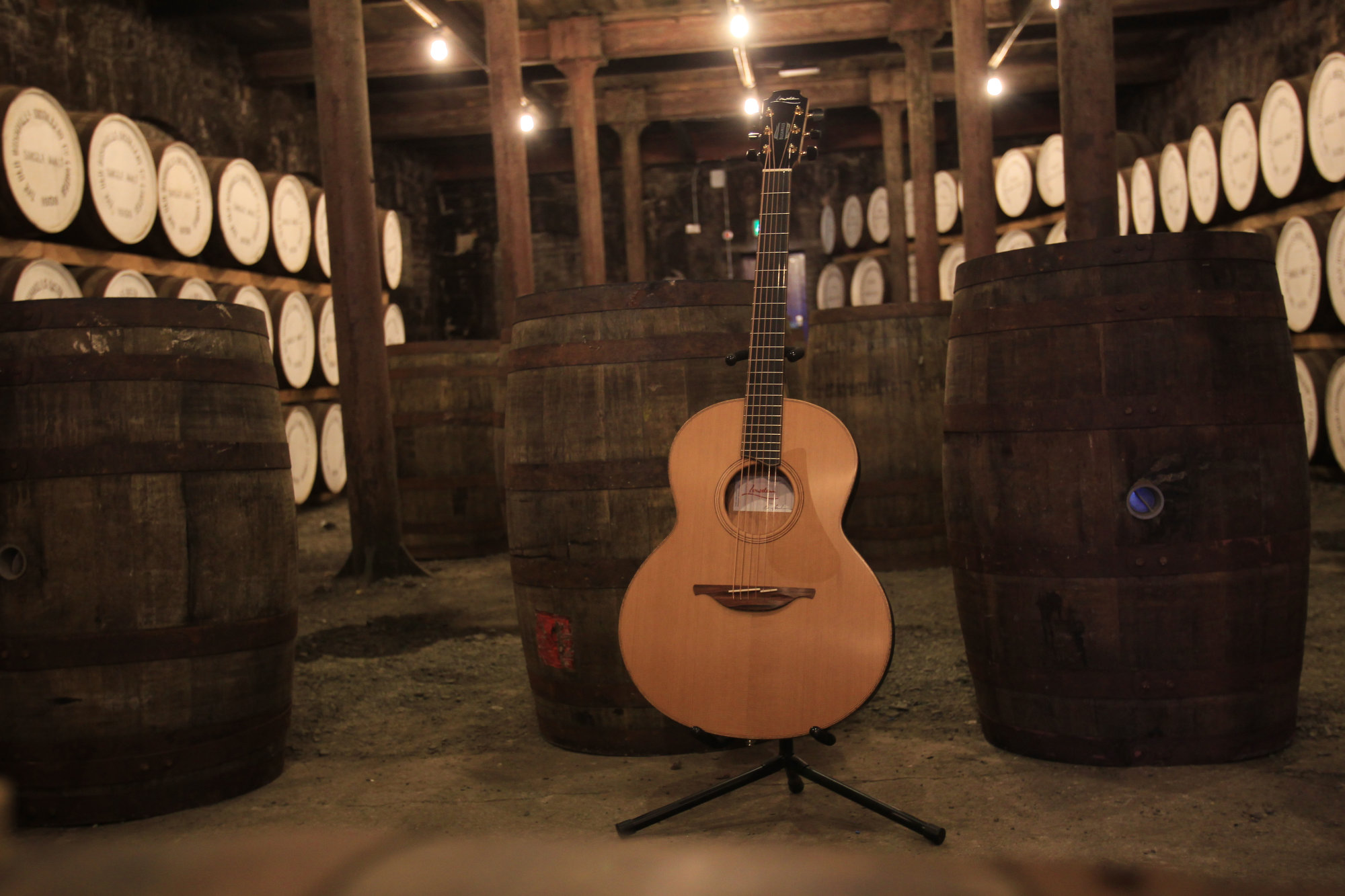 BUSHMILLS IRISH WHISKEY® PARTNERS WITH LOWDEN® TO CREATE HANDCRAFTED WHISKEY BARREL OAK GUITARS
Bushmills Village: Bushmills Irish Whiskey, which has been handcrafted on the North Coast of Ireland for centuries, has partnered with world famous luthier, George Lowden, to create three special-edition guitars, handmade from barrel-oak used in the whiskey making process.
Bushmills Irish Whiskey and George Lowden Guitars are both known and loved around the world. Based in Northern Ireland, George and his team have handmade guitars for some of most famous names in the music, including Eric Clapton, Van Morrison and The Edge.
The handmade barrel oak guitars were presented to singer-songwriter Foy Vance and other artists as a thank-you for their participation in Bushmills Live, the handcrafted whiskey and music festival which took place at the Old Bushmills Distillery on 20th and 21st June 2012.
Created by George Lowden and his team of master craftsmen at his workshop in Downpatrick, County Down, the guitar-making process took more than three months and presented a series of unique technical challenges.
The oak that the guitars were made from was from former Oloroso sherry casks, used in the making of Bushmills Black Bush, Bushmills 16 Year Old Single Malt Irish Whiskey and Bushmills 21 Year Old Single Malt Irish Whiskey.
The nature and curve of the whiskey barrel oak meant that each stave of wood had to be carefully sanded by hand to the necessary thickness and required shape. Each stave was then painstakingly glued together to create panels that retained the contours of the original whiskey barrel.
Those panels rested in the workshop for several weeks as the wood bound together, before they were hand-cut by George Lowden to guitar templates he has been using for almost 40 years.
Then, using hand-tools such as Japanese chisels, planes and knives, the team at Lowden assembled the guitars, incorporating the whiskey barrel oak into traditional Lowden 'F' and 'O' body designs.
The result is three guitars unlike any others ever made. With a distinct sound and even more distinct look, they are as much works of art as they are instruments.
Master Distiller at the Old Bushmills Distillery, Colum Egan, said: "To see barrels that have housed our whiskey being used in this way is remarkable. Their creation celebrates the handcrafted qualities at the heart of both Bushmills Irish Whiskey and Lowden Guitars and I want to thank George and his team for making them. Like our whiskey they weren't made for the cupboard and it is great to see some world class musicians putting them to good use. The guitars were the perfect way to thank the musicians who performed at Bushmills Live."
George Lowden said: "Making any guitar by hand is highly challenging but these guitars presented a few more issues than most. It was an enormous privilege to work with such special wood and it took me and my team a considerable amount of time to create them. However, what we have managed to do is to create something quite special. We enjoyed working in partnership with Bushmills on the project and were delighted that the musicians who received the guitars were so pleased with them."
To find out more about Bushmills Irish Whiskey or to see a gallery of images from the making of the Lowden Guitars from Bushmills barrel oak, log on to facebook.com/bushmills1608