Announcement, Cigar Lounge, cigar news, Common Questions, Education, Luxury, NYC Cigar Lounge, Opinion, Photo, Press Release, Saturday Cigar Survey, Smoking Location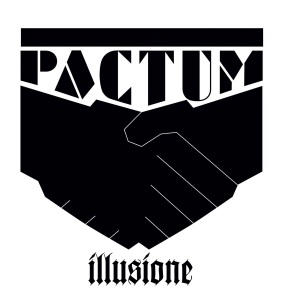 Last night I had the pleasure of smoking the Illusione/Smoke Inn collaboration which marks the 9th edition of SI's Microblend series. The Illusione "Pactum" which gets its name from the Latin verbiage "Agreement", or at that time in ancient Rome it came to mean a "Gentleman's Agreement". I can say knowing Abe and Dion personally these are two true gentlemen who seek to provide the highest quality in a cigar for the connoisseur. Being a big Illusione fan I was very excited to try this smoke and here is the first exclusive review you will find. Enjoy!
Blend Specifics:
Vitola: Boxed Pressed Robusto
Wrapper: San Andres Capa Fina Maduro
Binder: Nicaraguan
Filler: Nicaraguan
Dimensions: 5 1/2 x 56
Appearance & Construction
The Illusione Pactum has a gorgeous chocolate wrapper with a nice sheen and slight veins on the sides. The box press is perfect and there are no soft spots with a feel of well packed tobacco inside. The dry draw yielded raisinated flavors and a cocoa sweetness.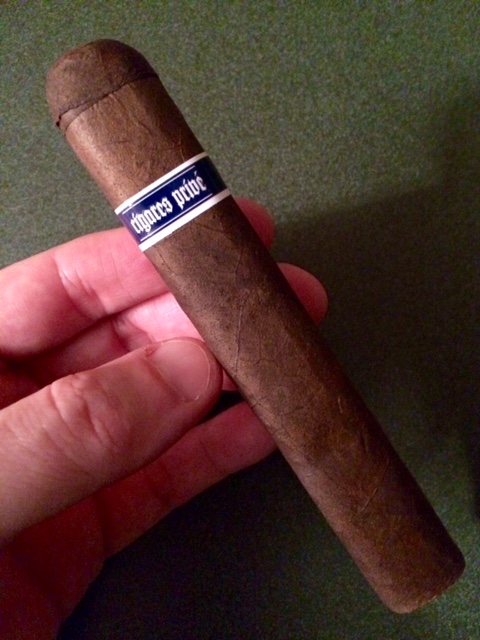 Taste & Smoke Characteristics:
Lighting up the Pactum greeted me with earthy characteristics and a distinct sweetness from the wrapper. The first third of the cigar brought on some full tobacco flavor due to the higher priming from the Nicaraguan filler leaves. The ash was sliver and gray and fell off on its own. Midway the cigar brought out a bit of wood, hay and a slight gingerbread note. All the way the Pactum gave the sweetness from the San Andres 'Capa Fina' maduro cover leaf which really balances out the smoke. The final third gave a lot of the similar flavors as the last half which is not a bad thing at all. The combination of wood, sweet and rich tobacco hit all parts of the palate and gives you an excellent example of what a balanced smoke is all about.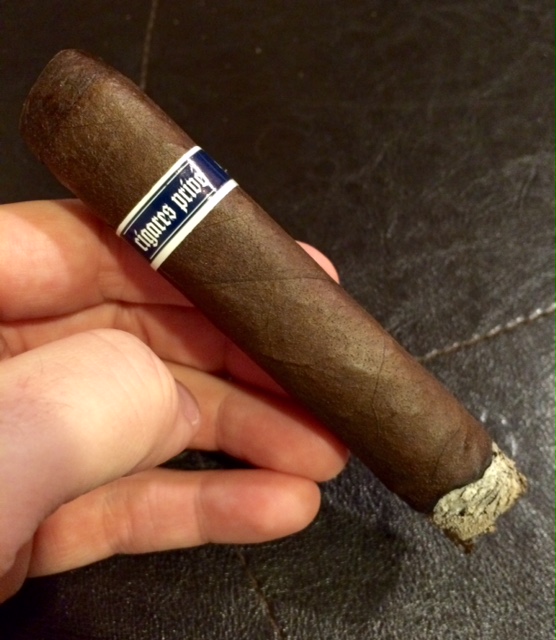 Conclusion:
I have been continuously impressed with Abe's Microblend series not just as a concept but knowing the personal attention he gives to each blend and working with the brand owners. Dion of Illusione is a master craftsman and a perfectionist in what he puts out. When these two make a "Pactum" you can rest assured you are getting a smoke worthy of the Roman Empire. Pick these up before they sellout as other Microblends have.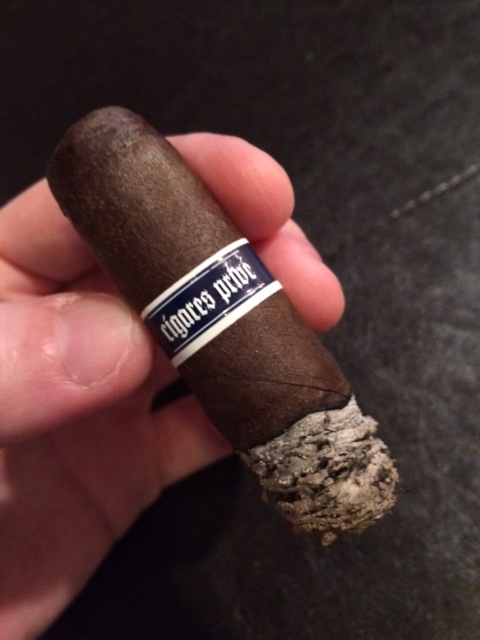 Avialble at Smoke Inn shops and their website if you are intrested:
http://www.smokeinn.com/eshop/Illusione-Pactum-SI-Exclusive-Product.html
Announcement, Cigar Lounge, cigar news, Cigar Review, Common Questions, Education, Luxury, Luxury Marketing, Opinion, Photo, Uncategorized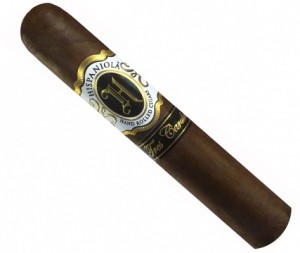 This past week I was luckily enough to meet with the creators of the Hispaniola brand of cigars. Hugo F. Melo, a modest gentleman described with passion his families long history in the Dominican Republic working tobaccos. After generations of distributing aged product for other cigar companies Hugo felt it was time to venture out with his own brand that is Hispaniola cigars. Recently FTNYC had reviewed Hispaniola's El Trabuco 1844 which received high praise from our staff. Today I smoked their Tres Carabelas cigar and my findings did not disappoint. Enjoy.
Blend specifics:
Wrapper: Havano Oscuro Vuelta Arriba
Binder: Dominican
Filler: Dominican
Size Robusto- 5″ x 55
Appearance & Construction:
The wrapper of this cigar had a nice oily sheen and shows the classic dark color of a Havana Oscuro wrapper. The cigar had some slight veins and a few soft spots to the touch however the foot showed some nicely packed tobaccos. This was extremely well rolled and visually appealing.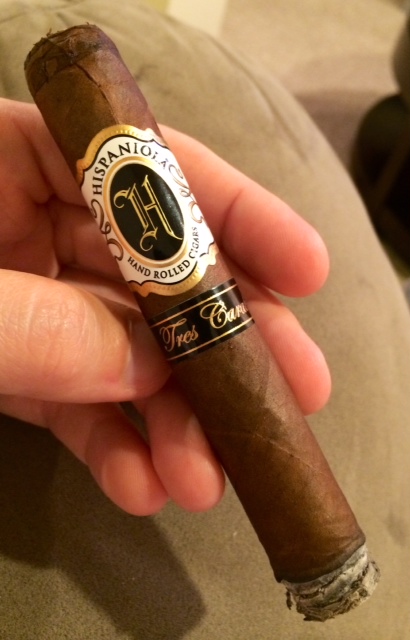 Taste & Smoking Characteristics:
The dry draw showed wonderful coffee and wood notes with a salty finish. Upon lighting the cigar offered some dark espresso, oak and leather flavors. The finish was salty which is something I really enjoy in a fine smoke. Midway a bit of spice kicked intermingling with espresso and a touch of graham cracker. The leather seemed to pick up a bit with the salty finish balancing it out. The final third delivered espresso character at its fullest with leather in the background. A well balanced cigar from begin to end.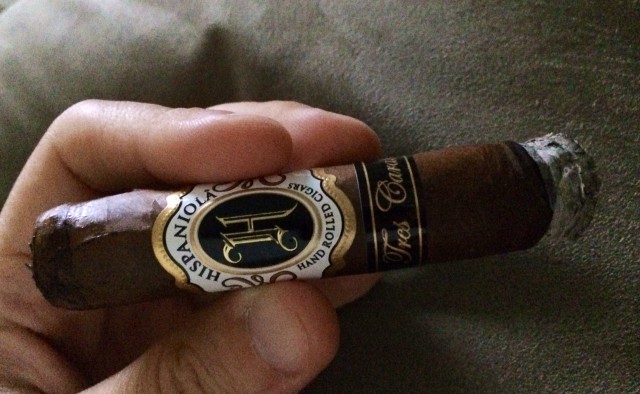 Conclusion:
The breadth of knowledge from the good people at Hispaniola shows in their Tres Carabelas blend. The draw was superb and the robusto size is a perfect showcase for the tobaccos in this cigar. Tres Carabelas gives a medium to full bodied smoking experience and can easily be appreciated after a fine meal. For those who want an elegant experience in cigar smoking Tres Carabelas is a cigar you need to get your hands on.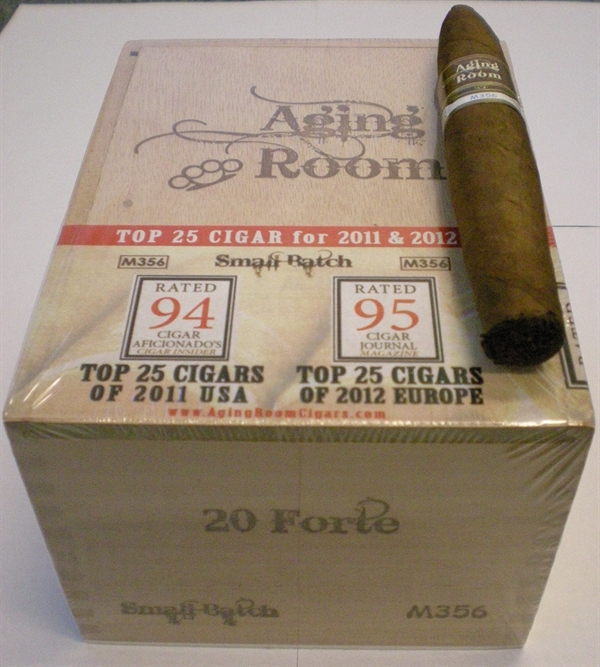 I was lucky enough to smoke another one of Rafael Nodal's Aging Room creations in this beautifully constructed perfecto vitola the M356 Forte. Rafael of Boutique Blends has hit the mark with his small batch Aging Room cigars and thus far I haven't found a blend that I didn't enjoy fully. The M356 line features an extremely limited blend of tobaccos from the Dominican Republic with a Habano seed wrapper and the taste profile was something else. Enjoy.
Appearance & Construction:
The cigar has a lovely sheen to the wrapper that is silky smooth to the touch. A noticeably firm cigar that seems full of tobacco with no soft spots. There were some slight veins around the stick but that didn't detract from the classic appearance of this well rolled perfecto.
Wrapper: Dominican Habano Seed
Binder: Dominican
Filler: Dominican
Size Perfecto- 5 7/8 x 40/56
Taste & Smoking Characteristics:
As I gave a nice size clip to the tapered end of the cigar I got a firm draw that gave a toasty dry draw of nuts and earth. Upon lighting I was greeted with toasty oak and earthiness. As the cigar developed spice and graham cracker intermingled around the coating of my mouth with a roasted nuttiness on the finish. The draw continued to be firm yet delivered a cacophony of flavors ranging from earthiness, spice and some full tobacco notes. Midway the Forte had flavors of hay, cinnamon and a bit of citrus on the end. The final third is where the Forte shined as the roasted nuts and spice returned to offer a satisfying finish to the cigar. The stick throughout was a medium plus for me and provided flavor profiles I enjoy the most in a cigar. Although the burn could have been better I smoked this stick down.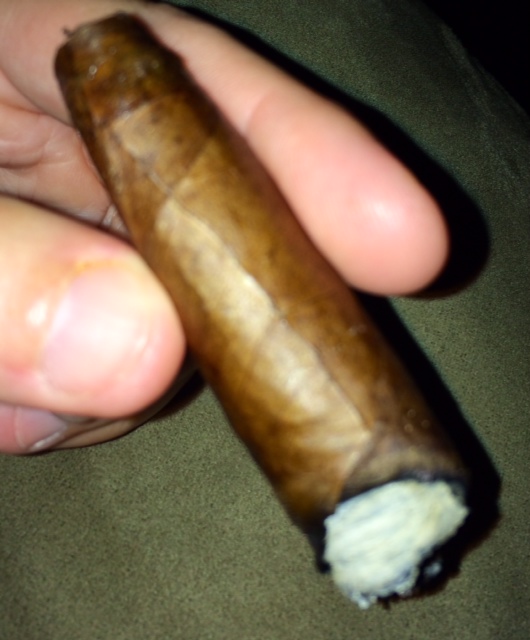 Conclusion:
Rafael Nodal has impressed me once again with his Aging Room Boutique Blends. Despite a firm draw which can be typical for this vitola, the quality of tobacco was stellar. The changes in flavor as the cigar progressed showed craftsmanship in the blend and made for a truly Small Batch stick. If your local tobacco shop carries Aging Room I would recommend grabbing any blend as everything I've smoked in the line is smoking well right now. Grab a BIG batch of these!
Recently I had the pleasure of smoking the new Flagship cigar from Sindicato aptly called "Sindicato". The cigar is blended by Arsenio Ramos at the Casa Fernandez factory and is something to behold.
Appearance & Construction
The box press along with its excellent construction make it one silky smooth stick that I don't know if I should smoke or take a bite like a chocolate bar. The pig tail cap is expertly crafted which makes it all the more attractive. I thought box pressed Behikes at first glance which ain't a bad thing, and when I clipped it the draw was perfect.



Blend specifics
Wrapper: Shade Grown Corojo Jalapa
Binder: Esteli Double Leaf
Filler: Jalapa and Esteli
Size Robusto- 5 x 54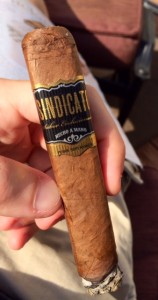 Taste & Smoking Characteristics
The dry draw on this cigar yielded some sweet raisinated flavor. Upon lighting the sweetness continued along with some cedar and slight pepper. The spices were really unique and although I had trouble depicting what they were I enjoyed them very much. The spice lingered on the finish and tingled the lips. Midway the cigar transformed to more of that sweet cedar and some rich tobacco notes emerged. The shade grown Corojo Jalapa wrapper was sweet and worked well with the blend. In the final third the spice picked up along with a little more fuller body. At this point the richness of the cigar created a long finish with wonderful flavor. The complexity here is a testament to its quality and the maker. I smoked the Sindicato to the nub.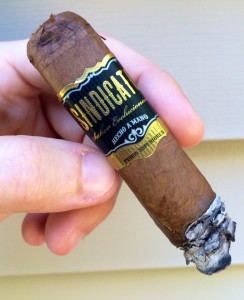 Conclusion
I haven't had the previous incarnations from the Sindacato portfolio but if they are anything like their namesake you are in for some wonderful cigars. The Sindicato delivered a blend of sweetness, spice, cedar and tobacco with such complexity that it's no surprise it comes from the Casa Fernandez factory. What's interesting to note is that Arsenio Ramos blended each vitola slightly different to adjust the flavors properly to each size. A lot of cigar makers make a blend for a cigar and simply use the same blend for every size in the line. This can leave some sizes in a line tasting muddled or unbalanced. The attention to detail shows as each size I smoked was complex and balanced in its own right. Sindicato has a hit with these smokes. I know Smoke Inn has them in stock for the moment so grab them while you can!
Smoke Inn: http://www.smokeinn.com/eshop/Sindicato.html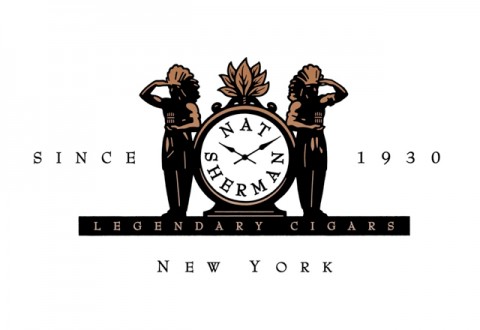 NAT SHERMAN INTERNATIONAL RE-LAUNCHES PIPE TOBACCOS IN TINS
NEW YORK, NY (March 3, 2014) – Nat Sherman, Tobacconist to the World since 1930, announces the re-release of their premium pipe tobaccos in tins. An industry and consumer favorite, the popular pipe tobaccos – Tabac Sherman – will now be available at authorized NatSherman retailers throughout the United States. Not since 2007 has the product been available outside the flagship Nat Sherman Townhouse in New York City.
Nat Sherman has released three signature tins, curating a collection that will inspire new pipe enthusiasts, while still satisfying veteran tastes.
Tabac Sherman No. 314 – a light golden Cavendish with a hint of traditional overtones.
Tabac Sherman No. 509 – a mild aromatic toasted Cavendish with a delightful velvety smooth flavor.
Tabac Sherman No. 536 – a quintessential British blend of exotic Turkish Latakia and Oriental tobaccos with a spicy, musky aroma and taste.
"There has been tremendous growth in the premium pipe category over the past few years," said Nat Sherman Executive Vice President, LarrySherman. "At our Flagship Townhouse in New York City, we've seen overall pipe business nearly double since 2011. With this re-launch, we are thrilled to provide Tabac Sherman products to our fans across the country."
Tabac Sherman comes in traditional "true two ounce" tins. Each has a suggested retail price of $12.95 per tin. Tins are available individually, and in sleeves of five, wherever premium pipe tobacco is sold.
***
About Nat Sherman
Founded by Nat Sherman in 1930 and family-guided for three generations, Nat Sherman continues to define the authentic tobacco experience. Through a tradition of innovation and expertly crafted products, Nat Sherman's timeless appeal, while quintessentially New York is embraced and enjoyed worldwide. Learn more at www.natsherman.com.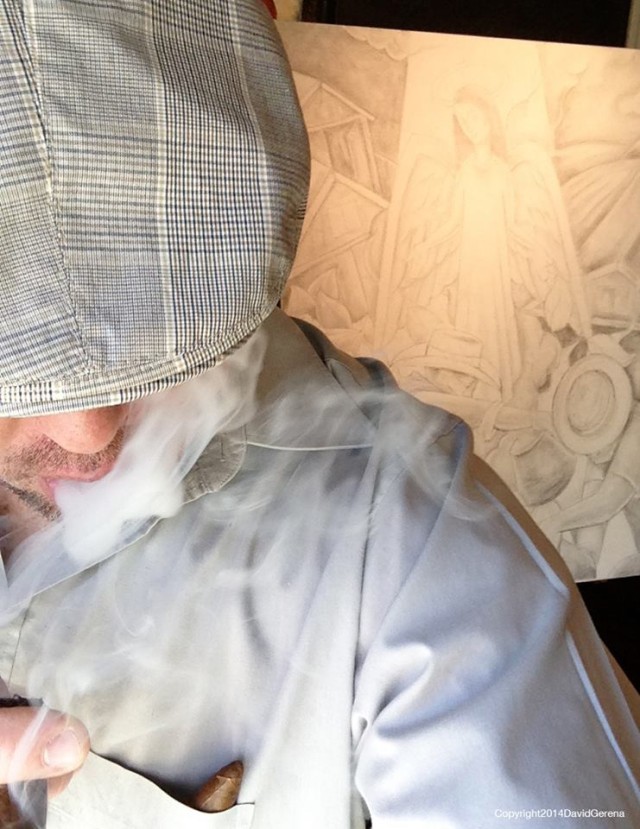 Fine Tobacco NYC is pleased to offer our readers a first look at the newest piece from cigar artist David Gerena.
"Angel's Share" is a 30″ x 40″ oil on canvas that depicts the fire which took place at the Arturo Fuente cigar factory in the Dominican Republic in August of 2011.
In David Gerena's words: "The Arturo Fuente Cigar Company is a 100 year old company producing some of the finest cigars in the world. The message of this painting along with it's purpose is to be a testament to the Fuentes perseverance and charitable efforts".
The "Angels' Share" Painting will be auctioned off with proceeds going to the Cigar Family Charitable Foundation to help underprivileged kids in the Dominican Republic. The "Angels' Share" painting is being donated on behalf of Les Bodwell and David Gerena.
Only 100 Limited Edition prints of the "Angel's Share" painting are being released by David Gerena. These prints are exact reproductions, the printed image measuring 30″ x 40″ as per the original. They are professionally printed on acid free archival stock and come signed, numbered, and with a certificate of authenticity directly from David Gerena. These prints are only available directly through the artist at www.davidgerenaart.com.
A video exhibit of The "Angels' Share" Painting can be seen below by clicking on the image: