On Tuesday, October 14th, over 100 New York City cigar and whisky enthusiasts attended FineTobaccoNYC's second "Smoker Social" at Merchants NY Cigar Bar. The event featured premium scotch whisky from Glenfiddich, including Glenfiddich 12 and 15 year. Guests also enjoyed the Hoja de Flores Black Label, a new premium cigar from La Hoja Cigars.
Starting at 7pm, the event ran well into the evening. Glenfiddich and La Hoja were accompanied by a local Jazz quartet that played a sample of American jazz classics.
Merchants NY Cigar bar, the venue for the event, offered guests access to their luxurious lounge area with full bar and food service, a level of luxury only three other venues in all of New York City can boast. The event was also joined by Sara Elizabeth of Somm in the City.
Previous FineTobaccoNYC events have featured premium spirits selections from Johnnie Walker, Brugal, Zacapa, Bulleit, and cigar companies including Espinosa, Moya Ruiz, Alec Bradley, Reinado, Hispaniola, La Hoja, and many more. Sign up for our mailing list below to hear about future events.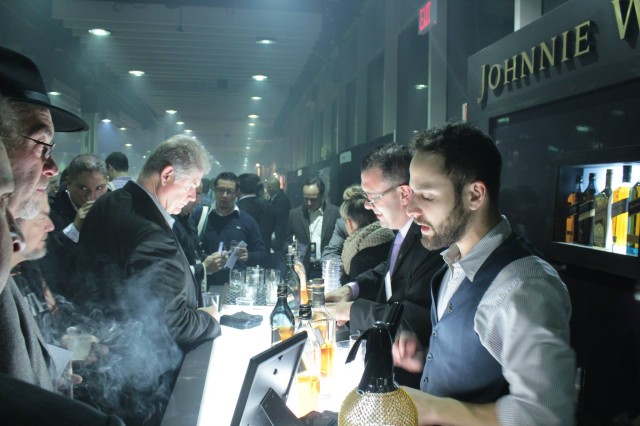 On Thursday, December 5th, nearly 2,000 New York City cigar smokers descended on Pier 92 to enjoy cigars, premium spirits, food, live cigar rolling, and more. The event's $240 ticket price gave attendees access to free cigars from 30+ premium cigar companies, including Drew Estate, Alec Bradley, Rocky Patel, AJ Fernandez, and more.
I was covering the event, and it is without a doubt the largest annual cigar event in New York City. Pier 92's massive floor gave plenty of room for the 50 or so booths, and there was an entirely separate area for the catered food. It was a really treat to see so many old friends, and to reconnect with great cigar brands like Nat Sherman, which has quickly become one of the industry's most up and coming brands.
As great as the event was, there were a few downsides — the ventilation was insufficient for the massive amount of smokers, and, somewhat ironically, smoking outside on the pier deck was off-limits. This is something that Cigar Aficionado should consider pushing to change next year.
Did you have a great time at The Big Smoke? Leave a comment below!
Announcement, Bourbon Review, Cigar Lounge, Education, Event Recap, Four Roses Bourbon, Luxury, Opinion, Photo, Press Release, Spirits, Whiskey Review
This past week I gathered some spirits and cigar aficionado friends of mine for a bourbon and rye blind tasting at Havana's Cigar Club in East Meadow NY.  Our goal was to have all of us bring bourbons or ryes for a total of 20 bottles together for the tasting.  There were five guys total including myself with backgrounds ranging from sommeliers to certified tobacconists. All of us arrived at the private club at 11:00 am ready for the challenge. Another cigar associate was present as his job was to pour all the spirits as well as number them so we would have no idea what we were tasting. In addition we each had to fill out cards for every spirit tasted and evaluate them using a hundred point scale. We gave points for 4 separate criteria; 1. Appearance 2. Aroma 3. Taste & Characteristics and 4. Finish. After tasting we tallied all the points up for a top 5 best of the best. It was quite an afternoon with many surprises as to what we "Thought" was what. I urge anyone who hasn't to organize your own blind tasting and you too may be surprised at how you taste. So without further ado, here is our official top five list and congrats to these wonderful spirits. Enjoy!
# 1: Rating 97 Points- Rough Rider Bull Moose Three Barrel Rye Whisky.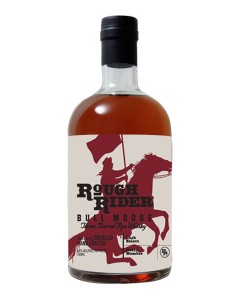 From Richard Stabile of Long Island Distillers makers of LiV vodka, Rough Rider Bourbon and Pine Barrens Single Malt this Rough Rider shot out the gate with three tasters commenting instantly on its aroma and complexity.  This rye had it all for us; spice, caramel, butter, toasted oak and some wonderful heat. All that with a silky mouthfeel and a finish that lingered on our taste buds for days. All of us agreed the Three Barrel aging was a brilliant idea that added to its intertwined flavors and finish. We need more of these innovations and more of this Rye!
Website: http://www.lispirits.com/
#2: Rating 96 Points- Four Roses 2012 Limited Edition Small Batch.
This very close second in our tasting is one of my favorite bourbons. There are four different bourbons comprised here ranging from 11-17 years old.  The nose on this yielded cinnamon, all spice and even a bit of citrus. Notes of vanilla, oak and caramel dominated leaving an aged oak finish. A delicate bourbon due to its age and an amazing expression of what quality blending can accomplish.
Website: http://www.fourrosesbourbon.com/
#3: Rating 95 Points- Eagle Rare 17 year old.
Yet another choice bourbon that blew us away. This spirit gave off a candied nose along with some citrus and dried fruits. Its initial spice gave way to leather, tobacco and cinnamon. Subtle oak on the finish along with a shot of heat hit all of our sensory spots. I've always been a fan of the different style of Eagle Rare even in their lesser offerings and this one is not to be downplayed. A stylish bourbon.
Website: http://www.eaglerare.com/
#4: Rating 94 Points- Templeton Small Batch Rye.
We were surprised how far ahead this Rye got in our ratings but despite its seemingly gimmicky claims, this Rye stood out amongst they fray. Its nose was reminiscent of the holiday with pine, allspice and woods. The cinnamon and spice came forward along with a buttery mouthfeel and heated finish. I can't say for fact that this is a "Prohibition Era" spirit but it's sure tasty for this day and age.
Wesbite: http://www.templetonrye.com/
#5: Rating 93 Points- Kings County Distillery Bourbon.
We must have had NY on our minds as yet another NY spirit made our top tastings. This small batch bourbon out of Kings County delivered fine malts along with a lot of corn on the nose. The flavors gave hints of charred oak, leather and touches anise. The oak finish smacked on the sides of the mouth and kept us salivating for more.  Yet another unique style that cut through the rest.
Website: http://kingscountydistillery.com/
As you've probably guessed it was a tough afternoon sifting through choice bourbons and ryes at a private cigar lounge; fortunately we bit the bullet and suffered through the day. Our scientific method yielded the most unbiased ratings we could deliver. You'll be happy to know we treated ourselves to some luxurious cigars afterward while dutifully sipping on the winner. All for you dear readers, all for you.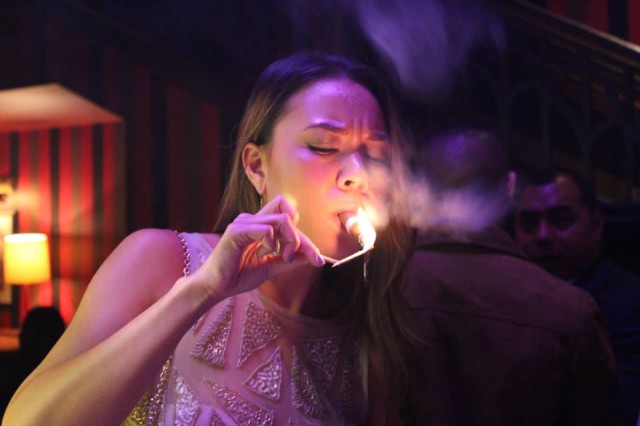 On October 23rd, The Carnegie Club hosted the "Fall Smoker" with special sponsorship from El Cedro Cigars and Johnnie Walker Platinum. During the event, more than 120 cigar smokers enjoyed the new line from El Cedro Cigars, which has received high reviews from many cigar reviewers (including this site as well).  Guests also enjoyed a tasting of Johnnnie Walker Platinum, aged 18 years. The night also included live music and a raffle of a box of El Cedro Cigars and a bottle of Johnnie Walker Green Label.
"Fall Smoker" is part of a long-standing tradition of seasonal events offered by the Carnegie Club. For years, New York City cigar smokers have chosen the iconic cigar bar as a haven from busy life in the city. The Carnegie Club also partners with FineTobaccoNYC on cigar and whiskey pairings, including the new, original pairing series called "Straight Up & Toasted."
On Wednesday, September 18th, FineTobaccoNYC and the Carnegie Club teamed up to present another edition of Straight Up & Toasted. The event featured cigars from Espinosa Cigars and Moya Ruiz Cigars, as well as a special selection of bourbon and rye from Bulleit Whiskey Co.
The evening event, open to the public, started at 8:00pm. Around the same time, the Stan Rubin Quartet livened up the atmosphere with a selection of new and old jazz numbers. Approximately 150 attended the event and enjoyed cigars, whiskey, live music, and special item raffles throughout the evening.
Guests also shared the event with friends online via social media using the hashtag #CarnegieClub. Below is a selection of social media stories generated during the event.
~~~~~
http://storify.com/matthiasclock/straight-up-and-toasted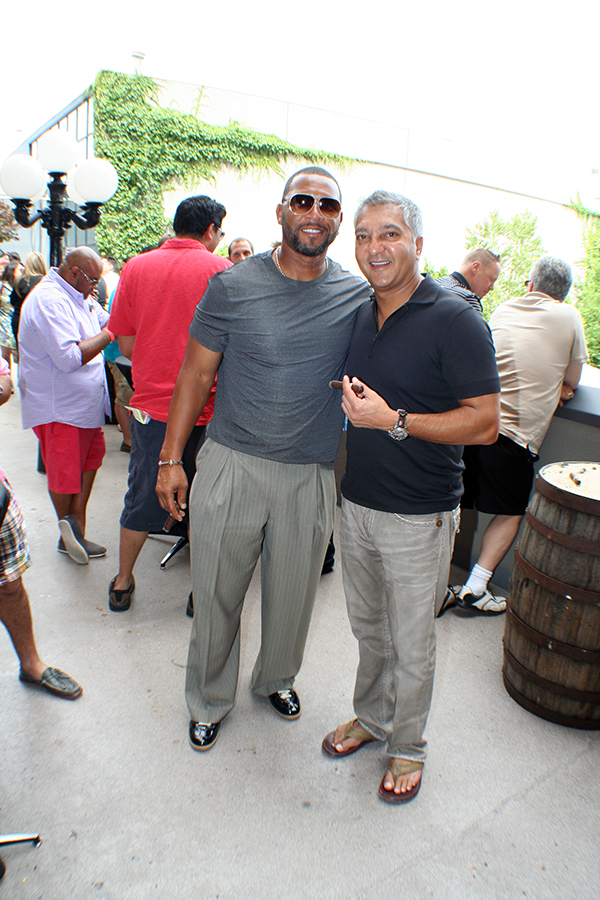 On Saturday, July 27, from 1 p.m. to 4 p.m., stogy connoisseurs gathered for the Cigar Social at Studio Square NYC to enjoy premium whiskey tastings, cigars custom-made by Rocky Patel, unlimited barbecue, and live entertainment. I had tickets to go, but alas fate had other plans that day.
Studio Sq. has recently become one of the hottest venues in New York City for cigar smokers. Starting last Summer, they've hosted some of the most massive cigar events in NYC. Probably the best part of having Studio Sq. in service of the NYC cigar community is that management there has brought an incredible knowledge of cigars, whiskey, and entertainment, as well as an impressive list of connections together to create some amazing events.
Here are some photos from the recent Cigar Social. Don't miss out on their future events! Follow Studio Sq on Twitter or sign up for the FineTobaccoNYC event mailing list for cigar event invites.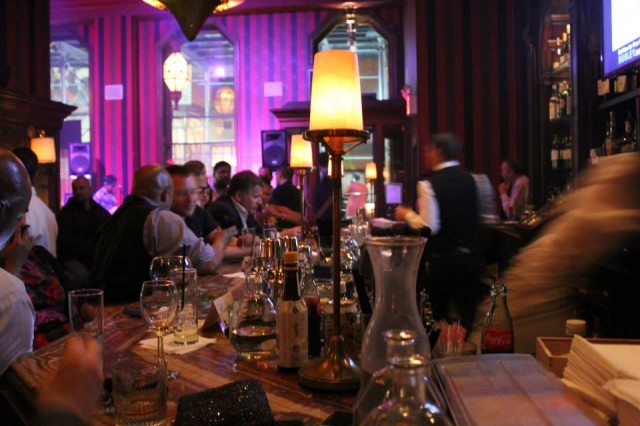 On Wednesday, June 5th, FineTobaccoNYC hosted a cigar and spirits pairing at the Carnegie Club, one of New York's most iconic cigar bars. The complimentary event, billed as "Straight Up & Toasted," featured the Reinado Cigars Grand Empire Reserve and Rough Rider bourbon from Long Island Spirits.
About 150 guests attended the free event, enjoying cigars and bourbon well into the evening.
Other features of the night included live music, giveaways of a box of Reinado cigars, a bottle of Rough Rider single barrel bourbon, and other accessory raffle items.
The event was such a success that FineTobaccoNYC and the Carnegie Club are now planning another "Straight Up & Toasted" event. Special thanks to Reinado Cigars and Long Island Spirits.
To get invites to events like Straight Up & Toasted, sign up for our email list. Click here to sign up.