Announcement, Cigar Lounge, cigar news, Culture, Education, Event Recap, Featured, Images, Lifestyle, Luxury, Opinion, Photo, Smoking Location, Spirits, Top Stories, Uncategorized, Updates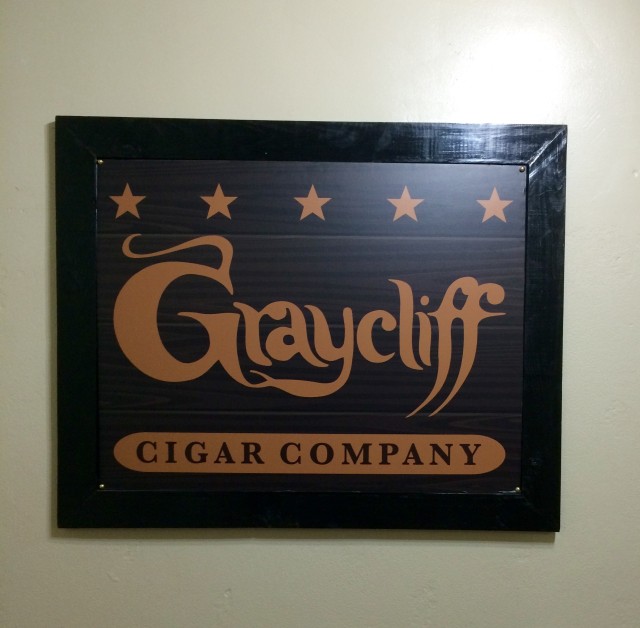 Last month I had the pleasure of taking a day trip to Nassau Bahamas. My one and only plan was to visit the Graycliff Hotel to learn about their cigar making process, techniques and the quality that's synonymous with the Graycliff brand. Graycliff Hotel was purchased by the Garzaroli family in 1973 and is the premier five star hotel and restaurant on the island as well as housing the largest wine cellar in the Caribbean. The historic mansion and its property boasts  a welcoming reception area, opening air dining and Himalayan salt pool, all of which  cater to the cigar enthusiast.
Upon entering the hotel you can smell the sweet aroma of a cigar in the lounge. With antique leather chairs, showcases of spirits, paintings and a piano you quickly envision a sense of calm and quiet reflection that guests enjoy puffing away on any given day. My wife immediately lit up a petit corona and sunk into a leather chair perusing the extensive spirits listing.  Within a few minutes we were greeted by a lovely woman who guided us to the Graycliff Cigar Factory. We could have easily wiled away the afternoon enjoying cigars and spirits right there however I needed to visit the factory where they make the cigars I've enjoyed for the past sixteen years.
As we made our way through the old stone walkway palm trees adorned the property along with statues and an elegant pool that truly gave you a sense of the sophisticated history of the hotel.  Just before we approached the factory we were taken back by the largest Cigar Divan I have ever seen. The Divan had a large ceiling with fans, lounge chairs, couches, wrought iron tables and a free standing humidor.  This is the perfect respite to grab a cigar from the factory and sit with a smoke enjoying the scenery. I'm sure it was no coincidence that the divan is right by the entrance to the cigar factory.
Cigar Divan:

The steps that lead to the Graycliff Cigar Factory: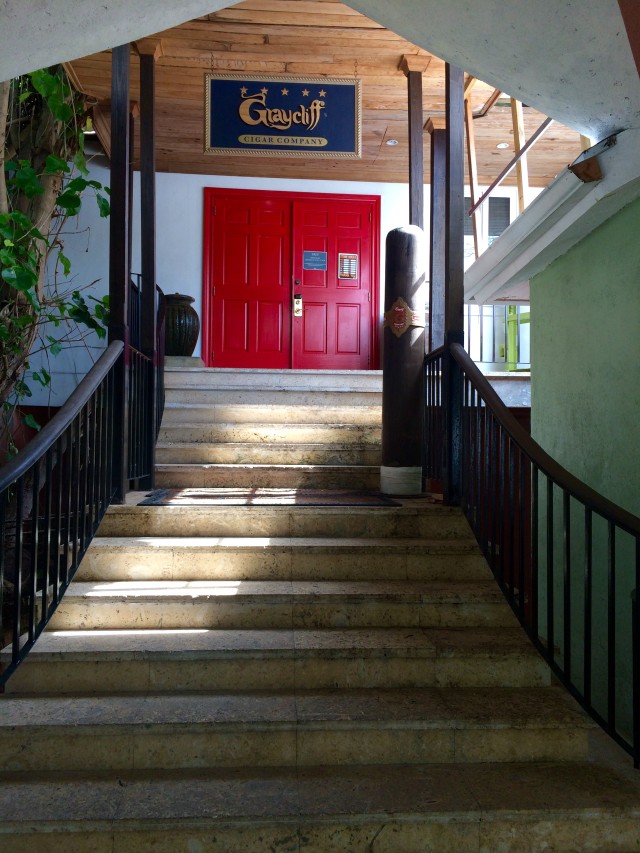 Upon entering the factory there is a lounge and bar offering espresso and spirits. Alongside is a cabinet humidor containing six lines of the Graycliff portfolio. The represented cigars where: Graycliff Originale, Graycliff Professionale, Graycliff Emerald, Graycliff Crystal and Graycliff Espresso. I was met by Adam Collins the General Manager for Graycliff. Adam is a very personable individual who greeted us warmly. As we shook hands I was given a Graycliff Professionale PG and lit it up immediately. The sweet and earthy flavors of the Professionale made it the perfect first smoke of the day. As we entered the epicenter of the factory which is their boutique rolling room I observed several rollers meticulously rolling vitolas for various Graycliff lines. Graycliff prides itself on perfectly rolled cigars and seeing firsthand you appreciate the dedication to the craft. Adam oversees the day to day operations as well as maintains the quality control and works on blends. In speaking with Adam you can see the passion in his eyes and the excitement he gets from working on a blend and speaking about the factory.
One particular roller that caught my eye was a gentleman rolling what appeared to be a free-form cigar or a cigar without a mold. This is extremely difficult to do as keeping a cigar's measurements and consistency takes a keen eye and skilled hand. The individual in question was Master Roller Miguel A. Lavadie Duconger who is one of the last free form cigar rollers in the world.  As it turns out he was rolling the John Howard Graysmith line which is the ONLY commercial line of cigars dedicated to the free hand cigar rolling style. Miquel makes the cigar using the "Entubado" method which takes the individual filler leaves and rolls them into scroll-like tubes placing them next to each other in the bunch. This method although more time consuming creates more airflow and a better draw and burn making it a more satisfying cigar of very high quality. Watching Mr. Lavadie Duconger work was observing a master at his craft.  I've visited cigar factories before, seen rollers at their respective tables and even watched rollers attempt free hand cigars but NOTHING like the quality and consistently I saw at the Graycliff Cigar Factory.
Master Roller Miguel A. Lavadie Duconger rolling "Free Form"
The John Howard Graysmith which Miguel is responsible for has two vitolas:  "Cannon" a  60 x 7 Parejo and "Buccaneer" a  60 x 7 Piramide. Both cigars have uncut or "shag" feet.  The JHG line pays homage to the original way cigars were rolled as well as a nod to the famous pirate John Howard Graysmith whose exploits were legendary and who built the Graycliff Mansion.
John Howard Graysmith Buccanner and Cannon Cigars:


As impressive as the rolling room was Adam took me to the aging room where cigars are stored, bundled and readied for future shipping. Adam oversees fermentation and processing which is a testament to his hands on style of management and adherence to complete quality control. Returning to the rolling room I was able to light up a Graycliff Espresso Pirate which is my personal favorite of the line.  The Espresso pirate yielded rich notes of mocha, leather and a bit of spice.  The cigar was wonderfully balanced in the medium to full bodied range.
As I toured with Adam he took me down a hallway which I would call the "Cigar Education Wing". Part tobacco education part museum this area sports framed cigar posters such as tobacco leaf classifications in which primings of each leaf are listed, cultivation methods, manufacturing, and the history of cigar making. Walking the hall and reading the informative descriptions gives a cigar enthusiast quite a lesson on how a cigar goes from the field to your hand. This is the first of its kind I've seen and shows how the company wants their consumers to understand the process as well as enjoy their cigars.
Cigar Education wing:
It was at this point I met up Paolo Garzaroli president of Graycliff Cigar Company. I've met Paolo on several occasions and I can say he has a true passion for quality, tremendous vison and is a gentleman who believes in family and building relationships with people.  Paolo directed me to the display cases that showed cigar memorabilia such as presses, molds and cutters. On the adjacent wall there were photos of celebrities enjoying Graycliff cigars and even such luminaries as Nelson Mandela. The impact Graycliff has had on the industry and consumers is demonstrative in these photographs.
Showcase of cigar memorabilia:
Celebrites and Heads of State enjoying Graycliff Cigars:
Much to my dismay I had to leave all too early as I had a ship to return to. Visiting Graycliff was a priority as well as the highlight of my trip. I thanked Adam and Paolo profusely for the cigars, tour and hospitality. If you visit the Bahamas you NEED to visit Graycliff or do one better and stay on the property. You will be educated, satiated, and puffing away in paradise. I will return as a guest and spend more time at Graycliff which I now call the "Cigar Oasis".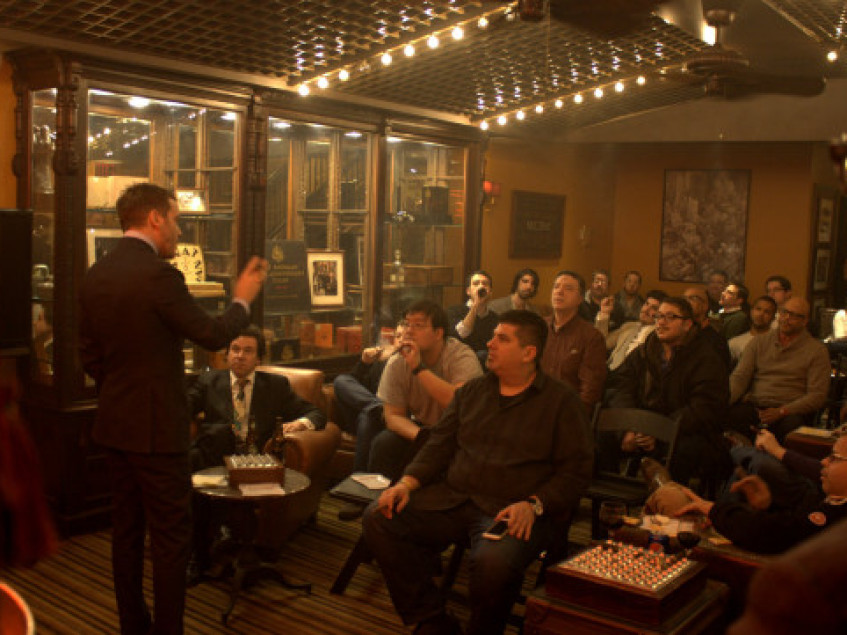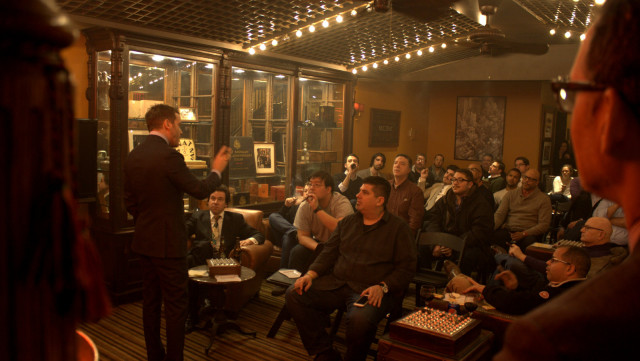 I recently had the privilege of being invited to a component tasting with Michael Herklots at the Nat Sherman Townhouse on Feb 10th. I'm a big fan of cigar education, and I knew that the component tasting would make for a unique educational experience, so I jumped at the opportunity to attend.
I arrived at  7:15pm and made my way down into the Johnson Club Room downstairs, which was already smokey and occupied by around 30 cigar enthusiasts, mainly bloggers and friends of the Nat Sherman brand.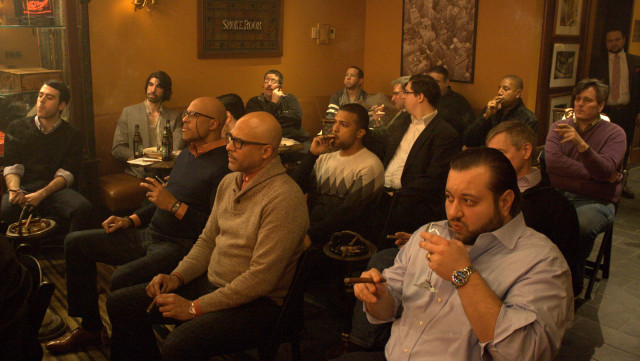 Herklots began the evening with a brief history of Nat Sherman, explaining that "before the brand was a place, and before the place was a man, Nat Sherman." The first premium cigar sold by Nat Sherman, I was surprised to learn, was Epoca, which was reblended in 2014 to rave reviews.
At this point, Michael started the component tasting, with Nat Sherman staff handing out a short cigar purely made of Dominican Seco, the first component of Epoca. After lighting and comparing notes on flavor, aroma, and palate impact, we moved onto the second leaf, Dominican Ligero, and after that Nicaraguan Ligero.   The seco cigar offered light, bready notes with some nuts and a musty aroma. The Dominican ligero (my personal favorite), offered similarly musty notes but with richer notes of spice and leather. The Nicaraguan ligero offered much bigger, richer notes, with a lot more of a kick and pepper notes.
All three samples were enjoyable in their own right, but Michael illustrated the difficulty of blending cigars by asking the guests to smoke the first two cigars, then second and third, and finally the first and third at the same time. Each combination was putrid and awful. Then Herklots asked us to smoke all three cigars at once, and that's where the magic happened: a brief glimpse into the Epoca color palate.  The cigars combined to create an experience of flavor and balance reminiscent of Epoca.
Throughout the tasting, Michael did an incredible job describing the intricacies of cigar construction, tasting, and blending. More than that, he did it with a New York charm that warmed the room up and invited guests to stay and smoke after the tasting concluded.
And so the evening was illustrative of the kind of Nat Sherman that Michael Herklots seeks to build: on one hand, an establishment that carries on the traditional feel and overall aesthetic of Nat Sherman. On the other, a fierce commitment to pushing the bounds of the traditional Nat Sherman flavor profile, creating new blends and experiences for the 21st century that are all at once old and new.
On Tuesday, October 14th, over 100 New York City cigar and whisky enthusiasts attended FineTobaccoNYC's second "Smoker Social" at Merchants NY Cigar Bar. The event featured premium scotch whisky from Glenfiddich, including Glenfiddich 12 and 15 year. Guests also enjoyed the Hoja de Flores Black Label, a new premium cigar from La Hoja Cigars.
Starting at 7pm, the event ran well into the evening. Glenfiddich and La Hoja were accompanied by a local Jazz quartet that played a sample of American jazz classics.
Merchants NY Cigar bar, the venue for the event, offered guests access to their luxurious lounge area with full bar and food service, a level of luxury only three other venues in all of New York City can boast. The event was also joined by Sara Elizabeth of Somm in the City.
Previous FineTobaccoNYC events have featured premium spirits selections from Johnnie Walker, Brugal, Zacapa, Bulleit, and cigar companies including Espinosa, Moya Ruiz, Alec Bradley, Reinado, Hispaniola, La Hoja, and many more. Sign up for our mailing list below to hear about future events.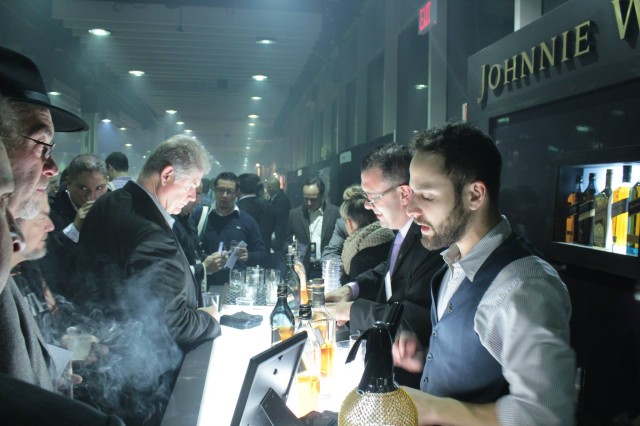 On Thursday, December 5th, nearly 2,000 New York City cigar smokers descended on Pier 92 to enjoy cigars, premium spirits, food, live cigar rolling, and more. The event's $240 ticket price gave attendees access to free cigars from 30+ premium cigar companies, including Drew Estate, Alec Bradley, Rocky Patel, AJ Fernandez, and more.
I was covering the event, and it is without a doubt the largest annual cigar event in New York City. Pier 92's massive floor gave plenty of room for the 50 or so booths, and there was an entirely separate area for the catered food. It was a really treat to see so many old friends, and to reconnect with great cigar brands like Nat Sherman, which has quickly become one of the industry's most up and coming brands.
As great as the event was, there were a few downsides — the ventilation was insufficient for the massive amount of smokers, and, somewhat ironically, smoking outside on the pier deck was off-limits. This is something that Cigar Aficionado should consider pushing to change next year.
Did you have a great time at The Big Smoke? Leave a comment below!
Announcement, Bourbon Review, Cigar Lounge, Education, Event Recap, Four Roses Bourbon, Luxury, Opinion, Photo, Press Release, Spirits, Whiskey Review
This past week I gathered some spirits and cigar aficionado friends of mine for a bourbon and rye blind tasting at Havana's Cigar Club in East Meadow NY.  Our goal was to have all of us bring bourbons or ryes for a total of 20 bottles together for the tasting.  There were five guys total including myself with backgrounds ranging from sommeliers to certified tobacconists. All of us arrived at the private club at 11:00 am ready for the challenge. Another cigar associate was present as his job was to pour all the spirits as well as number them so we would have no idea what we were tasting. In addition we each had to fill out cards for every spirit tasted and evaluate them using a hundred point scale. We gave points for 4 separate criteria; 1. Appearance 2. Aroma 3. Taste & Characteristics and 4. Finish. After tasting we tallied all the points up for a top 5 best of the best. It was quite an afternoon with many surprises as to what we "Thought" was what. I urge anyone who hasn't to organize your own blind tasting and you too may be surprised at how you taste. So without further ado, here is our official top five list and congrats to these wonderful spirits. Enjoy!
# 1: Rating 97 Points- Rough Rider Bull Moose Three Barrel Rye Whisky.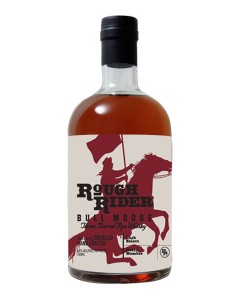 From Richard Stabile of Long Island Distillers makers of LiV vodka, Rough Rider Bourbon and Pine Barrens Single Malt this Rough Rider shot out the gate with three tasters commenting instantly on its aroma and complexity.  This rye had it all for us; spice, caramel, butter, toasted oak and some wonderful heat. All that with a silky mouthfeel and a finish that lingered on our taste buds for days. All of us agreed the Three Barrel aging was a brilliant idea that added to its intertwined flavors and finish. We need more of these innovations and more of this Rye!
Website: http://www.lispirits.com/
#2: Rating 96 Points- Four Roses 2012 Limited Edition Small Batch.
This very close second in our tasting is one of my favorite bourbons. There are four different bourbons comprised here ranging from 11-17 years old.  The nose on this yielded cinnamon, all spice and even a bit of citrus. Notes of vanilla, oak and caramel dominated leaving an aged oak finish. A delicate bourbon due to its age and an amazing expression of what quality blending can accomplish.
Website: http://www.fourrosesbourbon.com/
#3: Rating 95 Points- Eagle Rare 17 year old.
Yet another choice bourbon that blew us away. This spirit gave off a candied nose along with some citrus and dried fruits. Its initial spice gave way to leather, tobacco and cinnamon. Subtle oak on the finish along with a shot of heat hit all of our sensory spots. I've always been a fan of the different style of Eagle Rare even in their lesser offerings and this one is not to be downplayed. A stylish bourbon.
Website: http://www.eaglerare.com/
#4: Rating 94 Points- Templeton Small Batch Rye.
We were surprised how far ahead this Rye got in our ratings but despite its seemingly gimmicky claims, this Rye stood out amongst they fray. Its nose was reminiscent of the holiday with pine, allspice and woods. The cinnamon and spice came forward along with a buttery mouthfeel and heated finish. I can't say for fact that this is a "Prohibition Era" spirit but it's sure tasty for this day and age.
Wesbite: http://www.templetonrye.com/
#5: Rating 93 Points- Kings County Distillery Bourbon.
We must have had NY on our minds as yet another NY spirit made our top tastings. This small batch bourbon out of Kings County delivered fine malts along with a lot of corn on the nose. The flavors gave hints of charred oak, leather and touches anise. The oak finish smacked on the sides of the mouth and kept us salivating for more.  Yet another unique style that cut through the rest.
Website: http://kingscountydistillery.com/
As you've probably guessed it was a tough afternoon sifting through choice bourbons and ryes at a private cigar lounge; fortunately we bit the bullet and suffered through the day. Our scientific method yielded the most unbiased ratings we could deliver. You'll be happy to know we treated ourselves to some luxurious cigars afterward while dutifully sipping on the winner. All for you dear readers, all for you.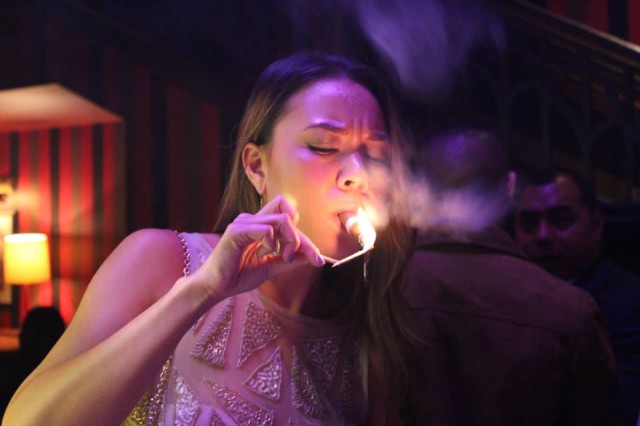 On October 23rd, The Carnegie Club hosted the "Fall Smoker" with special sponsorship from El Cedro Cigars and Johnnie Walker Platinum. During the event, more than 120 cigar smokers enjoyed the new line from El Cedro Cigars, which has received high reviews from many cigar reviewers (including this site as well).  Guests also enjoyed a tasting of Johnnnie Walker Platinum, aged 18 years. The night also included live music and a raffle of a box of El Cedro Cigars and a bottle of Johnnie Walker Green Label.
"Fall Smoker" is part of a long-standing tradition of seasonal events offered by the Carnegie Club. For years, New York City cigar smokers have chosen the iconic cigar bar as a haven from busy life in the city. The Carnegie Club also partners with FineTobaccoNYC on cigar and whiskey pairings, including the new, original pairing series called "Straight Up & Toasted."
On Wednesday, September 18th, FineTobaccoNYC and the Carnegie Club teamed up to present another edition of Straight Up & Toasted. The event featured cigars from Espinosa Cigars and Moya Ruiz Cigars, as well as a special selection of bourbon and rye from Bulleit Whiskey Co.
The evening event, open to the public, started at 8:00pm. Around the same time, the Stan Rubin Quartet livened up the atmosphere with a selection of new and old jazz numbers. Approximately 150 attended the event and enjoyed cigars, whiskey, live music, and special item raffles throughout the evening.
Guests also shared the event with friends online via social media using the hashtag #CarnegieClub. Below is a selection of social media stories generated during the event.
~~~~~
http://storify.com/matthiasclock/straight-up-and-toasted