Announcement, Blog, Bourbon Review, Education, Featured, Images, Lifestyle, Luxury, Luxury Marketing, News, Opinion, Photo, Spirits, Top Stories, Uncategorized, Updates, Whiskey Review
A while back I was fortunate enough to score a bottle of Dave Phinney's "Slaughterhouse" Whiskey. Dave Phinney as you may or may not know is the famed vintner who created "The Prisoner" an Über California wine blend.  He then sold the company and now makes acclaimed wines from virtually all the major wine producing countries in the world under his Orin Swift label.  Last year he decided to turn his taste for wine into sourced whiskeys. Straight Edge was Dave's first leap into the whiskey world and his skill in crafting wine doesn't miss a beat when putting together these whiskeys. Straight Edge is hard to come by and I was lucky to grab a bottle for this review.
Straight Edge much like all of Phinney's creations catches the eye with creative labeling. Straight Edge as the name implies sports an old style straight edge razor. The red background in the lettering matches the color of the whiskey itself.  In the bottle the whiskey has an attractive almost sherry color to it. Straight Edge is a blend of 5, 7 and 8 year old Bourbon from Kentucky and Tennessee.  It's finished at Phinney's facility in Napa family using Mercury Head Cabernet Sauvignon barrels. Mercury Head is Orin Swift's high end expensive Cabernet. I have a bottle of the '01 Mercury Head and you can see in the picture below the Whiskey and the wine it was barrel finished in.
Here is my review:
Spirit details: Proof 84
Price: $50
Origin: USA
Description: Sherry color in bottle, straight razor on label.
Nose: The nose screams vanilla and wood.
Palate: Upfront lots of vanilla, butterscotch and toasty oak. Midway spice with orange and honey that coats the mouth.
Finish: Real toasty on the finish with vanilla, caramel and a wonderful touch of rye that rounds out the profile.
Conclusion: An extremely well balanced whiskey. While I don't feel the body was as "weighty" as the Slaughterhouse this whiskey was more nuanced in it's primary flavors. I attribute this to the aging in Cabernet barrels rather than Bordeaux barrels with Slaughterhouse.  Orin Swift Cellars has diversified their profile with both American Whiskeys. Straight Edge delivers sharp  flavors of vanilla, oak and spice which is what a quality American Whiskey is all about. If you can find a bottle I would grab it as I wish I had more myself. Below is a link to my review of Slaughterhouse if you'd like to compared the two. Enjoy!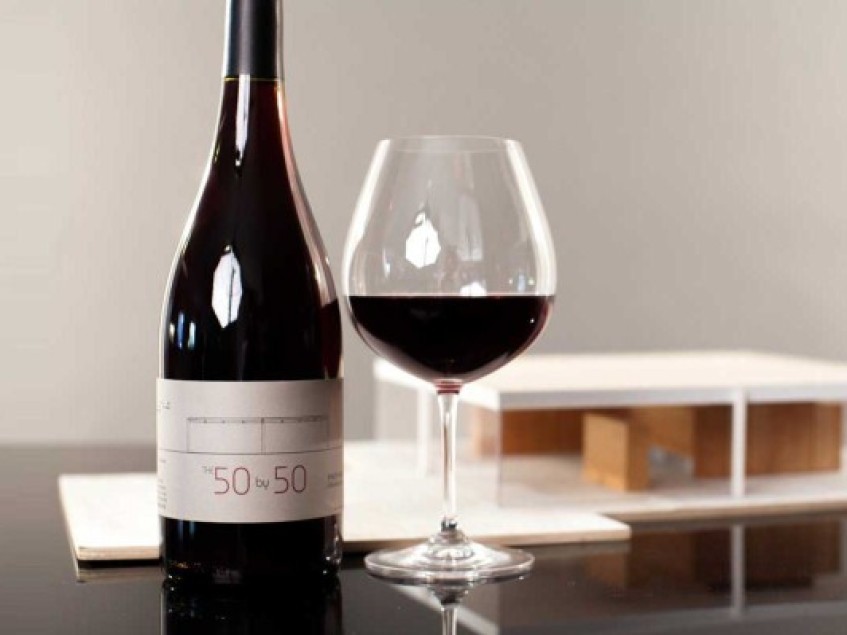 Education, Featured, Images, Lifestyle, Luxury, Luxury Marketing, News, Opinion, Photo, Top Stories, Updates, Wine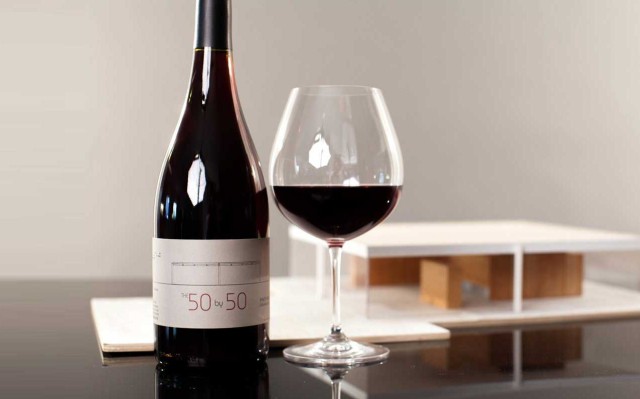 This evening I was fortunate enough to try the 50 by 50 Pinot Noir. The story behind this wine is unique in that it's a creation of Gerald Casale founding member of the prolific band DEVO. During the late 70's and early 80's Gerald and the band began to tour the world extensively. When given the opportunity to visit vineyards in Italy, France, Spain and other regions Gerald jumped at the chance to learn and discover the pleasures of wine. As the story goes his love specifically for Pinot Noir came later on around 1990. Having been fortunate enough to taste the legendary Domaine de la Romanée Conti with friends the love affair began. Years later Gerlad began creating the 50 by 50 Pinot Noir in Sonoma County. The name derives itself from the blending of a 50/50 blend of two Pinot Noir clones; the Pommard and the 667 Dijon clone. Produced in a Burgundian style this Pinot Noir is a treat for the senses. Below are my notes and rating. Enjoy!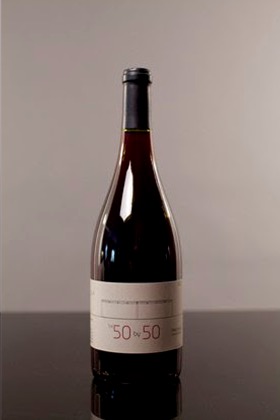 Appearance: Beautiful light brick color.
Nose: Some bright cherry and red fruits with a bit of cinnamon and spice.
Taste: This wine starts off with upfront flavors of cherry a bit of ripe strawberry and cola. Mid palate shows almost coffee like notes with spice and cherry intermingling. The finish smacks of red berries, fresh sage and earth which linger on and on. With some decanting this wine opens up to reveal tart cherry, all spice and a pronounced finish of earth and coffee. Stylistically this Point has the ripe red fruit flavors of a Californian Pinot Noir along with the richness and elegant finish a good Burgundy possesses. This wine is harmonious and for the price of around $34 a very good value for a wonderful pinot Noir.
Rating : 94 points non-blind.
Conclusion: Gerald's passion for wine is evident as demonstrated by his excellent Pinot Noir. Make no mistake this is not a vanity project from a celebrity but an homage to true fans of the grape with all the care and attention clearly shown here. This is a wine I recommend picking up before it sells out!
Website: http://www.thefiftybyfifty.com/order.html
Announcement, Cigar Lounge, cigar news, Cigar Review, Common Questions, Education, Luxury, Luxury Marketing, Opinion, Photo, Uncategorized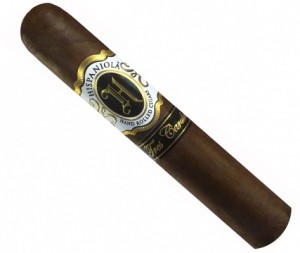 This past week I was luckily enough to meet with the creators of the Hispaniola brand of cigars. Hugo F. Melo, a modest gentleman described with passion his families long history in the Dominican Republic working tobaccos. After generations of distributing aged product for other cigar companies Hugo felt it was time to venture out with his own brand that is Hispaniola cigars. Recently FTNYC had reviewed Hispaniola's El Trabuco 1844 which received high praise from our staff. Today I smoked their Tres Carabelas cigar and my findings did not disappoint. Enjoy.
Blend specifics:
Wrapper: Havano Oscuro Vuelta Arriba
Binder: Dominican
Filler: Dominican
Size Robusto- 5″ x 55
Appearance & Construction:
The wrapper of this cigar had a nice oily sheen and shows the classic dark color of a Havana Oscuro wrapper. The cigar had some slight veins and a few soft spots to the touch however the foot showed some nicely packed tobaccos. This was extremely well rolled and visually appealing.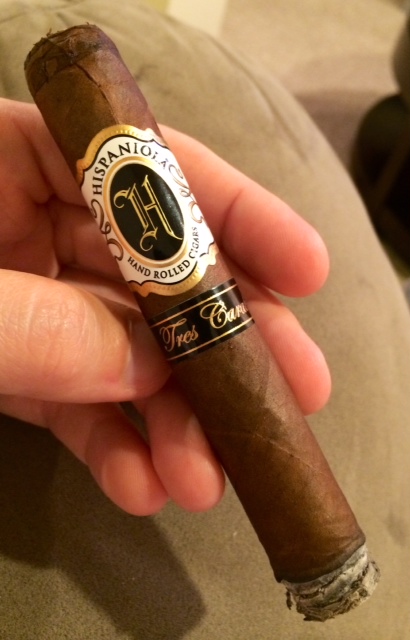 Taste & Smoking Characteristics:
The dry draw showed wonderful coffee and wood notes with a salty finish. Upon lighting the cigar offered some dark espresso, oak and leather flavors. The finish was salty which is something I really enjoy in a fine smoke. Midway a bit of spice kicked intermingling with espresso and a touch of graham cracker. The leather seemed to pick up a bit with the salty finish balancing it out. The final third delivered espresso character at its fullest with leather in the background. A well balanced cigar from begin to end.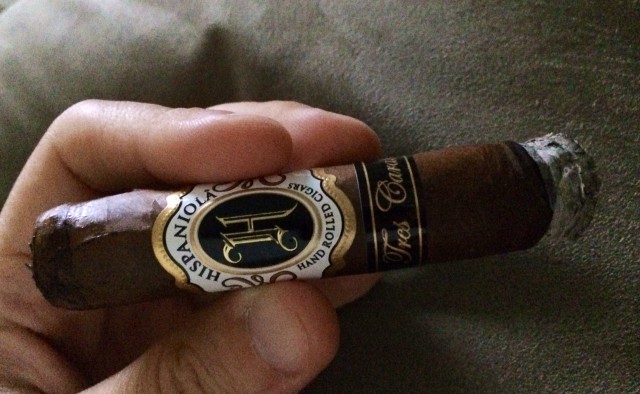 Conclusion:
The breadth of knowledge from the good people at Hispaniola shows in their Tres Carabelas blend. The draw was superb and the robusto size is a perfect showcase for the tobaccos in this cigar. Tres Carabelas gives a medium to full bodied smoking experience and can easily be appreciated after a fine meal. For those who want an elegant experience in cigar smoking Tres Carabelas is a cigar you need to get your hands on.
Announcement, Bourbon Review, Cigar Lounge, Education, Interview, Luxury Marketing, Opinion, Photo, Press Release, Spirits, Uncategorized, Whiskey Review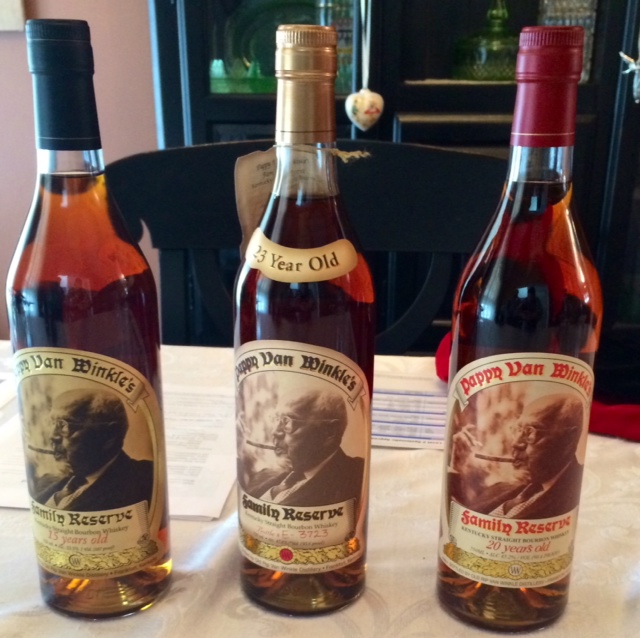 During one of our cold and dreary winters here in New York I invited some close friends to my house for a grueling task. I wasn't asking them to move furniture or paint rooms which are the archetypal favors you may rope a friend into. No, this was a "chore" most mates would jump at the chance to aid in. The call I placed was to ask if they would assist me in rating a vertical of Pappy Van Winkle 15, 20, and 23yr. old bourbon. Needless to say both friends didn't seem to mind lending a hand or their taste buds. However in order to gather sufficient and comprehensive results I had to put a few key methods into place.
First I chose these two friends for particular reasons. Although I had many people offer to "help" out with my study I felt I needed some specific tasters. One of them has tasted many a fine bourbon yet still considers his tasting acumen as" budding" and continuing to develop. Also this individual doesn't covet any booze or cigar and price and/or hype never sways him. I can always count on him for an honest assessment and he is one friend who even keeps me grounded at times. The other person has never tried bourbon but is a big fan of wine with a developing palate enhanced by his extensive Sommelier certification coursework. He is an asset to the study as he has the ability to recognize taste but no preconceived notions on what bourbon should be.
The Setup: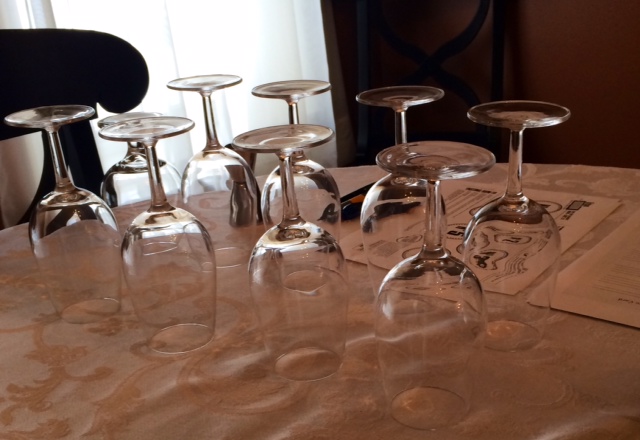 Second we had to do this study blind. In order to score without bias we needed to NOT be aware of what we were drinking. Each bourbon was covered up by someone not participating in the study and each bottle labeled simply 1, 2 & 3. We were poured each one in number order and utilized the UC Davis College Wine Score Card which applies to spirits as well. This card has a point system broken up into 3 categories with a scoring system for each category.  The categories were Appearance, Odor, and Taste. Each category was noted and then given a score. The scores were then added up for a final scoring on that particular spirit. The highest total score that can be achieved is 25 points on the UC Davis College Wine Score Card respectively. The results and ratings below are listed highest to lowest scored with tasting notes as well as the year of the bourbon. The results were quite surprising. Enjoy!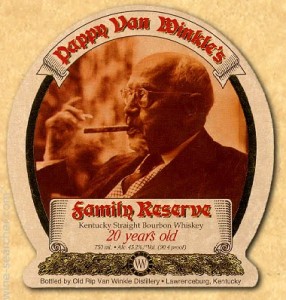 1.  Pappy Van Winkle 20yr. Old Bourbon- 20 Points. We found that this bourbon was the sweet spot in terms of the time Pappy should be aged in barrel. The color was a wonderful golden amber with a honeyed hue and a touch of rose'. The first nose gave off alcohol aromas some vanilla and slight spice. Initial tastings had vanilla, baking spice and oak with medium intensity. The mid palate was smooth and refined with oak vanilla and earthy characteristics. The finish was long, rich and continued with an interplay of spices, toasted oak and vanilla. An extremely balanced bourbon with a length that beats many I've tasted.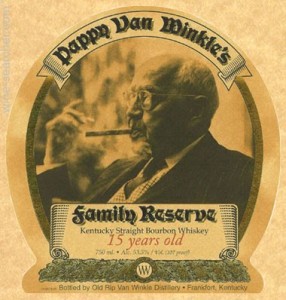 2.   Pappy Van Winkle 15yr. Old Bourbon- 18 Points. The color in the glass was that of caramel and toasted almond. Nosing gave off aromas of cinnamon, citrus and spice. This bourbon had a weighty mouth feel with earth and vanilla dominating. Midway caramel, butterscotch and a bit of toasted oak came through. Some "bourbon heat" kicked in for a moment before finishing with a long caramel/toffee aftertaste. This was a medium intensity bourbon and we all felt it was a fine sipping spirit.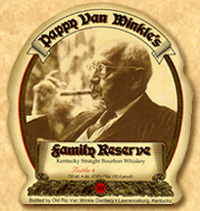 3.    Pappy Van Winkle 23yr. Old Bourbon- 17 Points. The color on this bourbon was medium with an amber hue. There was a more intense burn on the nose with some vanilla coming through on the second impression. There wasn't much more on the front of this offering. First sip yielded baking spice, wood and coconut. Midway gave a lot of earthiness along with baking spices and some more vanilla and caramel. There was a lot of heat present and the finish took on a long earthy and spicy character. This bourbon came on with intense spice, heat and wood no doubt due to its aging however we did not feel the extended time benefited it.
The lineup and copious note taking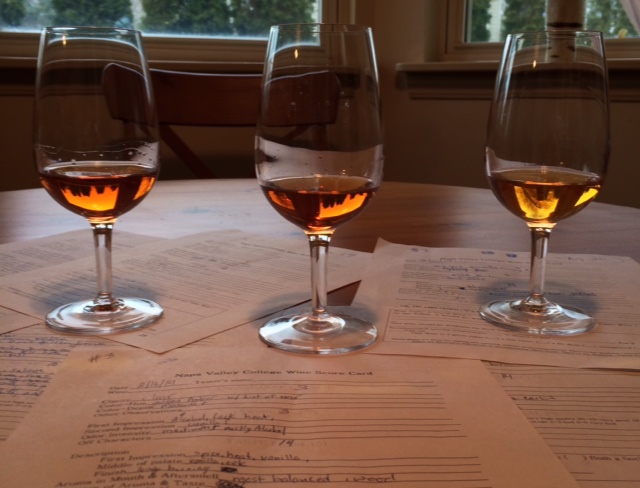 So after a long hard afternoon which trickled into evening we concluded our findings. Having drunk these bourbons for years I wasn't surprised to see the 20 yr. old the best in taste, flavor and finish as it has always been my personal favorite. We were all surprised to find that the 23yr. old scored the lowest in our tasting. This wasn't a bad bourbon at all in fact it is of extremely high quality. The additional aging however seemed to overpower some flavors which seemingly hurt its scoring. What makes blind tastings so interesting is that you remove your preconceived notions and are forced to focus on the sight, smell and taste of the product alone. I would recommend getting some friends together and try a blind tasting. It can be done with any spirit and you may be surprised at what you THINK you like. I'm sure you won't have any trouble finding friends to lend a hand in this endeavor,I sure didn't.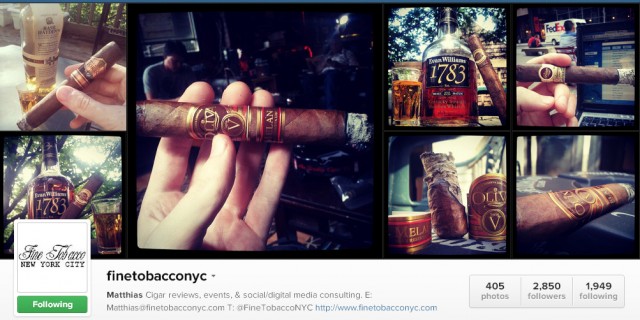 To many small business owners, social media is an attractive but baffling marketing tool. They know social media could drive interest and sales, but might not know how to expand their strategy beyond just posting on common networks. Retail companies, especially those in the luxury and niche markets, can profit greatly from the smart use of image-based platforms like Instagram. But many small business owners are using Instagram in all the wrong ways: posting blurry or irrelevant photos, ignoring fans, or being too fearful to openly encourage sales. So the question becomes, "How do I sell items on Instagram?"
If you want to build a profitable Instagram presence for your small business, here are 5 basics you have to keep in mind:
1. Be an expert
No posting pictures of what you ate for breakfast or the cool cloud formation outside. Stick to taking creative pictures of your product, behind-the-scenes shots of production, or unique ways people are using your items. Enthusiasts and potential customers follow experts with focused, quality content.
2. Post frequently
There is an inverse relationship between the amount of time that elapses between your posts and the strength of your relationship with fans. Post at least once a day to keep your audience engaged.
3. Respond
Effective marketing and making sales requires relationships! If someone comments, be sure to comment back. Friendliness and personal connection, more than anything, is what will turn your fans into customers.
4. Initiate
Use relevant hash tags to find users who are interested in your niche (i.e. for a boutique fashion co., #fashion #dailylook #mensfashion #womensfashion are major – for cigars you'd look at #cigar #cigars #cigaraficionado, etc). Try to like at least 20-30 photos a day from a few of the relevant tags. Why? Each like drops a notification from your brand on a users' phone. Try it and watch your follower count grow much faster.
5. Make the ask
Some social media managers would tell you to stick to the "soft sell." This is bad advice. A hard ask can be effective and even flattering to a user, provided there is a pre-existing relationship. Once you have built a large, enaged audience and are getting between 50-200 likes per photo, start dropping selling language in every fourth or fifth photo. The key is to be creative! One highly successful strategy is to make product recommendations to your most engaged fans by using the @ mention function. Who wouldn't like a personalized recommendation from an expert?
Now let's make it concrete. Here are some examples of Instagram done right.
Drew Estate
These guys do a fantastic job creating a solid Instagram community that has very high interaction rates and actively asks to buy: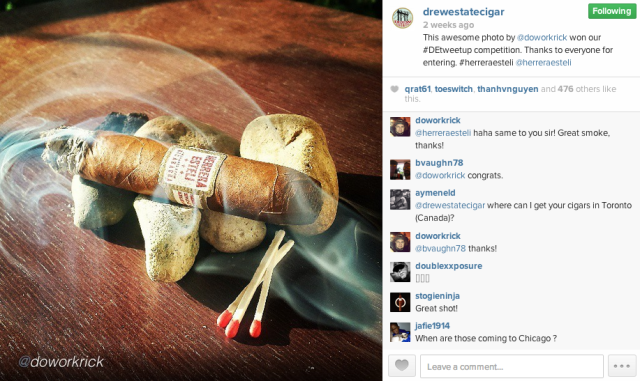 Ash Fine Cigars
Ash Fine Cigars is a cigar shop in Hoboken I did some consulting work with last year. We had a lot of success a) posting every day, and b) making recommendations to our customers.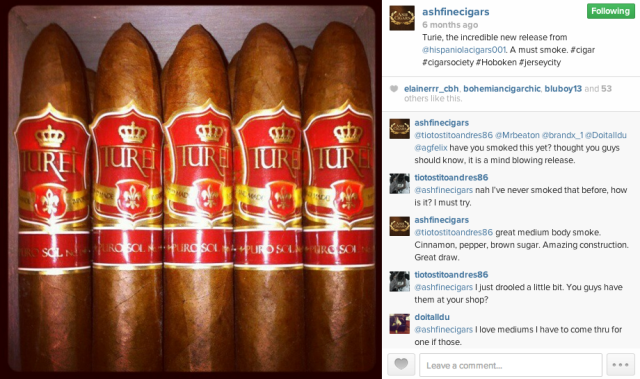 Rogue Ales
Rogue Ales is based in Oregon (my home state) and has something of a cult following. Their attention to their community has created a very engaged audience that loves to fawn over their products.
The 5 basics outlined above work with any company that is selling an attractive product and can be used in industries from cigars and spirits to fashion and even auto.
Do you have a winning method for making sales on platforms like Instagram? Tell us about it in the comments below! You can also check out a few my other guides to social media for small and mid-sized businesses:
~~~
Did you find this post helpful, or know someone who would? Hit the like, tweet, or email button to help spread the word!
Have a question? Want to hire me to make social media work for you? Drop it in the comments or email me.
I'm also on Twitter and on instagram. You can subscribe to this blog ->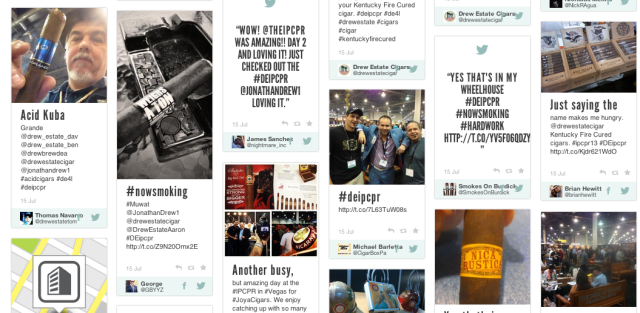 Everyone knows IPCPR is one of the largest cigar events of the year in the United States. Thousands of cigar brands, retailers, bloggers, and other enthusiasts descend to smoke and purchase the newest blends from the hottest brands. Any high-energy, well-publicized event like IPCPR presents a great opportunity for companies willing to leverage social media to get exposure to tens of thousands of cigar smokers on social media.
So who were the top performers at IPCPR this year? The results are below. But first a note: these results are not comprehensive. They do not cover all cigar brands at IPCPR (that would be impossible), nor do they cover all social media platforms. I limited my statistical analysis to the previous 7 days of tweeting activity on Twitter because its open environment  allows me to get the most detailed information. Yes, it is one platform among many, but the stats sill tell a solid story. Nonetheless, I have also included a some anecdotal analysis because there were some brands who made some spectacular plays on other networks like Facebook (i.g. Alec Bradley sends first cigars into space). If you're wondering why I didn't include more brands (even big ones), it is because this kind of research takes a lot of work and I was looking for representative samples.
Rankings are based on total number of company mentions during the week of IPCPR.
The results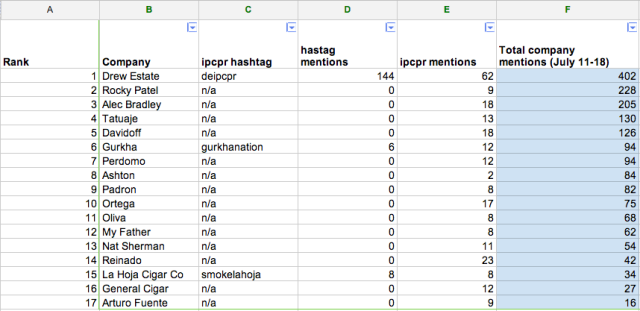 Drew Estate dominated social media this year, with Rocky Patel and Alec Bradley coming in second and third. We'll go into the how and why's of it in a minute. But quickly I should explain that the "Total company mentions" column on the right is not the sum of "hashtag mentions" and "ipcpr mentions" – it includes more tweets, like those that @ mention the company, use slang terms for the company, etc. Thus it is the most comprehensive metric, and the one which judged rankings.
How did Drew Estate do it?
Drew Estate crushed it this year for a few reasons:
Drew Estate made a concerted effort to draw their customers into the IPCPR experience using an IPCPR hashtag.
Drew Estate motivated  their customers to participate in the hashtag by featuring posts on a company webpage designed specifically for IPCPR.
Drew Estate posted across multiple platforms – Twitter, Instagram, Facebook, YouTube, achieving a maximum reach across platform audiences. They were also smart in posting content across platforms (i.e. their Facebook page is full of their YouTube interviews).
Company employees were active on social and responded/thanked users who submitted posts with #DEipcpr.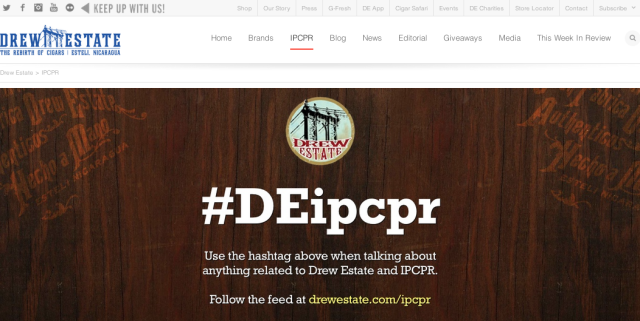 Drew Estate did a fantastic job and all cigar companies could learn a thing or two on how to engage customers and increase brand loyalty.
Honorable mention: Alec Bradley
Alec Bradley didn't have nearly as much social momentum during IPCPR 2013, but they deserve an honorable mention here for the sheer creativity of their marketing approach. While in Vegas, they made history by launching the first cigars into space. Yeah. The post had 11 shares, over a hundred likes, and a lot of comments. I estimate this post had a viral reach in the tens of thousands, and will be posted around the internet for a long time to come.
Way to go Alec Bradley!
What about Rocky Patel?
I'm a big fan of Rocky Patel cigars – great flavor, incredibly consistent construction, awesome pricing too. Their performance on social this year, however, wasn't so much the result of the company having a solid social media strategy. A cursory glance around their networks revealed that they didn't put a lot of effort into getting people involved this year, indicating they were riding on existing brand excitement.
Rocky Patel vs Alec Bradley
If you want to see what a bad approach to social media looks like, just take a look at the Rocky Patel Facebook page as compared to a brand like Alec Bradley. Here is the Rocky Patel Facebook page: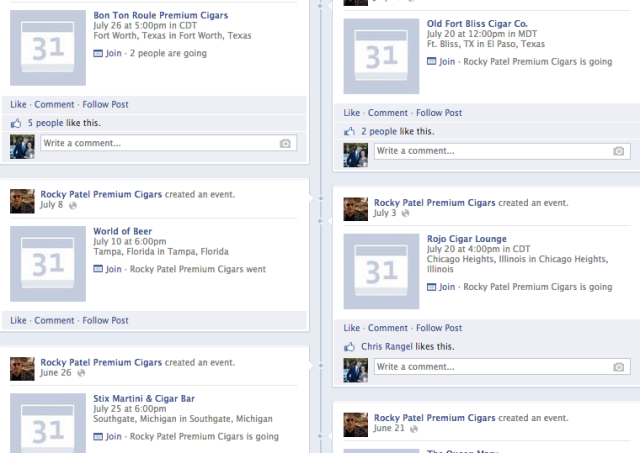 Note that there is no visual content, very little interaction from page fans, and it really ends up just being a feed for events. The page is visually unappealing and doesn't represent the brand well at all. It is, in short, really boring. Whoever is managing their page needs to correct course if they want to get any value from their Facebook page – right now it is a waste.
Now take a look at Alec Bradley's stream. They have roughly the same amount of page fans, but look how their rate of interaction is literally 50x that of Rocky Patel's page: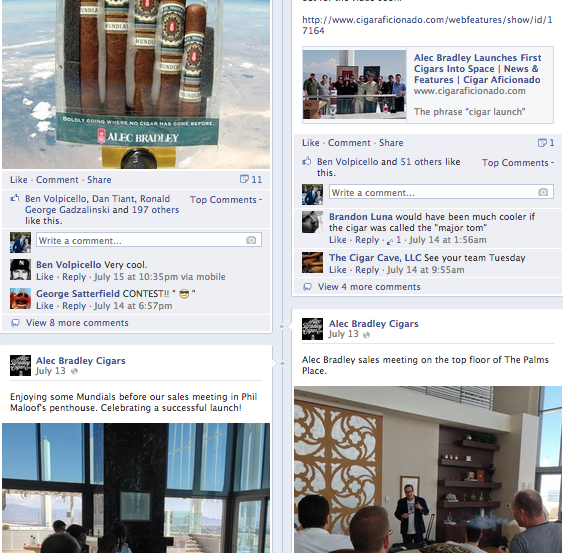 The lesson? Be creative, use visual content, and try to act like you care about your Facebook fans enough to give them good content!
Congratulations to Drew Estate and Alec Bradley for putting on a stellar performance with social media at this year's IPCPR!
~~~~~
Want to learn how to kick ass and make money with social media? Take a look at our most recent guides:
Did you find this post helpful, or know someone who would? Hit the like, tweet, or email button to help spread the word!
Have a question? Want to hire me? Drop it in the comments or email me!
I'm also on Twitter and on instagram. You can subscribe to this blog ->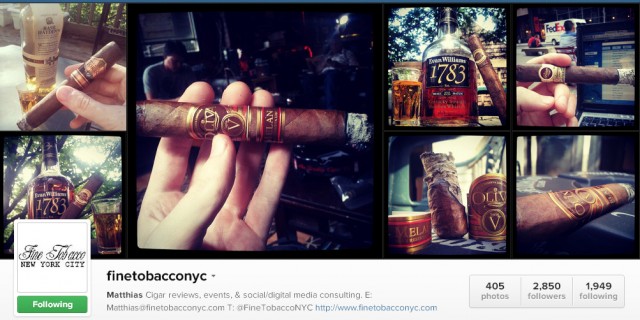 In our last post, we looked at how to use Facebook to increase brand awareness and communicate with your fans and customers. In this post, we'll take an in-depth look at how to use Instagram to connect with current and potential customers and drive sales.
First, a few basics on Instagram that should shape your strategy. Instagram is unique in that it is entirely image based. This makes it extremely valuable for enticing other Instagram users to purchase your product. This also means that Instagram is not the platform you want to use to make basic announcements about your business, unless you have marketing images appropriate to Instagram.
So now let's talk about how to get your Instagram account set up!
We'll start our how-to with the most important tips you need to know to set up and, just as important, launch your Instagram presence. From there we'll look at a few tips for quickly building a large following of relevant users (i.e. potential customers). Then we'll look at the part you're excited about: how to make money on Instagram. Just remember: each step below is important.
Setup
It goes without saying that your username should ideally be the name of your company. This will help your customers and fans find you easily. Aside from that, follow these basic guidelines:
Important: skip the "find friends" screens that will pop up immediately after creating your account. This comes later.
Your "bio" section should include a brief description of your company, and if possible either your marketing slogan or the handles for your Twitter and other social accounts.
Be sure to add your website to the "website" field.
In your account settings, connect your Instagram account to your Twitter feed unless you plan on posting images separately on Twitter (better, but takes a lot more time).
Upload at least eight or nine photos creative captions to your account. Please: make your photos good. Bad photos count against your brand, not for it.
Launch
Now that your profile is set up, it is time to launch. Go into your options menu and tap "find friends." From there, hit "Facebook friends." You'll be prompted to connect your Facebook account to you Instagram profile. Do it.
Now you'll see a screen with a list of all of your Facebook friends on Instagram. Hit the "Follow All" button. This will act as a notification for all of your friends on Instagram to check out your account, and since you've already posted content, they will likely hit the "Follow" button back!
But we can boost your initial following even more. Here are some ideas:
Go back to the "find friends" screen, and add friends from your phone contact list. Hit the "follow all" button again.
Announce on your other social networks that you have launched your Instagram presence. Be sure to include your best photo in the post so people have an immediate understanding of the value of your content.
Use any company email lists to send an email blast to your current customers and contacts. If you go this route, be sure that your email is polished and professional. After all, if your email isn't visually appealing, why would anyone want to follow you on Instagram?
Build
Immediately following your launch, you will notice a big bump in your follower count as your friends and fans connect with your account. This is good, but it is only the beginning!
Here are a few best practices to remember that will help you build your Instagram audience:
Post at least once a day. Two or even three times if possible, while maintaining relevant content.
Use hash tags. Hash tags group photos from different users under similar interests, and will help other users find you. A few common cigar related hashtags are: #cigar, #cigars, #cigaraficionado, #cigarsociety, #cigarian. There are many, many more.
Like photos under hash tags like #cigars. Every time you like someone's photo, they get a notification. Many times, getting a like will pique a person's interest, and they will often follow you after visiting your profile. This is one of the fastest ways to grow a profile.
Link your Instagram account to your Facebook and Twitter profiles. This will cross polinate your social media followings.
If someone comments on one of your photos, RESPOND! The users who comment on your photos are the most likely to become your next loyal customers. Don't shut them out or they'll lose interest and go somewhere else.
If you've done this well, you should end up with something like this (another account I built):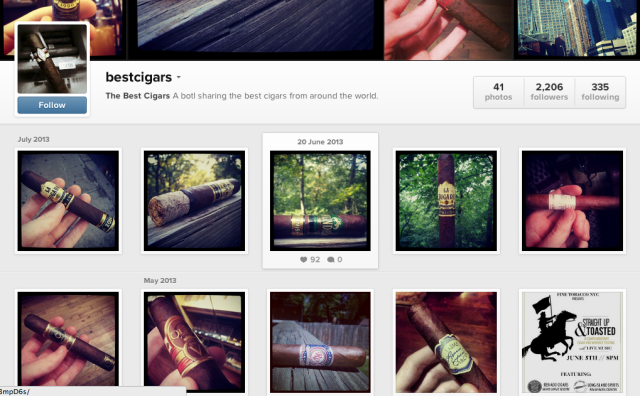 Entice
Ok, so you've followed the steps above and you have yourself a solid Instagram account running. Now you might be wondering, "How do I sell my product on Instagram?" It's pretty easy and just takes a bit more work.
Take badass pictures. Nothing is more attractive to a customer than a picture of your product on an exotic beach, on top of a skyscraper, with a famous celebrity, or in any other unique situation. If your pictures are blurry or just plain unenticing, don't expect anyone to want to purchase your product.
Reach out to your commentors. After a week or two, you'll notice that other Instagram users are commenting on your photos. If users are interested enough to interact with you – they're probably interested enough or almost interested enough to buy your product. Start keeping a list of the individuals who comment on your photos. When you have a solid list of 10-15 names, start tagging them in your photos or mentioning them in the comments below your next shot. Here's a good example of how this works (see below).
Recommend cigars to your Instagram followers. Imagine you have a personalized retail experience online, where a professional is reaching out to you and recommending a product. How likely are you to take the recommendation? Statistically, the answer is "very likely." Try posting a picture of a cigar, and recommending the cigar to a few of your followers using the @ mention.
Post your crazy awesome deals. You must run sales at some point or another, right? Well, it's likely that one or all of your sales is worth a mention on social media. Next time you run a cigar sale, take a picture of the cigars that are on sale and drop a caption using non-salesy language. Avoid "x cigar is on sale today. hooray." and go with something like "Do you love the Fuente Opus X?! Well get your ass down to the shop because they're half off!" (admittedly, this would be a truly sick deal, but it's just an example).
Here's an example from a client I was managing on recommendations/tagging: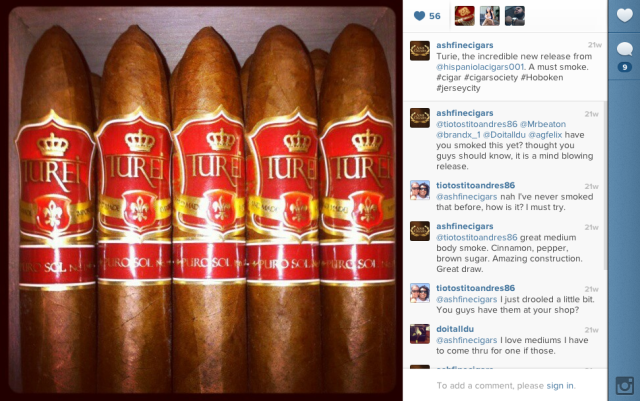 Keep in mind, these are only ways to get direct sales on Instagram (where someone says, "yes, I will buy that). Social is powerful, however, in that it leads to many indirect sales by heightening the exposure of your brand in general (more visibility, trust, yada yada).
So there you have it. An awesome guide on how to use Instagram to look badass, be badass, and sell lots of cigars (or anything else, honestly). Pretty simple right? The key here is to be creative and actually interact with your audience. After all, it's called social media for a reason!
In our next post, we'll look at strategies for using Google+ effectively and giving your company an exposure boost.
In case you missed them, our last three posts:
~~~
Did you find this post helpful, or know someone who would? Hit the like, tweet, or email button to help spread the word!
Have a question? Want to hire me? Drop it in the comments or email me!
I'm also on Twitter and on instagram. You can subscribe to this blog ->