Education, Featured, Images, Lifestyle, Luxury, Luxury Marketing, News, Opinion, Photo, Top Stories, Updates, Wine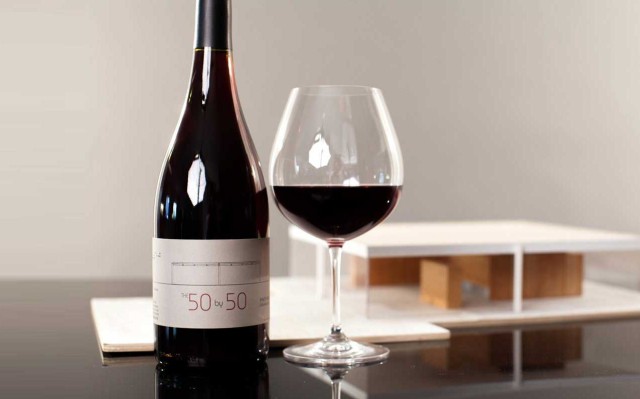 This evening I was fortunate enough to try the 50 by 50 Pinot Noir. The story behind this wine is unique in that it's a creation of Gerald Casale founding member of the prolific band DEVO. During the late 70's and early 80's Gerald and the band began to tour the world extensively. When given the opportunity to visit vineyards in Italy, France, Spain and other regions Gerald jumped at the chance to learn and discover the pleasures of wine. As the story goes his love specifically for Pinot Noir came later on around 1990. Having been fortunate enough to taste the legendary Domaine de la Romanée Conti with friends the love affair began. Years later Gerlad began creating the 50 by 50 Pinot Noir in Sonoma County. The name derives itself from the blending of a 50/50 blend of two Pinot Noir clones; the Pommard and the 667 Dijon clone. Produced in a Burgundian style this Pinot Noir is a treat for the senses. Below are my notes and rating. Enjoy!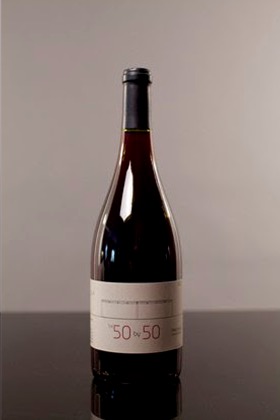 Appearance: Beautiful light brick color.
Nose: Some bright cherry and red fruits with a bit of cinnamon and spice.
Taste: This wine starts off with upfront flavors of cherry a bit of ripe strawberry and cola. Mid palate shows almost coffee like notes with spice and cherry intermingling. The finish smacks of red berries, fresh sage and earth which linger on and on. With some decanting this wine opens up to reveal tart cherry, all spice and a pronounced finish of earth and coffee. Stylistically this Point has the ripe red fruit flavors of a Californian Pinot Noir along with the richness and elegant finish a good Burgundy possesses. This wine is harmonious and for the price of around $34 a very good value for a wonderful pinot Noir.
Rating : 94 points non-blind.
Conclusion: Gerald's passion for wine is evident as demonstrated by his excellent Pinot Noir. Make no mistake this is not a vanity project from a celebrity but an homage to true fans of the grape with all the care and attention clearly shown here. This is a wine I recommend picking up before it sells out!
Website: http://www.thefiftybyfifty.com/order.html
Announcement, Cigar Lounge, cigar news, Common Questions, Education, Luxury, NYC Cigar Lounge, Opinion, Photo, Press Release, Saturday Cigar Survey, Smoking Location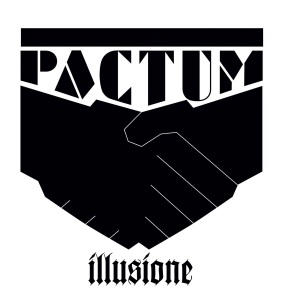 Last night I had the pleasure of smoking the Illusione/Smoke Inn collaboration which marks the 9th edition of SI's Microblend series. The Illusione "Pactum" which gets its name from the Latin verbiage "Agreement", or at that time in ancient Rome it came to mean a "Gentleman's Agreement". I can say knowing Abe and Dion personally these are two true gentlemen who seek to provide the highest quality in a cigar for the connoisseur. Being a big Illusione fan I was very excited to try this smoke and here is the first exclusive review you will find. Enjoy!
Blend Specifics:
Vitola: Boxed Pressed Robusto
Wrapper: San Andres Capa Fina Maduro
Binder: Nicaraguan
Filler: Nicaraguan
Dimensions: 5 1/2 x 56
Appearance & Construction
The Illusione Pactum has a gorgeous chocolate wrapper with a nice sheen and slight veins on the sides. The box press is perfect and there are no soft spots with a feel of well packed tobacco inside. The dry draw yielded raisinated flavors and a cocoa sweetness.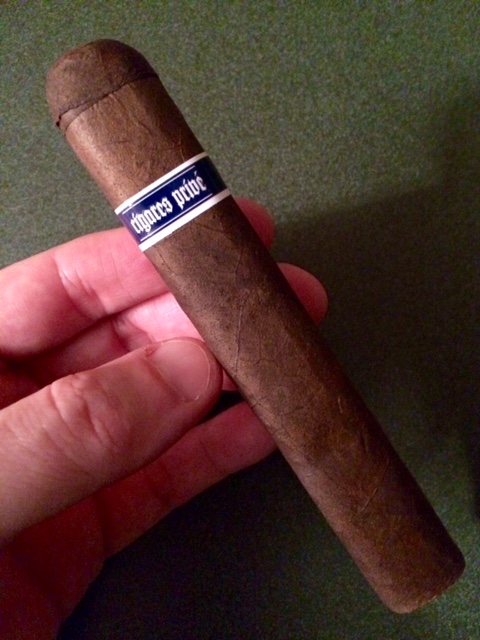 Taste & Smoke Characteristics:
Lighting up the Pactum greeted me with earthy characteristics and a distinct sweetness from the wrapper. The first third of the cigar brought on some full tobacco flavor due to the higher priming from the Nicaraguan filler leaves. The ash was sliver and gray and fell off on its own. Midway the cigar brought out a bit of wood, hay and a slight gingerbread note. All the way the Pactum gave the sweetness from the San Andres 'Capa Fina' maduro cover leaf which really balances out the smoke. The final third gave a lot of the similar flavors as the last half which is not a bad thing at all. The combination of wood, sweet and rich tobacco hit all parts of the palate and gives you an excellent example of what a balanced smoke is all about.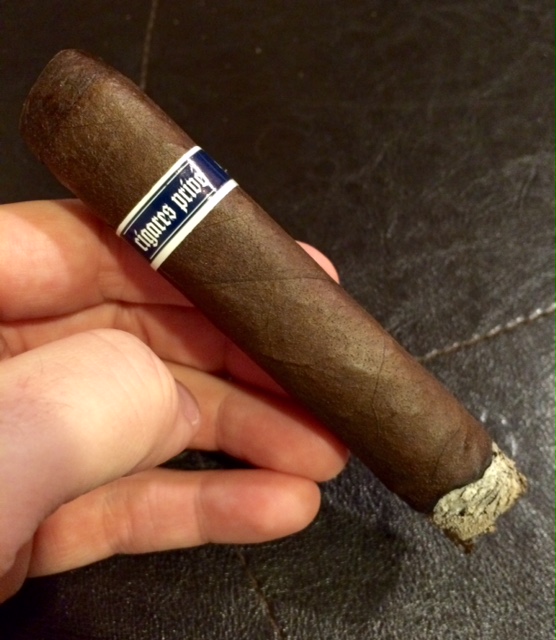 Conclusion:
I have been continuously impressed with Abe's Microblend series not just as a concept but knowing the personal attention he gives to each blend and working with the brand owners. Dion of Illusione is a master craftsman and a perfectionist in what he puts out. When these two make a "Pactum" you can rest assured you are getting a smoke worthy of the Roman Empire. Pick these up before they sellout as other Microblends have.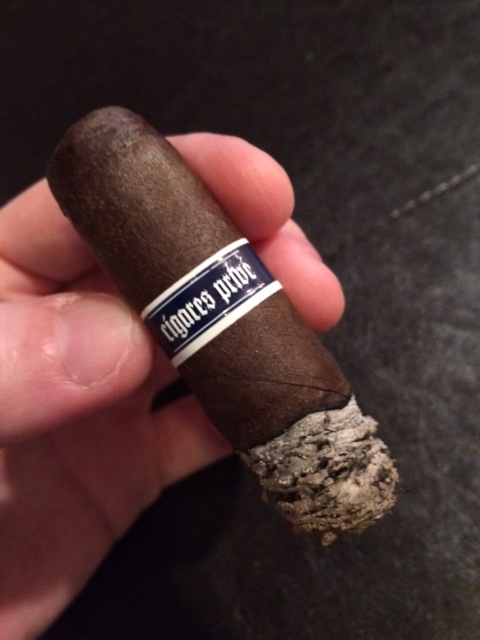 Avialble at Smoke Inn shops and their website if you are intrested:
http://www.smokeinn.com/eshop/Illusione-Pactum-SI-Exclusive-Product.html
Announcement, Cigar Lounge, cigar news, Cigar Review, Common Questions, Education, Luxury, Luxury Marketing, Opinion, Photo, Uncategorized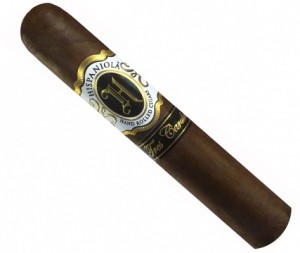 This past week I was luckily enough to meet with the creators of the Hispaniola brand of cigars. Hugo F. Melo, a modest gentleman described with passion his families long history in the Dominican Republic working tobaccos. After generations of distributing aged product for other cigar companies Hugo felt it was time to venture out with his own brand that is Hispaniola cigars. Recently FTNYC had reviewed Hispaniola's El Trabuco 1844 which received high praise from our staff. Today I smoked their Tres Carabelas cigar and my findings did not disappoint. Enjoy.
Blend specifics:
Wrapper: Havano Oscuro Vuelta Arriba
Binder: Dominican
Filler: Dominican
Size Robusto- 5″ x 55
Appearance & Construction:
The wrapper of this cigar had a nice oily sheen and shows the classic dark color of a Havana Oscuro wrapper. The cigar had some slight veins and a few soft spots to the touch however the foot showed some nicely packed tobaccos. This was extremely well rolled and visually appealing.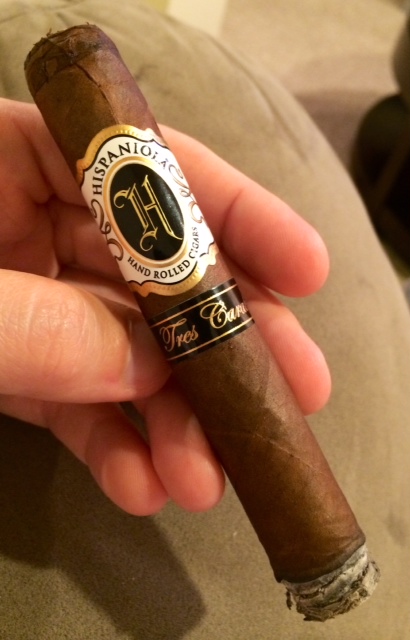 Taste & Smoking Characteristics:
The dry draw showed wonderful coffee and wood notes with a salty finish. Upon lighting the cigar offered some dark espresso, oak and leather flavors. The finish was salty which is something I really enjoy in a fine smoke. Midway a bit of spice kicked intermingling with espresso and a touch of graham cracker. The leather seemed to pick up a bit with the salty finish balancing it out. The final third delivered espresso character at its fullest with leather in the background. A well balanced cigar from begin to end.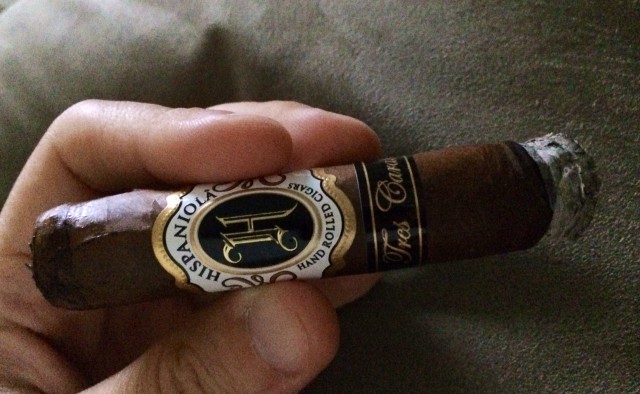 Conclusion:
The breadth of knowledge from the good people at Hispaniola shows in their Tres Carabelas blend. The draw was superb and the robusto size is a perfect showcase for the tobaccos in this cigar. Tres Carabelas gives a medium to full bodied smoking experience and can easily be appreciated after a fine meal. For those who want an elegant experience in cigar smoking Tres Carabelas is a cigar you need to get your hands on.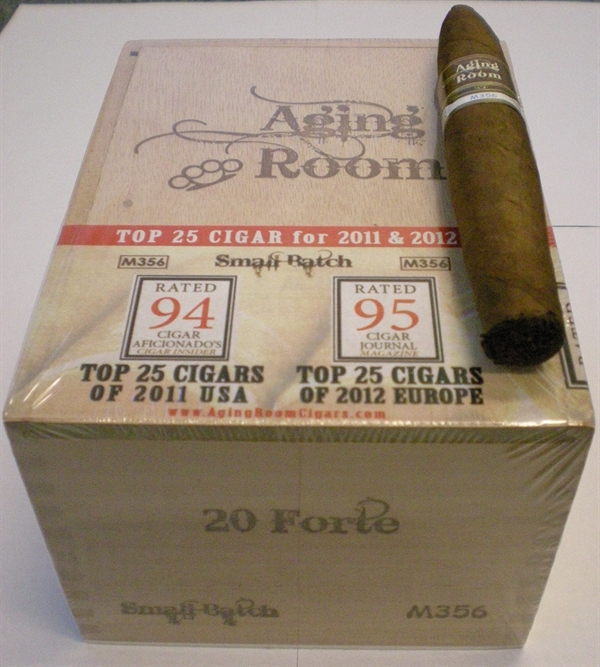 I was lucky enough to smoke another one of Rafael Nodal's Aging Room creations in this beautifully constructed perfecto vitola the M356 Forte. Rafael of Boutique Blends has hit the mark with his small batch Aging Room cigars and thus far I haven't found a blend that I didn't enjoy fully. The M356 line features an extremely limited blend of tobaccos from the Dominican Republic with a Habano seed wrapper and the taste profile was something else. Enjoy.
Appearance & Construction:
The cigar has a lovely sheen to the wrapper that is silky smooth to the touch. A noticeably firm cigar that seems full of tobacco with no soft spots. There were some slight veins around the stick but that didn't detract from the classic appearance of this well rolled perfecto.
Wrapper: Dominican Habano Seed
Binder: Dominican
Filler: Dominican
Size Perfecto- 5 7/8 x 40/56
Taste & Smoking Characteristics:
As I gave a nice size clip to the tapered end of the cigar I got a firm draw that gave a toasty dry draw of nuts and earth. Upon lighting I was greeted with toasty oak and earthiness. As the cigar developed spice and graham cracker intermingled around the coating of my mouth with a roasted nuttiness on the finish. The draw continued to be firm yet delivered a cacophony of flavors ranging from earthiness, spice and some full tobacco notes. Midway the Forte had flavors of hay, cinnamon and a bit of citrus on the end. The final third is where the Forte shined as the roasted nuts and spice returned to offer a satisfying finish to the cigar. The stick throughout was a medium plus for me and provided flavor profiles I enjoy the most in a cigar. Although the burn could have been better I smoked this stick down.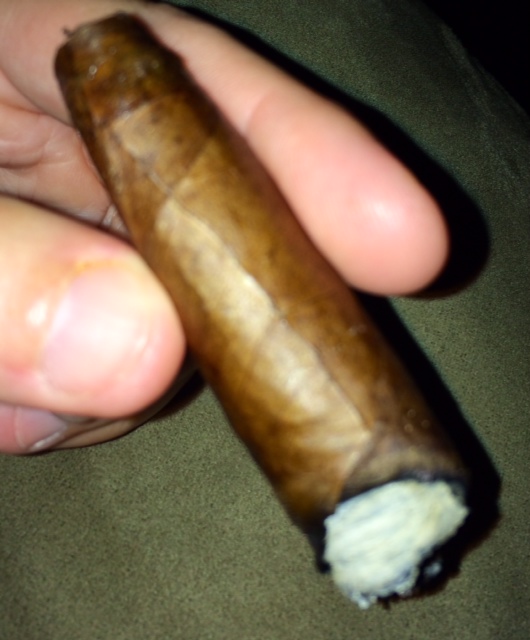 Conclusion:
Rafael Nodal has impressed me once again with his Aging Room Boutique Blends. Despite a firm draw which can be typical for this vitola, the quality of tobacco was stellar. The changes in flavor as the cigar progressed showed craftsmanship in the blend and made for a truly Small Batch stick. If your local tobacco shop carries Aging Room I would recommend grabbing any blend as everything I've smoked in the line is smoking well right now. Grab a BIG batch of these!
Recently I had the pleasure of smoking the new Flagship cigar from Sindicato aptly called "Sindicato". The cigar is blended by Arsenio Ramos at the Casa Fernandez factory and is something to behold.
Appearance & Construction
The box press along with its excellent construction make it one silky smooth stick that I don't know if I should smoke or take a bite like a chocolate bar. The pig tail cap is expertly crafted which makes it all the more attractive. I thought box pressed Behikes at first glance which ain't a bad thing, and when I clipped it the draw was perfect.



Blend specifics
Wrapper: Shade Grown Corojo Jalapa
Binder: Esteli Double Leaf
Filler: Jalapa and Esteli
Size Robusto- 5 x 54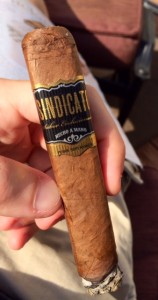 Taste & Smoking Characteristics
The dry draw on this cigar yielded some sweet raisinated flavor. Upon lighting the sweetness continued along with some cedar and slight pepper. The spices were really unique and although I had trouble depicting what they were I enjoyed them very much. The spice lingered on the finish and tingled the lips. Midway the cigar transformed to more of that sweet cedar and some rich tobacco notes emerged. The shade grown Corojo Jalapa wrapper was sweet and worked well with the blend. In the final third the spice picked up along with a little more fuller body. At this point the richness of the cigar created a long finish with wonderful flavor. The complexity here is a testament to its quality and the maker. I smoked the Sindicato to the nub.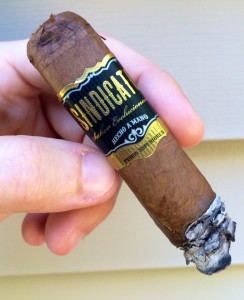 Conclusion
I haven't had the previous incarnations from the Sindacato portfolio but if they are anything like their namesake you are in for some wonderful cigars. The Sindicato delivered a blend of sweetness, spice, cedar and tobacco with such complexity that it's no surprise it comes from the Casa Fernandez factory. What's interesting to note is that Arsenio Ramos blended each vitola slightly different to adjust the flavors properly to each size. A lot of cigar makers make a blend for a cigar and simply use the same blend for every size in the line. This can leave some sizes in a line tasting muddled or unbalanced. The attention to detail shows as each size I smoked was complex and balanced in its own right. Sindicato has a hit with these smokes. I know Smoke Inn has them in stock for the moment so grab them while you can!
Smoke Inn: http://www.smokeinn.com/eshop/Sindicato.html
Announcement, Bourbon Review, Cigar Lounge, Education, Interview, Luxury Marketing, Opinion, Photo, Press Release, Spirits, Uncategorized, Whiskey Review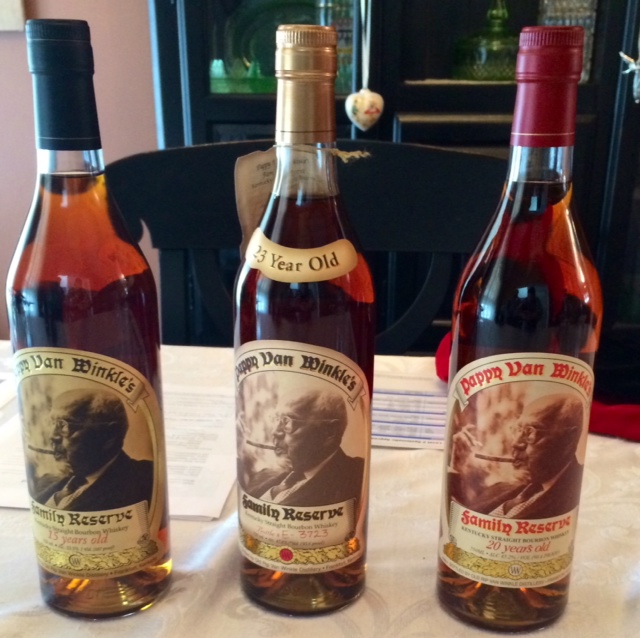 During one of our cold and dreary winters here in New York I invited some close friends to my house for a grueling task. I wasn't asking them to move furniture or paint rooms which are the archetypal favors you may rope a friend into. No, this was a "chore" most mates would jump at the chance to aid in. The call I placed was to ask if they would assist me in rating a vertical of Pappy Van Winkle 15, 20, and 23yr. old bourbon. Needless to say both friends didn't seem to mind lending a hand or their taste buds. However in order to gather sufficient and comprehensive results I had to put a few key methods into place.
First I chose these two friends for particular reasons. Although I had many people offer to "help" out with my study I felt I needed some specific tasters. One of them has tasted many a fine bourbon yet still considers his tasting acumen as" budding" and continuing to develop. Also this individual doesn't covet any booze or cigar and price and/or hype never sways him. I can always count on him for an honest assessment and he is one friend who even keeps me grounded at times. The other person has never tried bourbon but is a big fan of wine with a developing palate enhanced by his extensive Sommelier certification coursework. He is an asset to the study as he has the ability to recognize taste but no preconceived notions on what bourbon should be.
The Setup: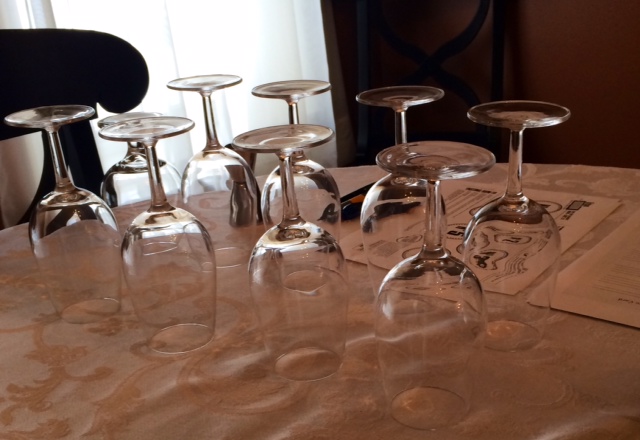 Second we had to do this study blind. In order to score without bias we needed to NOT be aware of what we were drinking. Each bourbon was covered up by someone not participating in the study and each bottle labeled simply 1, 2 & 3. We were poured each one in number order and utilized the UC Davis College Wine Score Card which applies to spirits as well. This card has a point system broken up into 3 categories with a scoring system for each category.  The categories were Appearance, Odor, and Taste. Each category was noted and then given a score. The scores were then added up for a final scoring on that particular spirit. The highest total score that can be achieved is 25 points on the UC Davis College Wine Score Card respectively. The results and ratings below are listed highest to lowest scored with tasting notes as well as the year of the bourbon. The results were quite surprising. Enjoy!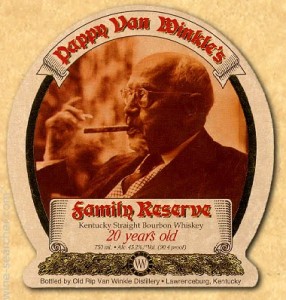 1.  Pappy Van Winkle 20yr. Old Bourbon- 20 Points. We found that this bourbon was the sweet spot in terms of the time Pappy should be aged in barrel. The color was a wonderful golden amber with a honeyed hue and a touch of rose'. The first nose gave off alcohol aromas some vanilla and slight spice. Initial tastings had vanilla, baking spice and oak with medium intensity. The mid palate was smooth and refined with oak vanilla and earthy characteristics. The finish was long, rich and continued with an interplay of spices, toasted oak and vanilla. An extremely balanced bourbon with a length that beats many I've tasted.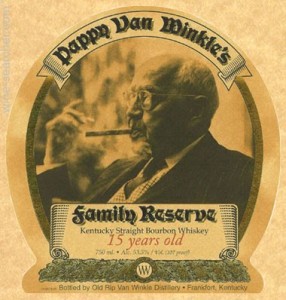 2.   Pappy Van Winkle 15yr. Old Bourbon- 18 Points. The color in the glass was that of caramel and toasted almond. Nosing gave off aromas of cinnamon, citrus and spice. This bourbon had a weighty mouth feel with earth and vanilla dominating. Midway caramel, butterscotch and a bit of toasted oak came through. Some "bourbon heat" kicked in for a moment before finishing with a long caramel/toffee aftertaste. This was a medium intensity bourbon and we all felt it was a fine sipping spirit.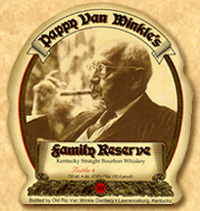 3.    Pappy Van Winkle 23yr. Old Bourbon- 17 Points. The color on this bourbon was medium with an amber hue. There was a more intense burn on the nose with some vanilla coming through on the second impression. There wasn't much more on the front of this offering. First sip yielded baking spice, wood and coconut. Midway gave a lot of earthiness along with baking spices and some more vanilla and caramel. There was a lot of heat present and the finish took on a long earthy and spicy character. This bourbon came on with intense spice, heat and wood no doubt due to its aging however we did not feel the extended time benefited it.
The lineup and copious note taking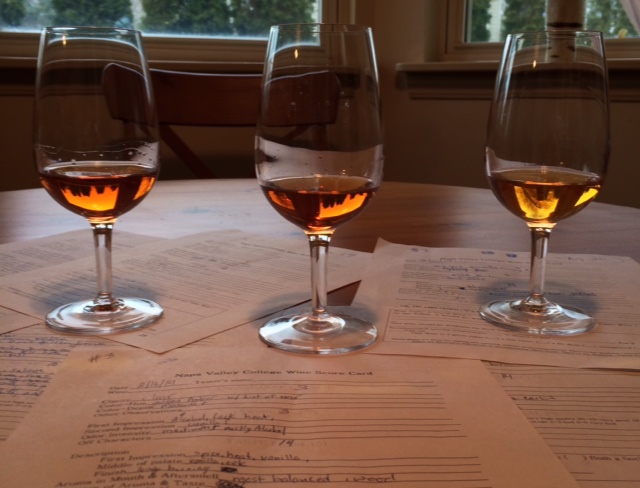 So after a long hard afternoon which trickled into evening we concluded our findings. Having drunk these bourbons for years I wasn't surprised to see the 20 yr. old the best in taste, flavor and finish as it has always been my personal favorite. We were all surprised to find that the 23yr. old scored the lowest in our tasting. This wasn't a bad bourbon at all in fact it is of extremely high quality. The additional aging however seemed to overpower some flavors which seemingly hurt its scoring. What makes blind tastings so interesting is that you remove your preconceived notions and are forced to focus on the sight, smell and taste of the product alone. I would recommend getting some friends together and try a blind tasting. It can be done with any spirit and you may be surprised at what you THINK you like. I'm sure you won't have any trouble finding friends to lend a hand in this endeavor,I sure didn't.
Announcement, Bourbon Review, Cigar Lounge, Education, Event Recap, Four Roses Bourbon, Luxury, Opinion, Photo, Press Release, Spirits, Whiskey Review
This past week I gathered some spirits and cigar aficionado friends of mine for a bourbon and rye blind tasting at Havana's Cigar Club in East Meadow NY.  Our goal was to have all of us bring bourbons or ryes for a total of 20 bottles together for the tasting.  There were five guys total including myself with backgrounds ranging from sommeliers to certified tobacconists. All of us arrived at the private club at 11:00 am ready for the challenge. Another cigar associate was present as his job was to pour all the spirits as well as number them so we would have no idea what we were tasting. In addition we each had to fill out cards for every spirit tasted and evaluate them using a hundred point scale. We gave points for 4 separate criteria; 1. Appearance 2. Aroma 3. Taste & Characteristics and 4. Finish. After tasting we tallied all the points up for a top 5 best of the best. It was quite an afternoon with many surprises as to what we "Thought" was what. I urge anyone who hasn't to organize your own blind tasting and you too may be surprised at how you taste. So without further ado, here is our official top five list and congrats to these wonderful spirits. Enjoy!
# 1: Rating 97 Points- Rough Rider Bull Moose Three Barrel Rye Whisky.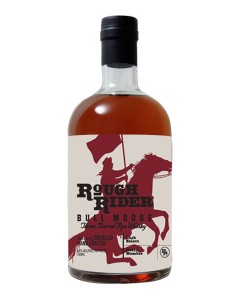 From Richard Stabile of Long Island Distillers makers of LiV vodka, Rough Rider Bourbon and Pine Barrens Single Malt this Rough Rider shot out the gate with three tasters commenting instantly on its aroma and complexity.  This rye had it all for us; spice, caramel, butter, toasted oak and some wonderful heat. All that with a silky mouthfeel and a finish that lingered on our taste buds for days. All of us agreed the Three Barrel aging was a brilliant idea that added to its intertwined flavors and finish. We need more of these innovations and more of this Rye!
Website: http://www.lispirits.com/
#2: Rating 96 Points- Four Roses 2012 Limited Edition Small Batch.
This very close second in our tasting is one of my favorite bourbons. There are four different bourbons comprised here ranging from 11-17 years old.  The nose on this yielded cinnamon, all spice and even a bit of citrus. Notes of vanilla, oak and caramel dominated leaving an aged oak finish. A delicate bourbon due to its age and an amazing expression of what quality blending can accomplish.
Website: http://www.fourrosesbourbon.com/
#3: Rating 95 Points- Eagle Rare 17 year old.
Yet another choice bourbon that blew us away. This spirit gave off a candied nose along with some citrus and dried fruits. Its initial spice gave way to leather, tobacco and cinnamon. Subtle oak on the finish along with a shot of heat hit all of our sensory spots. I've always been a fan of the different style of Eagle Rare even in their lesser offerings and this one is not to be downplayed. A stylish bourbon.
Website: http://www.eaglerare.com/
#4: Rating 94 Points- Templeton Small Batch Rye.
We were surprised how far ahead this Rye got in our ratings but despite its seemingly gimmicky claims, this Rye stood out amongst they fray. Its nose was reminiscent of the holiday with pine, allspice and woods. The cinnamon and spice came forward along with a buttery mouthfeel and heated finish. I can't say for fact that this is a "Prohibition Era" spirit but it's sure tasty for this day and age.
Wesbite: http://www.templetonrye.com/
#5: Rating 93 Points- Kings County Distillery Bourbon.
We must have had NY on our minds as yet another NY spirit made our top tastings. This small batch bourbon out of Kings County delivered fine malts along with a lot of corn on the nose. The flavors gave hints of charred oak, leather and touches anise. The oak finish smacked on the sides of the mouth and kept us salivating for more.  Yet another unique style that cut through the rest.
Website: http://kingscountydistillery.com/
As you've probably guessed it was a tough afternoon sifting through choice bourbons and ryes at a private cigar lounge; fortunately we bit the bullet and suffered through the day. Our scientific method yielded the most unbiased ratings we could deliver. You'll be happy to know we treated ourselves to some luxurious cigars afterward while dutifully sipping on the winner. All for you dear readers, all for you.