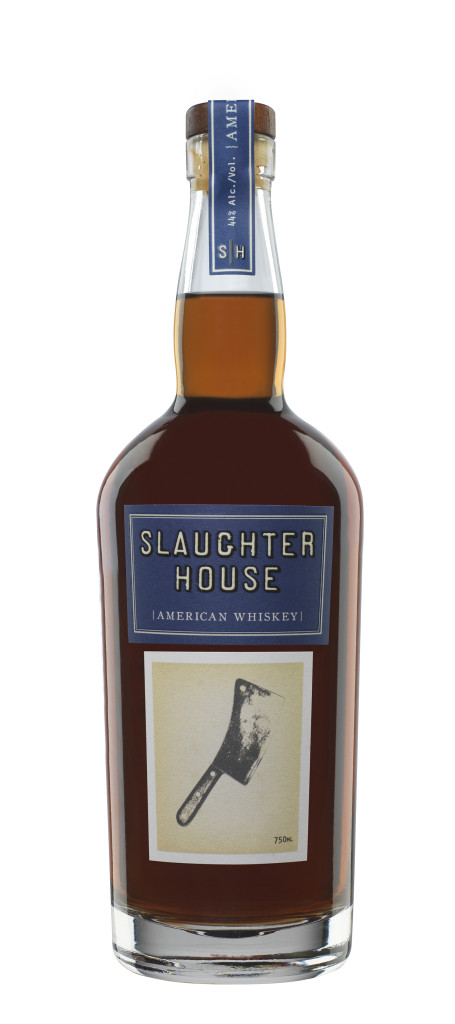 The other evening I picked up some Slaughter House American Whiskey for a choice tasting. For those that may not know Slaughter House is a creation from wine Rock Star Dave Phinney of Orion Swift Cellars fame. This is the man who created "The Prisoner" red blend in 2000 which catapulted his company into legendary status. He went on to form Orion Swift Cellars and sold "The Prisoner" to what is now known as The Prisoner Wine Company. For years Orin Swift has been making sourced wine blends that have garnered high scores and critical acclaim. His combination of high quality sourced grapes, meticulous vinification practices and creative labels have made him one of the more sought after and well respected California wine producers.
Recently Dave made his foray into Whiskey making in which Phinney continues his attention to quality and innovative label design with this recent release. Upon acquiring high level whiskey the spirit spends nine years in American oak and is then finished in Orion Swift Papillion wine barrels. Papillion is a high end Bordeaux blend created by Orion Swift. When bottled a touch of pure water from a natural spring in Pinkney's Alexander Valley property is added to enhance its aromatics. The combination of aging, finishing and filtration creates a harmonious whiskey. Here is my review:
Spirit details: Proof 88
Price: $40
Origin: USA
Description: The Slaughter House label dons a butchers meat cleaver with a white backdrop invoking a murderous intention with an old school slasher/movie feel. This seems appropriate for this whiskey as it cuts right through your senses.
Nose: Intense vanilla and baking spice that hits you immediately.
Palate: Honey, marmalade, and vanilla swath the forefront while spice and candied fruit coat the palate. A bit of heat touches the tongue with honey and vanilla rounding it out. An intensely focused spirit yielding just the right amount of spice and sweetness for an American Whiskey.
Finish: Vanilla, spice, butterscotch and toast produce a finish that lingers on.
Conclusion: This is everything you would expect from an American Whiskey. Dave Phinney manages to capture the spice, vanilla and toasty qualities from the American oak while giving the whiskey a weighty mouthfeel from its Bordeaux barrel finishing. While I didn't feel like I was being hacked with a cleaver Slaughter House Whiskey oozes with flavors that are a cut above the rest. A solid effort from this wine producer and worth a bottle purchase.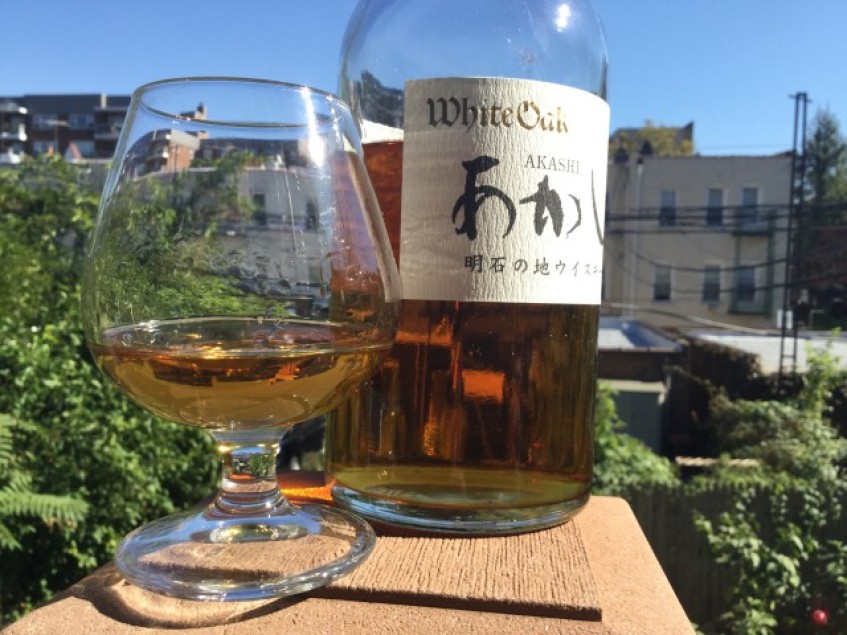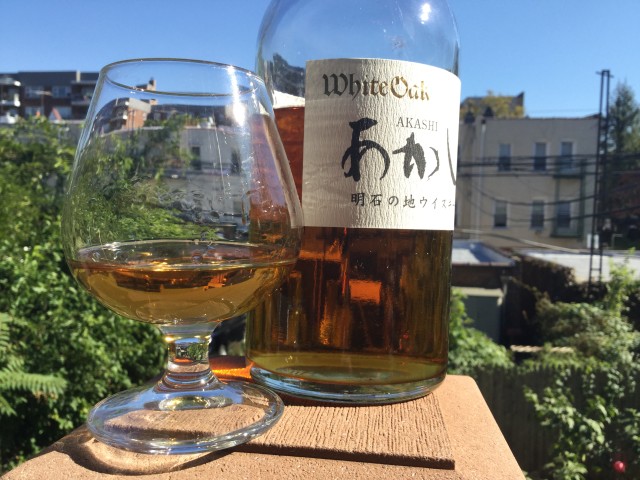 I picked up this bottle of Akashi White Oak at my local liquor store for the simple fact that it is produced in Japan and, well, we all know the Japanese whisky craze going on right now. So at $35/bottle, I thought, why not?
Akashi White Oak whisky is crafted using barley imported from Scotland and pure underground water from the Eigashima Distillery. From there, it is finished in ex-bourbon and ex-sherry casks, which is immediately apparent on the nose and the palate.
Here's the review.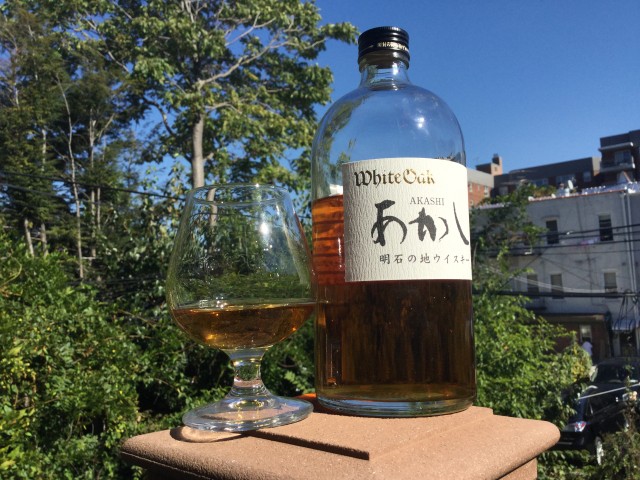 Spirit details
Proof: 80
Country: Japan
Nose
Slightly aggressive, the scent of this scotch is tantalizing, with orange peel, oak, vanilla, and a touch of spice.
Palate
Akashi White Oak really engages the taste buds with a lot of complexity to a level that is tough to find in a value whisky. This whisky shows its age a bit aggressiveness about halfway through the taste journey, but the finish is malty and long.
Conclusion
Akashi White Oak really is a wonderful whisky to have on hand – great aroma, wonderful flavors, etc.  The heat, however, definitely disrupts the experience, which is why I can't justify a grade higher than B+ (good).
Final Grade: B+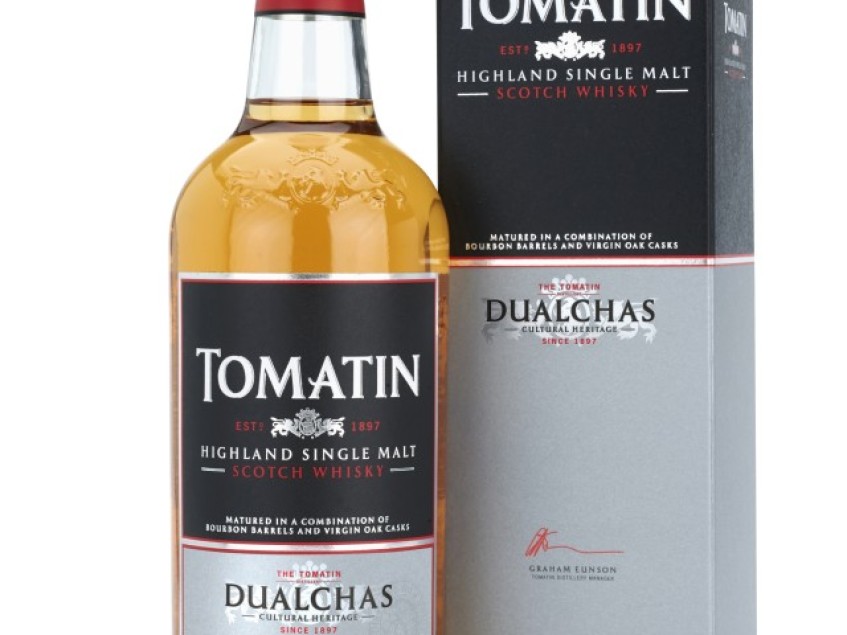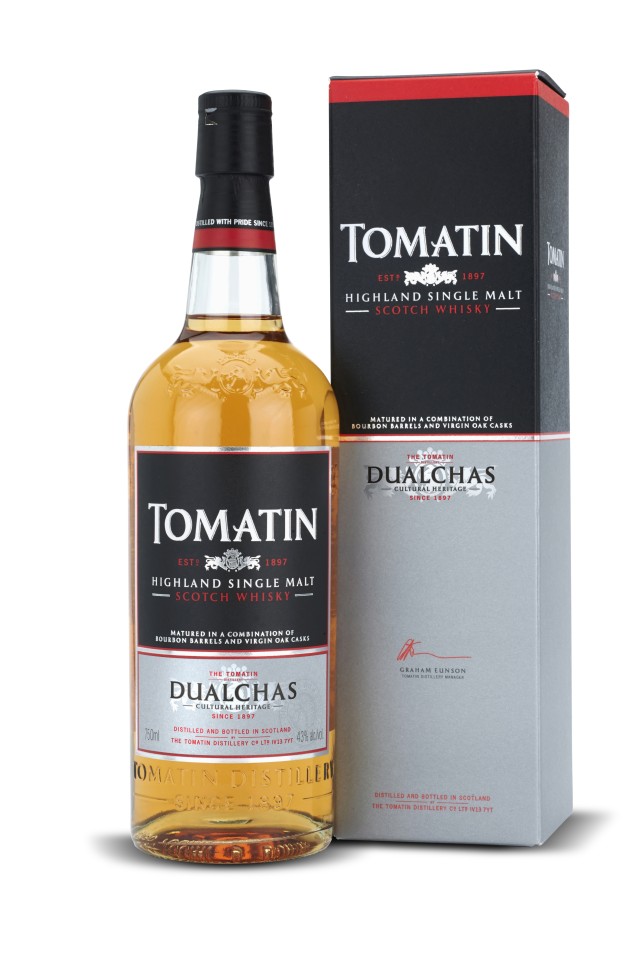 Since the beginning of my journey into the single malt Scotch world in 2013, Tomatin has been a favorite value brand for me. Tomatin Dualchas represents the brand's first no age statement scotch, and another huge win for the company.  At about $30 per bottle, this scotch deserves a spot (or two) on your whisky shelf.
Cask Type: Matured in a combination of Bourbon barrels and Virgin Oak casks
Strength: 43% alc./vol.
Nose
The nose is deep, a bit fruity, with touches of vanilla and spice.
Palate
Although this scotch isn't peaty, it is a bit of a flavor bomb. On one side are the woody notes brought out by aging in ex bourbon and virgin oak casks. On the other are bright citrus notes of lemon and a touch of pine. A really delightful combination.
Finish
The finish for Tomatin Dualchas is simultaneous long and sweet while also being light and refreshing.
Conclusion
As mentioned, this scotch is well worth the price. I'm a huge fan of Tomatin 12, 15 and 18 year (also wonderfully priced), so those could be worth looking in to as well.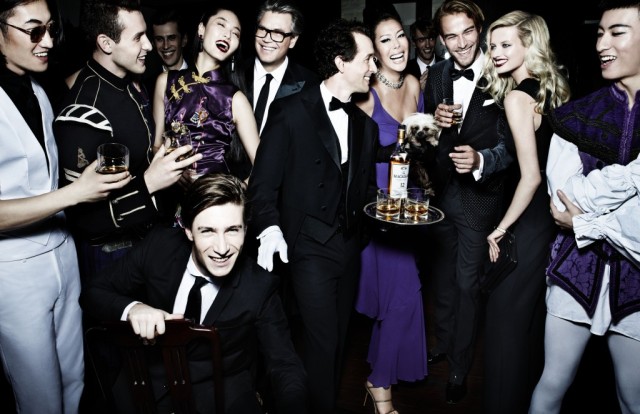 THE MACALLAN LAUNCHES ITS LONDON RESIDENCE
Luxury single malt whisky, The Macallan is taking over London's Two Temple Place for two nights only.  On 2 and 3 June, The Macallan Residence will unlock its doors and invite guests into the world of The Macallan.
The first UK event of its kind for the brand will take guests on a journey of carefully curated experiences exploring the world of photography, food and fashion.
Visitors to The Macallan Residence will learn how to expertly nose and taste single malt with Gold, Amber, Sienna and Ruby, award winning whiskies from The 1824 Series.  Master-classes from Mixologists Wayne Collins and David Miles will showcase the art of creating the perfect Old Fashioned cocktail.
Chocolate and whisky pairings from Artisan Du Chocolat will be on offer, as well a bespoke styling service from a number of hand-picked partners.  Photography from The Macallan's latest collaboration with the world's most glamourous and iconic fashion photographer, Mario Testino will also be exhibited for guests to enjoy.
Keith Bonnington, The Macallan Senior Brand Manager said: "The Macallan Residence is an exciting and unique event which will take consumers on an exceptional whisky experience.  Set in the iconic Two Temple Place, guests will be fully immersed in the world of quality craftsmanship synonymous with The Macallan."
A limited number of tickets are available for the two hour experience on 2 June at 7.30pm and 8.30pm and 3 June at 6.30pm at Two Temple Place, London, WC2R 3BD. To reserve your place please visit: http://www.themacallanresidence.com/.
Notes
Please enjoy The Macallan responsibly, visit www.drinkaware.co.uk for the facts.
Join the conversation on Twitter, Instagram and Facebook with #TheMacallanResidence
Like The Macallan on Facebook: www.facebook.com/TheMacallan
Follow The Macallan on Twitter: www.twitter.com/The_Macallan
Follow The Macallan on Instagram:  www.instagram.com/the_Macallan 
About The Macallan
Founded in 1824 in the heart of Speyside, The Macallan was one of the first distilleries in Scotland to be legally licensed. Since then it has built a reputation as one of the world's leading single malt whiskies.  The creation of The Macallan draws on the vital contributing influences of Spain, North America and Scotland, and of their respective natural raw materials, combined with traditional methods and craftsmanship. From its founding, through the subsequent owners of The Macallan distillery in the nineteenth and twentieth centuries and into the present century, The Macallan has been recognised for its outstanding quality above all else.
Announcement, Bourbon Review, Cigar Lounge, Education, Interview, Luxury Marketing, Opinion, Photo, Press Release, Spirits, Uncategorized, Whiskey Review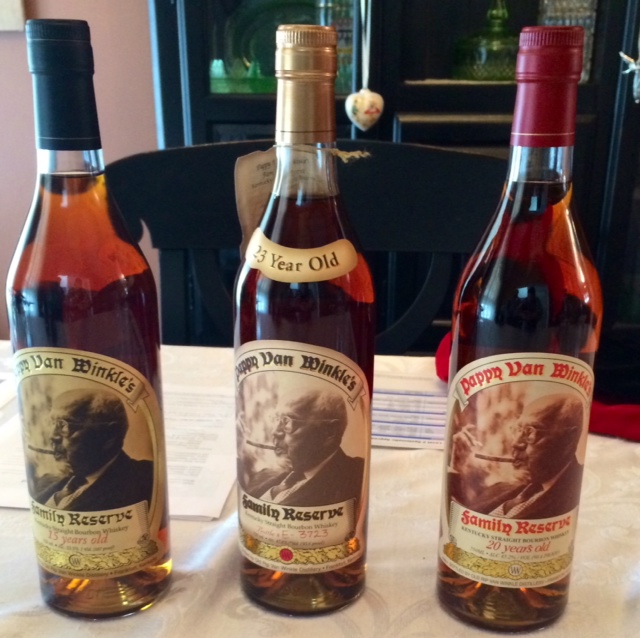 During one of our cold and dreary winters here in New York I invited some close friends to my house for a grueling task. I wasn't asking them to move furniture or paint rooms which are the archetypal favors you may rope a friend into. No, this was a "chore" most mates would jump at the chance to aid in. The call I placed was to ask if they would assist me in rating a vertical of Pappy Van Winkle 15, 20, and 23yr. old bourbon. Needless to say both friends didn't seem to mind lending a hand or their taste buds. However in order to gather sufficient and comprehensive results I had to put a few key methods into place.
First I chose these two friends for particular reasons. Although I had many people offer to "help" out with my study I felt I needed some specific tasters. One of them has tasted many a fine bourbon yet still considers his tasting acumen as" budding" and continuing to develop. Also this individual doesn't covet any booze or cigar and price and/or hype never sways him. I can always count on him for an honest assessment and he is one friend who even keeps me grounded at times. The other person has never tried bourbon but is a big fan of wine with a developing palate enhanced by his extensive Sommelier certification coursework. He is an asset to the study as he has the ability to recognize taste but no preconceived notions on what bourbon should be.
The Setup: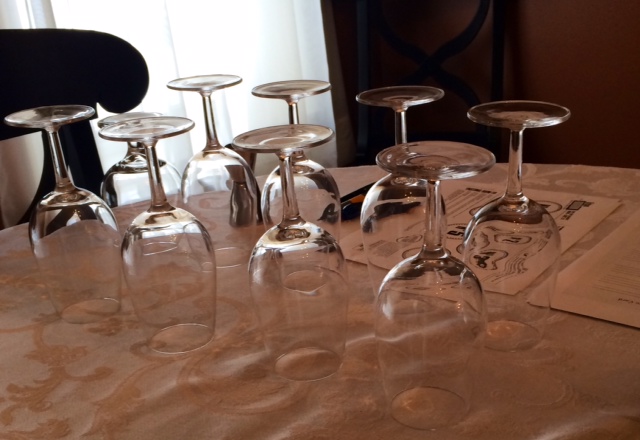 Second we had to do this study blind. In order to score without bias we needed to NOT be aware of what we were drinking. Each bourbon was covered up by someone not participating in the study and each bottle labeled simply 1, 2 & 3. We were poured each one in number order and utilized the UC Davis College Wine Score Card which applies to spirits as well. This card has a point system broken up into 3 categories with a scoring system for each category.  The categories were Appearance, Odor, and Taste. Each category was noted and then given a score. The scores were then added up for a final scoring on that particular spirit. The highest total score that can be achieved is 25 points on the UC Davis College Wine Score Card respectively. The results and ratings below are listed highest to lowest scored with tasting notes as well as the year of the bourbon. The results were quite surprising. Enjoy!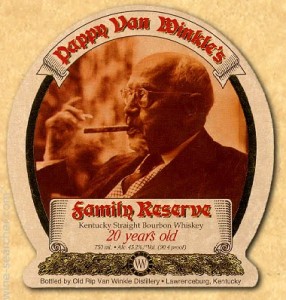 1.  Pappy Van Winkle 20yr. Old Bourbon- 20 Points. We found that this bourbon was the sweet spot in terms of the time Pappy should be aged in barrel. The color was a wonderful golden amber with a honeyed hue and a touch of rose'. The first nose gave off alcohol aromas some vanilla and slight spice. Initial tastings had vanilla, baking spice and oak with medium intensity. The mid palate was smooth and refined with oak vanilla and earthy characteristics. The finish was long, rich and continued with an interplay of spices, toasted oak and vanilla. An extremely balanced bourbon with a length that beats many I've tasted.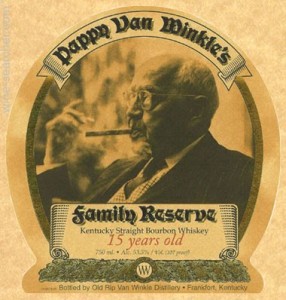 2.   Pappy Van Winkle 15yr. Old Bourbon- 18 Points. The color in the glass was that of caramel and toasted almond. Nosing gave off aromas of cinnamon, citrus and spice. This bourbon had a weighty mouth feel with earth and vanilla dominating. Midway caramel, butterscotch and a bit of toasted oak came through. Some "bourbon heat" kicked in for a moment before finishing with a long caramel/toffee aftertaste. This was a medium intensity bourbon and we all felt it was a fine sipping spirit.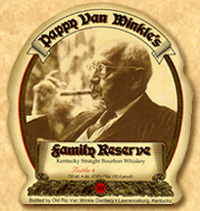 3.    Pappy Van Winkle 23yr. Old Bourbon- 17 Points. The color on this bourbon was medium with an amber hue. There was a more intense burn on the nose with some vanilla coming through on the second impression. There wasn't much more on the front of this offering. First sip yielded baking spice, wood and coconut. Midway gave a lot of earthiness along with baking spices and some more vanilla and caramel. There was a lot of heat present and the finish took on a long earthy and spicy character. This bourbon came on with intense spice, heat and wood no doubt due to its aging however we did not feel the extended time benefited it.
The lineup and copious note taking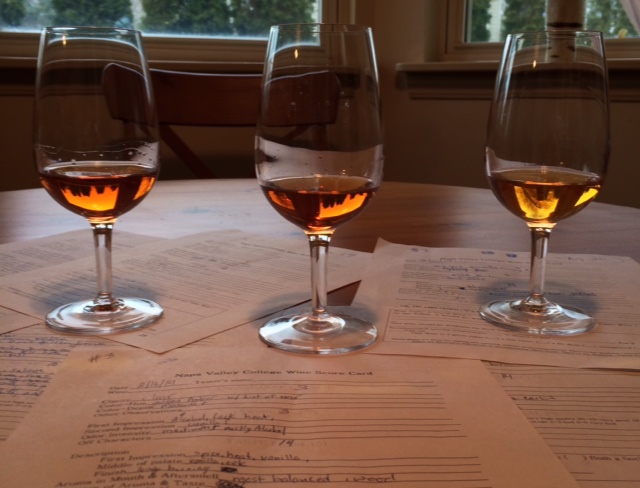 So after a long hard afternoon which trickled into evening we concluded our findings. Having drunk these bourbons for years I wasn't surprised to see the 20 yr. old the best in taste, flavor and finish as it has always been my personal favorite. We were all surprised to find that the 23yr. old scored the lowest in our tasting. This wasn't a bad bourbon at all in fact it is of extremely high quality. The additional aging however seemed to overpower some flavors which seemingly hurt its scoring. What makes blind tastings so interesting is that you remove your preconceived notions and are forced to focus on the sight, smell and taste of the product alone. I would recommend getting some friends together and try a blind tasting. It can be done with any spirit and you may be surprised at what you THINK you like. I'm sure you won't have any trouble finding friends to lend a hand in this endeavor,I sure didn't.
Announcement, Bourbon Review, Cigar Lounge, Education, Event Recap, Four Roses Bourbon, Luxury, Opinion, Photo, Press Release, Spirits, Whiskey Review
This past week I gathered some spirits and cigar aficionado friends of mine for a bourbon and rye blind tasting at Havana's Cigar Club in East Meadow NY.  Our goal was to have all of us bring bourbons or ryes for a total of 20 bottles together for the tasting.  There were five guys total including myself with backgrounds ranging from sommeliers to certified tobacconists. All of us arrived at the private club at 11:00 am ready for the challenge. Another cigar associate was present as his job was to pour all the spirits as well as number them so we would have no idea what we were tasting. In addition we each had to fill out cards for every spirit tasted and evaluate them using a hundred point scale. We gave points for 4 separate criteria; 1. Appearance 2. Aroma 3. Taste & Characteristics and 4. Finish. After tasting we tallied all the points up for a top 5 best of the best. It was quite an afternoon with many surprises as to what we "Thought" was what. I urge anyone who hasn't to organize your own blind tasting and you too may be surprised at how you taste. So without further ado, here is our official top five list and congrats to these wonderful spirits. Enjoy!
# 1: Rating 97 Points- Rough Rider Bull Moose Three Barrel Rye Whisky.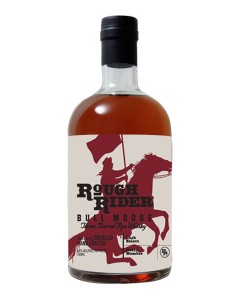 From Richard Stabile of Long Island Distillers makers of LiV vodka, Rough Rider Bourbon and Pine Barrens Single Malt this Rough Rider shot out the gate with three tasters commenting instantly on its aroma and complexity.  This rye had it all for us; spice, caramel, butter, toasted oak and some wonderful heat. All that with a silky mouthfeel and a finish that lingered on our taste buds for days. All of us agreed the Three Barrel aging was a brilliant idea that added to its intertwined flavors and finish. We need more of these innovations and more of this Rye!
Website: http://www.lispirits.com/
#2: Rating 96 Points- Four Roses 2012 Limited Edition Small Batch.
This very close second in our tasting is one of my favorite bourbons. There are four different bourbons comprised here ranging from 11-17 years old.  The nose on this yielded cinnamon, all spice and even a bit of citrus. Notes of vanilla, oak and caramel dominated leaving an aged oak finish. A delicate bourbon due to its age and an amazing expression of what quality blending can accomplish.
Website: http://www.fourrosesbourbon.com/
#3: Rating 95 Points- Eagle Rare 17 year old.
Yet another choice bourbon that blew us away. This spirit gave off a candied nose along with some citrus and dried fruits. Its initial spice gave way to leather, tobacco and cinnamon. Subtle oak on the finish along with a shot of heat hit all of our sensory spots. I've always been a fan of the different style of Eagle Rare even in their lesser offerings and this one is not to be downplayed. A stylish bourbon.
Website: http://www.eaglerare.com/
#4: Rating 94 Points- Templeton Small Batch Rye.
We were surprised how far ahead this Rye got in our ratings but despite its seemingly gimmicky claims, this Rye stood out amongst they fray. Its nose was reminiscent of the holiday with pine, allspice and woods. The cinnamon and spice came forward along with a buttery mouthfeel and heated finish. I can't say for fact that this is a "Prohibition Era" spirit but it's sure tasty for this day and age.
Wesbite: http://www.templetonrye.com/
#5: Rating 93 Points- Kings County Distillery Bourbon.
We must have had NY on our minds as yet another NY spirit made our top tastings. This small batch bourbon out of Kings County delivered fine malts along with a lot of corn on the nose. The flavors gave hints of charred oak, leather and touches anise. The oak finish smacked on the sides of the mouth and kept us salivating for more.  Yet another unique style that cut through the rest.
Website: http://kingscountydistillery.com/
As you've probably guessed it was a tough afternoon sifting through choice bourbons and ryes at a private cigar lounge; fortunately we bit the bullet and suffered through the day. Our scientific method yielded the most unbiased ratings we could deliver. You'll be happy to know we treated ourselves to some luxurious cigars afterward while dutifully sipping on the winner. All for you dear readers, all for you.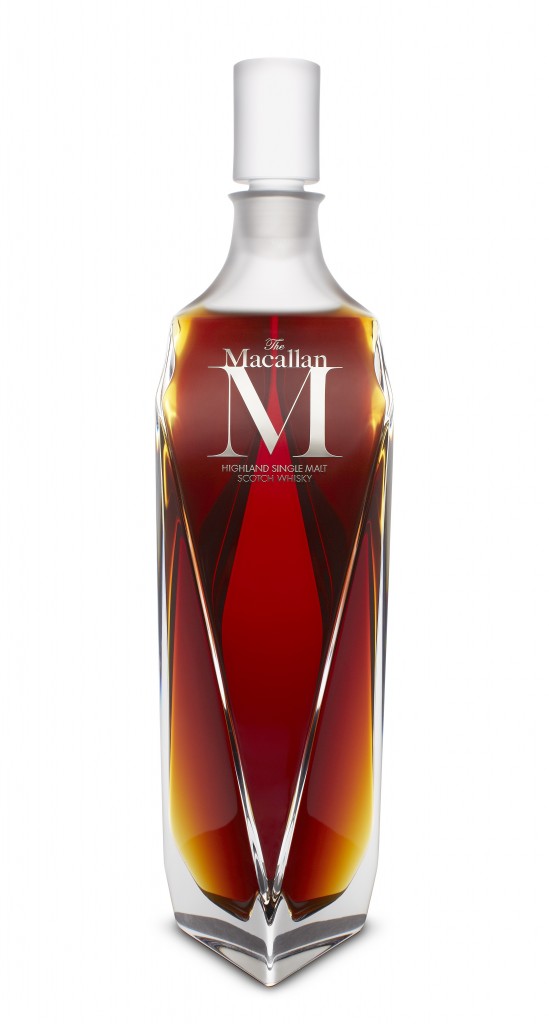 The Macallan Unveils M
A collaboration between three masters: The Macallan, Fabien Baron & Lalique
In a collaboration between three masters of their crafts, The Macallan has unveiled a limited edition luxury decanter, M.  Partnering with renowned creative director Fabien Baron and crystal makers Lalique, The Macallan has created a beautifully designed and meticulously crafted crystal decanter containing precious and complex Macallan single malt whisky.
Just 1,750 crystal decanters of M, each engraved with its own individual number, are available worldwide.  M's whisky draws upon The Macallan's classic full flavoured tradition with notes of abundant dried fruits, spices and orange citrus.  With a rich natural colour, complexity and sumptuous intensity, the single malt is laden with character absorbed from the Spanish sherry oak casks that nurture it through the maturation process. 
David Cox, Director of Fine and Rare, The Macallan, comments: "The coming together of three such masters has resulted in a truly beautiful creation, which specifically showcases the vital influence of The Macallan's exceptional sherry seasoned oak casks and the craft of the Whisky Maker.  The natural colour of M is stunning. A single malt of the most exquisite complexity and character, M will set a new standard in the world of decanters to become the iconic representation of The Macallan."
Capturing the expressive aesthetic of Fabien Baron's illustrious creative vision, M's tall, slim dimensions and geometric form challenge the perceptions of traditional decanter design. Its sharp, angular facets gave inspiration to the name M itself, selected by Baron as a typographic representation of the decanter's striking design.
Its six striking facets are Baron's homage to The Macallan's heritage, reflecting the six pillars at the heart of its ethos: The Spiritual Home – the breathtaking 390-acre Macallan Speyside estate where M was created; the distillery's Curiously Small Stills, whose unique shape gives the spirit its fruity, rich character; The Finest Cut, the 16% of the new make spirit, the smallest figure in the industry, selected for maturation; Exceptional Oak Casks, acquired and cared for without thought to the cost,  imparting its distinctive characteristics and flavour; Natural Colour created purely through the interaction between spirit and wood; and The Peerless Spirit, marking The Macallan's unsurpassed place in the hearts of the world's most discerning whisky drinkers. 
Lalique has drawn on 150 years of crystal making,  and its long standing relationship with The Macallan, to present M with flawless clarity. Fashioned in highest grade crystal, each hand crafted decanter unites proven tradition with striking originality. 
Silvio Denz, President and CEO of Lalique, comments: "We have been delighted to have worked with our friends and long-time partners, The Macallan – with whom we have collaborated since 2004 – to realise this exquisite piece. The decanter styling is utterly unique in the world of decanters, and our masters of crystal have relished applying their most complex skills to this project to bring it to life."  
Fabien Baron, Founder and Creative Director of Baron & Baron comments: "I love the craftsmanship and purity of The Macallan. It's rare to find that level of quality today." 
M is available at specialist whisky retailers in the UK from October, RRP £3000.
NOTES TO EDITORS
M Tasting Notes
Colour: Rosewood
Nose:  dried fruits ripen, then soften showing off a velvet sateen. Vanilla accompanies green apple hand in hand neither taking the lead. Ginger, nutmeg and cinnamon create an ensemble in the background, with polished oak offering to overstate yet never does but plays with a depth of resinous, juicy oranges
Palate: opens rich in wood spices slowly showing all their viscosity. Wood smoke flits in and out. The heavier raisin and sultana flavours then take over, meandering to a long full finish
44.7% abv
ABOUT THE MACALLAN
Founded in 1824 in the heart of Speyside, The Macallan was one of the first distilleries in Scotland to be legally licensed. Since then it has built a reputation as one of the world's leading single malt whiskies.  The creation of The Macallan draws on the vital contributing influences of Spain, North America and Scotland, and of their respective natural raw materials, combined with traditional methods and craftsmanship. From its founding, through the subsequent owners of The Macallan distillery in the nineteenth and twentieth centuries and into the present century, The Macallan has been recognised for its outstanding quality above all else. Today this remains the foundation for the worldwide fame of The Macallan and is such that it is truly "The Last Word" in luxury and at the heart of those special moments brought alive over a glass of The Macallan.
ABOUT FABIEN BARON  
As the founder and creative director of Baron & Baron, Fabien Baron has crafted identities for the fash­ion, cosmetic and fragrance world's most visible and influential brands. The creative director's singular vision is evident in a broad range of award-winning advertising campaigns, package designs, logos and graphics. Baron has also applied his talents to the design of prominent magazines and books, including the role of Creative Director for Vogue Italia and Vogue Paris, and is renowned for his photography, as well as for directing ground breaking television commercials, music videos and online video content. Fabien Baron is currently the Editorial Director of Interview Magazine. 
ABOUT LALIQUE 
The LALIQUE story began with René Lalique (1860-1945), renowned as the inventor of modern jewellery who then became the Master in the art of glassmaking of the Art Nouveau and Art Deco movements, with highly eclectic creations. René Lalique earned his title, "Sculpteur de Lumière", from the richly sculptural craftsmanship and dramatic contrasts between clear and frosted finishes that define his work. Today, LALIQUE is internationally recognised as the undisputed Master of crystal, and offers crystal collections across five categories: decorative items, interior design, jewellery, art and fragrances.  The vision of LALIQUE is to celebrate the creative genius of founder René Lalique by pushing the limits of the factory by creating distinctive decorative objects, issuing superb perfume bottles in crystal, reviving breathtaking jewellery designs, carrying out major architectural projects, working with renowned artists to produce limited edition works of art in crystal; and recreate its cultural heritage, something eternally precious. LALIQUE continues to thrive as a global lifestyle luxury brand, standing for craftsmanship, excellence and creativity.