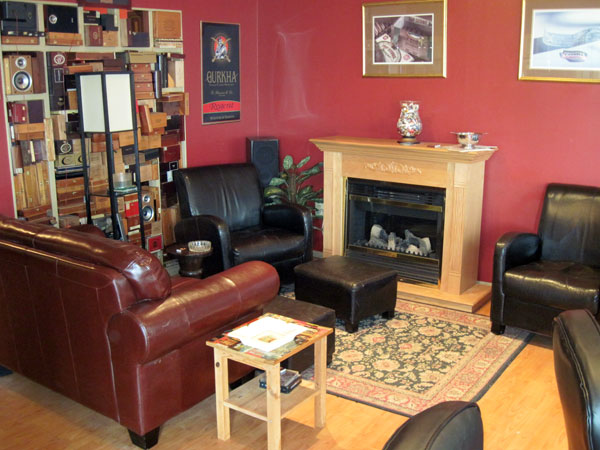 It is always nice to see the cigar industry giving back to the community. A retailer in Philly recently started a "smoking jackets" coat drive, asking customers to bring in lightly worn jackets for charity purposes. PhillyBurbs.com reports on it, and quotes the owner of Cigar, Cigars saying:
"We wanted to do something to help the communities that have supported us for so long. It can get very cold at this time of the year so I'm sure the coats will be put to good use" said Cigar, Cigars' Scott Atkinson, who coordinated the project.
We can always use more B&M owners like this. If you live in PA, I encourage you to stop by and drop off a coat.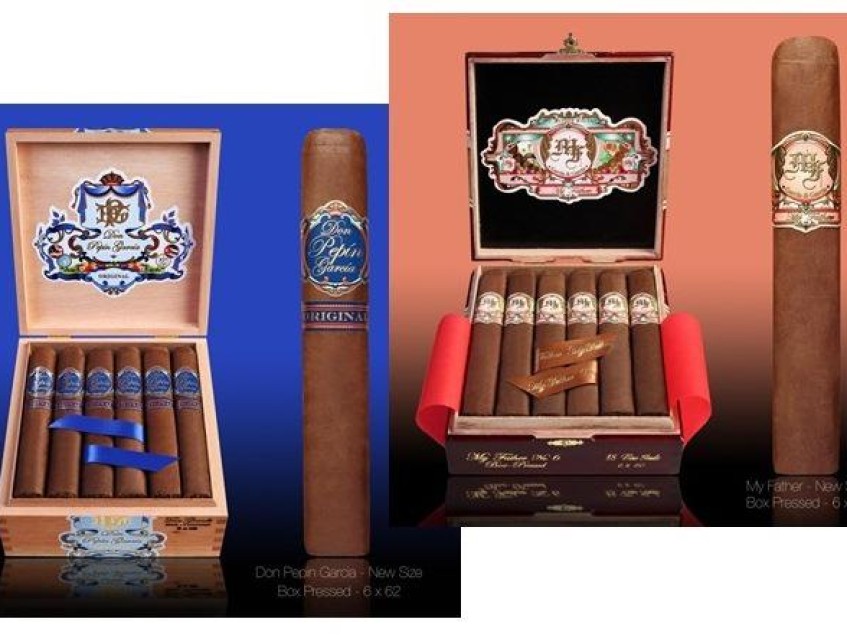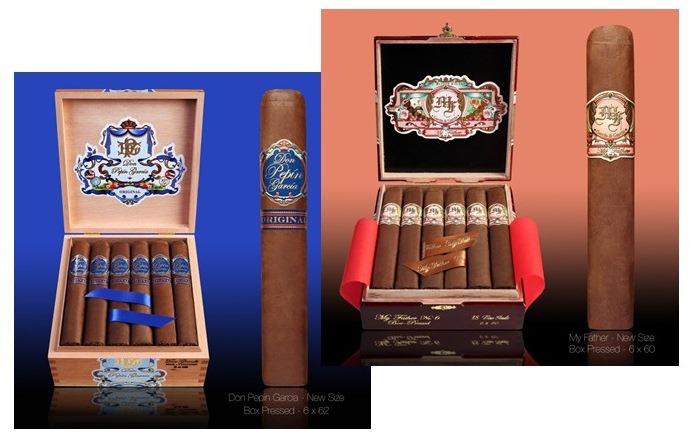 S I X by S I X T Y and then S O M E
New sizes added to the My Father and the Don Pepin Garcia Original
As times change, smoking preferences change and the new trend for consumers is the 60-ring-gauge cigar. For this reason, you asked and we delivered. There is now a new size in the My Father line and one in the Don Pepin Garcia Original.
In the My Father line we have added the My Father #6, a box pressed Toro Gordo 6 x 60, in an 18 cigar count box. This box will have the beautiful and signature packaging of My Father, but will be in three rows of 6, a new style for this line. Suggested retail price for the My Father #6 is $12.00 per cigar. For the Don Pepin Garcia Original we will be releasing a 6 x 62 Toro Grande, also box pressed in an 18 cigar count box, with traditional Don Pepin Garcia packaging in rows of 6. Suggested retail price for the Don Pepin Garcia Original Toro Grande is $9.50.
Expect these in stores for the holidays. Shipping will begin the first week of December!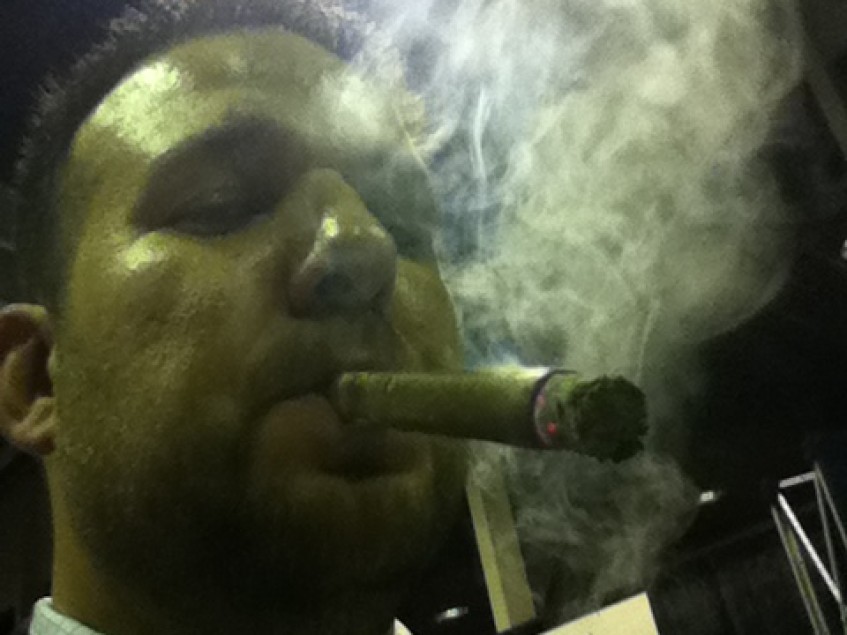 Big Ronnie, Cigar Lounge, Common Questions, Opinion
Big Ronnie, cigar clubs, cigar shops, cigars, CRA, etiquette, friends, gentlemen, golf, NTYA, women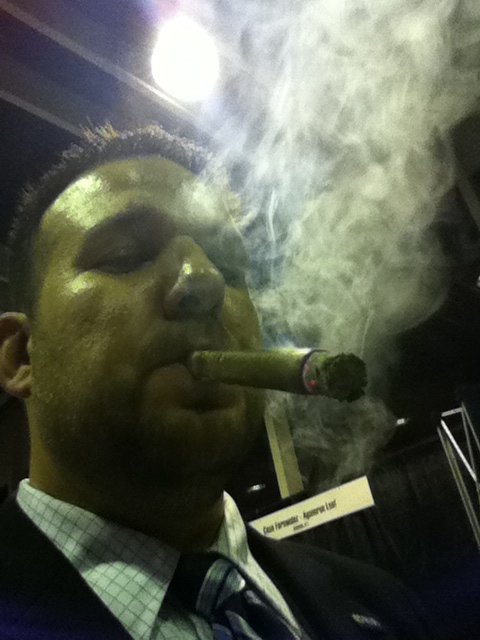 Hello smoke fans. Big Ronnie is back! Last time, we were talking accessories and reviewed some of my favorite tools. We reviewed the different types of cutters and lighters, and focused on style.
Today's topic, however, is not about the what, but the how. I'm talking about what to do, and what not to do. That's right, we're diving deep into our cigar culture and focusing on etiquette. Nothing is sexier than confidence. In the following genius, I've laid out how to act "as if" when it comes to cigars. Try to pay attention, as you are about to be armed with knowledge and confidence. Take notes, print the post, whatever – as long as it sticks.
Should I light my friend's cigar?
Do I have to smoke if everyone else is smoking?
Should I bring cigars to parties?
Slow the hell down with the questions already, I'll get there….a little more soap box first:
First and foremost, cigar culture is awesome. Most cigar enthusiasts are more than happy to tell you exactly what they enjoy and why. Cigar shop staff are friendly and helpful. Ask questions, show interest. Don't be a wallflower. Embrace being embraced by the culture, and dive right in. Pick up a copy of Smoke Magazine or Cigar Aficionado, try to find what interests you, then ask about it in your local shop. Foundational knowledge about what you like will help you as you go, but be prepared to learn every time you enter a cigar shop. Embrace it.
When starting out in cigars, it's easy to slip into the deep end and find yourself overwhelmed. The most difficult feeling to shake is that of inexperience. Confidence derives from experience, so if you are a newbie, accept it. Start slow, and take the time to form opinions about what you smoke.
It can be intimidating walking into a humidor for the first time. Step #1, pick something in your price range, then repeat.
Talk about what you like with any cigar shop employee or customer in a humidor. I promise they will be receptive and answer all of your questions.
My recommendations below are targeted towards novice smokers. For those intermediate or advanced smokers reading, keep going, you'll probably learn something. I've broken down my recommendations into 6 categories: (Please let me know if I've missed anything. I take suggestions.)
Local Cigar Shop
Club
Outdoor Party
Golf
Hosting Friends
Women
LOCAL CIGAR SHOP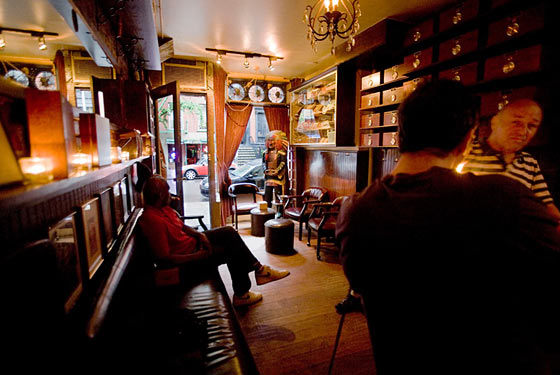 Most humidors are a wonderland of variety, strength and flavor. Take your time, try things out. Remember, you are the customer and need to feel comfortable about your purchase, every time. Here are some general tips about what to do and not to do at your local shop:
Ask Questions – Cigar shop employees always want to talk about cigars, that why they work there.
Ask for suggestions – You will get more than you can handle. Everyone loves to talk about what they like. When discussing Cigars with shop employees, Big Ronnie takes notes, you should too.
Focus on strength first – Mild, Medium, Full. New enthusiasts should start with mild, work your way up. Try several different mild smokes before progressing. Have fun and try as many as possible.
Share when possible – Who doesn't like to get a free igar? I sometimes buy 2-3 of my preferred cigar so that I can share them with friends when I smoke. It's always more fun for a few guys to taste the same cigar, as you can immediately compare and contrast different viewpoints on taste.
Tip the employees – If a cigar shop employee is very helpful, ask what his favorite smoke in his humidor is, and buy him one. Now, you've got a friend whose brain you can pick anytime. I know, it's genius. You're welcome.
Know the rules of the shop you are going to – Do they serve alcohol or are they BYOB? What are their hours of operation? What are the nearby food options? Knowledge is power.
Say "Thank You" and shake hands – Be friendly, introduce yourself, stay a while. Being perceived as nice, friendly and enthusiastic will get you places in this industry, even if it is just a few more minutes with a knowledgeable shop employee.
CIGAR CLUB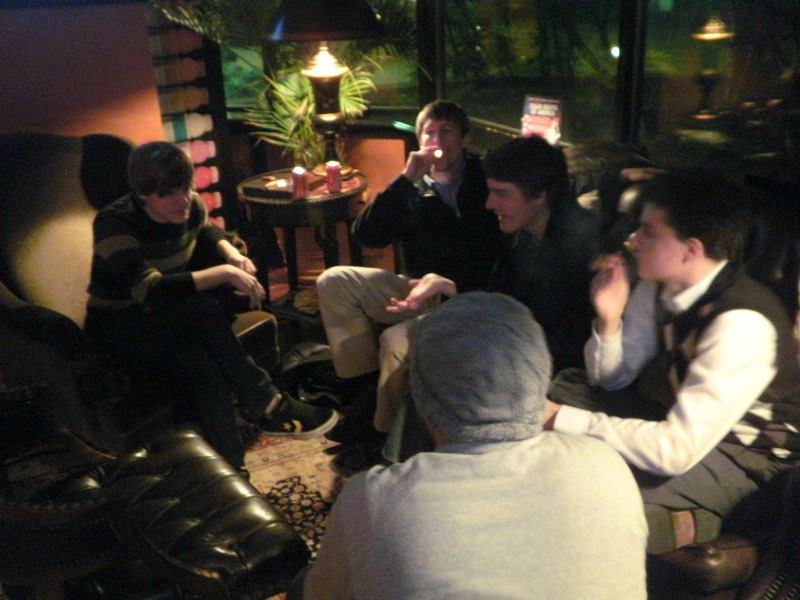 Cigar clubs are havens of camaraderie, friendship and good times. They should be viewed as public squares for all who share our interest. Some clubs require membership to receive special benefits, like discounts or members-only events. Here are some general tips about what to do and not to do at your local Cigar club:
Buy from the club you are smoking in – Most Cigar clubs are also shops with full retail inventory. It's OK to bring your own cigars to enjoy, but if a shop sells cigars, buy one from them. It's a classy move, especially if the shop does not have a cutting fee.
What's a cutting fee, Big Ronnie?: A cutting fee in a Cigar club or shop means that you will have to pay a small fee (Usually 5$-15$, one time, not per Cigar) if you'd like to smoke what you bought somewhere else.
Make friends – Frequent visits to a Cigar shop will expose you to other Cigar enthusiasts. Be friendly, sit and smoke with them. Ask questions, give opinions. Be a dude.
Dress appropriately – Clothes do not make the man, but they absolutely shape the way you are perceived. Best foot forward guys, you are diving into a culture of affluence and achievement, dress like it. Personally, I loathe wearing neckties, so I usually skip the tie in lieu of a jacket.
Personally speaking, I would never consider going to my Cigar club, The Grand Havana Room in anything less than Business Casual attire. No jeans, no sneakers, no caps.
PARTY (OUTDOOR)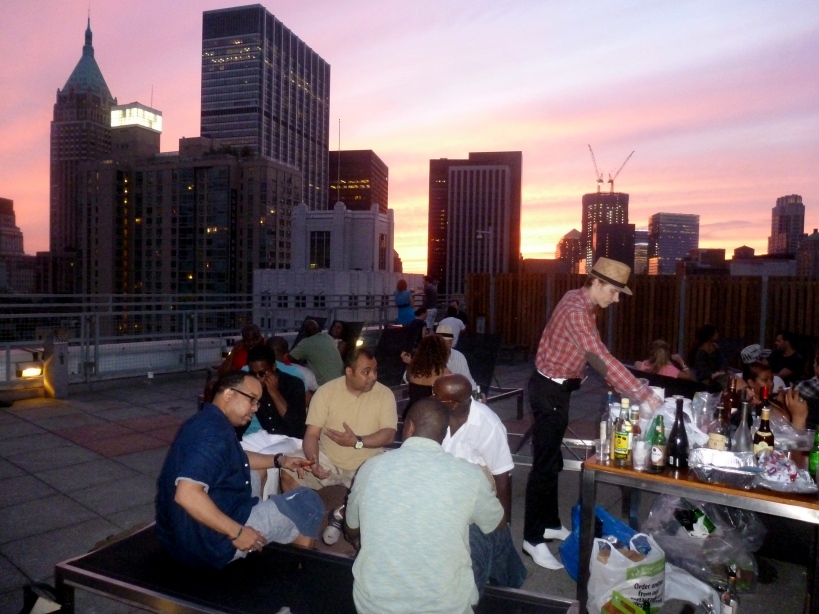 Nothing is better than a Summer party. Horseshoes, Lemonade and Cigars! While this should be a no-brainer to light up, there are some considerations. Here are some general tips about what to do and not to do when at an outdoor party:
Can you smoke? – If you are not the host, be respectful and ask. If you do this in advance, you have the opportunity to ask if there will be other smokers at the party. If there are, you have the opportunity to share.
How windy? – If it's windy out, a soft flame lighter will not be best. Bring a torch. Most Cigar shops sell inexpensive torches for just this issue (<$10).
Where will you ash? – Think about this in advance and avoid making a mess. Be classy with your cigars whenever possible, and they should be accepted. Act like a jerk, and noone will want you to smoke around them. Don't be afraid to bring your own ashtray – the effort will be respected.
Be an Ambassador – Offer cigars, engage people in conversation, ask what they like. A great way to learn is through conversation. Don't be shy.
GOLF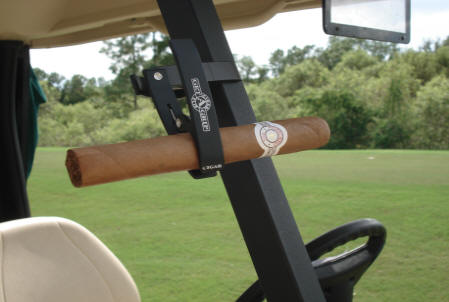 I always prefer to golf with a Cigar. It is a natural fit. Golf and Cigars are natural bedfellows, don't fight it – embrace the union and enjoy golf that much more. Here are some general tips about what to do and not to do when golfing:
Make sure your course allows smoking – I know this is stupid, but NYC courses no longer allow smoking. I have not heard of any other regions restricting golf course smoking, but who the hell knows. Play it safe and call the course in advance.
Cheat! – I use my cigar as a directional marker before I hit. I lay my Cigar about a foot from my ball, pointing in the direction I'd like to hit. It makes it a bit easier for me to aim, without lifting my head. Of course it won't make you a better ball striker, but for me, I'll take any advantage I can get.
Bring enough butane – I find my cigar goes out a little more frequently while I'm golfing, so I typically need relight my Cigar more often. Don't get stuck without a way to light up. This is especially important if you are the Cigar guy in your foursome who brought the goodies. Also, try to have at least one cutter and torch in each cart in your group, as that's much easier than running across the fairway for a light.
Tip your caddy – …With a Cigar. They will love it. If they don't smoke, tell him to give it to someone he knows that does. It's a golf course, there are plenty of Cigar smokers.
HOSTING FRIENDS
Cigars with friends can be a great time. Sharing your passion with others can be hit or miss, though. Whether it be in a backyard over drinks, on a long walk, or after dinner; Cigars provide the opportunity for conversation, laughter and bonding – just make sure all are willing. Here are some general tips about what to do and not to do when entertaining friends:
Who smokes? Who doesn't? – Be aware of this, and always remember to cater to the people who do not smoke as much as those whom you are enjoying a cigar with. Non-enthusiasts will find themselves outside of the fun pretty quickly. Try not to alienate those who don't enjoy Cigars. It's not their fault, no one is perfect.
Never pressure someone to enjoy a cigar – Cigars and Cigar culture can be intimidating for some. Inevitably, when not forced, people loosen up at their own pace. A novice smoker may feel embarrassed cutting or lighting a Cigar in front of experienced smokers. Let them feel comfortable at their own pace. They will. No pressure.
Ashtrays! – You never have enough ashtrays when several people are lighting up. Prepare in advance and make sure that your guests are comfortable. Also, just having ashtrays is not enough. Empty them.
Big Ronnie's tip: Men shouldn't cut or light another man's' Cigar. It is acceptable to light a woman's Cigar for her if she wishes.
WOMEN
Ah, women. Most things men do are either in pursuit of them, or to make them happy. Don't fight it. I understand the social connotations that Cigars bring with them. Cigar smoking men are often mischaracterized as neanderthals, who can only grunt for what they want. Like most people, if women aren't guided through a new experience, they can miss the positives, zero in on the negative(s), and make their mind up that it's not for them. Big Ronnie is not perfect, but thankfully learns from his mistakes. Learn from Big Ronnie.
When it comes to women and cigars, I have been fortunate. I have always had accepting, encouraging women in my life who embraced my hobby/passion/lifestyle/obsession (call it what you will). If you aren't as fortunate, or need to improve your courtship rituals, I've laid out some easy tips that have never gotten me in trouble. Simple things to remember that will help your women enjoy being around you while you enjoy a Cigar. Here are some general tips about what to do when smoking with the fairer sex:
Teach – If possible (and unless asked), try not to cut or light a woman's cigar if it's her first time. Simply assure her she can handle it if she's nervous, and take her through the lighting process, slowly. When it comes to cigars and women, do not rush. Encourage her to ask questions, and make sure you answer them.
Teach More – If possible, try a sampling of cigars with her. Choose several small ring gauge sticks progressing from Mild to Full. Smoke only half of each while tasting, discussing the tasting notes you both have. Compare previous notes as you move on.
Wine – Cigars are a large topic, with many varieties and types. Relate them to wine, if possible, if she is a wine connoisseur. Especially if she is not a cigar smoker, she will understand the regional differences in climate and how they affect the grape – I mean tobacco leaf – is affected by them.
Learn Together – Ask questions you don't know the answers to in front of her. No woman wants to think that they are either with a man who knows it all, or who can't take advice. Maybe try some cigars that are new to you as well, so that you can review them together.
Relax – You don't need to know everything. She will not expect you too. Don't be afraid to say "I don't know, let's find out".
There you have it, Big Ronnie's list of recommendations for maintaining and increasing your sexiness. The rest is up to you.
As always, please send me your feedback on this article or requests for the next one to rparisella@gmail.com. Thanks and have a great day all!
Big Ronnie, Cigar Lounge, Cigar politics, Smoking Location
cigar shops, cigars, CRA, Huntington Humidor, Long Island, Matador Cigars, New York, NYC, NYS, NYTA, taxation without representation, Taxes, Tobacco Plaza
Several weeks ago, while Big Ronnie was making July 4th plans with fellow CRA Ambassador Christian Aliperti, It struck me that I had not visited some of Long Islands most popular Cigar shops. This was a travesty, as Big Ronnie supports ALL who support the premium hand rolled cigar industry. I needed to get out there and meet some of the players on the Island. As my girlfriend, Erica and I planned on spending the week of July 4th with he and his wife Laura, we would take a day to visit and speak with some of Long Island's most popular shops. Erica also joined the trip as photographer, and did a great job. You will see her eye in the photos below.
As CRA Ambassadors, Christian and I routinely discuss tobacco-related topics at events and herfs. We love getting out there to shake hands with new friends and learn what they like to smoke. For this particular mission, Christian and I were interested in what some local shops were doing to increase awareness and drive business through membership offerings. We visited 3 local shops to ask their teams about membership, events and the general philosophy of owning and operating a Cigar shop in the great state of New York, a formidable challenge today.
Currently, NYS tax on tobacco-related products is 75% (By comparison, tobacco tax in Kansas is 10%). That means if a NY Cigar shop orders $1,000 of product from a vendor (appx. 3-5 boxes of cigars), they already owe $750 to the state at the time of purchase, not sale. So, $1,000 of product costs the shop owner $1,750 before you mark up or sell your first cigar. The current anti-tobacco movement in NYS is trying to raise taxes again, via NYS Gov. Andrew M. Cuomo's recently proposed "loophole closing". The plan would eliminate the existing 75% tax on wholesale cigars, and implement a 50% of retail value tax for all retailers and wholesalers. Additionally, a .20 cents tax on all cigars is intended to be implemented. It's an uphill battle, no doubt.
So here we go, let's get out there, shake some hands and spread love, the Brooklyn way.
The Shops!
Matador Cigars – Roslyn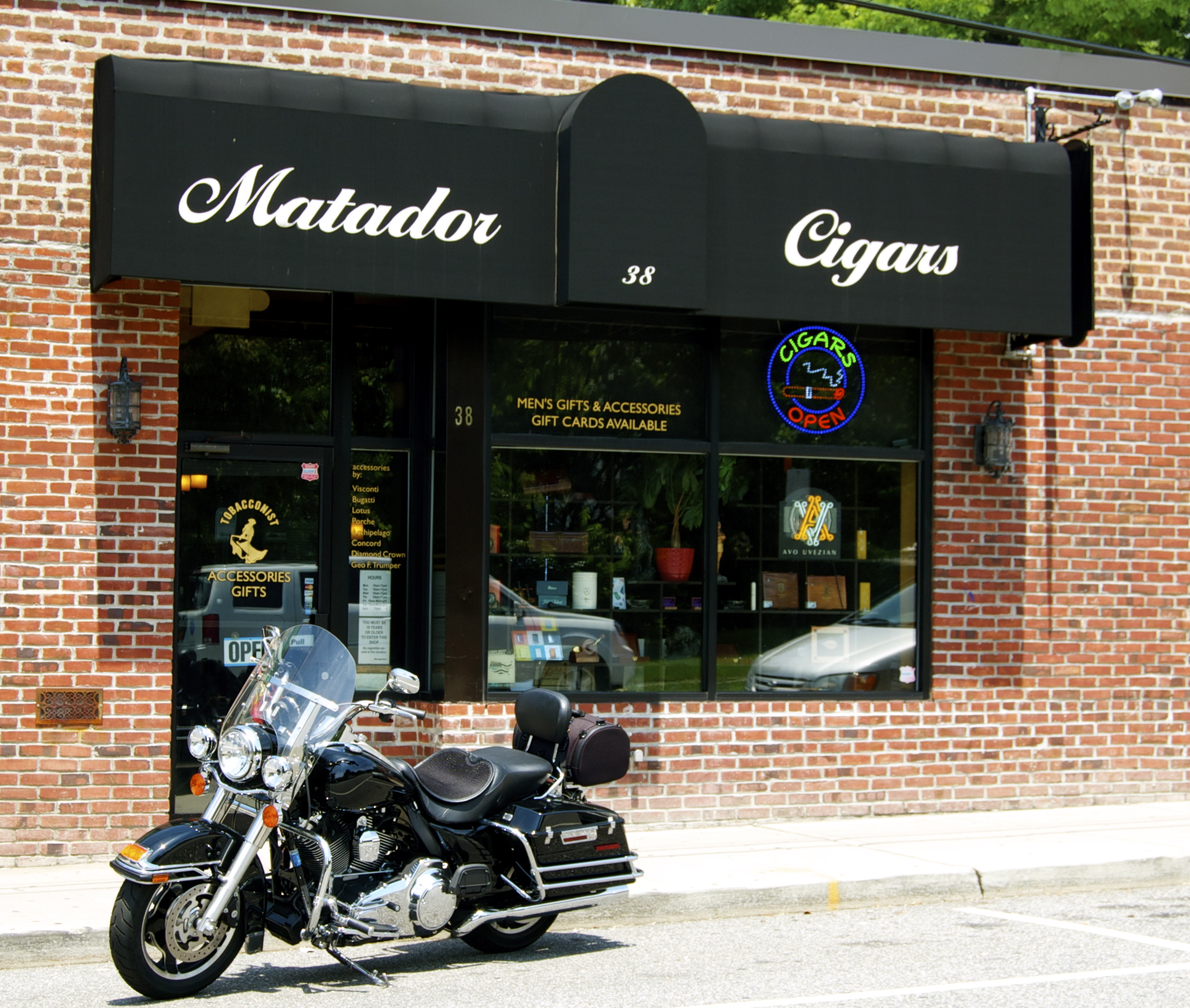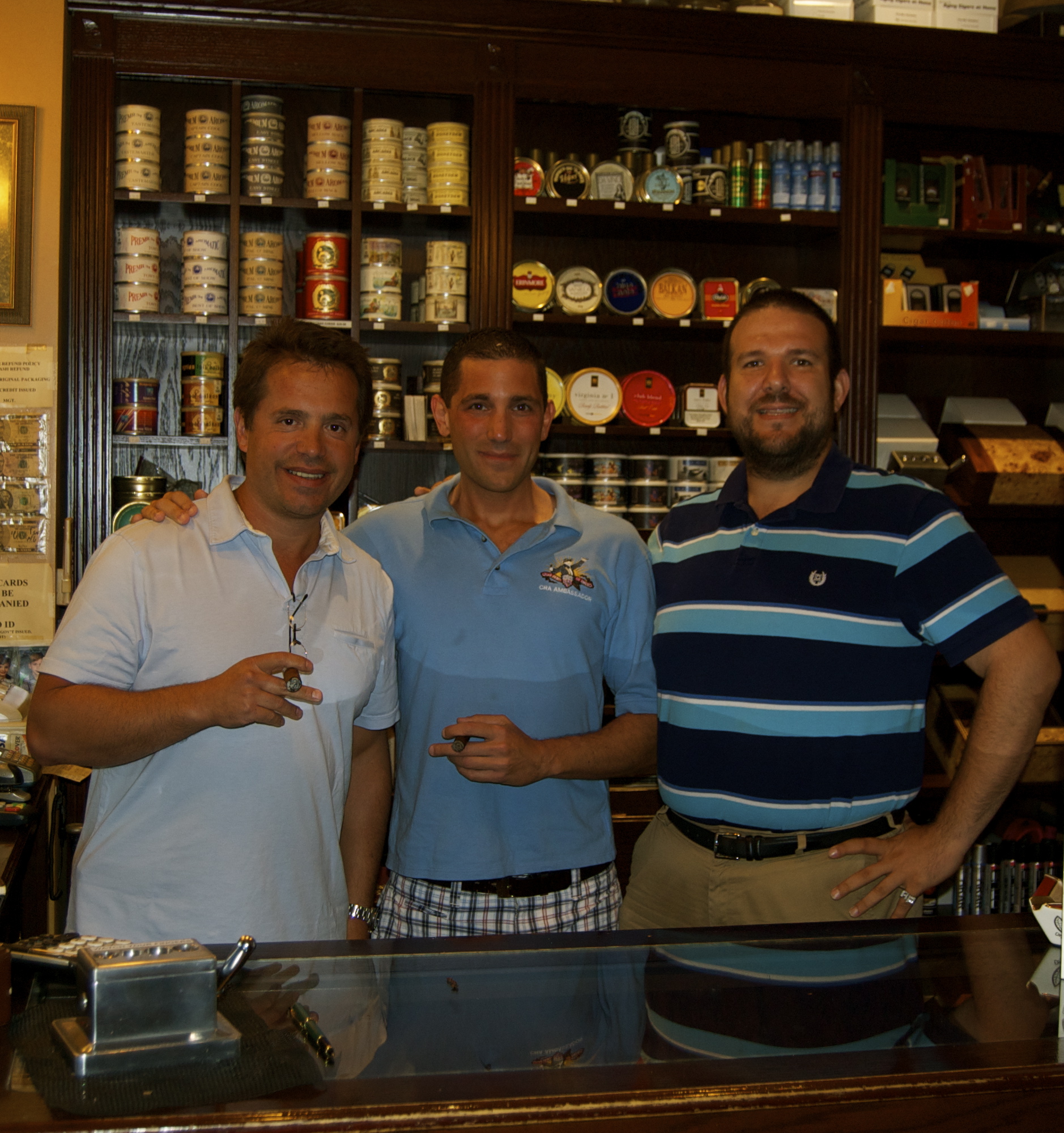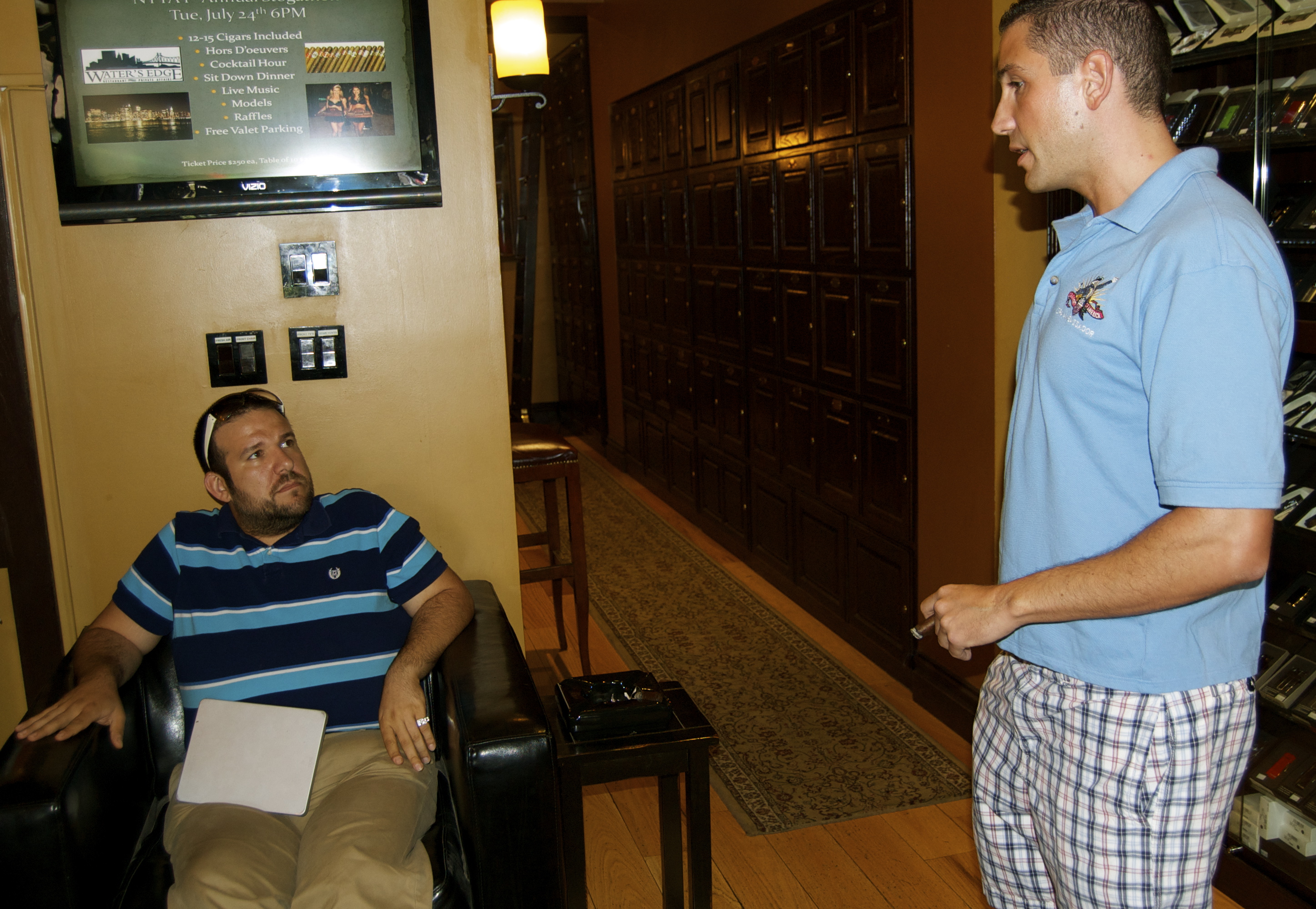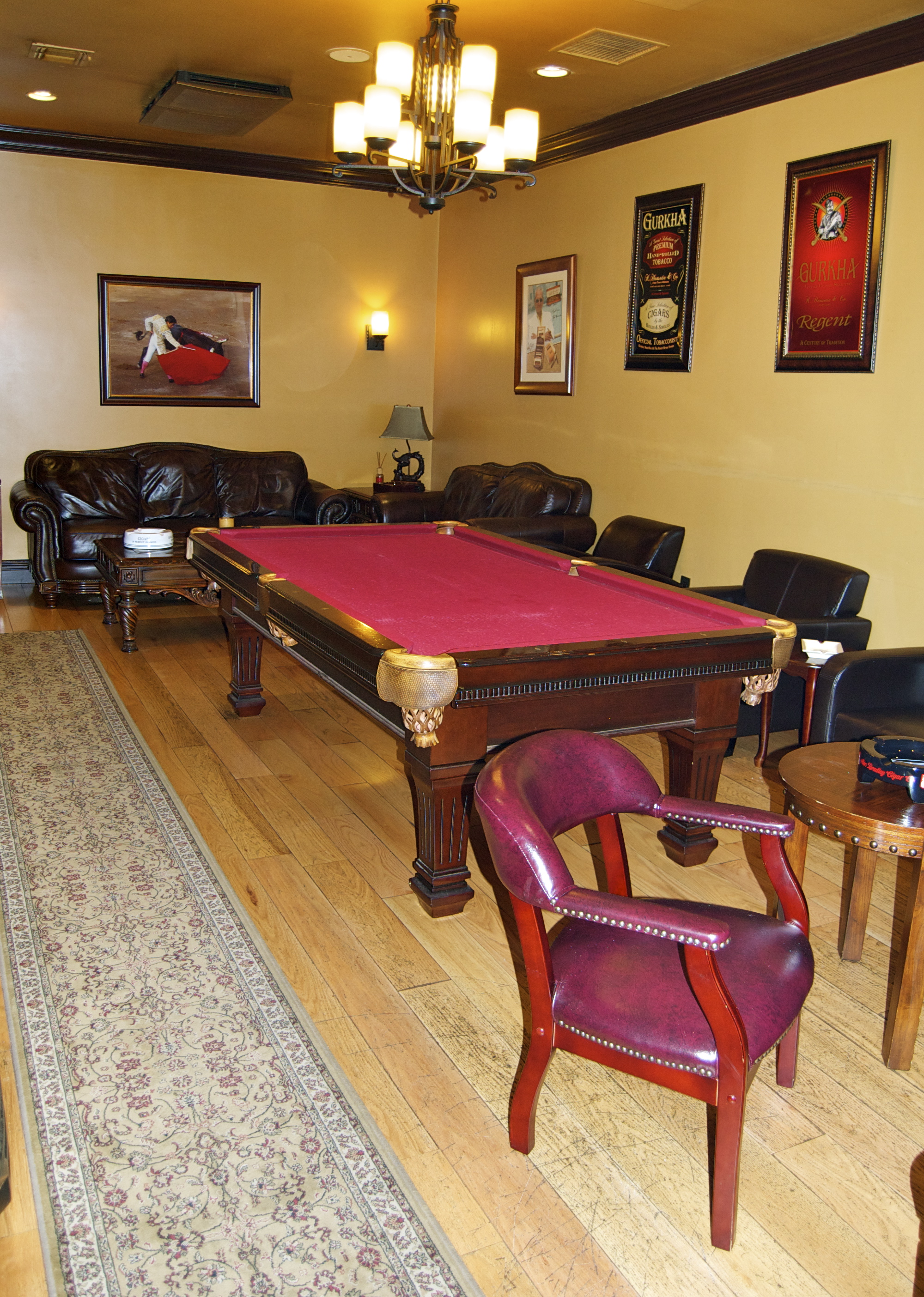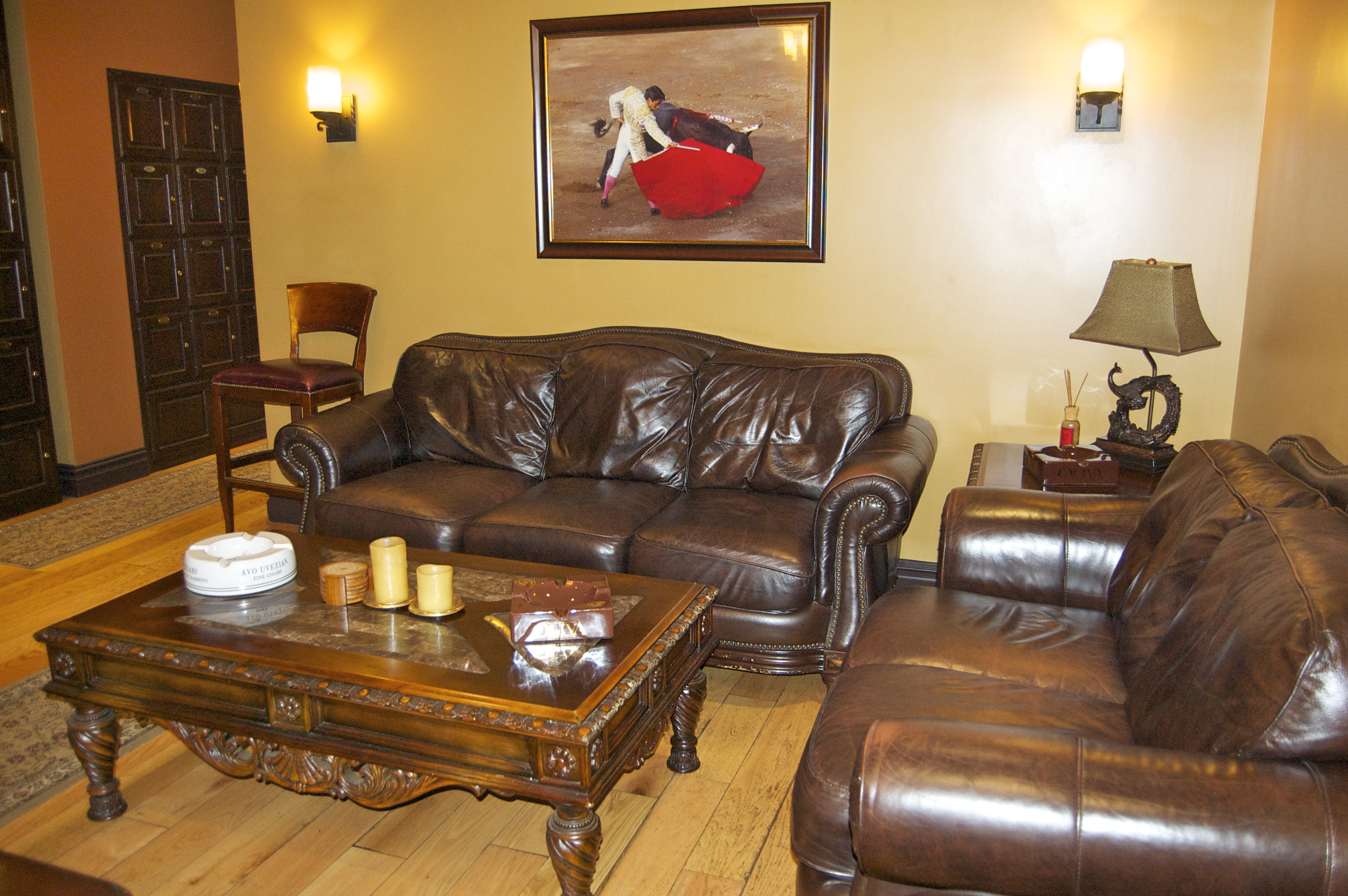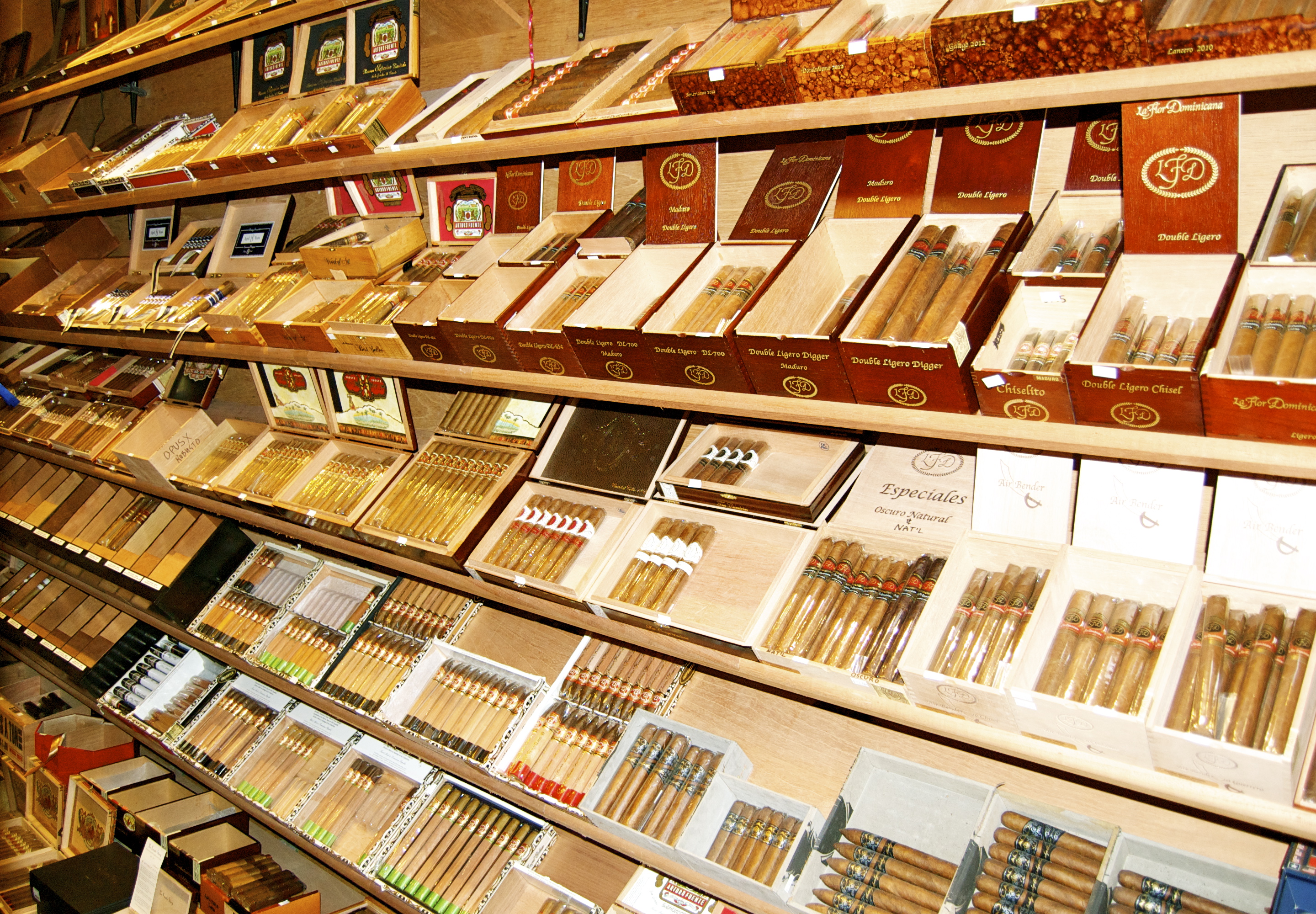 The first stop on our shop tour was Matador Cigars in Roslyn, NY. Chatting with owner, Boris Grossman about the latest blends in the humidor was a treat. Matador has a very large and diverse selection of cigars from all major manufacturers. This is a complete humidor. Now that we've seen Matador, I can recommend Boris for both cigar and accessories shopping to those on any budget. The space, selection and focus, are all very impressive. While we were there enjoying a cigar and chatting, a 20-something guy came in and said to Boris, "I'd like a mild cigar". He immediately took the opportunity to help a new cigar enthusiast learn about what he might like. He took the time to walk the young man through the humidor and chose a stick based on his preferences. I think he earned a customer. With service like that, why wouldn't he return?
Boris is an Ambassador to the industry in the best sense of the word. Beautifully kept shop, politically active, friendly and very knowledgeable.
Matador offers monthly events, memberships and was driving awareness for the NYTA's "New York Stogathon" Event. Boris spoke to several walk-in customers about the event while we were there. It was very good to hear him encourage people to spend their hard earned money ensuring their rights to enjoy cigars will be protected.
I smoked a Viaje C-4 and Christian enjoyed an Illusione Ultra while we chatted w/Boris about the industry.
CHRISTIAN'S NOTES – Matador – Illusione Ultra- The Ultra corona starts off with leather, earth and mild spice. Medium smoke which develops midway into coffee and continued leather notes. Last third spice returns and then quickly changes to an earthiness on the finish. I think the corona is the perfect format to represent a blend and the Ultra does not disappoint.
We also snagged a pack of CAO Flavors; Eileen's Dream. These are a favoritie of Christian's wife, Laura. While we're on CAO Flavors, Erica & Laura also love the Kamasutra and Moontrance flavors in this line, but thanks to our overzealous Mayor, they are no longer legal for sale in NYC. A NOTE ON BLOOMBERG – NYC Mayor Michael Bloomberg has reportedly contributed $220M of his own to the Anti-Tobacco movement.
The 4yo shop offers it's members 15% off all boxes and 10% off all accessories. The $450/year membership is currently sold out with over a dozen on the waiting list. Not surprising, considering the quality of the shop & owner.
Matador's beautiful pipe selection is in part, due to Manager Frank Cervone, who managed the 42nd St. Barclay Rex shop for over 20 years. I am not a pipe smoker currently, but will be adding pipes to my repertoire. SIDE NOTE: I'm quite looking forward to pretending I'm Sherlock Holmes and annoying my girlfriend with stupid quotes once I start smoking pipes. Haha.
Tobacco Plaza – Great Neck

Upon entering this Nassau County shop, we immediately felt at home. There was a nice, mellow crowd of 5 in their front seating area, with staff busy unpacking new cigar shipments. Constant, all-inclusive conversation is the name of the game here. The Tobacco Plaza humidor is an interesting one, with a nice selection of premium hand rolled cigars. In addition to the cigars, there is also an 8 seat, smoking area with 2 televisions. This is the first smoking area I have EVER seen inside a humidor. I was always taught that there is no smoking inside humidors. At my club, The Grand Havana Room, there are signs everywhere asking you not to smoke in the humidor. I will have to think about this some more before I offer an opinion. Different to say the least.
Danny and Christian immediately began speaking about the custom blend cigar made specifically for Tobacco Plaza: The DD, made special for Tobacco Plaza by Pete Johnson of Tatuaje. The DD is offered in 2 varieties, dry pack and wet pack, both pack a punch. Christian and I sampled a DD wet pack and found it to be a full bodied, complex smoke that should not be taken lightly. Before Danny handed it to me, he asked "Have you eaten lunch yet?" I love being warned about the strength of cigars, as I almost inevitably puff harder just to see how hard it kicks. The DD was as strong as advertised and reminded me of a Rocky Patel Edge Maduro. A nice smoke that I will surely enjoy again.
CHRISTIAN'S NOTES – Tobacco Plaza – DD Wet Pack- Having smoked the regular release of the Double D I can tell you the Wet Pack version does not start off with the full flavored punch that the non-Wet Pack did. Interestingly most wet pack cigars I've smoked have had a full/rawness to them being relatively fresh. This is NOT to say that this cigar is weak by any means. The initial smokes begins with strong leather, underlying earthiness and I picked up a sweetness as well. Full bodied midway but not with the heft the original release had. This is not a bad thing as the original DD punched you in the face to start. Woody notes mixed with leather continued through this smoke. In the last third the fullness mellowed out with cocoa and sweet tobacco on the finish. I think this cigar needs time to settle as the flavors were not overly complex, however if you have smoked the original you need to check this one out to compare as you will be surprised at the differences.
I love the art on display at TP. Our favorite was a vintage picture of Babe Ruth sitting at a rolling table in Cuba. The walls of TP are filled with pictures from various trips to the Camacho properties in Honduras. Camacho also co-sponsored the custom built-lounge at Tobacco Plaza.
Discussing cigar taxes and politics with co-founder Marshall Holman (who opened the shop in 1972) was amazing. I learned a lot about the history of NYC's smoking cessation practices over the years. The more I discuss politics and taxes RE: tobacco, the more outlandish I find the Gov't's activities to be. I look forward to chatting more with Marshall in the future.
As for membership, their lockers are $300/year. While unofficially, the membership includes the locker only, there are other benefits to patronizing this shop, such as Sunday breakfasts (where members will bring in bagels and coffee) and weekly member gatherings.
When we arrived at Huntington Humidor, we were greeted by HH's super friendly manager James Thompson. Man, I love this guy. James has been managing HH since 2007 (HH opened in 1995). James spoke about HH's memeber-oriented events like their annual Skeet/Fishing trips, Mini Golf & Bocce events.
Huntington Humidor has a deep membership offering for it's patrons.
$150/annual for basic (5% discount on all cigars)
$200/annual – Shared Locker (5% discount on all cigars)
$350/annual – Personal Locker (10% discount on all cigars).
Additional "Members Only" benefits exist also. Take for instance, HH's "extended access" program. Members can access the lounge during closed hours. That's a nice benefit for members. HH also offers a $5 cutting fee so that for non-members are encouraged to enjoy the lounge as well.
Also in attendance during our visit was Brad Seidre, an A.J. Fernandez rep, who was there raising awareness about their lines. I was offered and enjoyed a San Lotano Connecticut stick. A nice even cigar that burned well and finished smooth. I would like to try their other lines in the future.
HH has a new custom blend cigar line "Mardi Gras" made by Pride Vintage Tobacco that they are raising awareness for. I am told it will be out by the time of the 2012 IPCPR event.
CHRISTIAN'S NOTES – Huntington Humidor – San Lotano Maduro Corona- The SL maduro started off with a blast of pepper which really gets you on the retrohale. Full on wood flavors dominate with touches of leather. Midway the pepper nearly drops off and wood, earth and espresso notes profile. The last third brought back another blast of spice along with wood and earth to round out its short finish. I enjoy the San Lotano Habano line and the maduro is a nice change of pace.
Overall, we are very happy with the day and how it went. We visited 3 strong Cigar shops that focus on premium hand rolled cigars. On your travels, please take the opportunity to spend some time in these shops talking with their friendly, knowledgeable staff. You won't be disappointed. Tell them Big Ronnie sent you!
Contributors: Christian Aliperti
Photo Credit: Erica Stella, StellaBellaHome.com
Accessories, Big Ronnie, Education, Opinion
Big Ronnie, cigars, Colibri, Cutters, France, Lifetime Warranty, Lighters, Prometheus, S.T. Dupont, Sexiness, Tobacco, Xikar
Big Ronnie is back smoke fans. In my last post, we reviewed some basics about cigar care and aging. We also reviewed ways to store premium hand-rolled cigars and some basic humidor types. Assuming that our readers have the basics down and are now ready to get a little flashy, the topic of this post will be accessories (cutters, lighters, etc).
What's the difference between a soft flame lighter and a torch?
Why wouldn't you use a punch cutter on a torpedo?
How much do I have to spend to get a blah blah blah blah….
All your questions will be answered grasshoppers. After this post, all you have to do is pick the price range for your new goodies and infuse your own personal stye into your choices. Floss. Go fancy. Get extravagant. Or not. Completely up to you.
Many cigar accessories are geared to either personal or shared use. We'll review what is reasonable to share and travel with, and what is best for home or club use. Will you share your new toys? I think you will.
Cigar accessories serve a greater role than merely prepping your cigar to be enjoyed. They are a reflection of your own style and often inspire more conversation than cigars themselves. Pick up any copy of Cigar Aficionado magazine, you will see pages of accessory reviews, from affordable, entry-level items, to items that are to be wished about as they are unattainable to most.
OK Big Ronnie, I think I'd like to purchase a quality cigar lighter, what should I get?
Before you make any accessory choice, you have to consider the lifestyle of the owner and try to estimate the actual (not intended) use.
Where will you keep it?
Will you travel with it?
How often will you use it?
Do you want it to be a conversation piece?
Depending on the user and preference of style, you have several different lighter types available. There are many manufacturers of many lighter styles. Some manufacturers have large lines of varied lighters, others only specialize in the high end. Even though it may seem counter-intuitive, cigarette lighters should not be used to light cigars. Cigar lighters typically have larger/multiple flames and require more butane than cigarette lighters. Even traditional lighters like Zippos, while about as Americana as it gets, are not well suited to handling cigars due to using liquid gas, as the smell that may be transferred to your cigar.
There are 2 flame choices when it comes to lighters. Soft flame and torch.
Soft flame lighters are like candle light and have a soft orange/yellow flame.
Torch lighters are jet based (and have a hissing noise when lit) and use more butane than soft flame lighters and typically have more than one jet. Three or even five flame torches are common.
My favorite torch cigar lighter is the Rocky Patel 5 Burner Torch. Technically, a table lighter (to be used by multiple smokers at a time), it has 3 different size cigar punches (cutters) in the base and holds a ton of butane (I unfortunately lost mine to the TSA when I forgot it on a carry-on flight back from Vegas in '05. Booooo). Basic, single flame torches start at about $5 for disposable models and about $25 for refillable, more presentable models. The most expensive (generally available) torch out there is about $120.
Soft flame lighters are the most popular choice and are offered by every manufacturer. You can purchase basic soft flame lighters from manufacturers like Colibri or Prometheus. Prices on basic soft flame lighters start at about $20 and will cost upward of $120 for premium models. There are literally hundreds of styles to choose from and you really are only limited by your imagination and budget.
What about nicer than premium Ronnie?
Well, if you want to go crazy, or just hit the lottery, there are may ways you can floss with cigar accessories. Gold plated, hand inlaid cigar bands, jeweled, Chinese lacquer, and about 50 other unnecessary options are available. I went a little nuts about 10 years ago when I bought the lighter I still carry. The company is S.T. Dupont and my gunmetal finish solid brass lighter is a beast. This Ligne2 (dual flamed cigar lighter) is a favorite and has never clogged or let me down. My Dupont is a discontinued model and is currently selling for more than the $650 I paid for mine.
Also, keep in mind that when you buy a quality lighter, you should make sure you pick up the case. The matching crocodile skin leather case for my S.T. Dupont Ligne2 lighter is $150. Yes, $800 is unnecessary for a cigar lighter, but in my position as the sexiest Ambassador for the Cigar Rights of America out there, I light a lot of cigars and I insist on impressing. One piece of advice for those investing in a quality cigar lighter – do not fly internationally with them in your carry-on. Domestically, the TSA recognizes cigar accessories and will not confiscate them, but internationally it's the wild West. Play it safe and check your lighters every time.
What about cutters Big Ronnie, do you have some crazy cigar cutter you roll with?
Of course, but we"ll get to that in a minute.
A cigar cutter is a device with a blade of some sort that prepares a cigar to be lit. The goal for most cigars is to remove the smallest amount of tobacco possible in order to draw the smoke through the cigar. Most cigar cutters accomplish this through the use of blades. Single blade guillotine-style cutters have been popular and classy for over 100 years. Double blade cutters are the most popular styles among affordable ($10-$50) cutters. Some manufacturers even make crazy, geometric-looking three blade cutters. Another type of blade cutter is cigar scissors, very much like they sound, using two sharp blades a la handheld scissors.
Non-blade cigar cutters are in the form of a punch. A cigar punch is a small circular blade used for poking a perfect hole in the head of your cigar. This was the preferred method of cutting for Big Ronnie for a long time. I liked the consistency, and the relatively small amount of loose tobacco at the end of a cigar after a cut (compared to blade cutters). I also enjoyed the ability to pick the proper size punch for the cigar, as punch cutters come in various sizes. Punch cutters are not perfect for all smokes, as you cannot simply trim the head of a small ring gauge cigar, or punch cut a torpedo (pointy head) type cigar. Scissor and blade type cutters do not have this limitation, and can cut/prepare any cigar for lighting.
As for the cutter that I carry with me: It is a Xikar Havana Collection (in blue) with hand inlaid cuban cigar bands by artists in Paris, France.
Necessary? No.
A conversation piece, and one that gets admired every time I hand it to someone? Yes.
Badass? Absolutely.
All Xikar cutters come with a lifetime warranty. This means that when (not if) your cutter gets dull, send it to Xikar, no receipt necessary and they will clean it, sharpen it, and ship it back to you with a free inexpensive & durable leather case. I've sent my Xikar cutter in for maintenance several times without issues. Xikar's warranty, combined with their crazy materials (e.g. Carbon Fiber, Mammoth Ivory, Pave' Diamonds, Rare Woods, etc.) make them my favorite and most recommended accessory company. I never hear complaints about their products, and they are continuing to expand their line quickly.
While nice, my Xikar won't break the bank, and there are many similar styles from Xikar, starting at about $30. My Blue Xikar Habana cutter cost $200, before the cost of the case. No regular case, mind you either. The $75 stingray skin leather case is a conversation piece in itself.
What about those funny wood sticks I see people light cigars with?
Those sicks are called spills, and they are typically made of Spanish Cedar, the same type of wood that most quality humidors are made out of. They theory is that by keeping a liquid gas flame (not butane) away from your cigar, you won't impart any taste from the gas. I don't necessarily buy this theory (though I would never light a cigar with a Zippo for the same reason), though I do think the practice is sound. It is very cool lighting your cigar with spills once you get the hang of it. Controlling the size of the flame is key, don't let it get too big or the wood will burn quickly and you will have to use more than one. Cedar spills are sexy, just make sure you know how to maintain the sexiness during the light. This comes with practice, and I am not perfect. I've accidentally burnt my moustache once or twice. If you want top of the line cedar spills, head over to Commonwealth Cedar Spills – they'll even engrave your name on their beautiful spill boxes.
There you have it, my smokies, Big Ronnie's overview on how and why to purchase a new cigar accessories.
As always, please drop me a line with questions or comments and for God's sake, join the Cigar Rights of America!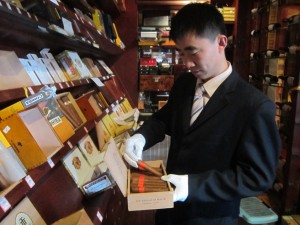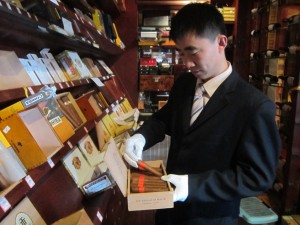 We recently posted a story about how China now represents more than one third of the cigar smokers of the world. And it seems like the cigar industry is beginning to react to that news. Focus Taiwan reports that Honduran cigar manufacturers like Rocky Patel and Don Humo Cigar Company are trying to establish ties with importers. They hope to gain access to the large Taiwanese cigar market, but the long-run goal is direct access to the massive Chinese market.
In our quest to support New York brick and mortar shops, as well as to serve our readers, FineTobaccoNYC is now compiling a weekly list of cigar specials to aid you in finding the best bang for your buck. Weekly deals will be posted every Tuesday until further notice. As this is a new feature of our website, the first edition will be smaller, so check back every week, and watch the list grow!
"Papa Juan Happy Hour" From 12:00pm-5:00pm. Waved beverage fees with cigar purchase.
Purchase any two cigars for a complimentary house blend.
Independence Day Special. Buy any three cigars get a free H. Upmann Connoisseur 40.
Mention FineTobaccoNYC for waived corking fee.
~~~
If you have a weekly cigar deal you want everyone to know about, please 1) email me at matthias.ftnyc(at) gmail.com and then drop it in the comments below.