May 22, 2013 (Basel, Switzerland) — Davidoff tobacco masters have created these very special Limited Edition "Club House" Toro Cigars with moments of shared pleasure in mind. The connoisseur's choice, wherever he or she is relaxing, particularly enjoying the fairways on a golf course.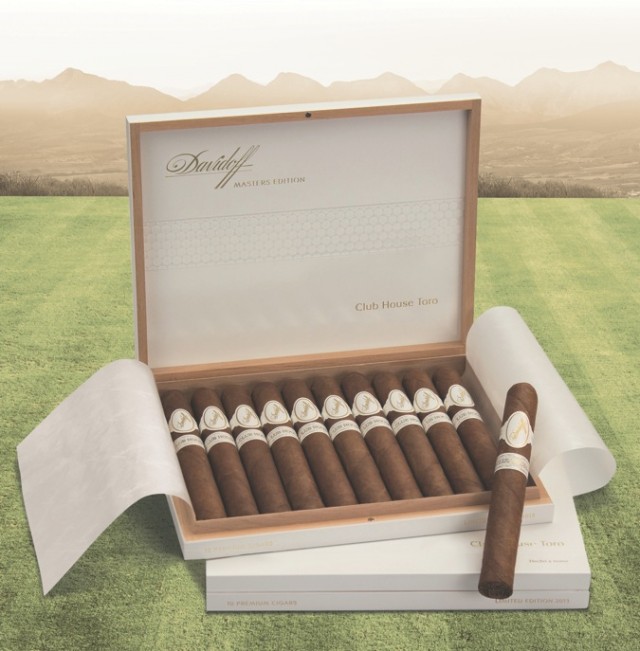 Creation of the Davidoff Masters Edition 2013 "Club House" Toro
For this cigar, the Davidoff Master Blenders decided to play the long game, taking adventurous, sometimes risky, shots. They mixed rare and specially matured tobaccos, focusing on delivering delightful aromas rather than pure strength.
The majestic Gran Toro format allows the aficionado to enjoy the cigar's intensive but balanced and nuanced taste over its entire length: the exceptional Yamasá wrapper, Mejorado filler and Ecuadorian binder develop mildly peppery and creamy notes, followed by elegant hints of chocolate, caramel and coffee.

Finally, displaying a playful elegance, both the cigar box, which is finished in high gloss white, and the second band carry a golf ball pattern.
The new Davidoff Masters Edition Club House Toro is the ultimate way to fill your time beautifully on a golf course with your friends.
This exclusive edition is limited to 7'000 boxes worldwide and the Davidoff Masters Edition 2013 "Club House" Toro can certainly be described as a collector's item. As we all know, the perfect round of golf depends upon the choice or club and cigar.
This Limited Edition will be available from the end of May onwards in Appointed Merchants across the US.
Price: $21.90 (each)
Price: $219.00 (box of 10)
Format: Gran Toro
Length: 15.9 cm, 6 ¼"
Ring gauge: 2.1 cm, 52 RG
Wrapper: Yamasá- Marron Claro (matured for 3 years)
Binder: Ecuador
Filler: Piloto Viso, San Vicente Mejorado Seco, Piloto Mejorado Seco, San Vicente Mejorado Viso, Vicente Mejorado Viso
Aroma: Intensive
Strength: Medium-strong flavour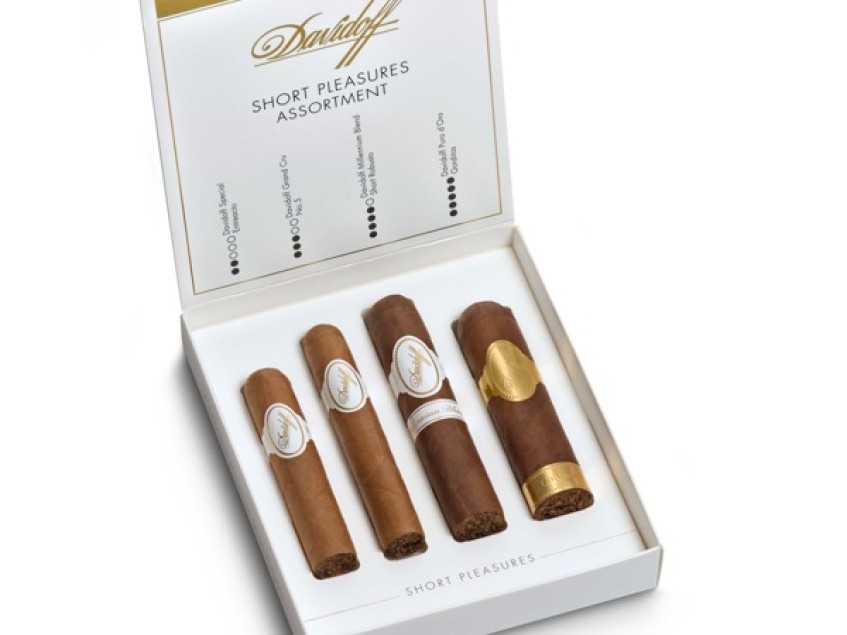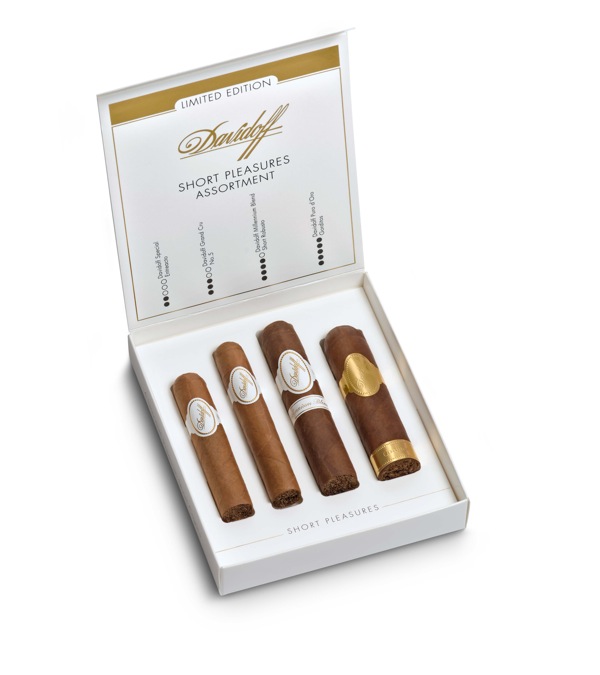 February 11, 2013 (Basel, Switzerland) — Finding time to chill out can sometimes be a challenge. Davidoff's new "Short Pleasures" Assortment responds to the rising need of aficionados to be able to enjoy a short, pleasing break in their hectic everyday lives. The assortment of four cigars composed of the Davidoff "Grand Cru" No. 5, Davidoff "Entreacto", Davidoff "Millennium Blend" Short Robusto and Davidoff "Puro d'Oro" Gorditos create a symphony that allows the right cigar to be enjoyed at the right time. Thanks to the different cigar formats and strengths, the modern bon viveur can choose, from mild to full body, the appropriate cigar for his chill-out moments.
The innovation of the assortment is especially strengthened through the addition of a new cigar, the "Puro d'Oro" Gorditos which combines boldness and richness in a short format with a 58 ring gauge and 3 3⁄4′′ providing an intense smoking pleasure in a relatively short period of time.
Kick back and relax, escape and get inspired. Enjoy your free time or short breaks with full draws, experience pleasure in a brand new way: this is what defines time well spent. Here Davidoff cigars play a decisive role.
Not only an ideal gift, but also perfect for combining efficiency and pleasure, the Davidoff "Short Pleasures" Assortment shapes personal and professional lives and plays an active part in them. This makes luxury accessible in everyday life, between meetings and while travelling.
The Davidoff "Short Pleasures" Assortment, the innovative trailblazer for the modern cigar experience, will be available as a limited edition at selected tobacconists from beginning of March 2013.
Davidoff Short Pleasures Assortment Davidoff "Puro d'Oro" Gordito
Wrapper Dominican Republic (Yamasá)
Binder Dominican Republic
Filler Dominican Republic
Aroma Strong flavor
Davidoff "Millenium" Blend Short Robusto
Wrapper Ecuador
Binder Dominican Republic
Filler Dominican Republic
Aroma Medium flavour
Davidoff "Grand Cru" No. 5
Wrapper Ecuador
Binder Dominican Republic
Filler Dominican Republic
Aroma Mild to medium flavour
Davidoff "Entreacto"
Wrapper Ecuador
Binder Dominican Republic
Filler Dominican Republic
Aroma Mild
Price $ 45.60-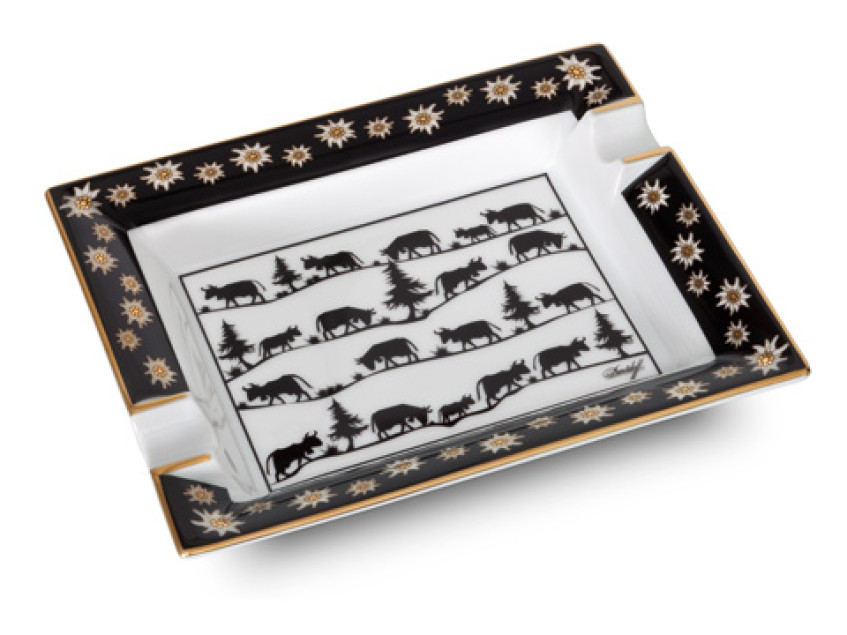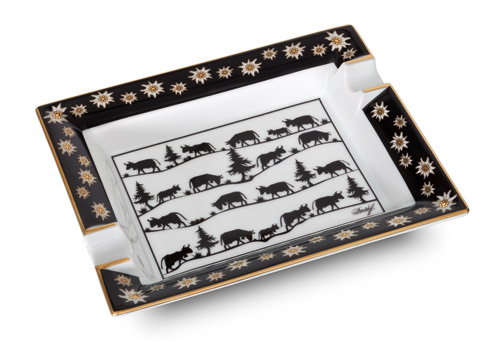 Another beautiful ashtray from Davidoff in our week of luxury ashtrays. This limited edition porcelaine ashtray features a Swiss theme. As you can imagine, at over $300 each, this tray is not for the novice cigar smoker or one on a budget, but it would make a great addition to any cigar lounge or cigar-safe den.
A description the Davidoff website:
The Davidoff COLLECTION has been enlarged by the addition of an ashtray featuring a typically Swiss motif: the Alpine ascent. Every spring, Swiss farmers drive their cows up into the mountains where they will remain all summer long. This special day is marked by celebrations known collectively as the Alpine ascent. The motif on this new ashtray was created using silhouette technique, a craft with a long tradition in Switzerland. The fine porcelain is fired at extremely high temperatures which lends it its superb colours, shiny finish and exceptional durability. This Special Edition of ashtrays is a limited edition only, made by a famous French porcelain manufacturer in Limoges.
Click here to view the item on the Davidoff Website.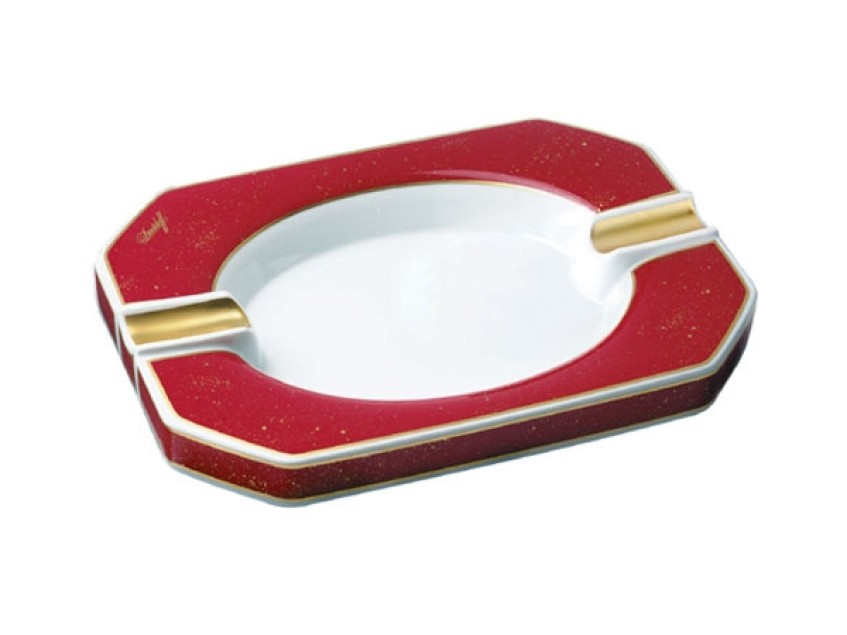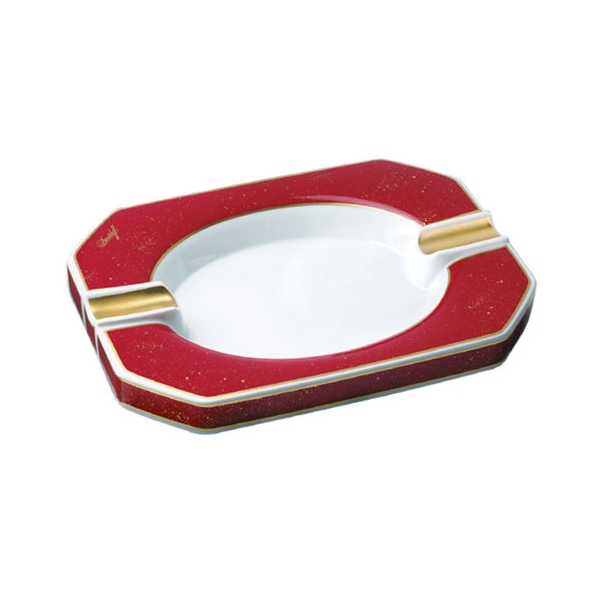 The Davidoff Prestige porcelain ash tray features two slots for resting cigars and ample space for the ash from two cigars (and probably more). Davidoff is well-known as a leader in the luxury cigar and cigar accessories market, and it is easy to see why. As you might guess, the image above doesn't quite do the ash tray justice. The Prestige comes in at least four different colors (two pictured below) and runs for about $425 a piece.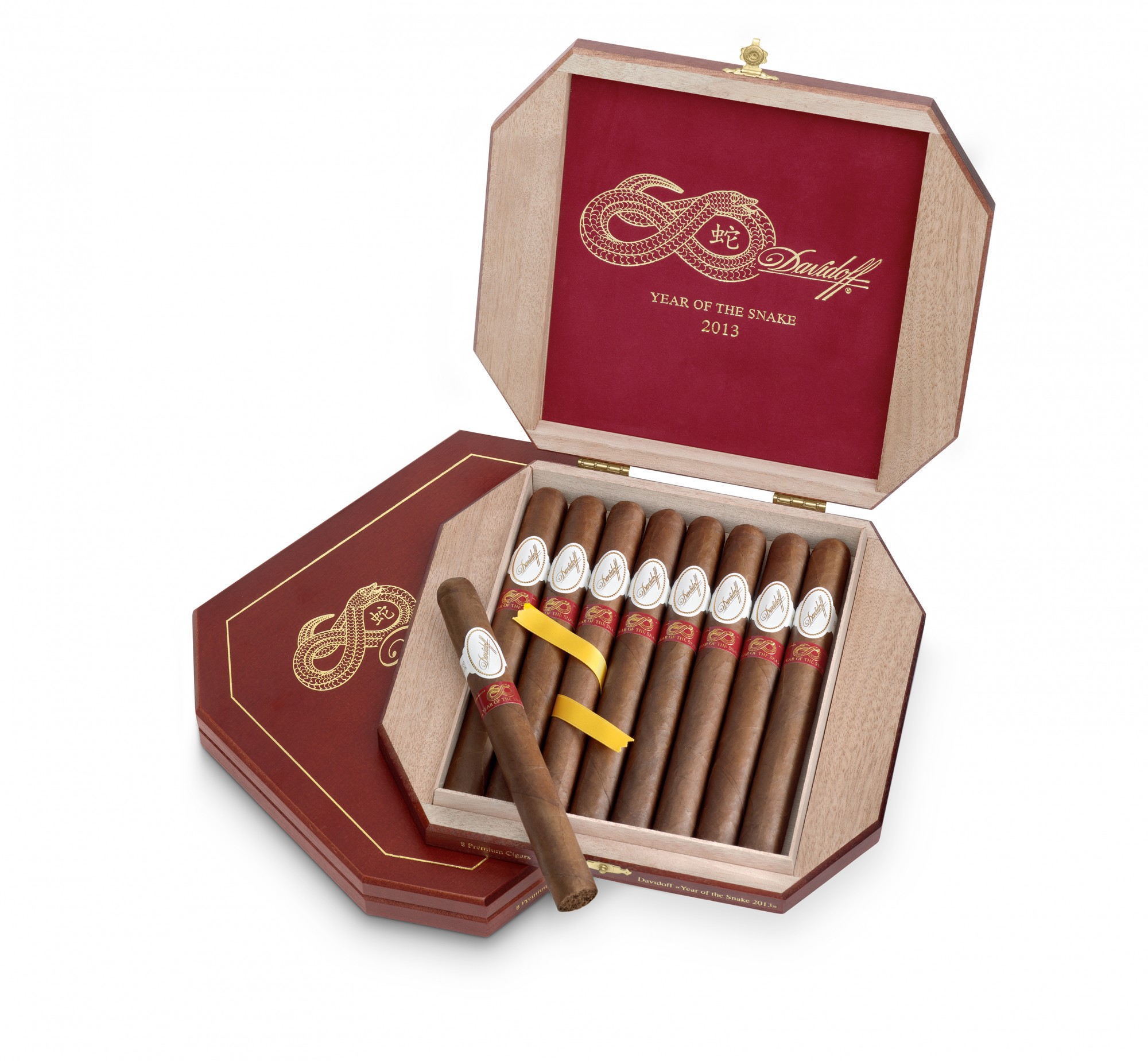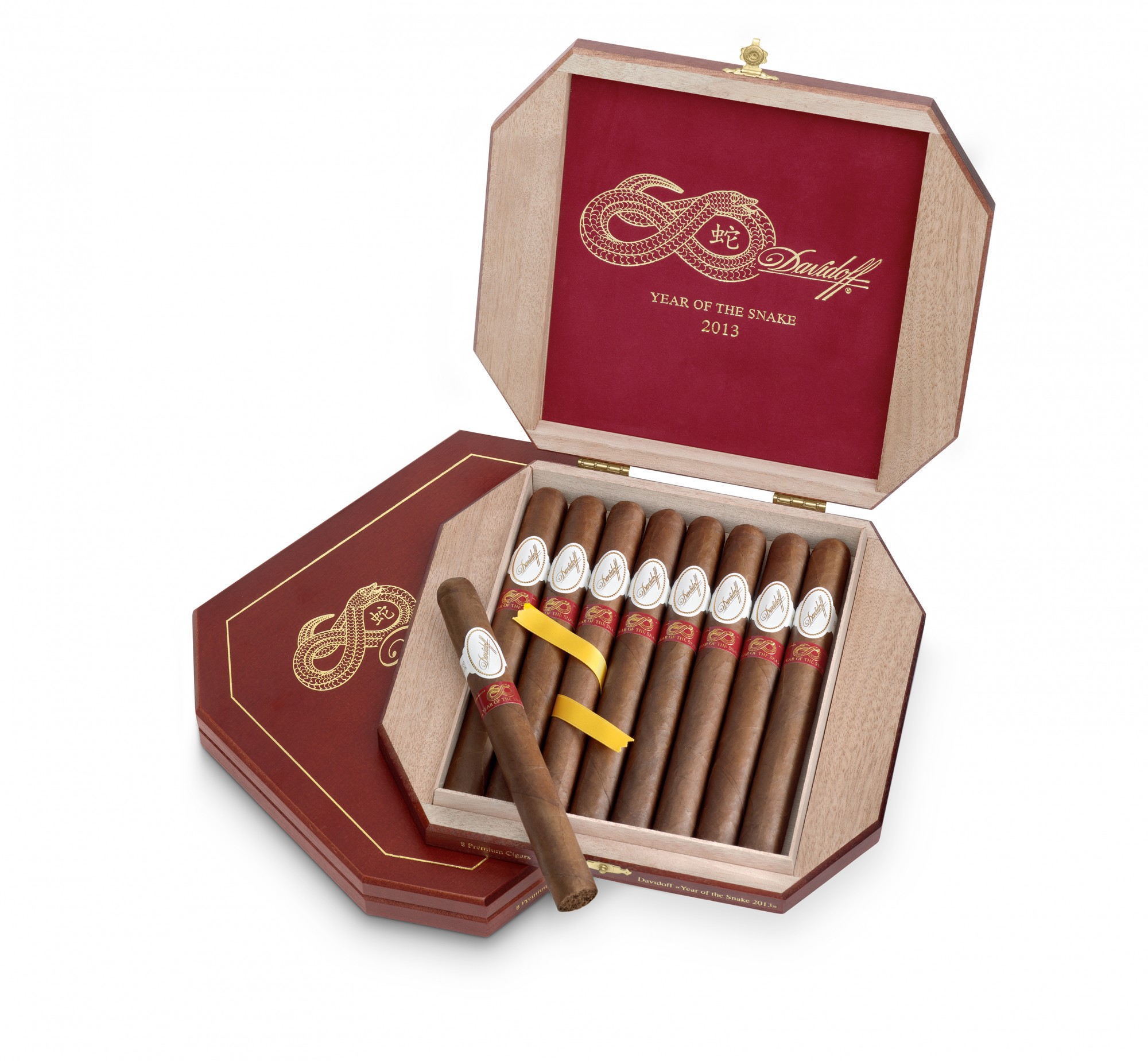 November 20, 2012 (Basel, Switzerland) — At the start of the Chinese Year of the Snake (February 10, 2013), Davidoff is launching the new 2013 "Year of the Snake" Edition cigars with exclusive limited-edition accessories. In the Chinese calendar, the sixth of the twelve Chinese signs of the zodiac is characterized as wise and graceful. The Snake is the quintessential symbol for intelligence and profundity. Particularly delicate and fine when depicted in a figure of eight, it has become one of the most popular decorations in all of Asia, not only for its unique symmetry but also because it carries the promise of infinity, material prosperity and luck. It is said that Snake-people like to possess the finer things in life.
Premium cigar brand Davidoff is also synonymous with luxury and the total "crop to shop" concept. "Year of the Snake" is, therefore, not only the unusual name given to the new limited edition, but also the connection of quintessential wisdom and stylish quality awareness with Davidoff.
Integrating these characteristics into an aroma represents a challenge for the Davidoff Master Blender: namely, to combine particularly old tobaccos to successfully create three layers of flavor – from floral nuances reminiscent of honey, to caramel, and finally to peppery notes of wood or nut, whilst also providing a captivating quality…. highly aromatic, with light-medium strength and Cuban thickness, the cigar develops a charming creaminess due to the Ecuadorian binder. The impressive Churchill format makes for a long smoking experience punctuated with the delicacy and refinement of a cigar with charisma. The octagonal, red-lacquered wooden box containing eight cigars will provide pleasure in the coming year.
The cultural background of this 2013 "Year of the Snake" Edition is every bit as fascinating as its aesthetic appearance: The "White Snake Story", the Chinese love story still extremely popular today, can trace its origins back to a legend from the Ming dynasty (1368 AD) and, amongst other things, has inspired Davidoff's new cigar — a cigar that preserves its cultural heritage whilst using passion and attention to detail to unlock the spirit of a dynamic, global environment. Those who fall in love with this cigar have no sense of superficiality. The fine, profound 2013 "Year of the Snake" Edition is for aficionados who smoke intelligently.
The uniqueness of this luxurious edition with a double ring speaks for itself. It is limited to 4,500 pieces and is available at Appointed Merchants beginning in December 2012.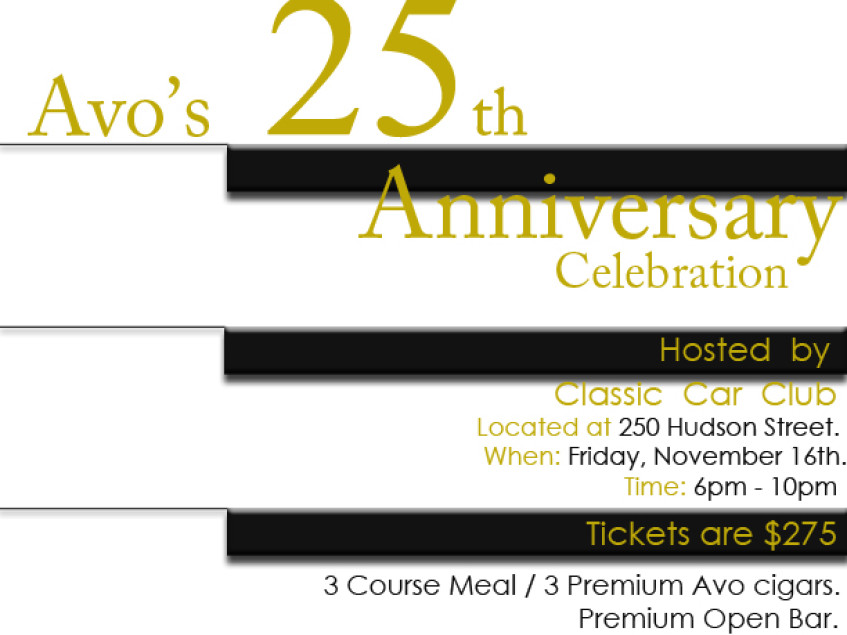 Just received an email invite/announcement from Alberto Rosario from Davidoff Geneva about an upcoming event celebrating the AVO 25th Anniversary. Take a look below for details.
~~~~~
Good afternoon, this email serves as an invitation to come and join us and celebrate Avo Cigars 25th Anniversary! Hosted by the Classic Car club located in Soho. The event will be a full course meal, a selection of exclusive Avo cigars, premium open bar and multiple raffles.
Come join us celebrate the success of a great cigar brand!, the launch of the Avo 25th Anniversary and meet interesting fellow smokers alike. If any questions arise please contact me by email or phone.
Thank you and I hope to see you the evening of November 16th.
Alberto Rosario
212.751.9060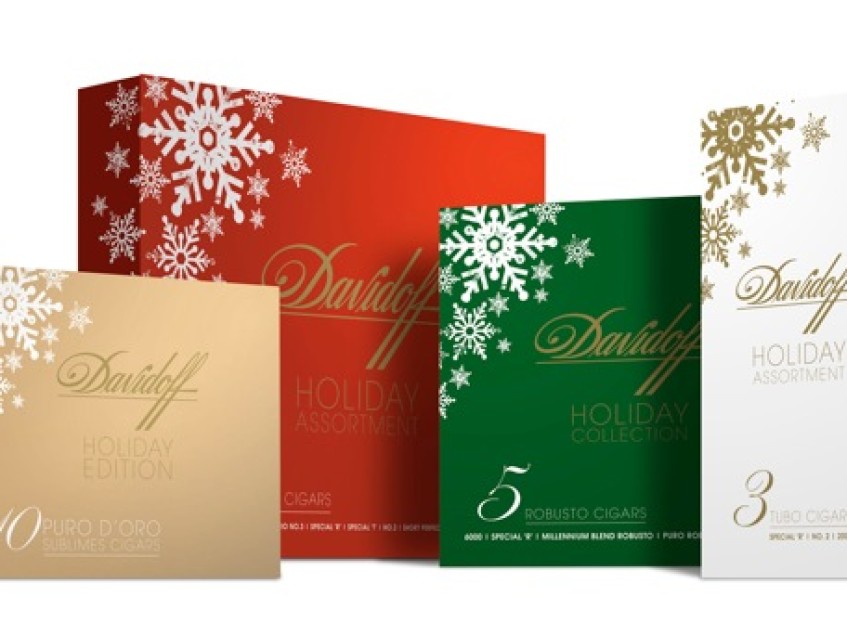 October 15, 2012 — Davidoff reveals the perfect holiday gifting solution for the first time in the brand's history. Perfect for the Davidoff aficionado, gifts include festive holiday sleeves wrapping an array of Davidoff cigars as well as accessories from the brand. Whether shopping for dad, friends or colleagues, the assortment features a variety of price points to allow the perfect gift for everyone. The holiday designs will adorn some of the brand's assortment packs, including the Robusto Collection, Tubos Assortment and the 9-Cigar Assortment, as well as its Puro d'Oro series 10-count boxes. Holiday items will begin shipping to Appointed Merchants November 1, just in time to hit shelves prior to holiday shopping.