Oh Thursday, June 2nd, FTNYCers got together for their first HERF of the summer.  We met at Refugio Cigar House out in Brooklyn and enjoyed Mike Lopez's incredible hospitality, as well as a few of his new blends.  It was also great to see so many new faces. You can find pictures of the event on our Facebook page.
The evening kicked off at around 7:00pm with a few members trickling in.  With all of the beautiful sunlight, I couldn't resist bringing my home sound system to crank up Latin music. At around 8pm, a professional cigar roller from the Dominican Republic dropped by to roll fresh cigars for us for the rest of the night. At this point we had about 20 people, making for a lot of great conversation. Cigars on hand ranged from 5 Vegas, Perdomo, 601, CAO, Davidoff and of course the Refugio blends. If you haven't tried Refugio's Habano blend, give it a shot – it is excellent.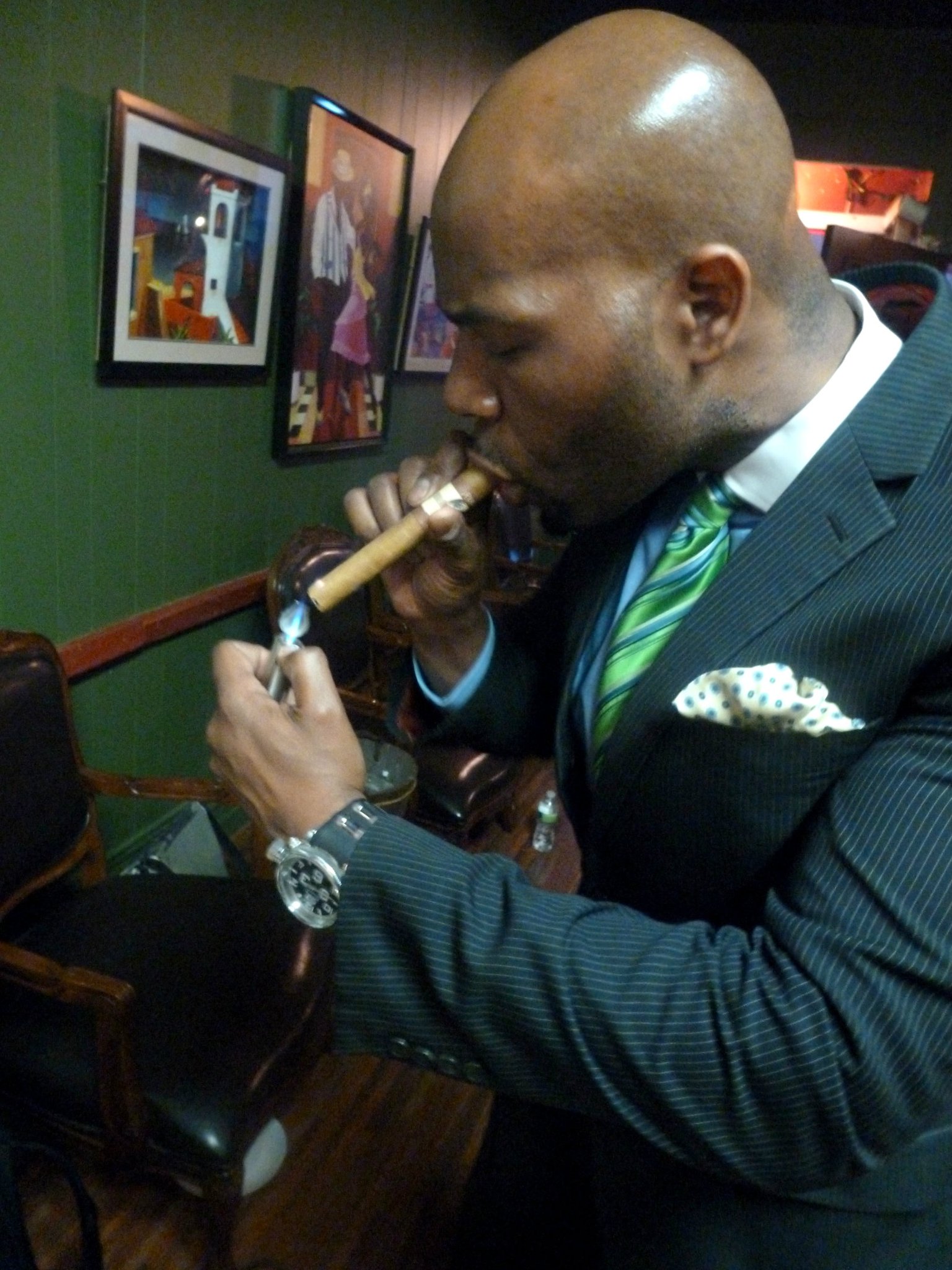 Mike and a few other FTNYC members also brought tons of drinks. Mike also bought pizza from his favorite Brooklyn shop to share with everyone else.  Unfortuntaly, I was so busy talking I didn't have a chance to grab a slice. Next time I'll be a bit more proactive. We also had Kevin Joyce from Maraya Cigar show up, which was a real treat. If you haven't been to his shop on Orchard Street, be sure to drop by – they produce two fantastic house blends.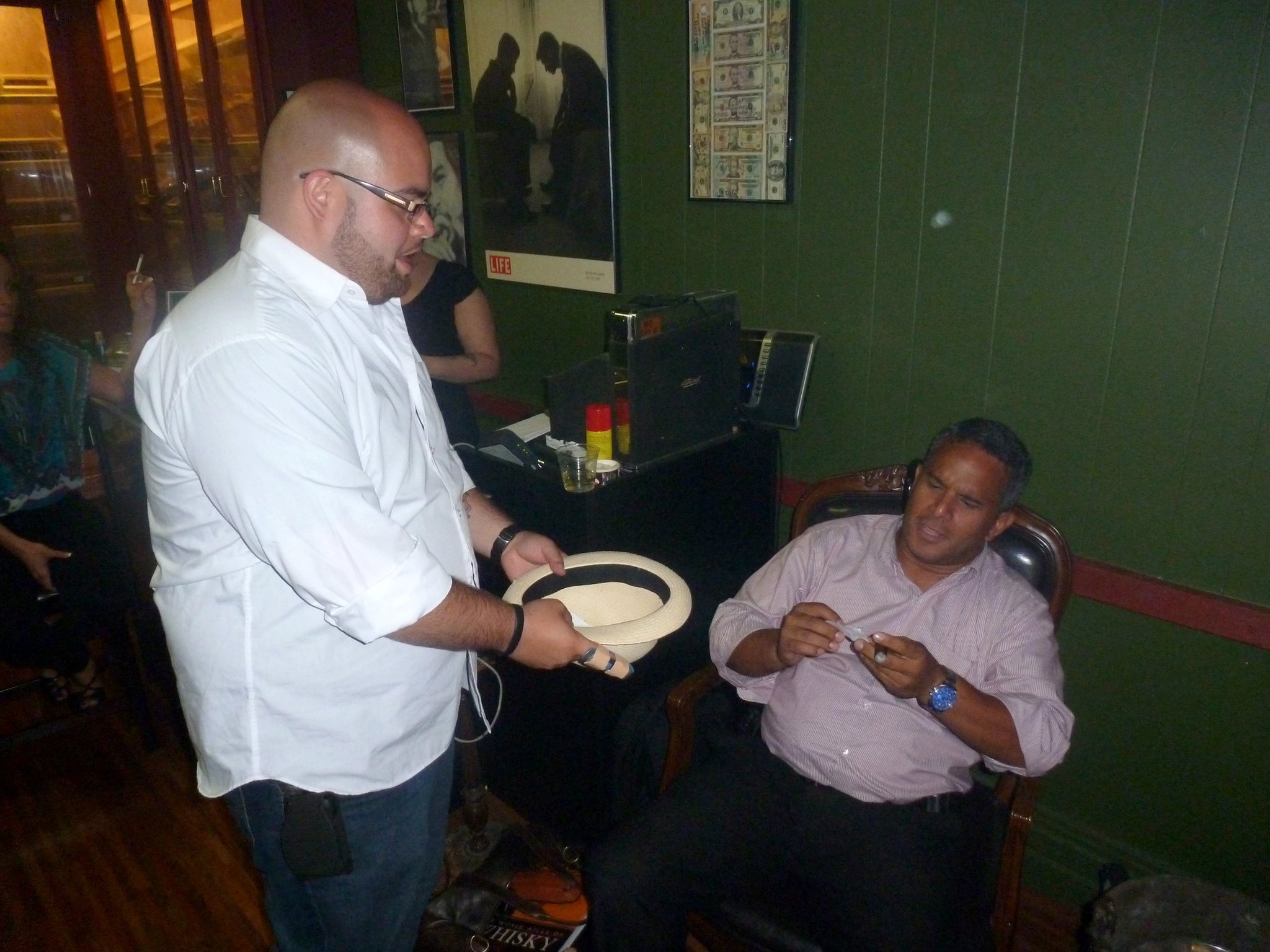 At the end of the night we had a cigar raffle, more music, more drinks, and a few more cigars. All in all, it was a great kickoff to what's going to be a summer full of events. If you're interested in coming to an event, sign up for the event mailing list on the top right of this page!
You've never met a friendlier bunch of guys than Jose, Mike, Richie and the rest of the crew at Caballeros Cigars, the sight of the most recent FTNYC event, on November 12th.  I'd never been to Caballeros, and I'm willing to admit I wasn't too thrilled about the long train ride into Brooklyn.  Long story short: I'd make the ride over and over.  This place is great.
The event began at 8pm.  I arrived a little early, and asked Richie where I could buy a bottle of wine.  He pointed me toward the liquor store a few blocks down and said, "Tell them Richie from the cigar store sent you.  They'll give you a good price."  It's that kind of neighborhood.
I started the night off with a Santa Ana, one of Caballeros signature homemade cigars.  Jose and Mike both showed me around the humidor and helped me pick out the perfect smoke.  Its flavor was in the medium-to-full arena, and it had a rich taste that I loved.  And it was great to hear about the family's history – that definitely made the experience of smoking my Santa Ana even more satisfying.
Throughout the next few hours, in addition to the FTNYCers who stopped by, it seemed that half the neighborhood showed up to say hello.  People brought booze, and snacks.  A few locals came by with coolers trying to sell us food.  (Sean, how was that empanada?)  Cigars, Rum, Salsa music, even a little dancing – what a fun atmosphere!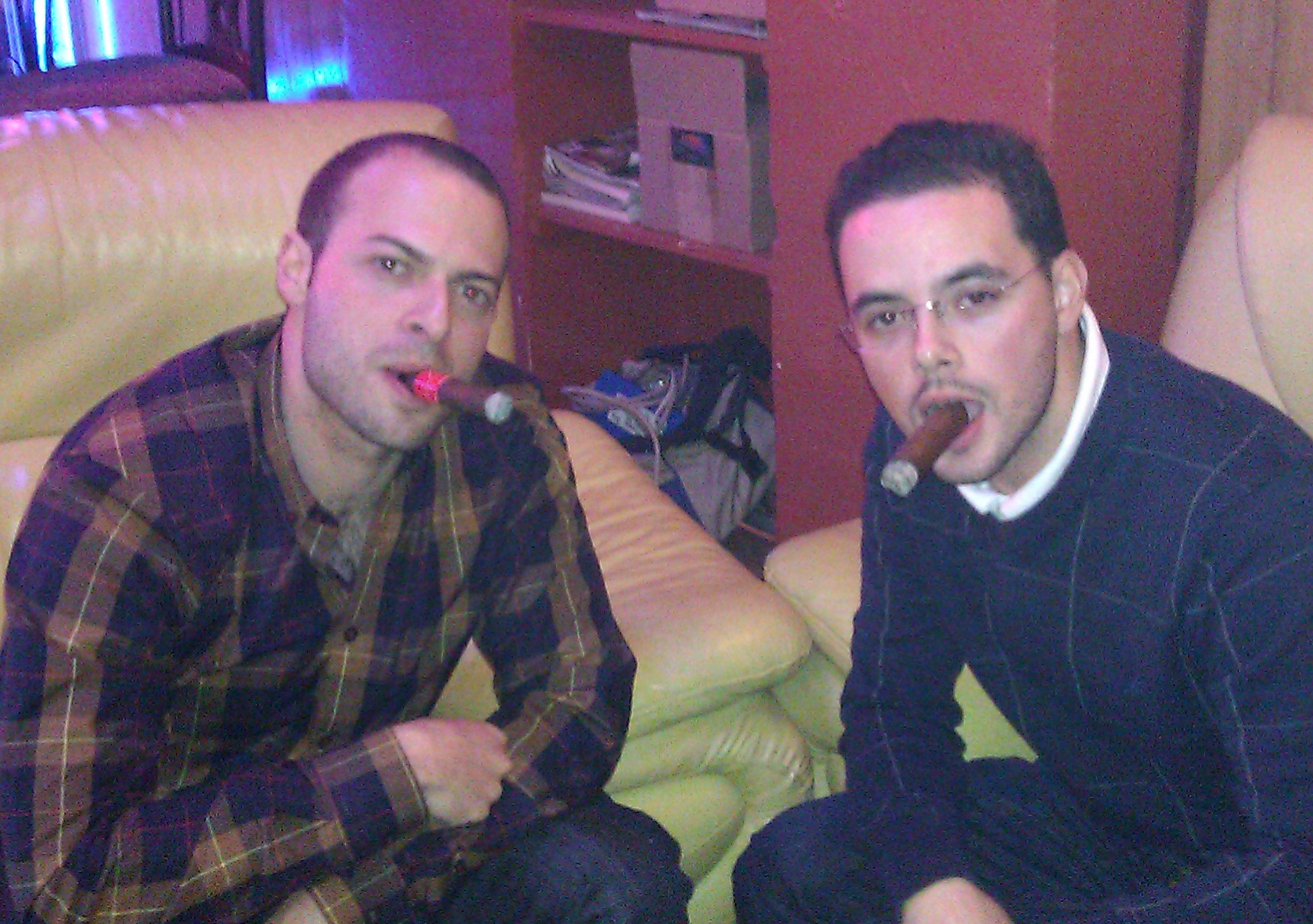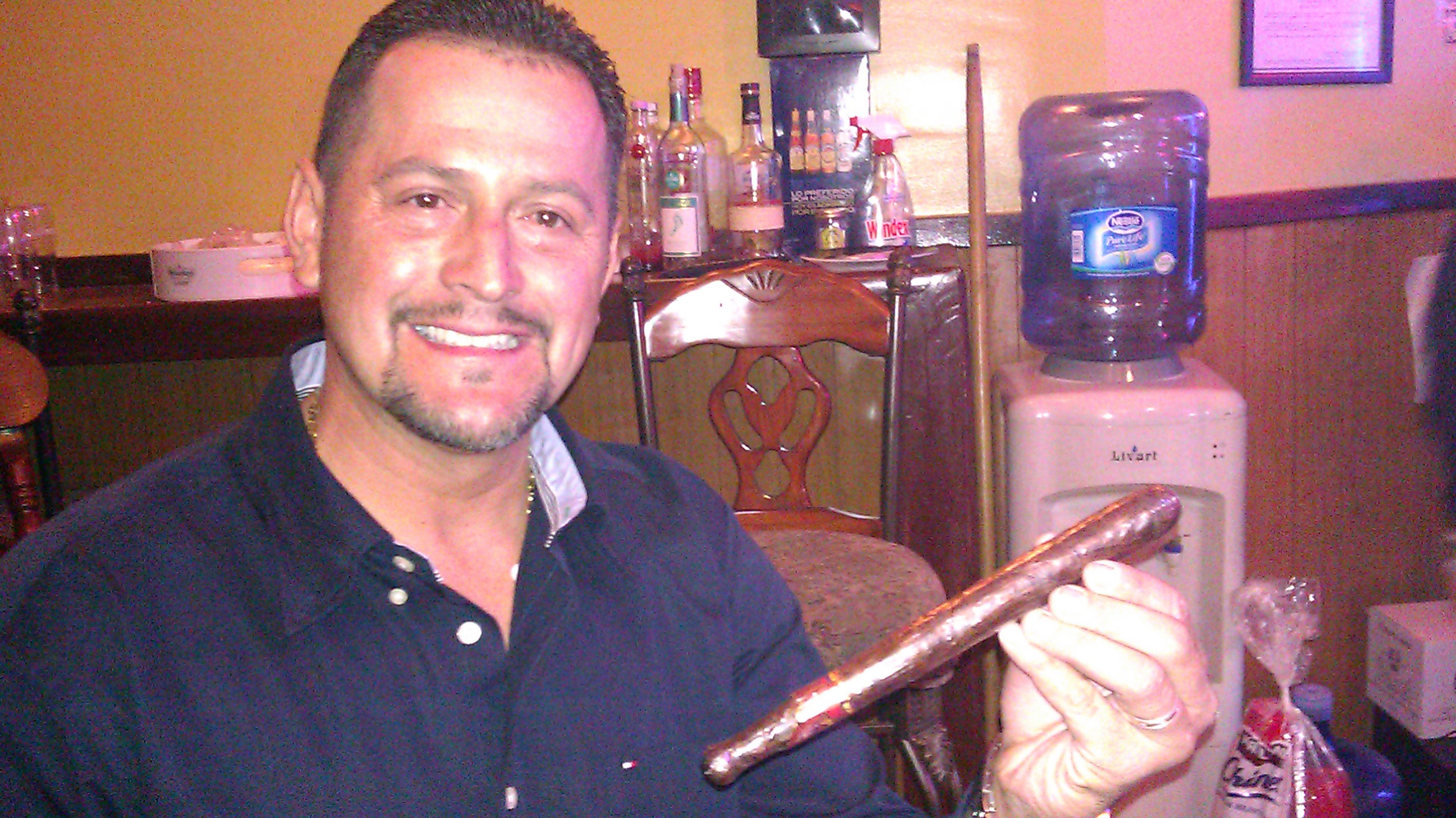 Some of the highlights of the evening include:
•Jose showing us his baseball bat cigars.  What a great idea for having the guys over for a game, or for welcoming a new baby boy.  What's next?  Football cigars, hockey stick cigars?
•All sorts of strange liquor.  I wish I had been paying attention to the names of things because there were several drinks I'd never seen before.  There was a bottle of pink, carbonated something-or-other that got passed around.  Someone filled a vodka bottle up with special herbs from the Dominican Republic, and made this delicious special brew.  Another bottle had this thick, egg-noggy dessert beverage, with rum, I think.  And beer, wine and brandy.  Everyone was happy to share.
•FTNYer Sarah was mesmerized by Janise, Anthony's wife, dancing around the store to the beat of the pumping Latin music.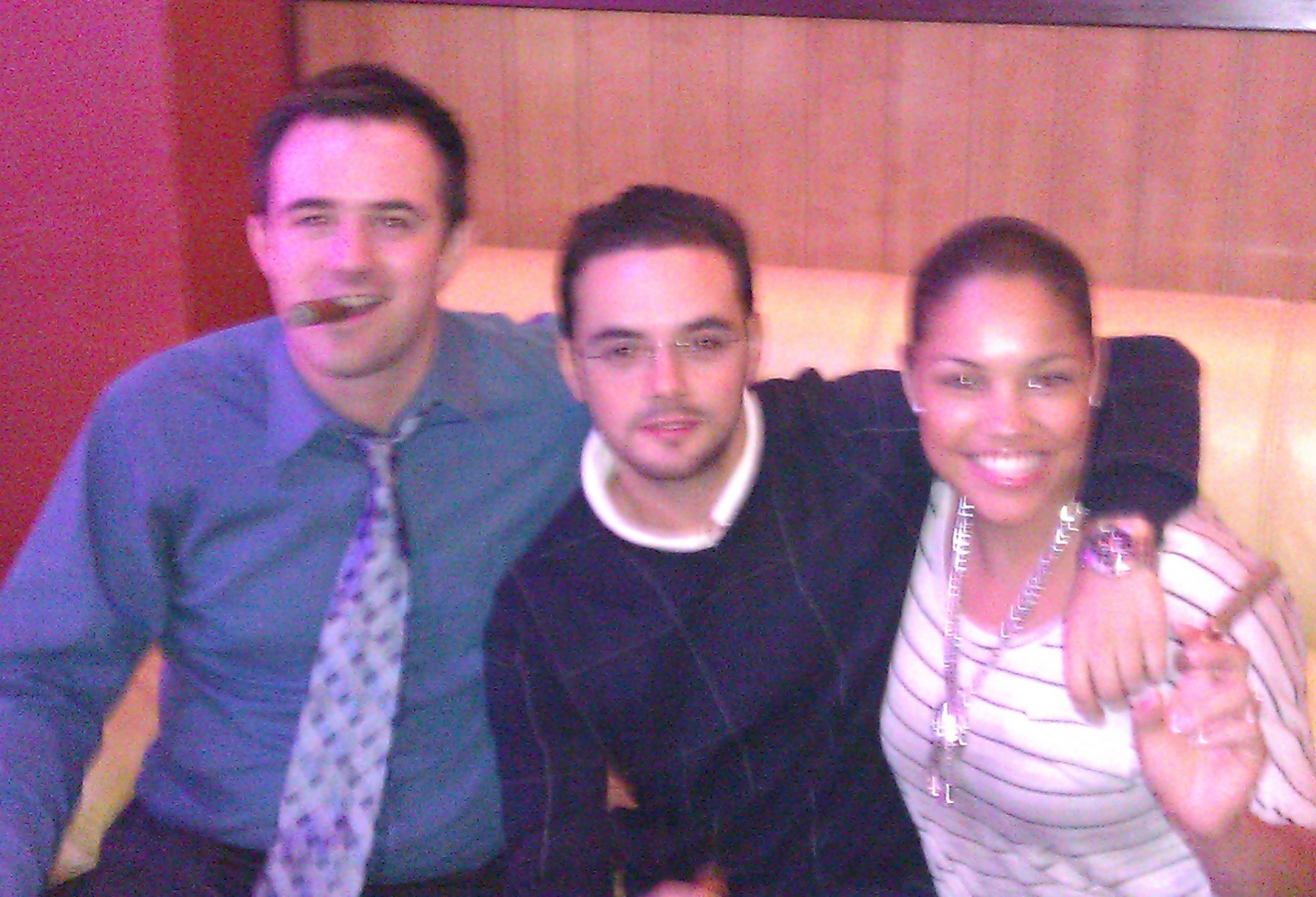 •Mike showing off his brand new tattoo.  I wish I had gotten a picture.  He'd gotten it that day, and pulled down the bandage to show us the arch-angel Michael on his forearm.
By the time I left, 4 hours after arriving, I'd met some new friends, reconnected with a friend I hadn't seen in a few years, smoked two cigars, and managed to sample about 5 new drinks.  It's a pretty easy call to say that this 2nd event at Caballeros was a great success.
Caballeros Cigars is located at 1048 Wyckoff Avenue in Ridgewood, NY.  You can contact them at info@caballeroscigars.com
If you're interested in joining the list, and attending an FTNYC event, drop Matthias an email at matthias.ftnyc@gmail.com
On Friday, September 17th, FineTobaccoNYC hosted its second Summer Cigar Night with Caballeros Cigars in Queens.  Caballeros are very new to New York City – the lounge has only been around since may. The lounge is still under construction, and the walk in humidor is in the stocking process, but that won't stop Caballeros from making a name for themselves in the New York City area in the years to come. In their first few months open, Caballeros has begun to develop a reputation among locals for incredibly friendly service, flexible hours, and a relaxed environment.
Friday's event started at 7:30pm and ran until about 1:00am.  A range of cigar smokers from around the city were in attendance smoking all kinds of premium cigars – a few I remember were the Rocky Patel OWR, Camacho Triple Maduro, Quintero Maduro, and of course Caballeros wide ranging boutique blend.  The event featured 25% off all cigar packages and accessories, live professional cigar rolling, and an 11:00pm raffle with $100 in cigars and a champagne toast. Caballeros also provided a variety of wines and other drinks including Merlot, Pinot  Noir, Moscato, and a few beers. Everyone who showed up had a great time, lots to eat and drink, and plenty of good conversation.
Come to think of it, I'd have to say the quote of the night came from a good friend of mine who is living in Harlem.  We were engaged in a conversation about our fine tobacco preferences, and I told him that to me a pipe just can't compete with a cigar. To that he replied, "You know, to me a pipe is like a wife: constant, faithful, always by your side.  A cigar is more like a passionate lover that completely overwhelms your senses."
I thought it was an apt observation.
A few minutes later, the height of the night came at 11pm when Caballeros handed out pieces of paper for a raffle for more than $100 in Caballero boutique blend cigars.  Needless to say, the winner (Andrew) was very happy – although it should be noted that Mike Lopez (our gracious host) encouraged him to share.
Overall, the event was a massive success – first because of the great guys who showed up, and second because of the tremendous generosity and hospitality of Caballeros!
As always, if you are interested in RSVPing for free for a FineTobaccoNYC event, then shoot me an email at matthias.ftnyc@gmail.com, and you will be updated on social cigar events in the city! If you're on twitter – so are we!  You can follow us here.
The next event is coming up in just a few weeks, so shoot me an email and come smoke some quality tobacco, meet new people, and make new friends!