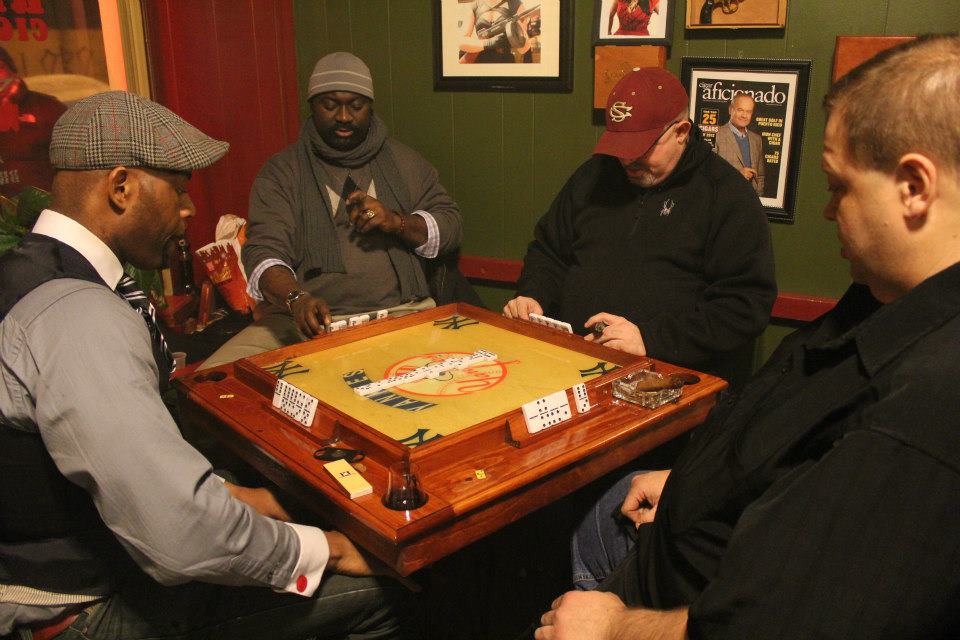 After a blistering long cold week, I looked forward to hanging out with some old friends and meeting some new ones at Refugio's first "Sip and Smoke" of 2013 with David Bailey and David Alicea – hosted on Friday, January 25th. Those that battled against the weather were rewarded with drinks, cigars and good times. It pays to be early and this event was no different. Early birds were there to grab the best seats and get first picks on cigars, raffles and sales before they're sold out. As the people started coming in so did the wide array of spirits. Scotch, Rum, Brandy..it was all there for us to taste and enjoy as David accurately described each one.
Our very own David Alicea dissected the Arandoza Cigar line in detail describing all of their flavor characteristics. David also did an awesome job on a cigar cutting and lighting refresher course for those new to cigars. A huge 50 count Humidor was raffled after the Sip & Smoke with proceeds going towards a upcoming fundraiser called "Cleats4kids". The raffle and after event was put on by New York's Grown & Sexy in the City Cigar Group. We stayed till morning conversing among new and old friends, enjoying fine spirits, stogies and making memories.
Thanks for all who came out and we look forward seeing you again soon. Photos are below!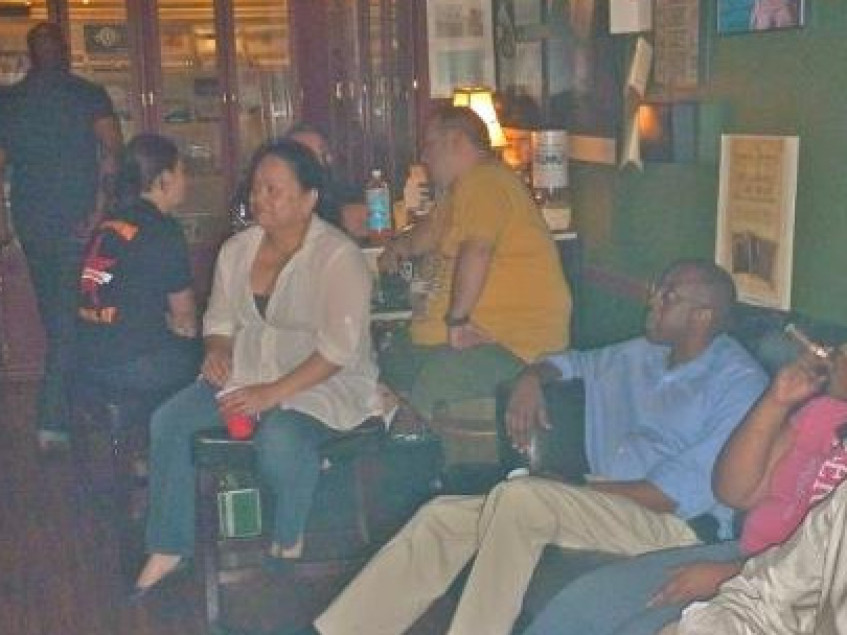 On Friday, June 22 2012, Fine Tobacco NYC sponsored "Cut and Light & Sip and Smoke" at the lounge where it began – Refugio Cigar House. At the Cut & Light event, a good gathering of about 30 brothers and sisters of the leaf enjoyed premium cigars at Refugio Cigar House paired with scotch. The evening filled with conversation about life, spirits, and cigars.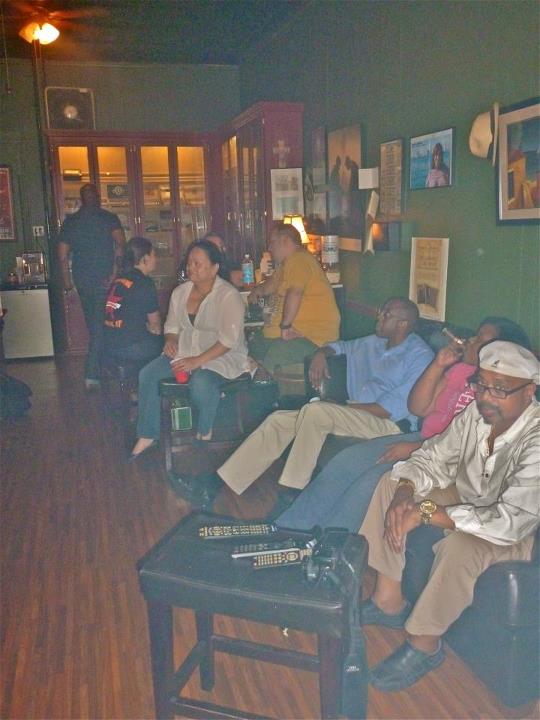 At the event, FTNYC event coordinator and cigar broker David Alicea gave a brief talk about cigars. Alicea discussed the cigar process, the anatomy of a cigar, and the importance of Spanish cedar in aging cigars. David Bailey, spirits connoisseur and member of New York G&S, spoke in depth about scotch and how to pair it with cigars.
Attendees began the tasting with the Macallan 10 Year Fine Oak and ended with Ledaig 10 Year.
To receive exclusive invitations to all of our events, submit your name and email to our event mailing list and come enjoy exclusive cigars and meet like minded cigar smokers from all over New York City.
You can view photos from the event on our Facebook page.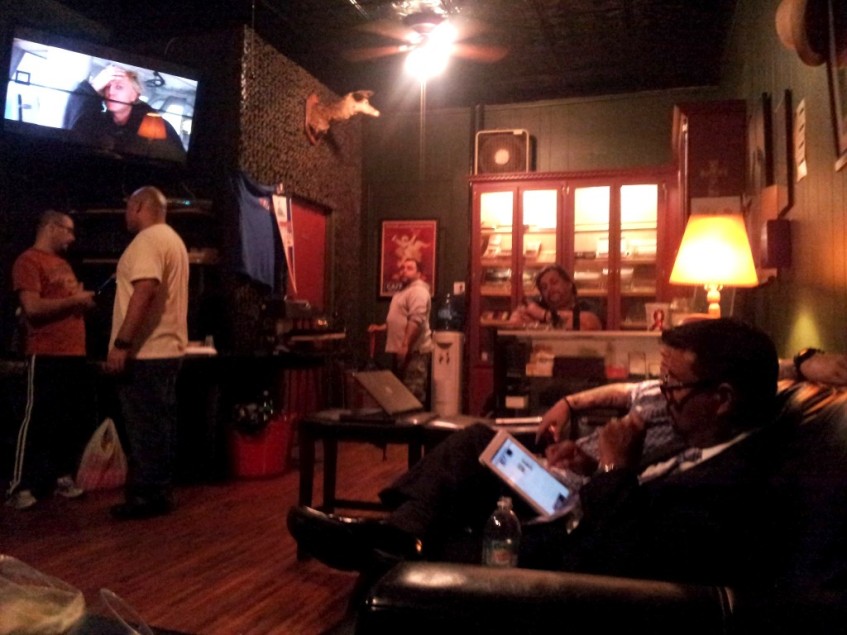 A little over a year after opening, Refugio Cigar House has begun to shift the paradigm on the neighborhood cigar lounge. Located at 635 Lorimer St. in Brooklyn, the shop has quickly gained a reputation for friendly service, great cigars, and an atmosphere of relaxation fitting for the art of smoking. The shop sports a great Cuban vibe and appeals to regulars and the average passer-by. FineTobaccoNYC event subscribers might remember that we hosted Refugio's Grand Opening event in January of 2011.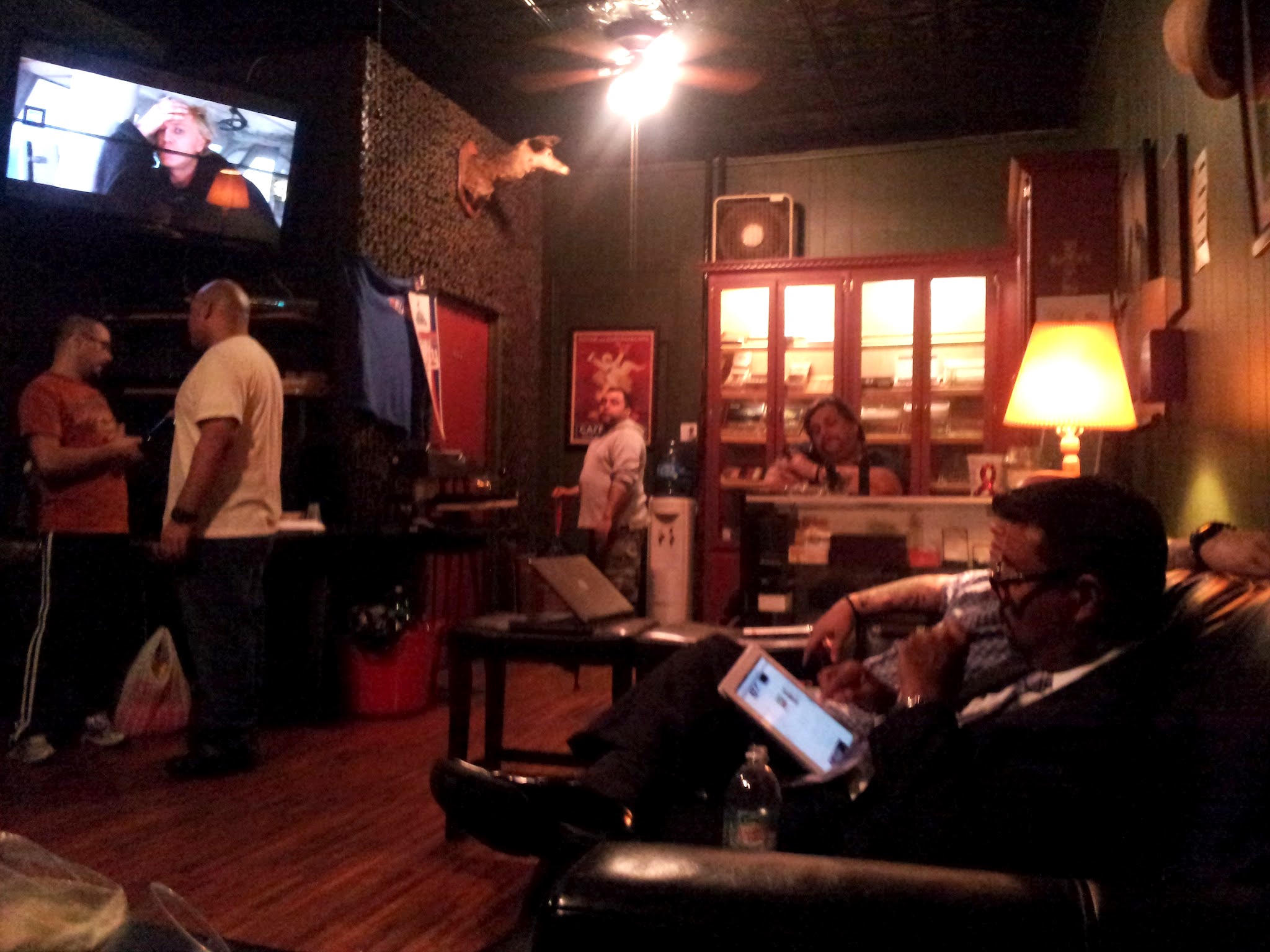 The owners, Mike Lopez and Jimmy Brigadino, make a point to hang out at the shop to greet passers-by, customers, and regulars alike. Mike says he envisioned the shop to be "a refuge for cigar smokers in the fast-paced city of New York." David Alicea, an event coordinator at FineTobaccoNYC says he has enjoyed seeing Refugio create "an experience that is friendly, family oriented, and that introduces others to true cigar culture."  Another key to the Refugio philosophy is that the shop's regular events are free, and feature no bottling fee for smokers bringing in drinks to pair with cigars.
On any given week, Refugio hosts cigar events with New York's Grown & Sexy cigar group, and FineTobaccoNYC. Tuesdays are movie night, Wednesday is the regular Grown & Sexy HERF, Sunday is MOB Wives night, and once a month the shop hosts a poker night.
Although Refugio carries a variety of premium cigars, Mike and Jimmy have made it a point to support high quality boutique brands entering the market, like Reinado Cigars and Hispanola Cigars (both good friends of FineTobaccoNYC – I highly recommend you taste both).  The main attraction at Refugio though are their house blends, which I would easily consider some of the best house blends in the city. Aside from being well constructed and composed of quality tobacco from Nicaragua, Dominican Republic, Peru, and Brazil, Mike has gone the extra mile to offer customers truly unique smoking experiences.
The Witch's Broom, for example, is rolled by a veteran cigar roller of the prestigious Davidoff factory. The stick has a Brazilian Mata Fina wrapper, and Nicaraguan, Dominican, and Peruvian filler. What makes the cigar special, however, is the vitola, with exposed tobacco on the foot, resembling , you guessed it, a broom. Alicea describes the cigar saying, "with the Witch's Broom you'll get notes of black pepper, coffee, and an earthy, but very smooth texture. The cigar is a solid medium in terms of body, and a real joy to smoke because of the special vitola."
Another signature house  blend is the new Boxed Press Torpedo. With an Ecuadorian wrapper and Nicaraguan and Dominican filler, it is the new home run of the shop. The box press was made famous by the Padron family, and Refugio's version is a fantastic take on the popular shape. Smokers will notice hints of chocolate, leather, and black pepper.
Aside from cigars, the shop now sports member boxes (membership comes with a complimentary bundle of cigars), renovated lighting, and new fans for air circulation. When the shop first opened, ventilation was a noticeable problem, but the new redesign has really completed the vibe of the shop.
In short, Mike and Jimmy have done a fantastic job creating a true refuge for the New York City cigar smoker. If you live in the city or are visiting, forget about your regular Cigar Inn or Club Mac visit and experience something new. If you take my advice, you might find yourself frequenting this New York City gem.
Connect with Refugio Cigar House on Facebook.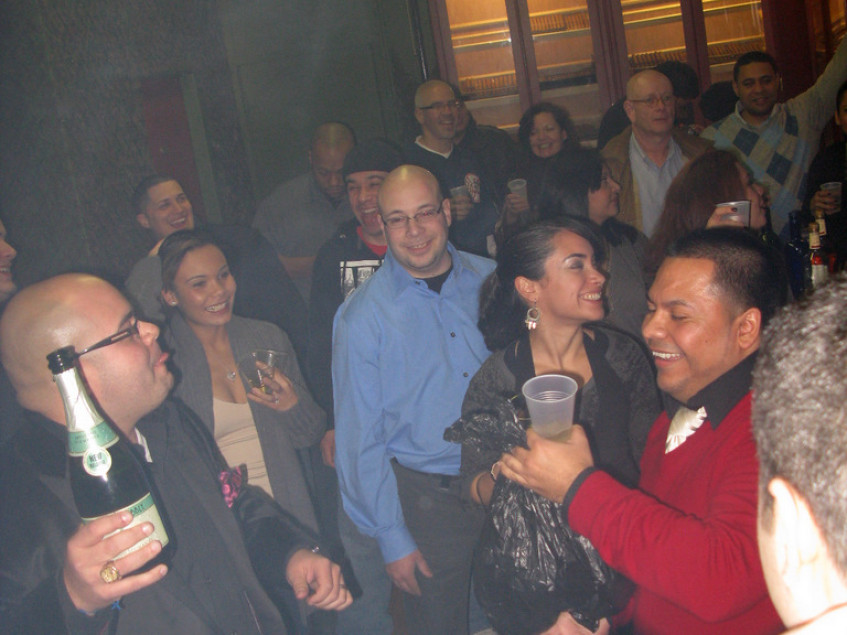 Have a bottle of something good that you just haven't cracked open yet? Or, another bottle that's already opened that needs a bit of help? "Open That Bottle Night" was started in 2000 by Dorothy J. Gaiter and John Brecher of the Wall St. Journal. Since then, the event has gained popularity in the wine and spirits world – now it is just waiting to be popularized in the cigar world! 
Join your friends with FTNYC and Refugio Cigar House this Saturday from 6:00pm – 1:00am for a great "Sip & Smoke" Rum and Cigar pairing with lots of specials. 
The event will feature:
– No cutting/BYO fee
– Refugio Cigar House is raffling off one of their new membership boxes! The membership humidor is good for one year – a huge value.
– Cigar raffles
– Sip & Smoke talk on the art of pairing Rum & Cigars.
The event is free and open to all lovers of the leaf and for everyone who loves a good sip! 
Oh Thursday, June 2nd, FTNYCers got together for their first HERF of the summer.  We met at Refugio Cigar House out in Brooklyn and enjoyed Mike Lopez's incredible hospitality, as well as a few of his new blends.  It was also great to see so many new faces. You can find pictures of the event on our Facebook page.
The evening kicked off at around 7:00pm with a few members trickling in.  With all of the beautiful sunlight, I couldn't resist bringing my home sound system to crank up Latin music. At around 8pm, a professional cigar roller from the Dominican Republic dropped by to roll fresh cigars for us for the rest of the night. At this point we had about 20 people, making for a lot of great conversation. Cigars on hand ranged from 5 Vegas, Perdomo, 601, CAO, Davidoff and of course the Refugio blends. If you haven't tried Refugio's Habano blend, give it a shot – it is excellent.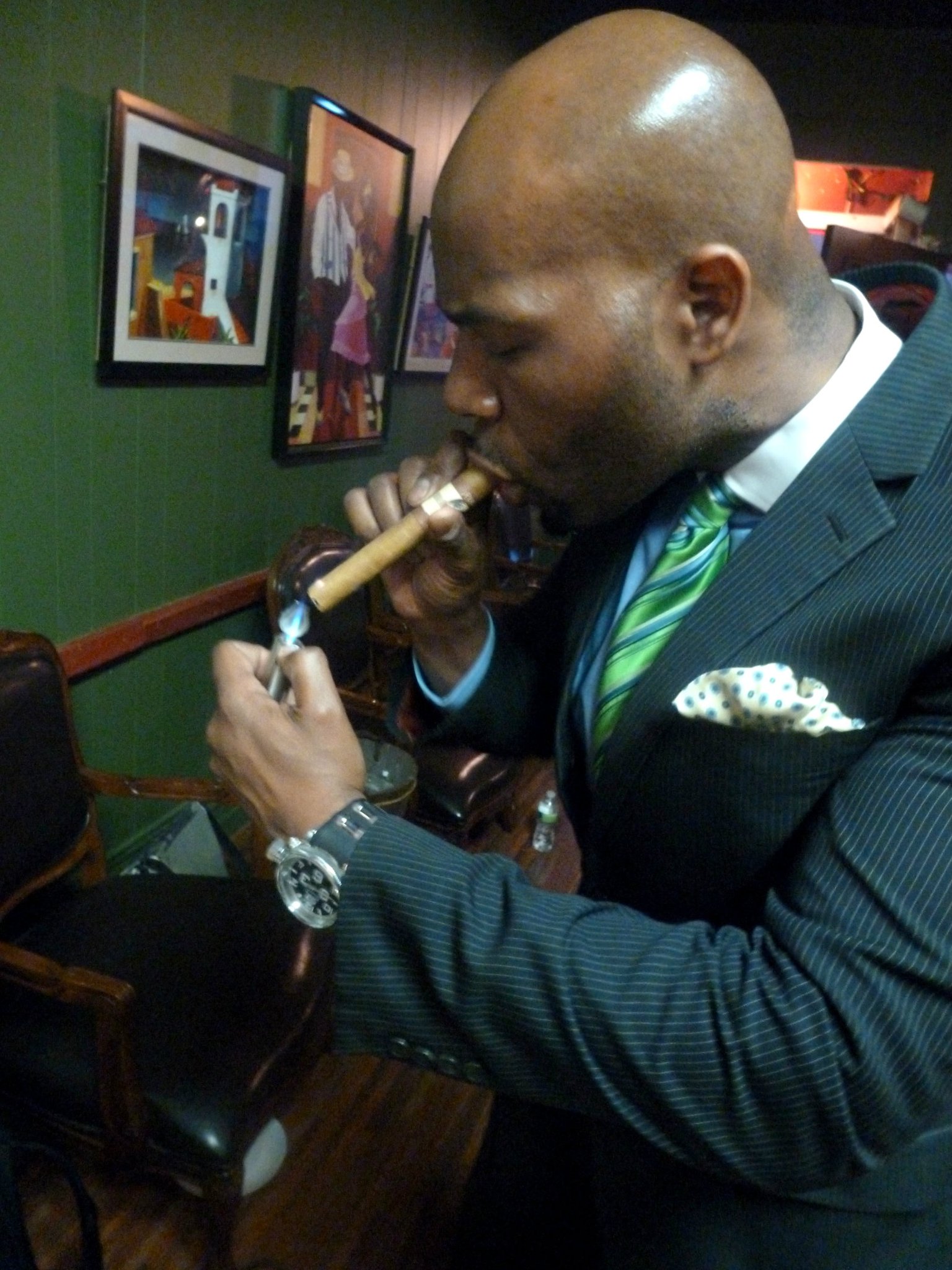 Mike and a few other FTNYC members also brought tons of drinks. Mike also bought pizza from his favorite Brooklyn shop to share with everyone else.  Unfortuntaly, I was so busy talking I didn't have a chance to grab a slice. Next time I'll be a bit more proactive. We also had Kevin Joyce from Maraya Cigar show up, which was a real treat. If you haven't been to his shop on Orchard Street, be sure to drop by – they produce two fantastic house blends.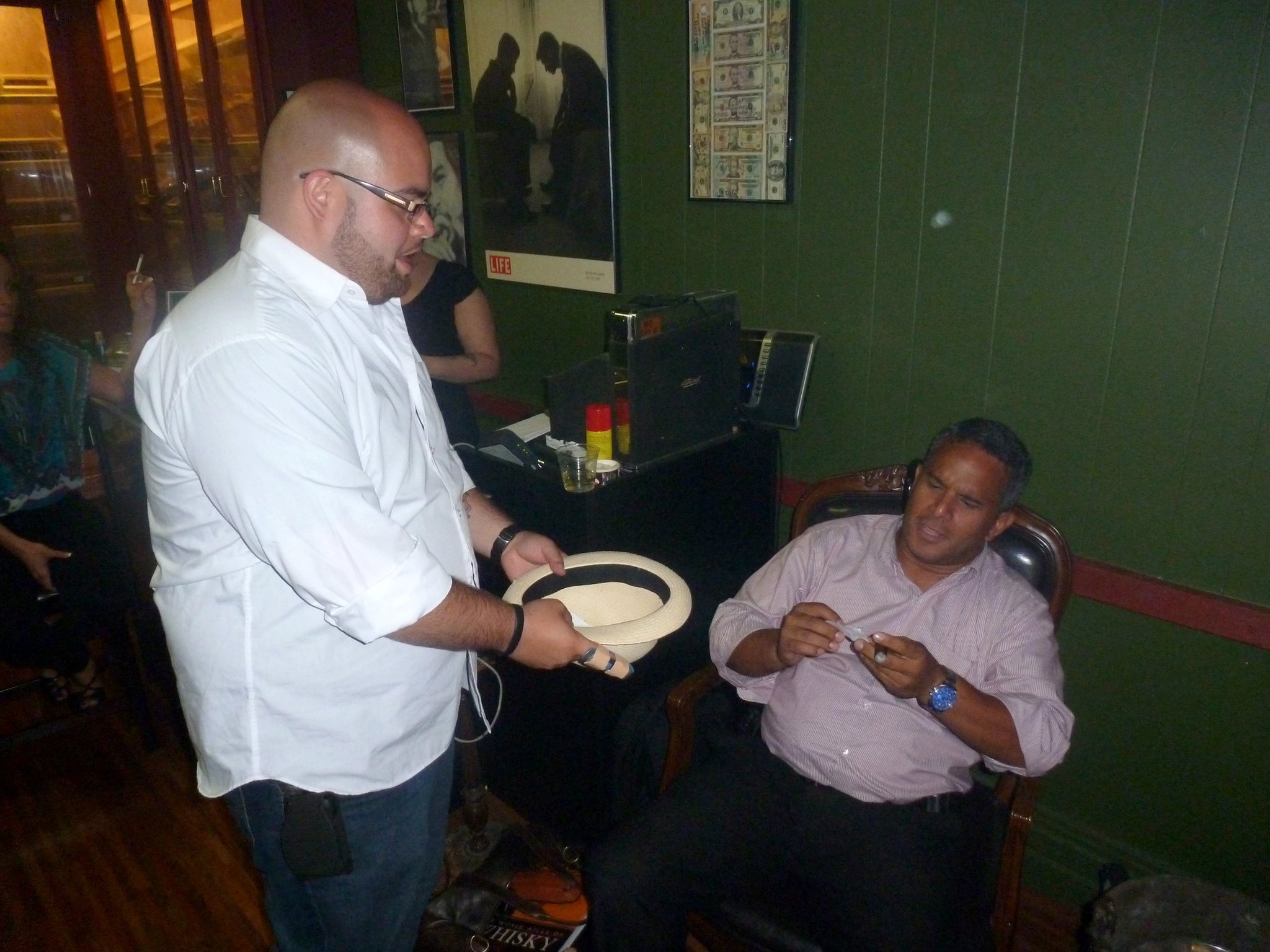 At the end of the night we had a cigar raffle, more music, more drinks, and a few more cigars. All in all, it was a great kickoff to what's going to be a summer full of events. If you're interested in coming to an event, sign up for the event mailing list on the top right of this page!
Summer is fast approaching, and that means new FineTobaccoNYC events around the city.  We'll be kicking off this summer season at Refugio Cigar House, hosted by owner and manager Mike Lopez.  Below is the official invite that went out to FTNYC advance-notice event mailing list subscribers. If you want advance notice on FTNYC events, just submit your email address on the right side (——->) and you'll receive invites to our social cigar events in the future.
~~~
Ladies and Gentlemen of the Leaf,
In the next few weeks, New York will finally be waking up from its winter hibernation to welcome the summer and all that it brings. I for one can't wait for the sunlight, warmth, and of course, cigars with other like-minded brothers and sisters of the leaf. That's why I am inviting you and your friends to come enjoy cigars, networking, and friends at Refugio Cigar House on the evening of Thursday, June 2nd for a truly unique summer smoke. Refugio is New York City's newest lounge, with Cuban revolution decor and a great line-up of house cigars (Yankee, Commandante, Brazileiro), as well as a great selection of one of my all-time favorite brands, Perdomo.
Event details:
Where: Refugio Cigar House, Brooklyn
When: Thursday, June 2nd, 7:00pm – 12:00pm
Specials: Door prizes, cigar raffle.
Throw the event on your calendar, and shoot me an email if you are interested in coming! I'll send out a reminder email as we get closer to the event. If you can't make this event, don't worry! We'll have a great line up of cigar hang outs this summer. Next venue up is my FiDi apartment rooftop (check out the
view
!)
Looking forward to seeing you all again at the event. Until then, I remain
Sincerely yours,
Matthias Clock
This Saturday, FineTobaccoNYC members joined my good friend Mike Lopez and the rest of Brooklyn in welcoming Refugio Cigar House to the New York City cigar scene. The night was full of cigars, wine, liquor, music, new friends, old friends, and a great raffle. Business partners Mike Lopez, Carlos Velasquez, and Angel Lugo built Refugio to be, you guessed it, a refuge for the New York City cigar lover. The lounge is styled around Cuban revolution of the 50's, with military green walls, red trim, and black upholstery all around.  There are still a few adjustments to be made in the new lounge, but the space was more than sufficient for the event and everyone had a great time.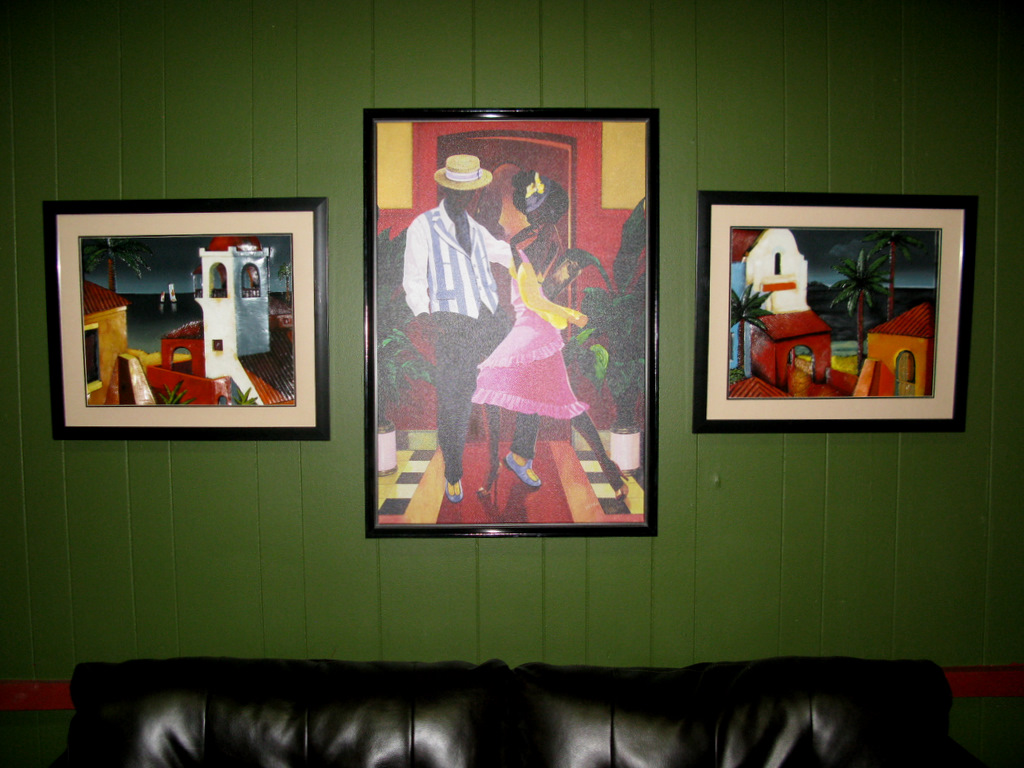 The event started at 6pm and ran until roughly midnight. Drinks were on the house, and the owners of Refugio collaborated to bring in food from local shops all over the neighborhood including some great Brooklyn pizza (the best!), fresh fruit, and other snack items.
The special Refugio Cigar House line was debuted at the event, and cigars were complimentary to all guests of the grand opening. I was able to taste three, and really enjoyed the Dominican/Honduran double-wrapped robusto that they had in stock. During the first hour, the guests started arriving, including a few from SocialCigar that happened to see the event invite online. There were also plenty of curious locals of the Williamsburg area that stopped in, grabbed a smoke and sat down to enjoy the festivities.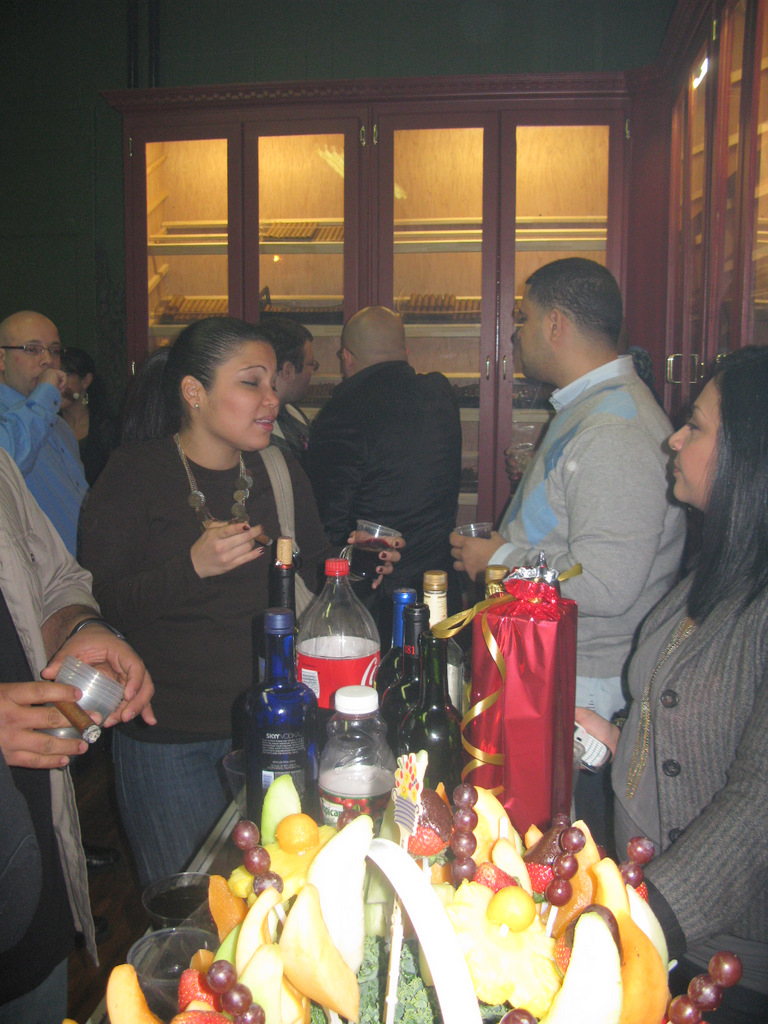 By 8:00pm, the party was in full effect. There were too many people to count, which was ok because that just meant more people to meet. At around 10:30pm, champagne was passed around and Mike proposed a toast to officially launch the lounge. There were cheers all around. Then, the owners held a massive raffle where first place took home the beautiful humidor pictured below.  Second and third place raffle winners took home a sampler pack of Refugio cigars.  As luck would have it, both FTNYC contributing writer Guy and I won, so we'll have plenty of cigars to smoke and sample for the next few weeks!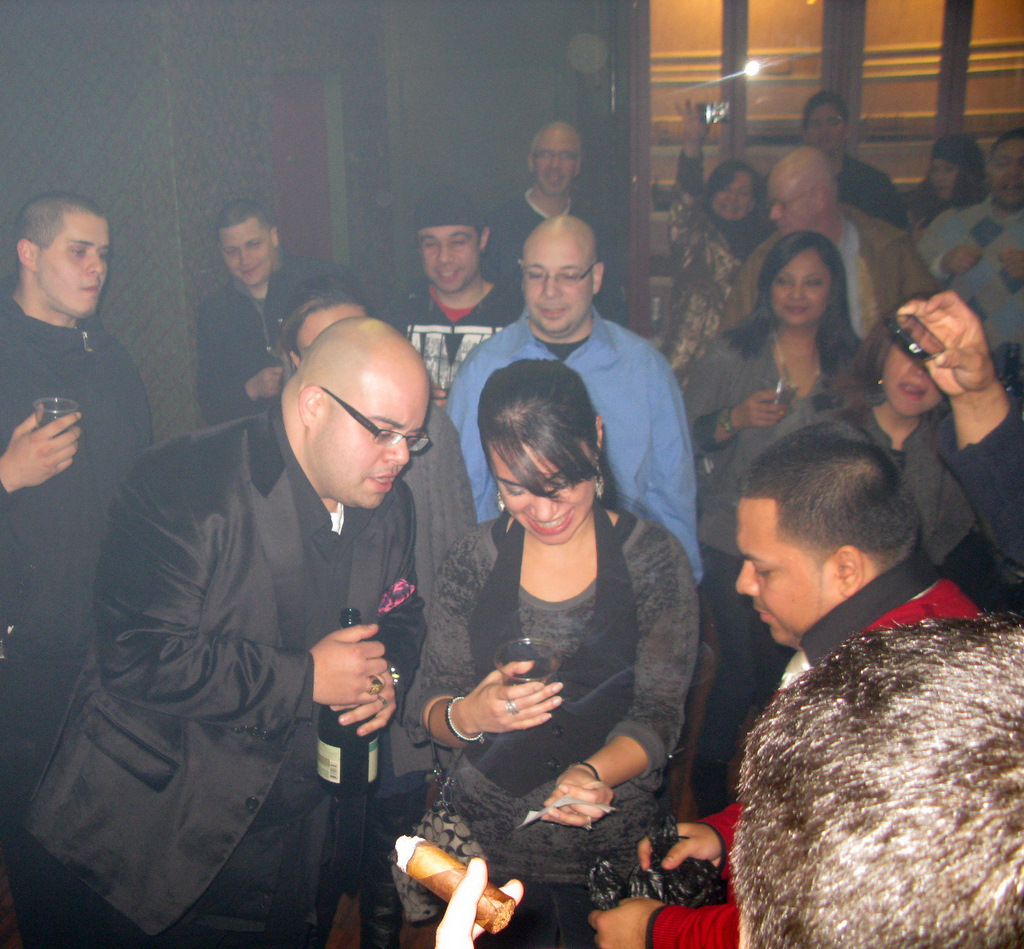 I was having so much fun I didn't get a head count, but you can get an idea for just how big the crowd was – at least 60, probably more at one moment, with well over a hundred overall. I was sad a few fellow FTNYCers that RSVP'd weren't able to make it, but Mike Lopez brought the family so there were plenty of people to meet.  FineTobaccoNYC will definitely be holding more events at Refugio Cigar House in the future, so if you are interested head over to our events page and sign up for the event mailing list! I would also recommend dropping by the lounge in the near future to meet the owners and kick it back with a cigar.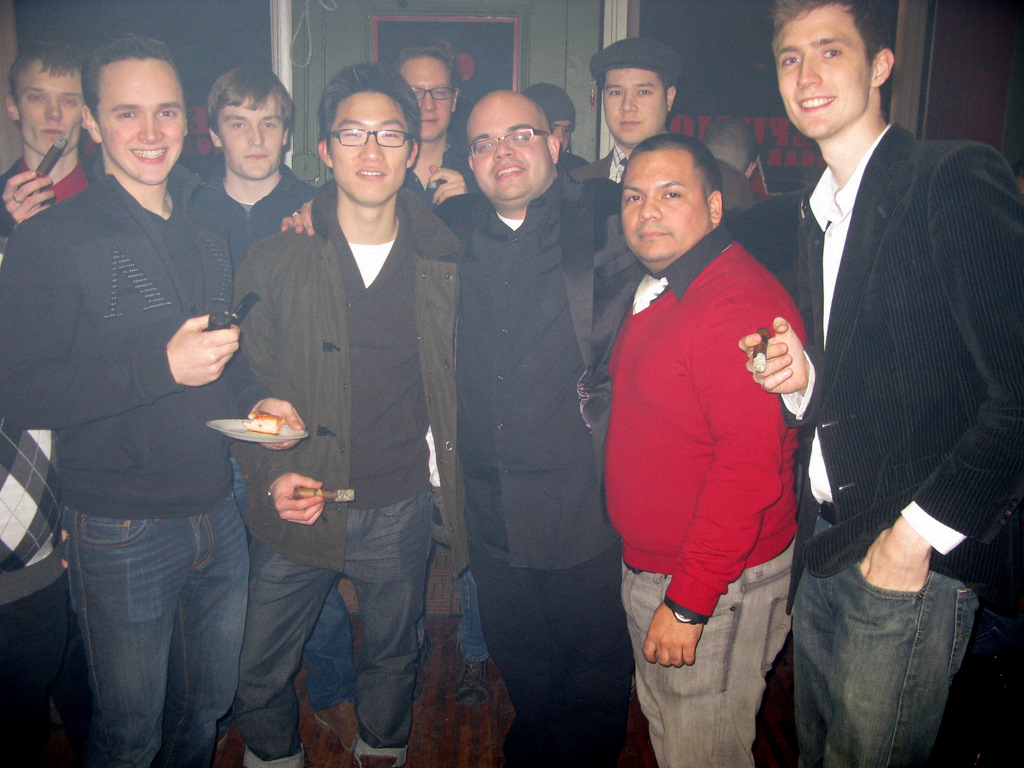 On behalf of FTNYC and its subscribers, I'd like to thank the owners of Refugio Cigar House for the great event. Refugio Cigar House is located at 635 Lorimer St Brooklyn, NY 11211, right by the Lorimer St. subway stop (L and G trains).  Refugio will also be launching their website soon, which can be bookmarked here.