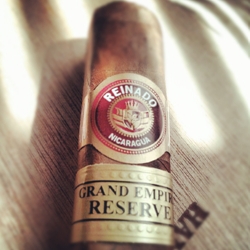 Just a few days ago, one of the industry's newest and most impressive cigar manufacturers, Reinado Cigars, was featured on NJGreats.com.  I met Antonio Lam, the founder of Reinado Cigars, a few years ago when he was just getting off the ground. I'm always skeptical of new brands (so many seem to be junk), and I was skeptical then. After trying his first officially released blend, I was sold. If you want to know a bit more, I recently conducted a review of his "Habanito" line.
In any case, take a minute and read the article for some background on the company, which is based in New Jersey.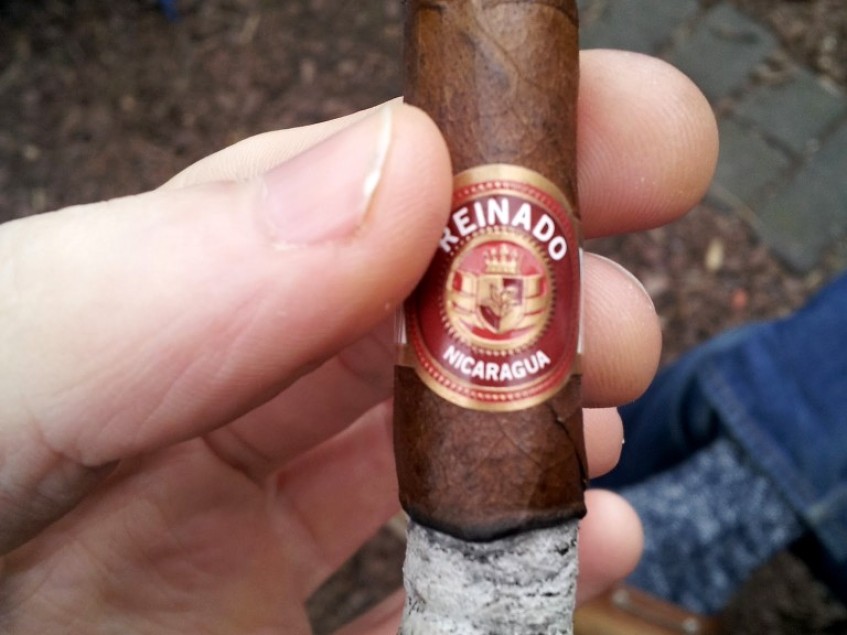 After a few months on vacation from reviewing cigars (FTNYC has been busy hosting events all over New York City), it was with great excitement and a bit of apprehension that I chose to review the Reinado Habanito. Excitement because I've long been a fan of Reinado Cigars, and apprehension because I've found owner Antonio Lam's cigars to be delicious, yet difficult to describe at times because of their complexity.
For a bit of background, I'll quote from StogieGuys.com:
"Reinado, Spanish for "reign," is gaining traction at tobacconists across the country as more and more cigar enthusiasts become exposed to the brand through mainstream cigar publications and the online community. I've been a fan since last October. That's when I reviewed the Torpedo, a great smoke with notes of leather, espresso, and cherry."
And now for the review.
Blend Specifics:
Size: 4×38
Wrapper: Nicaraguan
Binder: Nicaraguan
Filler: Nicaraguan
The first thing that I notice about this cigar is the deep golden brown color of the Nicaraguan wrapper. There is a rich texture (including a bit of tooth) that makes the cigar very inviting to smoke. The label features a combination of deep red, gold, and off-white that I really enjoy and am glad is used across the board on Antonio's cigars. The cigar is triple-capped, and there are a couple of substantial veins, though I haven't found this to be characteristic of Reinado cigars in general. We'll see how it pans out with the burn.
Pre-light draw:
The scent on this cigar is a kind of bright natural tobacco, which leads me to believe that this cigar will have the all of the spice characteristic of Reinado's other sizes. On the foot I can smell granola, natural tobacco, and something resembling coffee.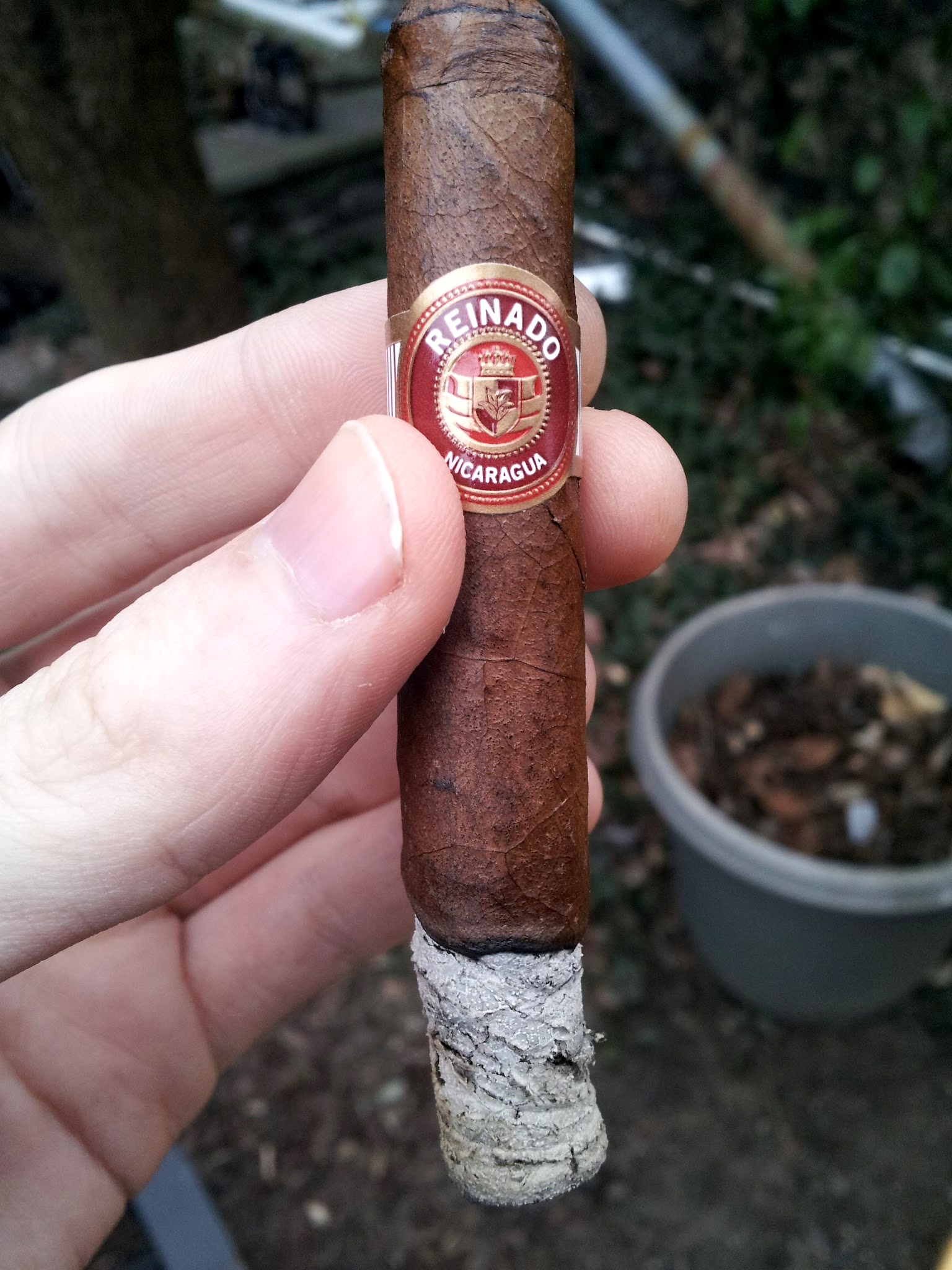 Taste & Smoking Characteristics:
The cigar kicks off with a bit of pepper on the tongue and notes of coffee, a wonderfully smooth sweetness and a bit of floral on the back-end. And by the way, if that description didn't make a lot of sense, I apologize. Every time I've smoked a Reinado cigar, I've been surprised by the smoothness, richness, and complexity of the taste, so much so that I have a difficult time describing it. Flavors tend to jump and pop. For a few minutes, I taste almonds, with floral fading in and out, and then the almost transition to coffee notes.
At the end of the first third, the body of the smoke picks up, and so does the spice. The cigar has required a minor touch up, but it hardly detracted from the smoking experience. Also in the mix of taste is a an enjoyable cinnamon, reminding me of fresh snickerdoodle cookies. At about halfway, the body continues to build, and the spice spreads over the palate. I found in the duration of the smoke that the body of the cigar increased, and so did the tastes of pepper and cinnamon. I was also surprised to find near the end that I received a pretty significant nicotine kick, which surprised me considering the size of the cigar.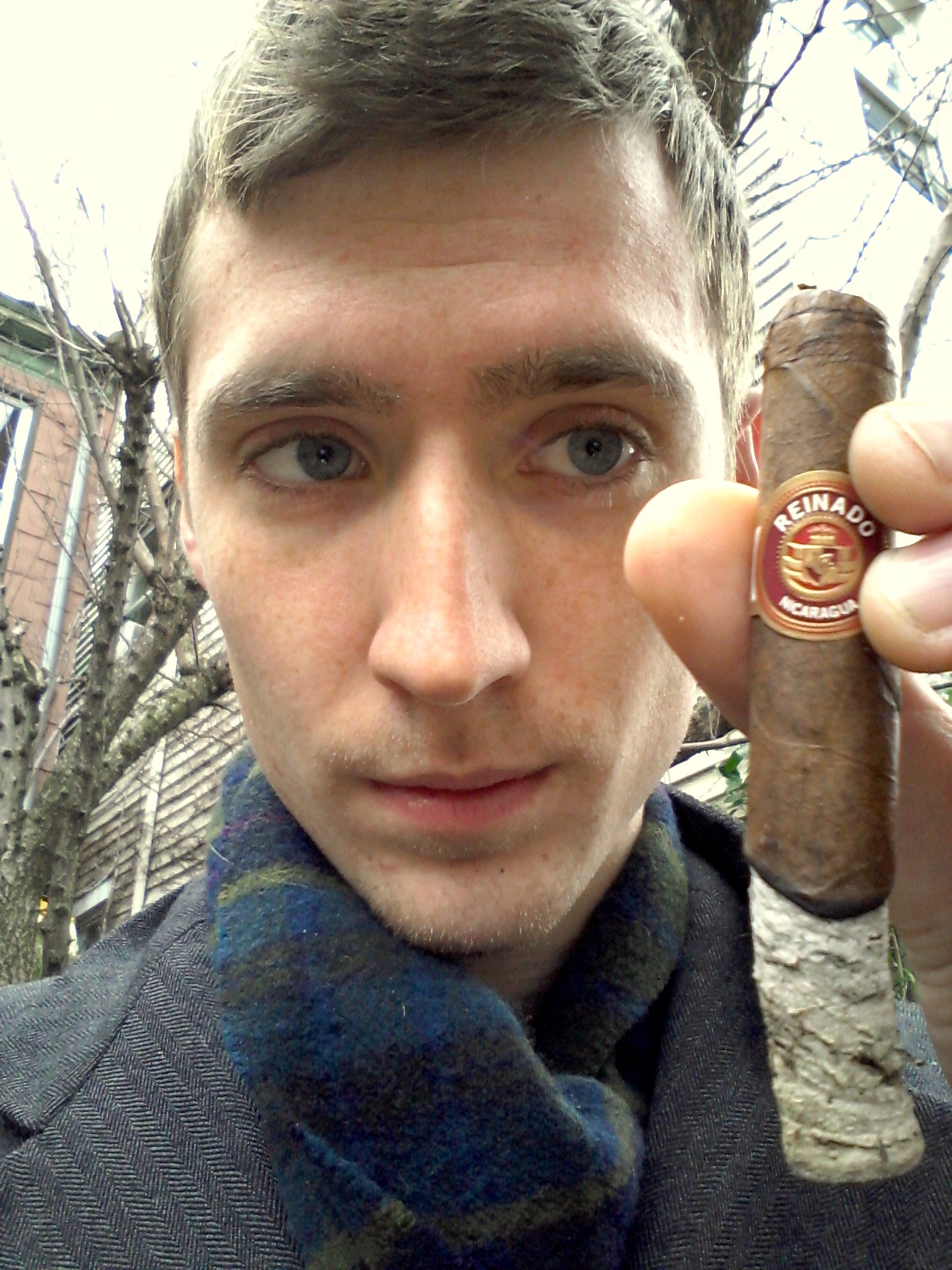 Conclusion:
Reinado seems to have recreated their signature taste, with a few shifts in balance, that the discerning cigar smoker will find very enjoyable. My only regret was not pairing this cigar with a bold cup of coffee like I normally do with Reinado.
Highly recommended.
Final Grade: A-