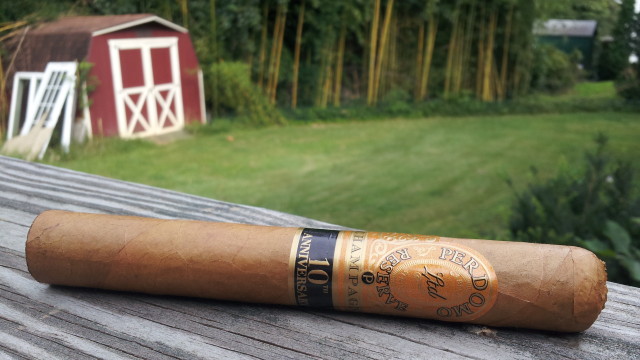 Perdomo is, strangely to me, a brand that I don't see smoked as often as I'd suspect. I've written before on how amazing Perdomo cigars are in terms of quality and value, and I see it proven over and over again. The Perdomo Champagne 10th Anniversary is a great example of this. This stick may strike some as just another Connecticut wrapper cigar among many. Those who smoke the Champagne series know better.
As you'll see in the review below, the Champagne 10th Anniversary is a truly amazing smoke with surprises around every corner. It's also a great value at around $7.50 a stick.
Blend Specifics
Wrapper: Triple-Fermented Connecticut
Binder: Cuban-Seed Nicaraguan
Filler: Cuban-Seed Nicaraguan
Size: Magnum Tubo (6×50)

Appearance & Construction
The Connecticut wrapper is silky and is complemented well with the orange, gold, and black band. Aesthetically, very well done. Almost zero visible veins on the cigar with salt and pepper ash. On average, the draw is regular to loose and the burn is near perfect.
Flavor & Smoke Characteristics
Off the foot I notice a few notes including nuts, some coffee, and a slight grassiness. The first few puffs dispel any suspicion that this is a normal mild-medium smoke. The cigar produces volumes of thick, very robust smoke. Flavors include black pepper, cream, roasted nuts, and a ton of spice on the retrohale. This is a full-flavored, medium bodied smoke right from the get go.
About an inch in, I've noticed the flavors bouncing back and forth between a nice creamy profile to nutty and then off to heavy on the black pepper. The reviewers at Stogies On The Rocks noticed this as well. As you can see in the pictures, the burn remained sharp and straight throughout the smoke.



Into the second third, I notice the body drawing down a bit, with black pepper taking backseat to a nice creamy nuttiness. There's also a nice sweet grassiness on the nose.
During the final third, the pendulum between the black pepper, nuts, cream, and even a slight cocoa note starts up again, which is fine by me because it keeps the smoke very entertaining and enjoyable. The smoke does heat up a little bit, but it doesn't stop me from smoking this stick all the way down to the nub.
Conclusion
The Perdomo Champagne is a must smoke. Buy five. Or a box.
Final Grade: A