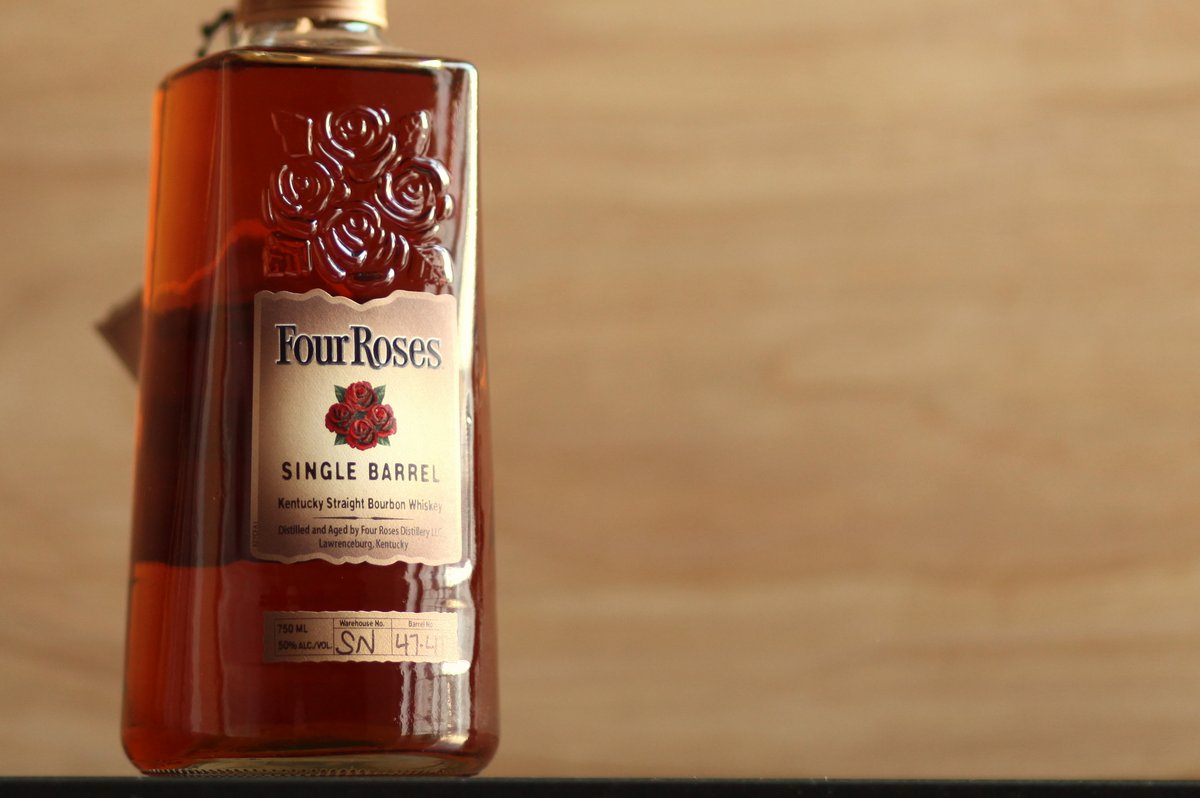 Earlier this year, I reviewed the Yellow Label and Small Batch from Four Roses. Both scored quite well. To complete my circuit through the Four Roses core line, today I'm reviewing Four Roses Single Barrel Bourbon. Before we begin, big thanks to Baddish Group for the samples for this odyssey through one of the great names in American whiskey. And as always, I retain all rights to speak my mind, for good or ill.
Product Specifics
Whiskey Reviewed: Four Roses Single Barrel Whiskey
Distiller: Four Roses Distillery
Mashbill: 60% corn, 35% rye, 5% malted barley
Age: 8 years
Aged in: new charred American oak
ABV: 50% (100 proof)
Fun fact here about Four Roses. They go into quite a bit of detail on their mashbill on the Four Roses website, going so far as to break down the recipe by whiskey.

Appearance
Classic bottle design, with a large embossed logo above the primary band. In the glass, the whiskey is a golden copper tone.
Nose
Concentrated notes of caramel, rye, dry oak and apricot.
Palate
Just heavenly. Medium to full bodied on entry, with caramel, salted butter, and strong oak. As the flavors progress, I pick up notes of toasted bread, cocoa, and some light fruit notes that I can't quite make out. Some rock candy on the tip of the tongue too.  In some ways this reminds me of the kind of experience I get with better premium cigars (the Davidoff Millennium comes to mind). Lots of flavor, great complexity, all highly concentrated. Not easy to achieve.
Finish
The finish is long and moderate. Not much different from the notes on the palate, but with a bit more breadiness.
Conclusion
Even though they each occupy a separate niche, Single Barrel probably goes down as my favorite of the core line offerings from Four Roses. It's got quite a fair amount of complexity, loads of flavor, all at the cost of very little burn in the mouth. If you're a bourbon drinker, there's a high likelihood that you'll love Four Roses Single Barrel.
Final Score: 92
Disclaimer: though by no means my first bottle of Four Roses Single Barrel Bourbon, this bottle was gifted to Fine Tobacco NYC by Babbish Group. Though we're thankful for the gesture, we retain full rights to say exactly what we think: good or bad.