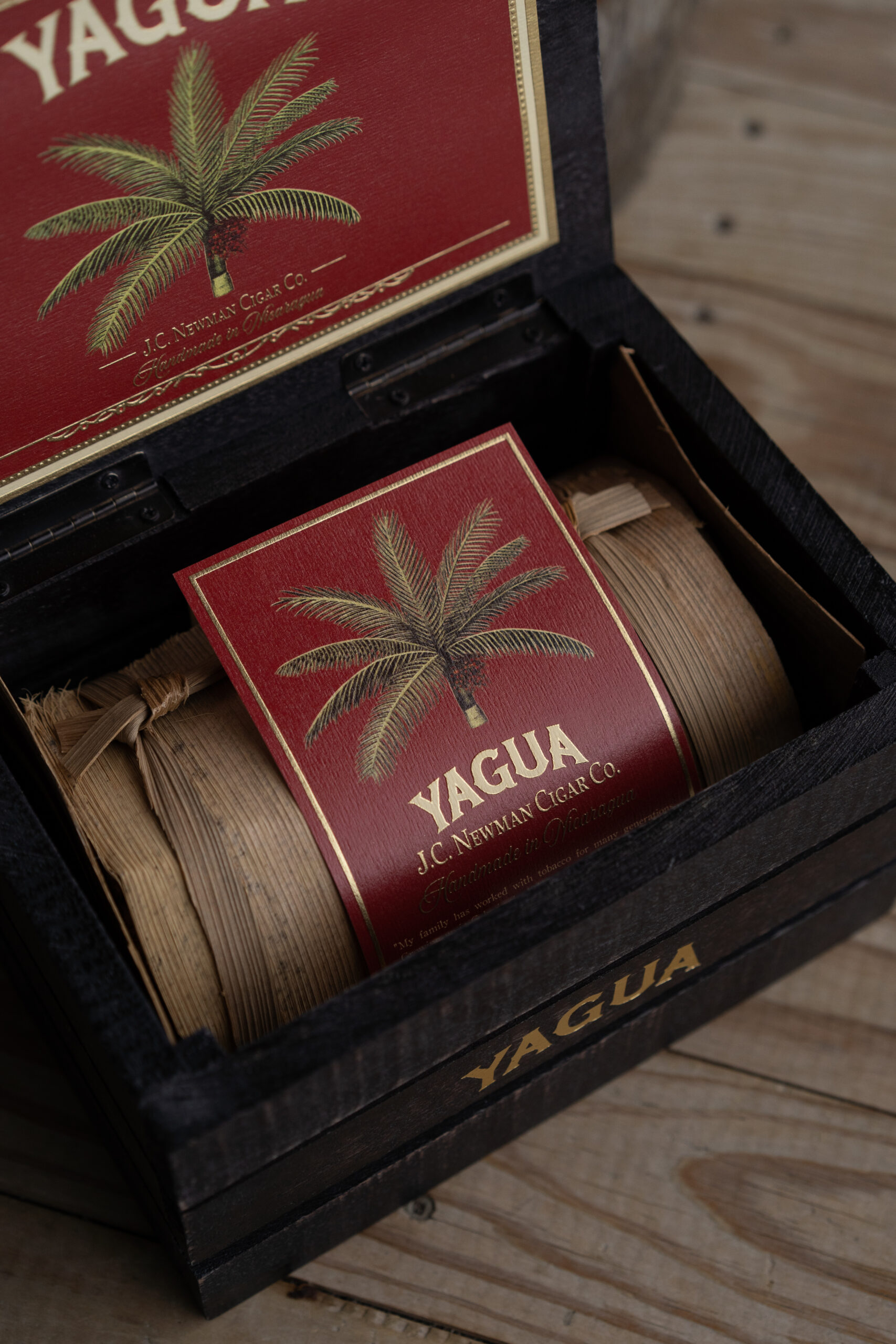 J.C. Newman is a long standing family company known for their innovations and for producing cigars for all tastes and budgets. The Yagua, released in 2020, represents a tradition of making cigars sans molds and rolling them with the palm leaf of the Yagua tree. The cigars are then bound together in bundles with said leaf and packed "wet" (as soon as they are rolled off the table). When ready to smoke you untie the bundle where the cigars have naturally formed individual shapes. This makes for a truly unique smoking experience while getting to sample a tradition of rolling mostly lost to the past. Smoking this blind, the unusual shape was evident as well as what appeared to be a "wet" wrapper.
Blend Specifics
Cigar Reviewed: Yagua
Wrapper: Connecticut Broadleaf
Binder: Nicaraguan
Filler: Nicaraguan
Size: 6″ x 54 (Toro)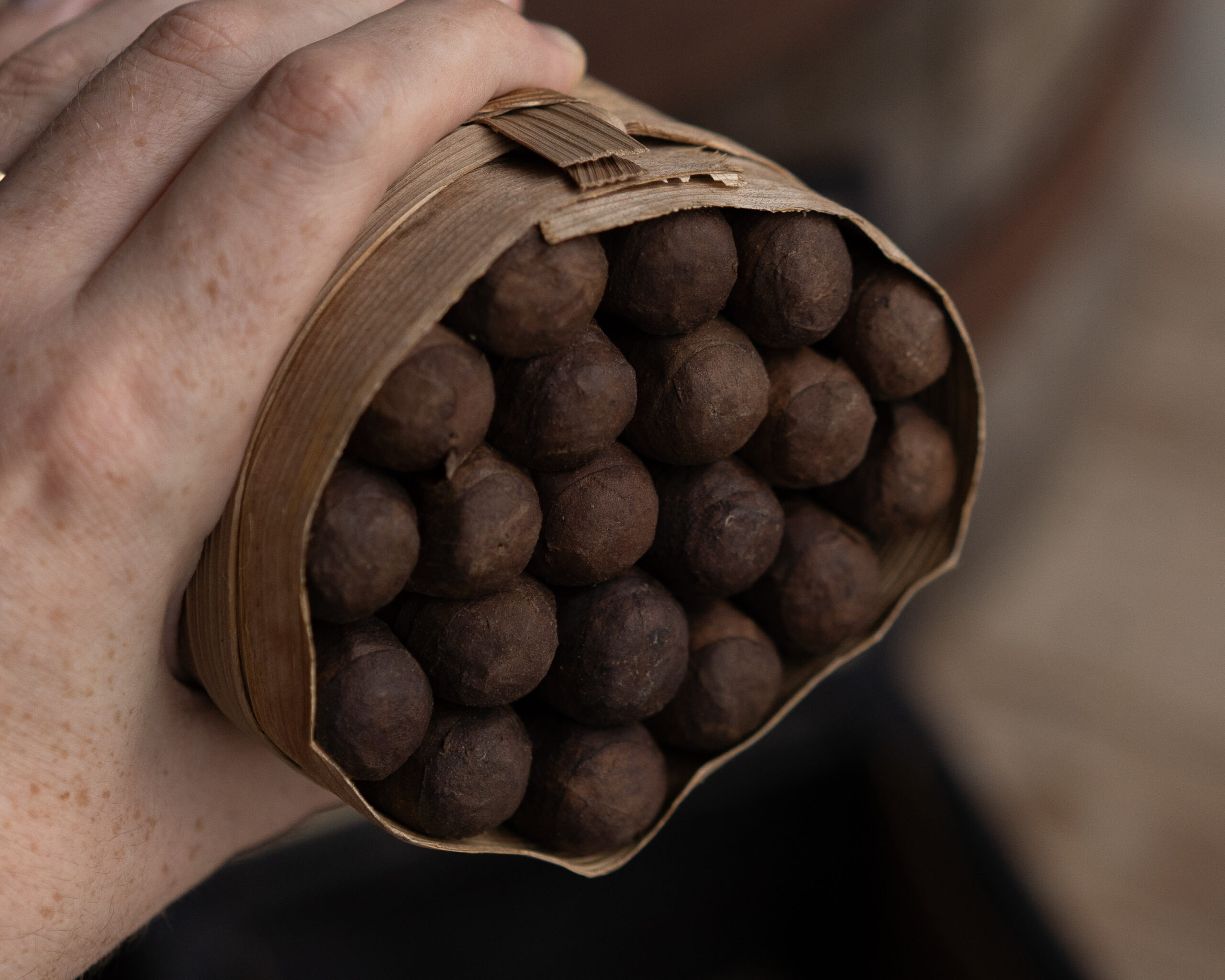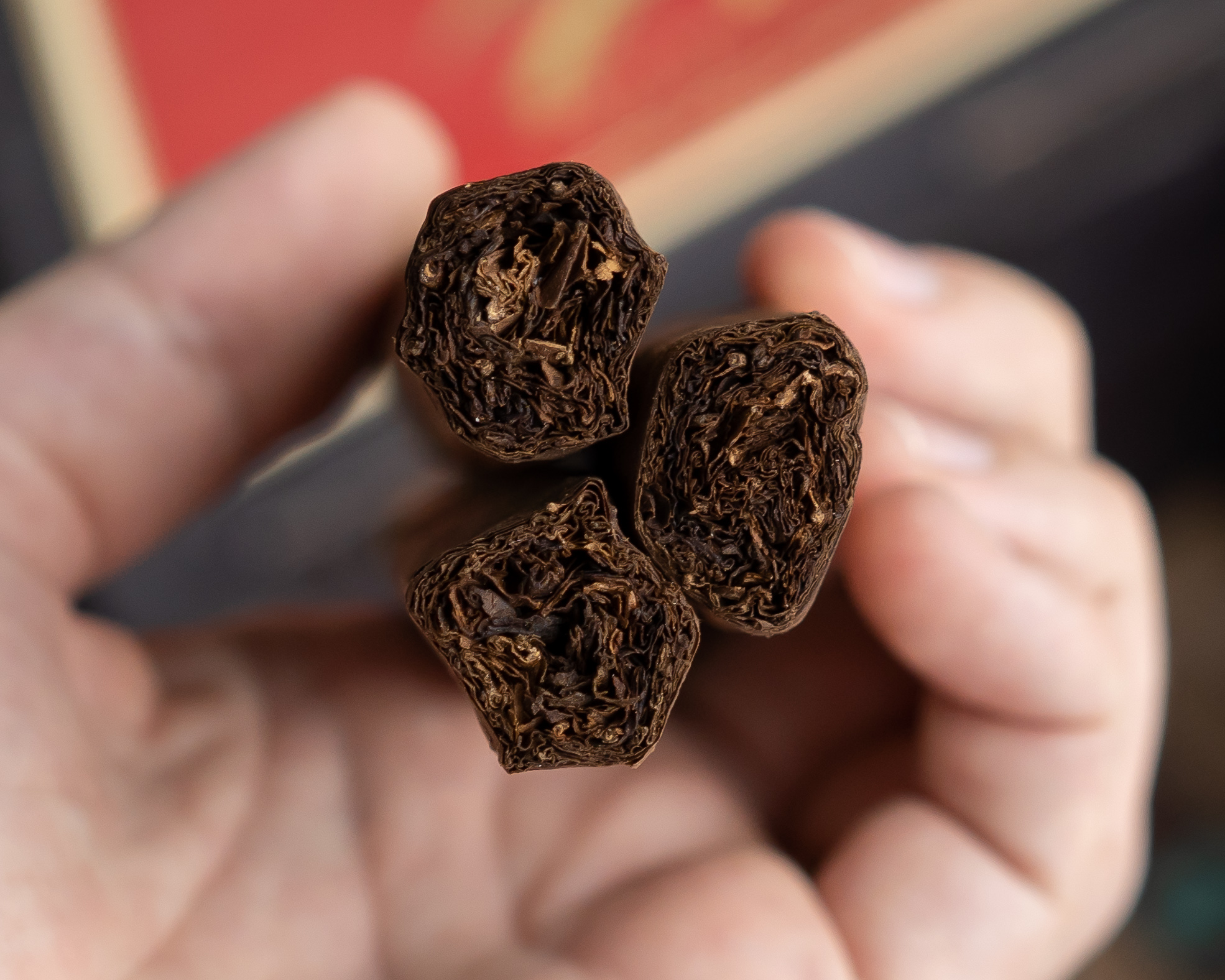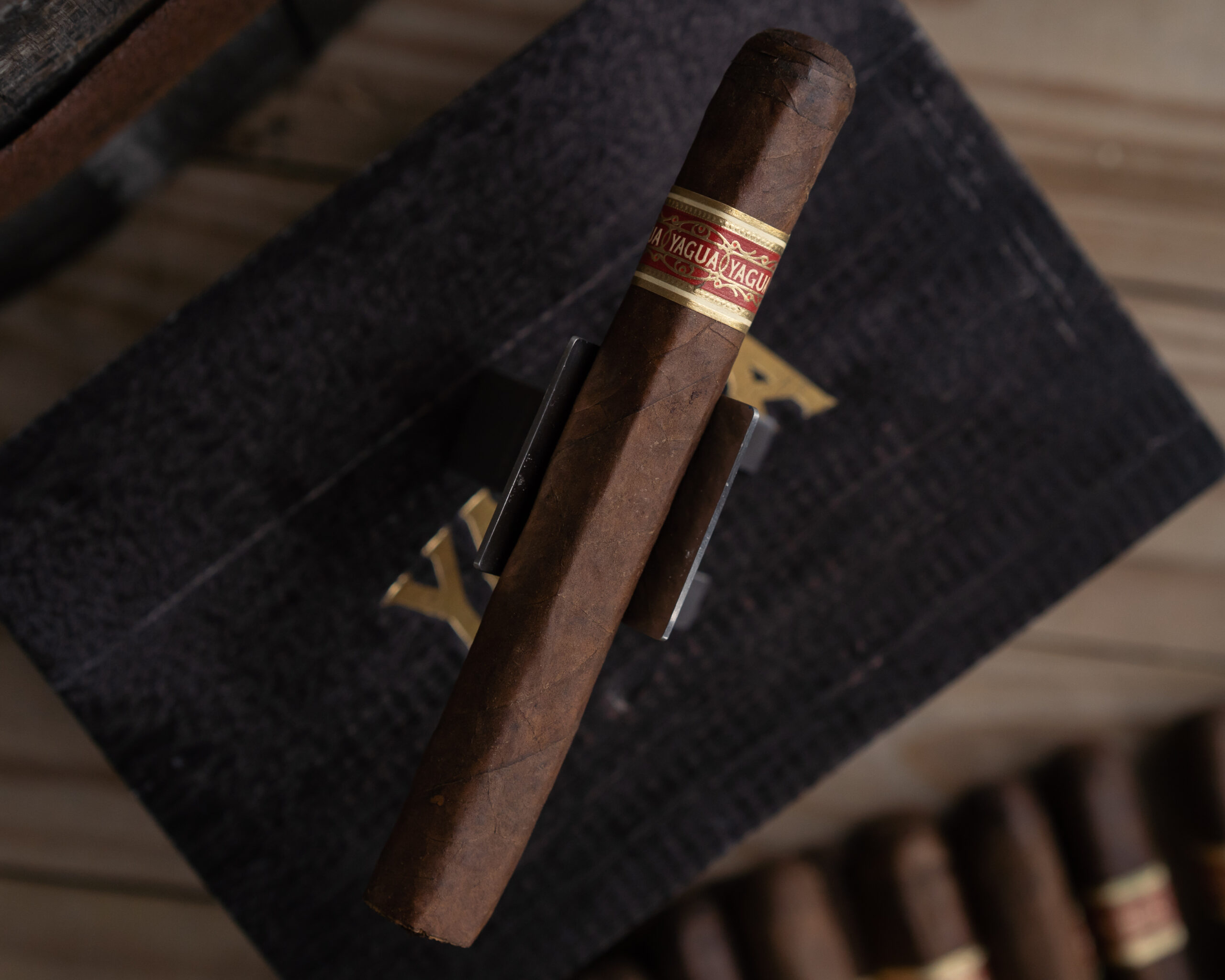 Appearance & Construction 
The cigar is veiny and rustic in appearance with a triangular shape to it. The wrapper is smooth to the touch and as I give it a squeeze I'm feeling a lot of soft spots. I'm getting the impression the cigar is "wet' despite sitting in my temperature controlled humidor for quite some time now. The foot smells of intense barnyard and hay.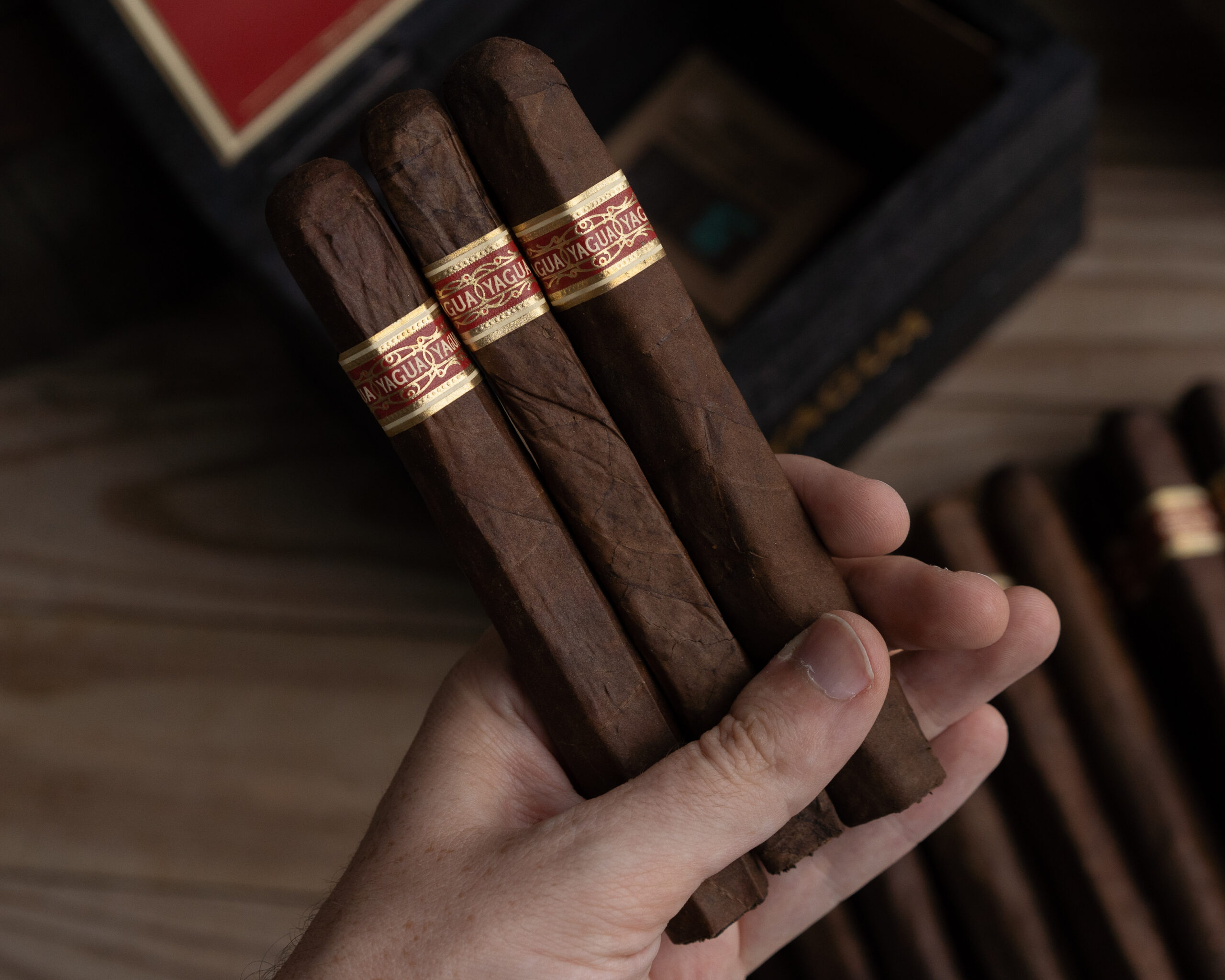 Flavor & Smoke Characteristics
Not having my Xikar cutter handy I opt for a double guillotine cutter that slices straight and clean.  I take a cold draw that delivers raisins and spice with a mustiness at the end. With my Lamborghini lighter in reach I toast this "wet" cigar and try to take a puff unsuccessfully as it's giving me problems lighting. Giving it another go the wrapper ignites and I am getting some grittiness with earth and raisins. And just like that it's out again and I'm pushing my Lambo torch to get flame back to this stick. Finally another light and fruits are coming forward with some chocolate and a musty finish. The cigar isn't coming off as raw despite its wet character, but the relights are suggesting young tobacco leaf. The smoke has gone out once more and I am finding myself working on another relight. The ash is dark as my flame ignites the stick once again and earth and plum take shape. I take a retrohale and must/funk along with some pepper rush through my nose. 
The cigar appears to become spongier as I am smoking midway through.  Another puff and cocoa, earth with tropical fruit on the back end appear with a medium length finish. The body of this cigar as well seems to align itself to a medium body at least at this point. Unsurprisingly the cigar ceases to stay lit forcing me to grab my torch once again. A quick blast of flame and the cigar ignites with black pepper, fruits and a grittiness that resonates on my palate. Amazingly, the burn line isn't too off even with all these relights. The flavors of fruit become more dominate with earth and traces of cumin hitting the tongue. I go for a second retrohale and the pepper and earth tingle my sinus while I blow out the smoke. The ash flakes off a bit and fortunately its managing to stay lit.   
Despite my reservations regarding this cigars repeated combustion issues, I take a measured puff where sweet cocoa comes together with cedar notes. Unfortunately I see the smoke petering out again which causes me to grab my lighter and work on a relight. Once again I torch the stick and immediately get earth and some coffee on the finish. As I take a retrohale there's damp wood and spice coming through with a long finish coating the palate. I struggle to take a final draw on this smoke as it's looking like it's extinguishing.  I'm managing to get some more chocolate notes which makes for a pleasant end to this cigar.
Conclusion
This was a "wet" cigar for certain.  If any stick needed a "dry boxing" this one did. To be fair when I smoke a stick for a review I feel it needs to be gauged like any cigar I'd take from my cabinet and light up. Despite this concern, the filler tobaccos produced some wonderful flavors of earth, fruits, chocolate and cedar. The issue that really hurt the cigar were the constant relights from the wrapper which made for an inconsistent and frustrating experience. Finding out it was a Yagua from J.C. Newman now made sense as it's packed "wet". I would certainly try another knowing this and I would recommend anyone to try at least one as well.  I would suggest dry boxing first if your cigar is like the one I smoked.
Final Rating: 85