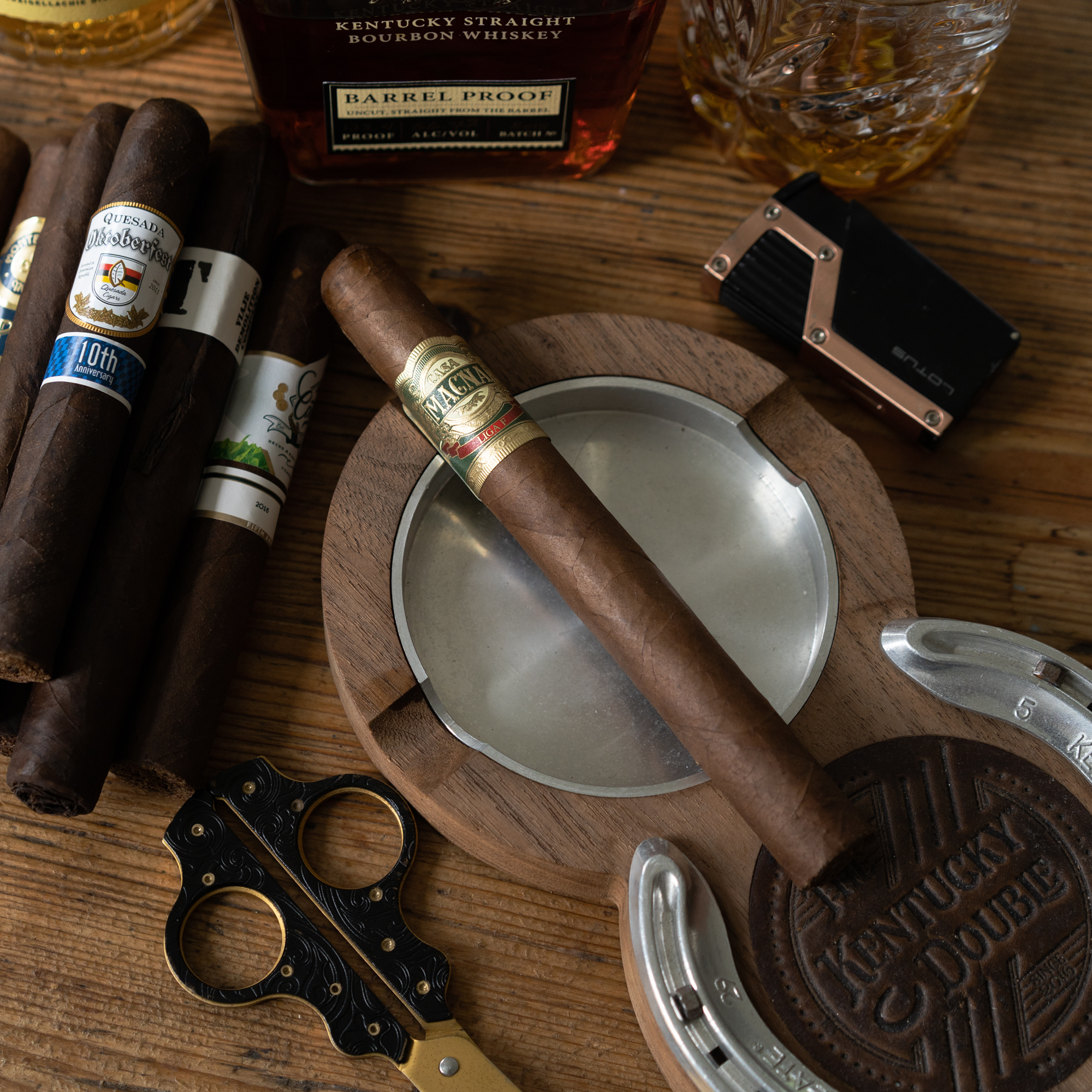 I've enjoyed the Casa Magna lines from the Quesada family and the Plascencia's since they came together to bring cigars to suit many palates. Their latest release line which debuted at the PCA 2021 tis the Liga F ("F" for Fuerte). It's billed as a stronger cigar with a sun grown Corojo wrapper, Dominican binder, and Dominican and Nicaraguan fillers.
As an aside, when companies boast a new blend being "strong," I get concerned, because they often focus on power while flavors get lost. Admittedly it can be a delicate balance to incorporate strength while blending tobaccos that will deliver taste without being overwhelmed by the style.
I'm glad I smoked this blind, otherwise I may have been concerned that I would get a potent cigar without taste. With all that said, on to the review.
Blend Specifics
Cigar Reviewed: Quesada Casa Magna Liga F Churchill
Wrapper: Ecuadorian Sun Grown Corojo
Binder: Dominican
Filler: Dominican and Nicaraguan
Size: 7 x 50 (Churchill)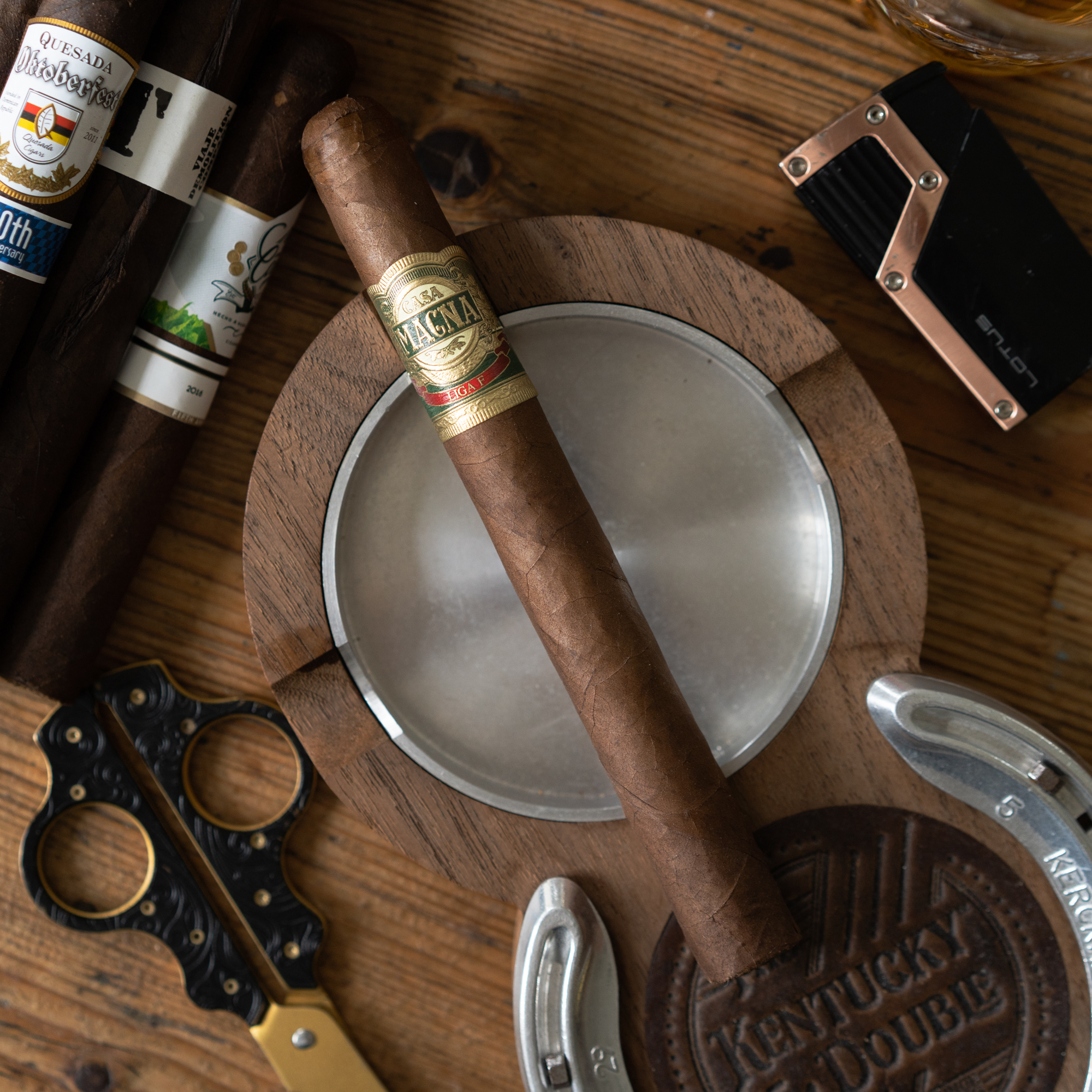 Blind Review: Quesada Liga F Churchill
Appearance and Construction
This Churchill has a fine dark brown wrapper with minimal veins and a slight oily sheen. Feeling the wrapper, it is smooth to the touch with a well-balanced roll. As I give it a squeeze, the cigar from top to bottom is solidly filled with tobacco. Visually all the elements are there in what you'd expect from a premium cigar (minus the band of course).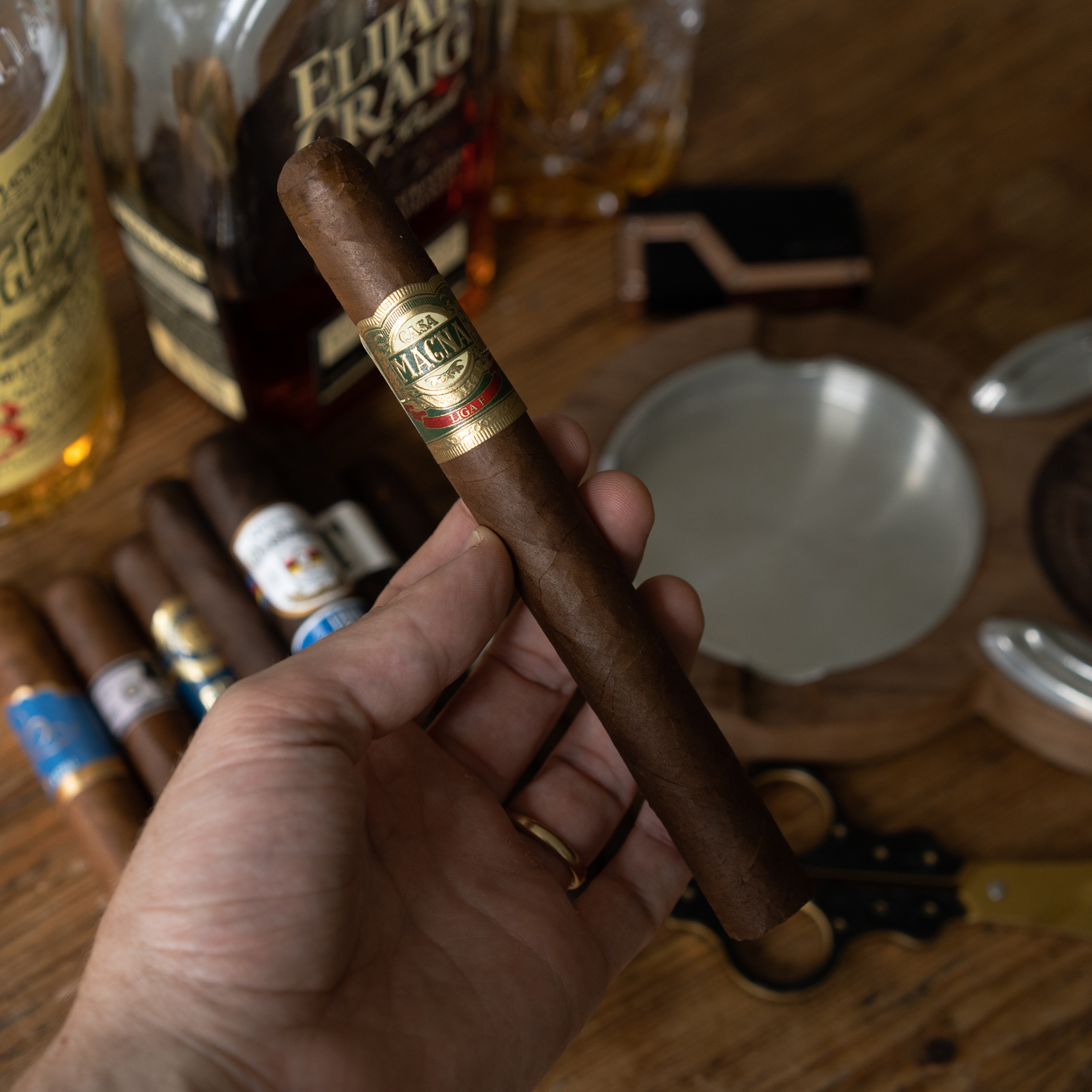 Flavor & Smoke Characteristics
The foot of this cigar is giving off distinct notes of barnyard and earth. With a straight cut I take a draw without lighting and there's a drying sensation on my lips. I'm tasting some prune on the back end along with hay and black pepper. Using my Xikar torch I gently toast the cigar and the first puff I take is semi sweet followed by leather and nuts. With a slow draw I'm getting almond paste with a creamy finish that lingers for a bit. As I take a retrohale some black pepper tingles my nostrils although just enough to feel it without being overwhelmed. The initial start to this cigar seems to be in the medium bodied range and rather tasty given the amount of flavors coming through. The burn is progressing at a moderate pace which seems to allow me to get the most out of the cigars profile.
The middle of this Churchill is hitting its mark with notes of cashew, oak, and ground coffee. The finish comes off a little short but the flavors upfront are intense. The ash is a solid white with a somewhat curved burn line that does not seem to affect the cigar adversely. Another retrohale delivers floral notes with leather that clings to the sides of my mouth as I exhale. For a cigar of this size, it seems to be smoking quickly, though that's not to say its burning hot nor are the flavors becoming harsh. The body is in the medium to full category at this point while I draw on it with more leather, earth, and a strong finish of oak. What was black pepper tastes more like white pepper as I take a puff as the fullness continues to build.
Coming into the final third of this cigar there's espresso and a richness that adds to the complexities of the smoke. The vivid white ash continues to remain solid and gently falls off as it touches my astray. The body stabilizes in the medium to full range and as I take another retrohale I pickup baking spices and chocolate which comes on rather surprisingly. The finish is once again long with a creaminess that resonates on my palate. Earthiness returns with cocoa and nuts rounding out the profile. With a last puff the sweetness from the wrapper comes through coming to a toasty lengthy end. A well-balanced Churchill.
Conclusion
When smoking a Churchill size cigar, you know you are making a time commitment with the hope of having a pleasant 2–3-hour smoking experience. This cigar did not disappoint. It began with leather, toast and nuts slowing building in flavors. Even the pepper that came through in the beginning did not overwhelm. Instead it created a developing profile that continued throughout. As the body of the cigar went into the medium to full range the flavors intensified with nuts, oak and coffee all coming through straight away. The last third brought it all together with cocoa, toast, and a creamy finish.
When I found this was a Quesada Casa Magna Liga F Churchill I was not surprised with the quality. I was impressed with the complexity. Although I wouldn't say it was the strongest smoke as the name implies, I'd say that's a good thing as it balances strength with lots of flavor. The Quesada family did a fine job in this blend as well as keeping a Churchill size cigar interesting for the duration. I would recommend picking up a few as they smoke well right now and I would surmise age will only improve them.
Final Rating: 93