Welcome to New York City. Maybe you've moved here from Drain, Oregon or maybe you're visiting your hipster sister in Brooklyn. Either way, the traffic, yelling, and garbage smells will probably put you in the mood for a smoke and a drink at some point. Here are the best places in Manhattan to relax.
The Carnegie Club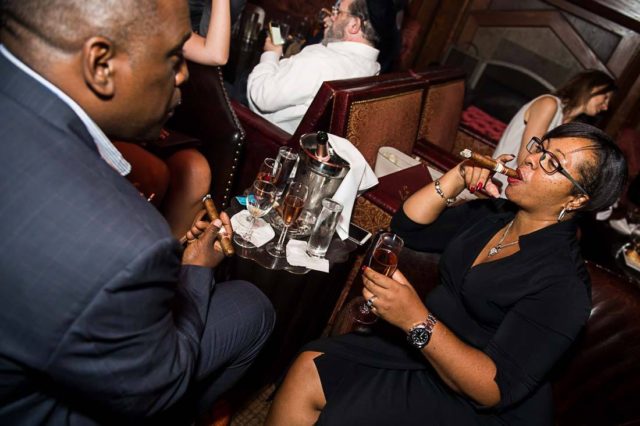 As the old joke goes, the best way to get to Carnegie Hall is to practice, practice, practice.
But if you'd rather spend a relaxed evening listening to smooth jazz classics, swing, standards or even enjoying one of their world-famous "Sinatra Saturdays" – with a fine cigar and a cocktail or two, of course – then get yourself instead to the nearby Carnegie Club.
If it weren't for the music there, you could be in a dimly-lit, high-ceilinged 18th-century library with a comfortable, warm,well-aged brown wood and leather feel to it.
On offer are cigars from renowned Nicaraguan, Honduran and Dominican Republic cigar makers like Avo, Alec Bradley, Griffins, Macanudo, Padron Partagas and others.
But you could always stop off at a local branch of Davidoff on your way to the Club, and bring in your own. (Show the receipt to have the $10 cutting fee waived.)
House cocktail specialties include the Club's own Old Fashioned with lavender and angostura bitters, aged in the Club's own barrel.
Otherwise you could choose from an extensive range of wines, champagnes and beers, or indulge in a sipping tequila from Don Julio, an aged rum from Zacapa, a 25-year-old single malt from The Macallan or even the legendary Louis XIII from Remy Martin.
For a quick bite,there's light fare such as artisanal cheeses, quesadilla, roast beef sliders, flat bread pizza and truffled popcorn.
So for a great evening out, if you can't get to Carnegie Hall– for whatever reason – there's only one other place you should get to instead: the Carnegie Club.
Address:
The Carnegie Club
156 West 56th Street
New York, NY 10019
T: (212) 957-9676
Opening hours:
2pm – 2am Mon-Fri
4pm – 2am Sat
4pm – 1am Sun
Nat Sherman NYC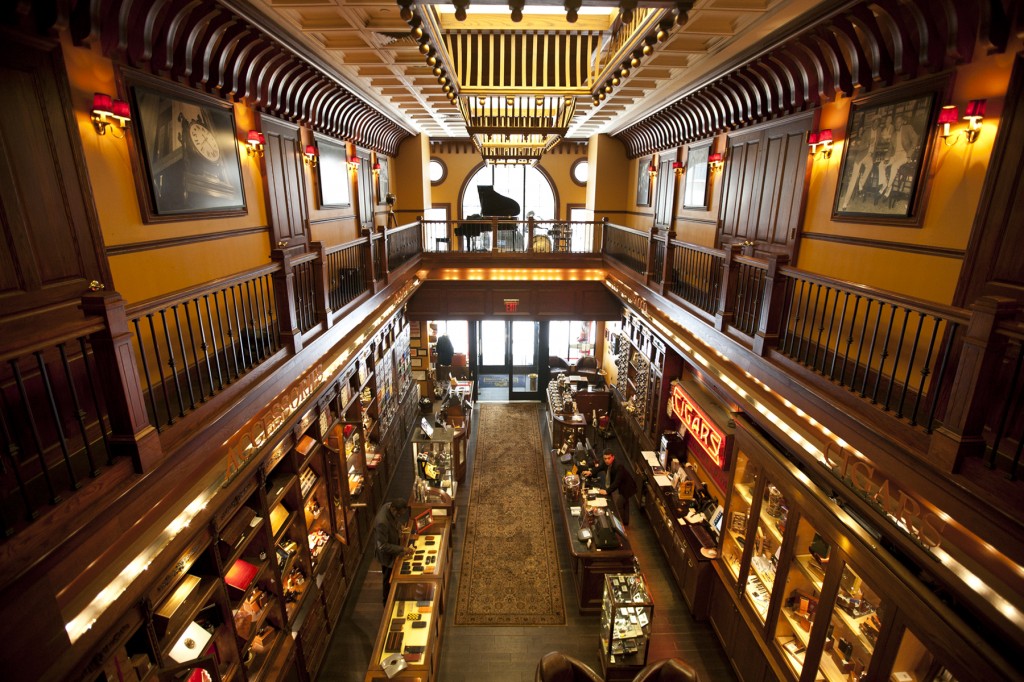 1930s Broadway: sharp-suited gangsters greet each other as old friends while they buy their cigars from self-proclaimed "Tobacconist to the World" Nat Sherman. And then, once back outside again,revert to being sworn enemies as usual
These days Nat's grandchildren are still keeping a different kind of peace at the family tobacco business at the Nat Sherman Townhouse, their 5,700 square foot, three level flagship store just round the corner from Fifth Avenue. There cigar, pipe and cigarette aficionados are welcomed from a frantic present-day New York into a relaxed, serene old-world atmosphere.
That atmosphere might just feel familiar to first time visitors if they're also familiar with the sixties classic movie "My Fair Lady": Hollywood and Broadway set designer Charles McCarry modeled the town house's luxuriant, carved and polished wood interior -with its 30-foot ceiling and first-floor perimeter balcony -on the library set featured in that movie.
And going back a few more years, that set was based on a real private library in the Chateau do Groussay, built a few miles west of Paris while the war of 1812 was raging on these shores.
Admittedly the Townhouse isn't the biggest public cigar lounge in New York –but it's definitely where people come for advice from the knowledgeable staff when it comes to making the best choice from Nat Sherman's cigars, pipe tobaccos or cigarettes.
But even so, there are comfortable plush leather seats on the ground floor to relax in while enjoying a satisfying smoke and a view of the world outside, and of the upstairs mezzanine's famous grand piano.
Going downstairs, though, is a different matter. It's easy to spend time looking through all the framed letters from famous customers on the way down to the Johnson Club Room – the Townhouse's 1,700-square-foot members-only lounge, with its own walk-in humidor.
There, checking out the fascinating contents of display cases lining the walls, and high-backed leather armchairs to sink into for a contented smoke or two, makes a day membership a worthwhile investment.
But if you don't take up a day or even an annual membership,it's best to think of the Townhouse as somewhere to enjoy sampling the incredible range of Nat Sherman products,rather than a dedicated smoking lounge.
Website
Nat Sherman Townhouse
12 East 42nd Street
New York, NY 10017
Phone: 212 764 5000
TheShermanFamily@natsherman.com
Opening hours:
10am – 7pm Mon-Sat
11am – 6pm Sun
Club Macanudo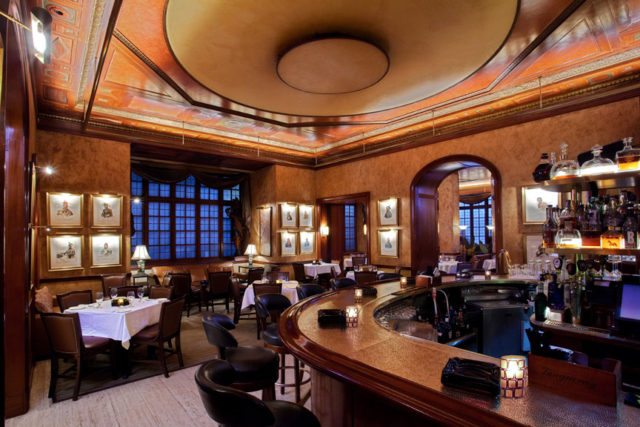 Situated in the heart of New York's Upper East Side since April of 1996, Club Macanudo is, unsurprisingly, owned and operated by the General Cigar Co. – purveyors of Macanudo handcrafted cigars.
Although it's open to the public for wining, dining and – of course – enjoying a fine smoke, Club Macanudo boasts a fine selection, and offers the perfect environment in which to enjoy them.
Although Macanudo really is a club, non-members are always welcome, and reservation is definitely advised.
"Old School" and "aristocratic" spring to mind at first sight of the interior's wood panelling décor and comfortable leather couches.The same could be said of many of the patrons ……….. able to afford slightly upmarket prices.
As far as dining goes, entrees as simple as linguine and as satisfying as rib-eye steak, rack of lamb or filet mignon are available, with appetizers, salads and sandwiches to match. And as for dessert, the warm chocolate truffles top anybody's bill.
And when it comes to cocktails, Macanudo's classic 63rd Street Martini (heavy on the cognac, port and pear) can be counted as one of New York's most exclusive (and expensive) cocktails. Single malt and blended whiskies, together with Armagnac, Calvados, American spirits and fine wines are available by the glass or bottle, and well-educated staff are always on hand to advise on the best cigar to go with any of them.
For more than eating and drinking and socialising, regular theme nights include Blackjack evenings, homages to Ol' Blue Eyes himself in the form of Sinatra Evenings, live international jazz and Macanudo's renowned Sunday Brunch.
Cutting fee: $10.
Dress code insists on collared shirts. T-shirts, athletic wear, shorts and flip-flops are definitely prohibited, meaning the atmosphere at Macanudo (and many of its patrons) really do give the impression of "old school" and "aristocratic".
And that's the way they like it.
Website
Club Macanudo
26 East 63rd Street
New York, NY 10065-8030
T. (212) 752-8200
F. (212) 752-7770
info.clubmacanudo@st-group.com
Cigar Inn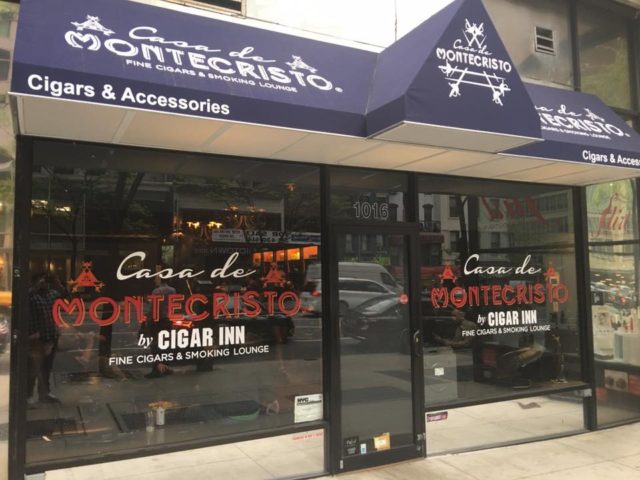 Back in the mid-nineties, the Fakih brothers – Gus, Billy and Bass – opened their original Cigar Inn on Manhattan's 1st Avenue.
There, they commissioned an artist to create a four-foot-high mural of their regulars enjoying themselves. It took three months to discreetly photograph 350 patrons before immortalizing them on the walls of that original shop – customer appreciation at its finest.
And even though it's under new ownership, that kind of appreciation still shines through today at both branches of Cigar Inn.
334 East 73rd
New York NY 10021
(212) 717-7403
Despite being the smaller branch, it still boasts two comfortable lounges where patrons can relax in leather chairs and enjoy a leisurely smoke with one of the non-alcoholic beverages available for purchase.
There's an excellent selection of cigars available, including Cigar Inn's own New-York-themed range – a favorite for many visitors.
With a relaxed masculine décor of brown/orange walls highlighted by De La Vega originals and a few flatscreen TVs for sports events and stock news, this branch tends to appeal to the more mature visitor.
Opening hours:
10am – 1am Mon–Sat
10am – 11pm Sun
1016 Second Avenue
New York NY 10022
(212) 750-0809
Endorsements from Cigar Aficionado – and Cigar Lounge of the Year award from FineTobaccoNYC–proves this branch doesn't cater for a raucous and rowdy crowd.
For a start, it opens in time for an early-morning smoke,offers free wi-fi and is, surprisingly, pet-friendly.
It's 3,000 square feet of comfortable club atmosphere, again with tobacco-inspired orange/brown walls. They're lit up by chandeliers, ceiling downlights and the bright lights of dark wood edged display cabinets along the hall down to a glass walled smoking lounge at the far end of the store.
That's after making a selection from a walk-in humidor so full of over 200 brands of domestic and imported cigars and pipe tobaccos it's just a little bit tight walking around it.
It's BYOB, without a corkage fee, and Ambassador Wines and Spirits next door is the perfect place to stop by and shop on the way.
Opening hours:
9am – 1am Mon-Thu
9am – 2am Fri
11am – 2am Sat
11am – 11pm Sun
Grand Havana Room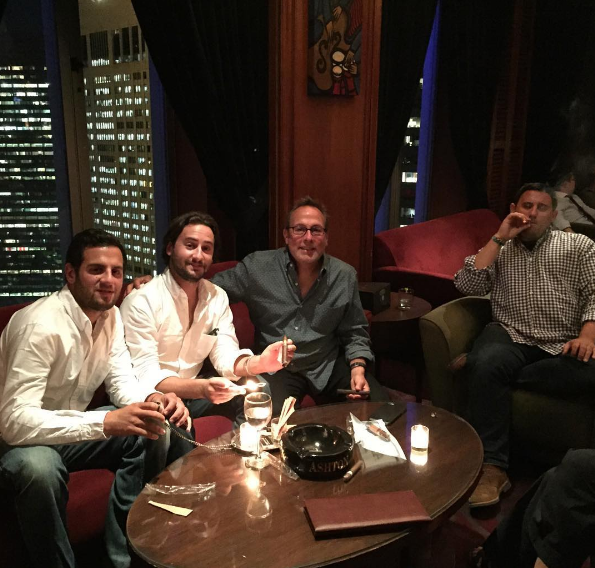 Proudly proclaiming itself as the most exclusive cigar club in the world, the New York branch of the Grand Havana Room certainly does offer a view from the top.
Nestled discreetly in the penthouse of 666 Fifth Avenue – the most expensive US office building of its time – the 17,000 square-foot, $15 million art deco temple to the joys of tobacco combines old-world stateliness with modern-day masculinity … and as for that view from the top, floor-to-ceiling windows reveal midtown Manhattan and beyond in all its glory throughout the entire club premises – even the bathroom.
Like the Hollywood-dominated Beverly Hills sister branch, Grand Havana New York membership includes stars of stage and screen, as well as sporting legends and serious business types – in short, those who can afford to enjoy their cigars in an environment with the kind of pricing one review site tactfully refers to as "ultra high-end".
And that's also an accurate description of the annual fee and monthly dues. But for that, members old and members new (by invitation only) get to enjoy the very best of champagnes, a wide variety of imported beers and an extremely impressive selection of single malts to go with their cigars.
And those cigars, are, of course, "ultra high-end" too, with brands including Davidoff, Hammer & Sickle, Padron, Tatajue and, of course, the Grand Havana Room "Reserve". But despite its name, you won't find any Cuban cigars in the Grand Havana Room's glass and Spanish Cedar humidor room – one of the largest in the western hemisphere.
And dining, too, is "ultra high-end".
Lunchtime diners can expect anything from Seared Diver Scallops to Mini Kobe Burgerseven to a Roasted Chicken Pot Pie, while in the evening members and their lucky guests can enjoy exotic and domestic delights ranging from Chilean Sea Bass … to Australian Lamb Chops … to New York Strip Steak
Suites (with views over Manhattan, naturally) are available for those looking for more privacy, while the fully-equipped Business Center allow members to enjoy a drink and a smoke while engaged in more professional pursuits.
Being the most exclusive club of its kind, though, means the Grand Havana Room keeps a lot of very closely-guarded secrets from the rest of the world, including – unfortunately -its opening hours.
Website
666 5th Ave
New York, NY 10103
Phone: 212 245 1600
grandhavana@aol.com
Bar and Books NYC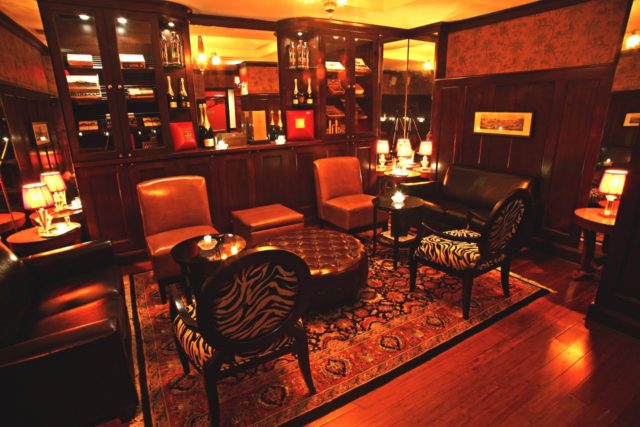 As you'd expect, there's a definite library-theme décor throughout the three New York branches of Bar and Books. And like any library where sound is kept to a minimum, the volume of the background music at each branch is low enough for a good conversation over a cigar and a drink … but unlike most libraries there's often the chance to catch some James Bond action on TV there – muted, of course.
Bar and Books offers their own collection of handcrafted cigars – rolled here in NYC by Martinez Cigars – from their Purito (4 1/2 x 32) @ $8.00, all the way up to their Hudson Double Corona Gorda (6 x 60) @ $28.00 at time of writing.
A boxed Bar and Books selection is available at $110 for eight cigars, plus a custom designed cigar holder and cutter.
Cigarettes are also available, typically from Dunhill, Marlboro and Nat Sherman.
Every Bar and Books offers a comprehensive selection of interesting spirits such as a Chateau de Laubade 1955 Armagnac, as well as their traditional and not-so-traditional cocktails including Ian Fleming's original Vesper (shaken, of course – and definitely not stirred).
Snacks include at all Bar and Books branches include: Pizzas, Club Sandwiches, Beef Sliders, a Cheese and Charcuterie Platter, a Jumbo Shrimp Cocktail … and, of course, Cheesecake.
Hudson Bar and Books
Located in the West Village, Hudson Bar and Books was New York's first dedicated high-end hotel style cigar bar.
Because of its popularity with customers aged between 30-40, it can fill up quite quickly of an evening, and since it's a pretty narrow space it can feel more crowded than it really is.
If you're not big on standing around rubbing elbows with friends you haven't met yet, head for the library section, where you'll get seating and table service, or, depending on the weather, there's always the pavement cafe outside.
Mondays: Complimentary cigar (Bar and Books Purito) for ladies
Tuesdays: "Join us for whiskey"
Wednesdays: James Bond Movies and "Present Your ID" for a complimentary cigar
Thursdays: James Bond movies
Fridays: Present Your ID
Saturdays: No confirmed listings
Sundays: James Bond movies
636 Hudson Street
@ Horatio Street, New York 10014
Phone +1 212 229 2642
http://www.barandbooks.cz/hudson/
Opening Hours: 3pm – 4am
Beekman Bar and Books
889 1st Avenue
@ E 50th Street, New York 10022
Phone +1 212 758 6600
http://www.barandbooks.cz/beekman/
Just around the corner from New York's wealthiest neighborhood, Beekman Bar and Books is presently the only non-smoking bar in the Bar and Books family- for the time being, at least – thanks to new NYC ordinance. However, it's still possible to enjoy the fine whiskies and cocktails on offer there, but now in a smoke-free environment.
With a distinguished international clientele courtesy of the nearby United Nations it's not surprising that this branch of Bar and Books has a little more in the way of a dress code, as in no to sneakers and hat, but yes to button-downs and jackets.
Sundays-Fridays: Live piano
Saturdays: James Bond movies
Opening hours: 5pm – 2am
Lexington Bar and Books
Conveniently situated within strolling distance of New York's shopping avenues, Madison Avenue and Park Avenue, Lexington Bar and Books appeals more to the over-40s, with its dress code that permits jeans–as long as your shirt is properly tucked into them, of course.
The private salon caters for events for up to fifty guests.
Mondays: Complimentary cigar for ladies
Tuesdays: "Join us for whiskey"
Wednesdays: James Bond movies
Thursdays: James Bond movies
Fridays: "Present Your ID" for a complimentary cigar
Saturdays: "Present Your ID" for a complimentary cigar
Sundays: James Bond movies
Opening hours 5pm – 4am