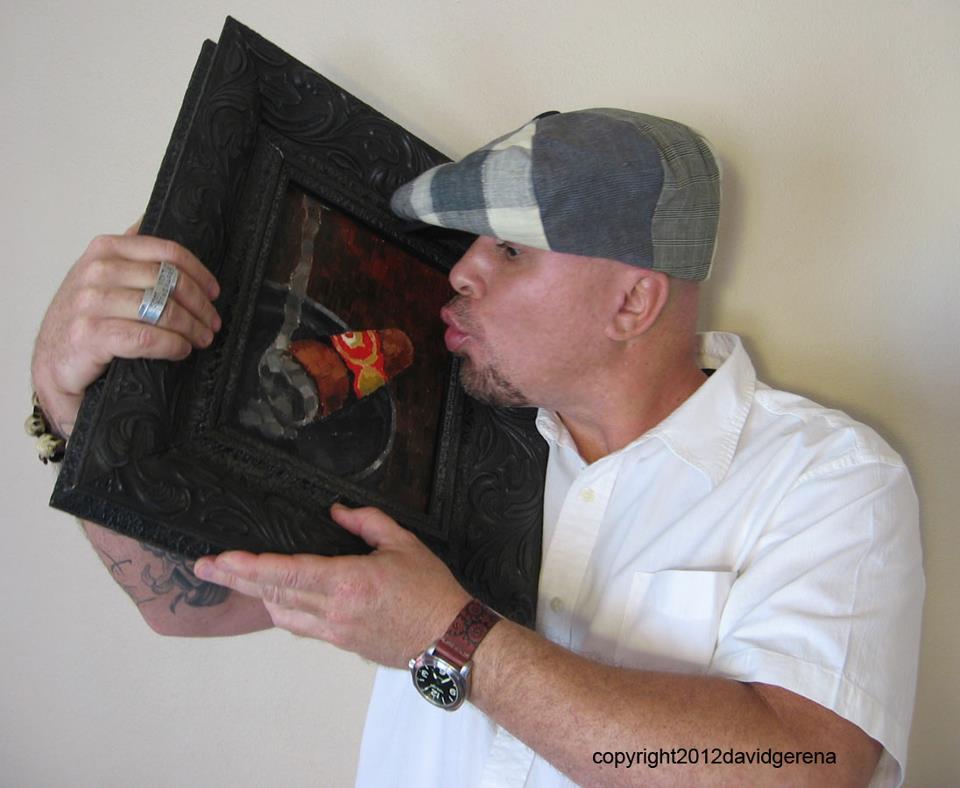 One of our goals at FineTobaccoNYC has always been to encourage the culture of fine tobacco wherever it is found, and also to preserve the spirit of the connoisseur. So, when I kept bumping into an incredibly unique type of hand-crafted cigar art online, I had to know more. What I found is more proof that when the art and enjoyment of fine tobacco evolves from a hobby into a passion, new products, works of art, and traditions are born. That is the basic story of David Gerena, a graffiti artist who grew up in the Bronx and now paints cigar art for clientele around the country.
I caught up with David to learn more about his life in the art world, his passion for cigars, and his vision for merging cigars and painting. Throughout the course of the interview, I found David to be winsome and good-humored, a true brother of the leaf. Below is his story.
FT) Tell me a bit about your artistic background. What was it that got you into art? 
DG) I've been drawing ever since I had a Crayola in my hand.It's something I naturally gravitated to. The Flintstones animated TV seriesand Marvel comics helped fuel my passion as a kid. I studied "How To Drawand Paint" books at a young age which helped me with shapes and shadowsearly on. In elementary school in The Bronx NY I was the kid that wasalways doodling. I spent my time making flip animations in the class text books—notexactly what the school had in mind. In junior high school around 1980 I gotinto graffiti, eventually gaining recognition through my murals in NYC underthe graffiti tag name KAOS.
FT) Graffiti, huh? Did that ever earn you a sprinting match with the police?
DG) [laughs] I'll take the fifth on that one.
FT) Ok, so it sounds like art has always been an important partof your identity. Tell us a bit about your love of cigars.  
DG) I started smoking cigars when I was around 17 years old. Noone around me smoked cigars. My friends smoked cigarettes, so I tried one butdidn't like the taste. I saw the Berrings at the local grocery store in thealuminum tubes as a step up from their other selections of Te-Amo and Blunts.So I got a Berring and found it enjoyable. From there I went to Macanudo HydePark Cafe's. I've tried a lot of cigars since then. I prefer a medium/medium cigar in a 5″-6″x 55g-60g. My box is full of Fuente Don Carlos #2's, King B's, WOAM's, and Short Stories. Some Padron '26's and '64's, and to break it up the mild/medium CAO Gold Vintage Bouchons.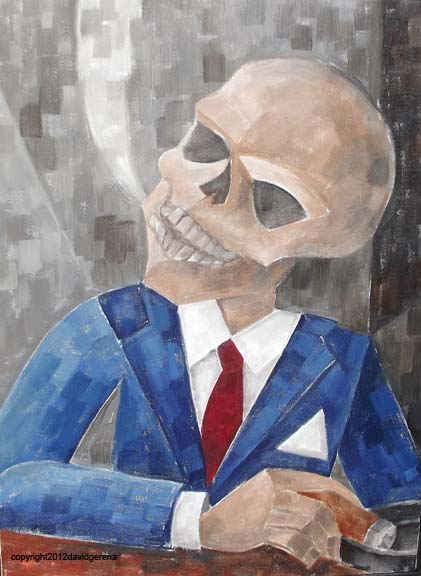 FT) Glad to hear your taste has improved since your days smoking Berrings! At what point did your passion for cigars merge with your passion forart?
DG) I've always smoked while painting and one day without a topic to paint I decided to pay homage to one of my favorite cigars the Arturo Fuente Hemingway Short Story.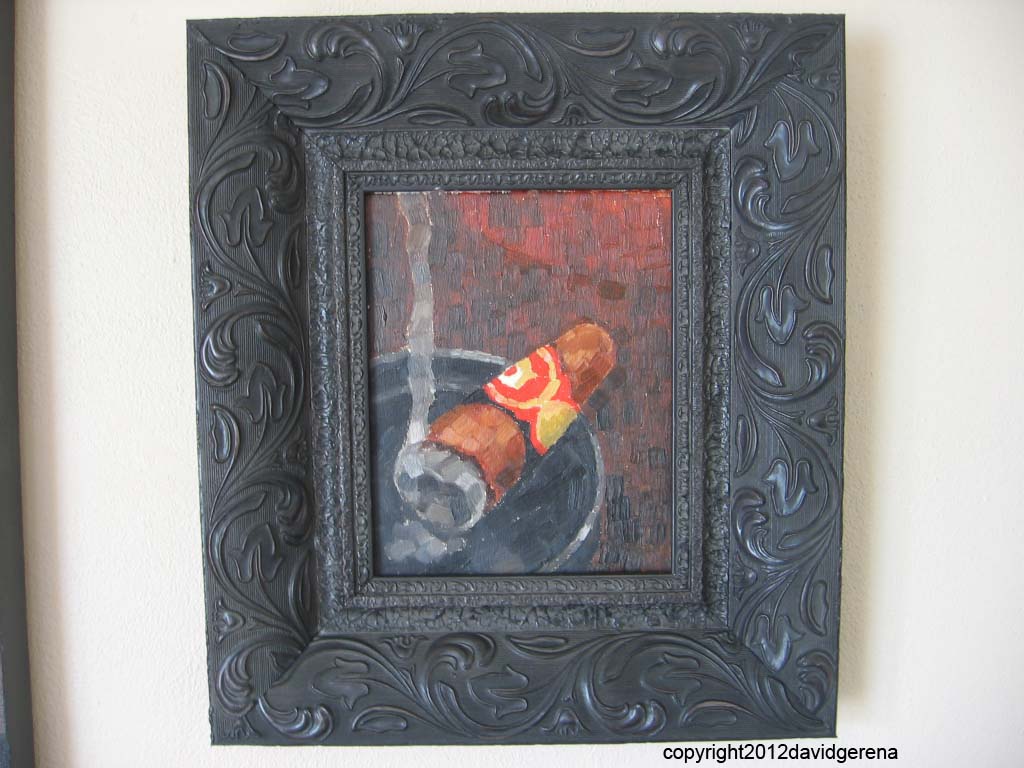 FT) With so many cigars to choose from, how do you decide which cigar to paint, or what story to tell?
DG) Each cigar has a story to tell , and those stories are the inspiration. "If cigars could talk" right? [laughs] I'm just the messenger, I put it on canvas. I'm actually painting all types of cigars now. Through my painting I'm meeting a lot of brothers of the leaf (BOTL) who are recommending some good smokes. I definitely wouldn't paint a cigar I personally didn't enjoy. Besides that, if a BOTL commissions me to paint a smoke he likes, I'll paint it.
FT) So you do craft custom artwork for clients?
DG) Yeah I do commissioned paintings aside from my own. I also enjoy doing murals for clients because it gets me out of my studio. It's a nice break, traveling to new places, meeting new people. I have plans for some art shows coming up. Those are fun and I enjoy the energy.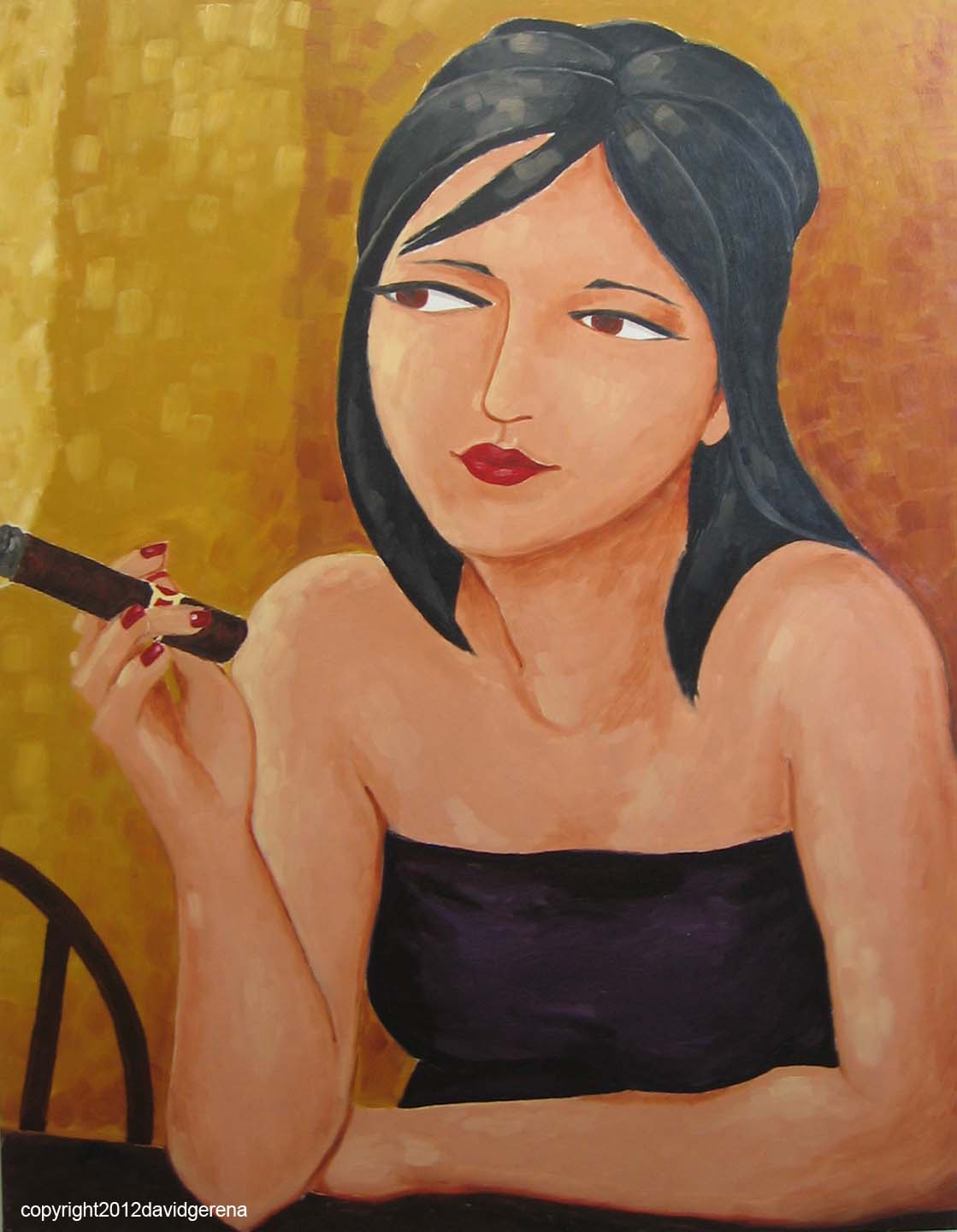 FT) Tell us a little bit about your favorite piece of cigar art that you have created.
DG) Each one has a different meaning for me so it's really hard to pick just one. I just finished a painting of an old cigar roller's hand rolling a cigar I'm really diggin'. I'm fond of the cigars laying in a setting, letting the cigar and it's surroundings tell a story…Then again the paintings with people smoking are nice. It's really hard to decide. Being a cigar aficionado I love them all.
FT) What is it about your technical style that makes you a unique artist? 
DG)  As a self taught artist, Marvel Comic books and The Flintstones animated television series were my tutors as a child. Later as a teenager graffiti spray-paint cans became my pallet and my passion.
The subjects in my work maintain a somewhat flat appearance yet cast shadows. My shapes dance between 2D and 3D, large flat plains of color coexist with chiseled surfaces. The distinction between the two is occasionally blurred. My paintbrush strokes are mostly squared and rarely do I use more than three different size brushes in one painting. The colors change with each stroke as much as possible. In some small areas of my paintings I like to leave the canvas unpainted. I also use a dry brush, the paint catches the weave and shows the texture of the canvas. The different application techniques of materials add another dimension to the painted image.
In life there are roots, in my style of painting those roots lay in Graffiti, but one must grow. Nowadays I prefers oils and canvas as my medium. Brushes and oils have allowed me to branch out and extend the reaches of my vision beyond the spray-can. Those visions are sometimes distorted, other times crystal clear, yet they always tell a story.
FT) Do you have any long-term goals with your painting?
DG) Ultimately I'd like to help animals by starting a charity. I have a soft spotfor Pit Bulls. I have three of which two are rescues. They're such a misunderstood breed, and so over-bred. The shelters and pounds are filled with them.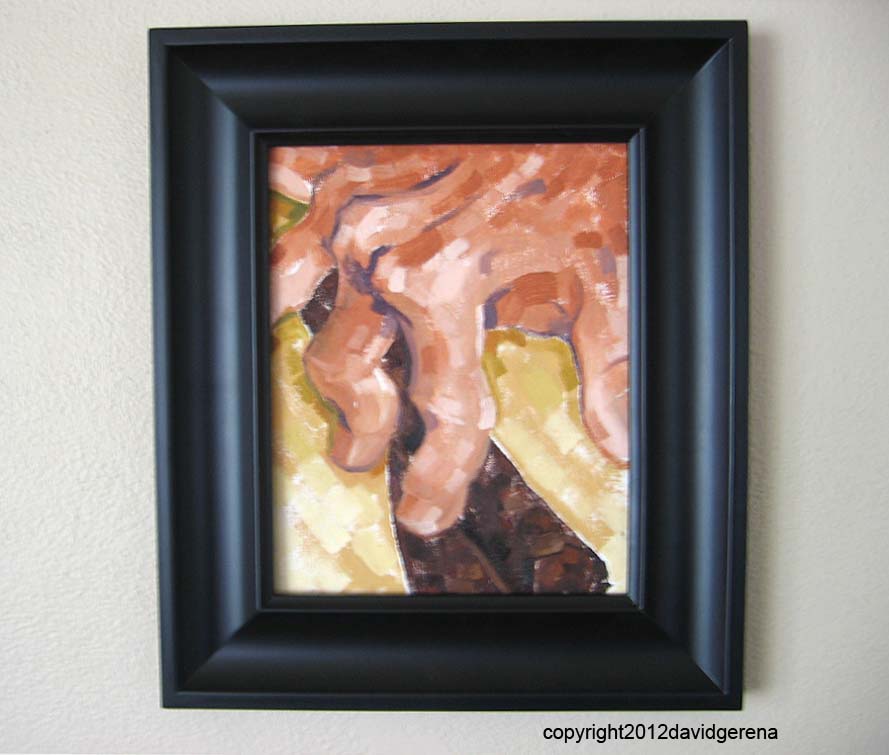 FT) If you could have your cigar art displayed anywhere, where would it be and why?
DG) I think the MOMA (Museum Of Modern Art) in NYC right next to a Picasso would be pretty cool. Being from NY and a painter practically my whole life, it'd be one serious opening party for me. Really though, some of my new stuff I have comingout of people smoking would fit right in. MOMA, are you listening?
FT) Thanks for taking the time to sit down and share your passion for cigars. On afinal note, where can the cigar aficionado's reading this view and buy yourart? 
DG) My work can be seen at my website www.revolutionpaint.com/paintings. All my contact info is there. Anyone looking for an original oil painting, a commissioned piece, or print can reach me through my website. My work can also be seen on www.facebook.com/davidgerenapainter. People can feelfree to friend request me on Facebook. I usually post pics as I'm painting, andlinks to Youtube videos I've made. When I've finished video taping a painting I post those up. These videos show the paintings in progress, smoking as I paint, with cameos by my dogs every so often. Good Times…
FT) Thanks for the interview, David. We're looking forward to seeing more of your art released soon!
~~~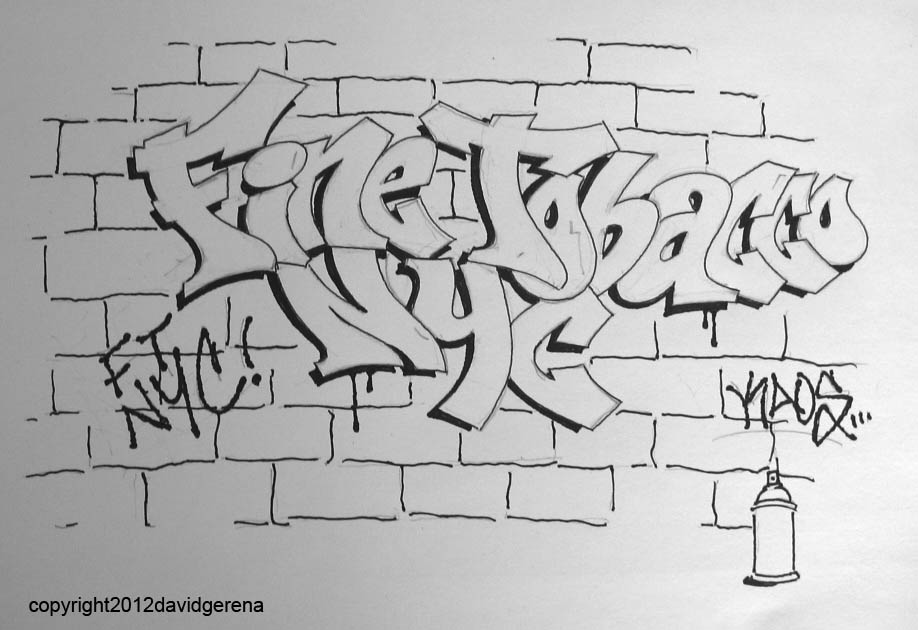 David is what I would consider a pioneer in the emerging cigar art community. It was refreshing to talk to someone who is on the cutting edge, but who also is very down to earth and truly passionate for cigars.
After the interview, David had a surprise prepared for me. Apparently, he used some of his graffiti talent to create a piece of artwork specially for FineTobaccoNYC. I want to give him a huge shout out for his work and for his time. I'd recommend taking a few minutes to dropping by his website, viewing his art, and maybe even purchasing it if you're looking to create that special aficionado vibe.