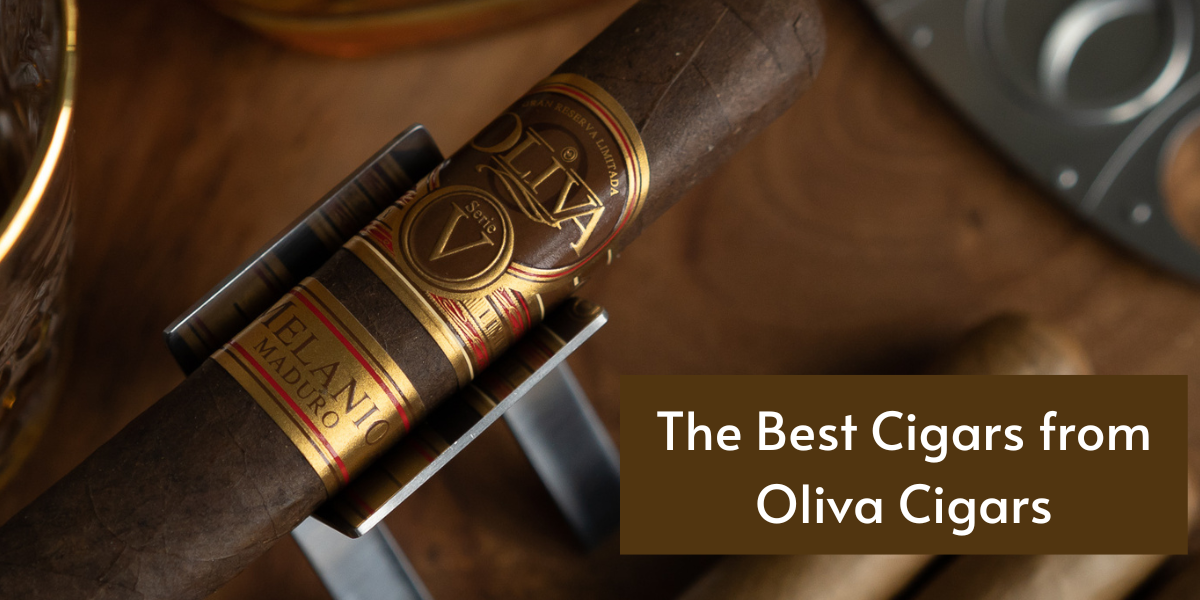 For regular cigar smokers, Oliva Cigar Co is a renowned name. Even among Cuban cigar connoisseurs, Oliva is one of the few 'new world' brands held in high esteem the world over. Not only do they produce some of the best cigars on the market – but their products are also carefully crafted with quality and consistency in mind. As a regular Oliva cigar smoker and a cigar event organizer who regularly selects and recommends Oliva cigars, it's no wonder to me that they're one of the world's foremost cigar companies. Outside of the blends being world-class, the company's ability to replicate the exact blend experience year after year is matched only by other juggernauts like Davidoff or Arturo Fuente.
Best Blends from Oliva Cigars:
Oliva Serie V Melanio Figurado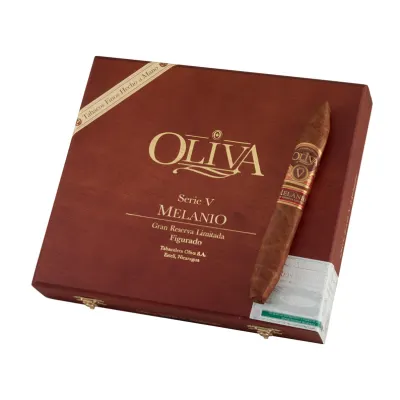 Oliva produces some of the most sought-after cigars on the market, and one of their most popular series is the Serie V Melanio Figurado. This cigar is handmade with a blend of Nicaraguan Habano Jalapa and Criollo leaves that are aged for a minimum of three years to develop its rich flavor. The Serie V Melanio Figurado features a dark and oily wrapper, with an overall smooth draw and complex yet mellow flavors. It has notes of coffee, leather, earthiness, cedar, and spice that linger on the palate. The wrapper is made from an Ecuador Sumatra leaf that adds an additional layer of complexity to the smoke. The burn rate is also great, as it burns slowly and evenly for an enjoyable smoking experience.
Click here to buy the Oliva Serie V Melanio Figurado on Famous Smoke Shop.
Oliva Serie V Melanio Maduro Robusto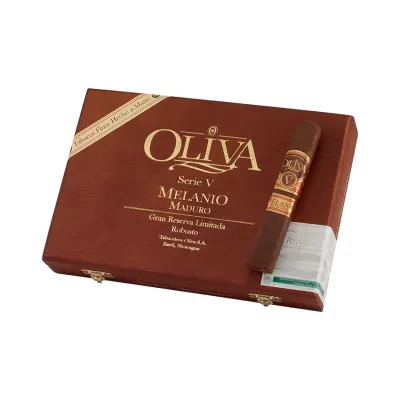 The Oliva Melanio Maduro is a special edition of the classic Oliva Melanio. It is made with a higher priming of the same Nicaraguan Habano Sun Grown wrapper from the original blend, but the Maduro version has been aged for up to 5 years in order to bring out its natural sweetness and darker, richer tones. The Maduro version also features an Ecuadorian Sumatra binder and a blend of Nicaraguan Habano long fillers. This combination of tobaccos provides a pleasant and balanced full-bodied experience that is unique to the Maduro variant. It delivers flavors such as coffee, dark chocolate, leather, baking spices, and earthy undertones. The Maduro variant also produces thicker smoke due to its increased wrapper priming and longer aging period, making it ideal for those looking for more intense flavor profiles in their cigars.
Click here to buy the Oliva Serie V Melanio Maduro Robusto on Famous Smoke Shop.
Oliva Connecticut Reserve
If you want to explore the milder side of Oliva Cigar Co., the Connecticut Reserve has to be your first stop. The Oliva Connecticut Reserve is crafted with an Ecuadorian-grown Connecticut wrapper that offers a smooth, creamy smoke. The interior blend consists of Nicaraguan binder and filer tobaccos, offering a balanced combination of complexity and flavor. Creamy notes of cedar, coffee, and moderate white pepper make this cigar an enjoyable experience. 
Click here to buy the Oliva Serie Connecticut Reserve on Famous Smoke Shop.
Oliva Serie V No. 4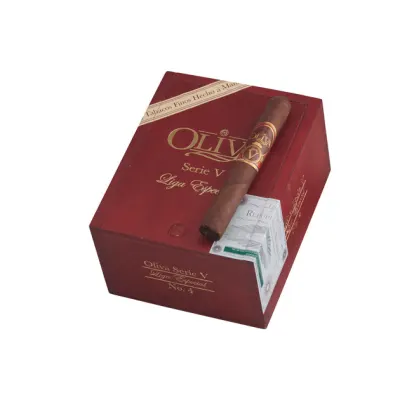 The Oliva Serie V IV is one of, if not our all time favorite Oliva Cigar. It is without a doubt perhaps the best 'small cigar' on the market. But unlike most smaller cigars which resemble their larger counterparts in name only, the Oliva Serie V No. 4 is like a small espresso shot of the original Serie V blend. Intense, creamy notes of leather, cocoa, coffee, earth, cedar, and spice provide an enjoyable experience for all types of smokers.
Click here to buy the Oliva Serie V No. 4 on Famous Smoke Shop.
Conclusion
Oliva is a company that knows how to craft an amazing cigar. Any of the cigars on this list will be a crowd pleasure for the novice or veteran cigar smoker – so give them a try! 
Affiliate disclosure: when you purchase something using the retail links on this or other Fine Tobacco NYC pages, we may earn a small commission. We link to Famous Smoke Shop because they are (in our opinion) the best online cigar retailer.  Our opinions on the cigars remain our own!