Finally, cigar smokers are getting a bit more exposure in the press – probably has a bit to do with the massive push my Cigar Rights of America and friends to educate smokers and non-smokers alike on the FDA overreaching in its regulations.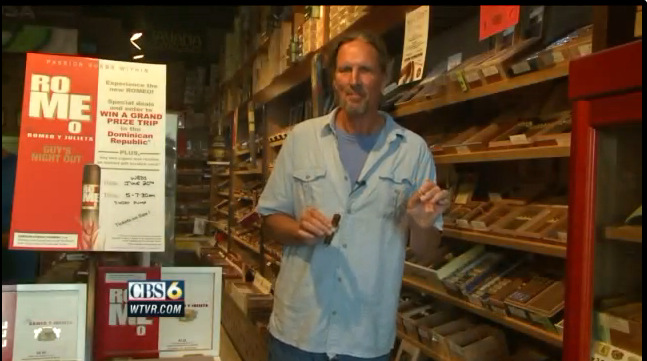 George Koebel from Havana Connections ("Virginia's Humidor") gave an interview for Virginia's WTVR news. Follow this link to watch the interview. Commentary on the interview from http://wtvr.com below.
RICHMOND, Va. (WTVR)- Proposed Food and Drug Administration regulations targeting cigar products could devastate not only the premium cigar industry, but the countries that grow, blend, roll and export the much sought-after products aficionados say.
For instance, you wouldn't be able to go into a tobacco shop and stroll through the humidor, handling and sniffing cigars from around the world.
"They would come in and potentially look in a catalog and go, hey I want that one," said George "Shorty" Koebel, owner of Havana Connections in Short Pump.
The regulations could also eliminate single cigar sales, a staple of the business across the country.
"I don't like it, bottom line," said Nick Hazly, a cigar aficionado who also works in the business. "I just takes away from your choice, man."
The list of proposed regulations is long and well-known to many cigar lovers. Bob Markie, sharing an afternoon stogie with the crew at Havana Connections, had the regs on his phone and read some of them out loud.
"Ban on walk-in humidors, self-serve cigar displays," Markie said. "Mail order cigar sales, limit cigar marketing and advertising . . . flavored cigars . . . limit special-release, small-batch cigars, limits on nicotine levels in cigars near zero. Well, that's going to be fun."
I'm glad to see more press surrounding what could be the end of the enjoyment of cigars – we'll just have to see what difference it makes as the FDA deliberates.