Classic Balance and Fun for the Apprentice & Enthusiast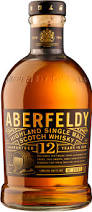 Photo courtesy Bacardi Ltd.
Whisky Reviewed: Aberfeldy 12 Year
Distiller: Bacardi
Region: Speyside
Suggested Retail Price: $45
Distiller Rating: 90
USC Rating: 94
Mark's Review
Aberfeldy 12, a key part of the Dewar's blend, is a great example of aromas matching the flavors. Enjoy strong, classic caramel, pastry and honey scents.
As you savor the whisky, note how its tastes evolve and soften as you'll relish your glass unveiling more autumn spices and fruits. An easy, balanced mouth feel gives way to the gentle finish without over-the-top sherry cask notes.
Similar to other brands in the Bacardi line, this spirit is an enabler. If your usual tipple is blended scotch but you've wondered how to tempt the mysteries of single malts, launch your voyage with Aberfeldy 12. It's perfect for the Apprentice.
But the twelve-year is also refined enough to lure the Enthusiast into a new world of sweet sensation. Let yourself explore all this offers at your own pace.
At 40% ABV, you won't need water to adjust the profile. Therefore a cocktail would kill it. With a smooth vigor to support the luscious poise, begin your evening with Aberfeldy 12 neat as a palate opener.
Later, you might treat yourself to a dram with bread pudding or vanilla custard. Magic!
Mark Garbin's Evaluation
| | | |
| --- | --- | --- |
| Aromas & Flavor Appeals to: | Optimal Client Type | Great For: |
| Subtlety Aficionado | Apprentice | Cocktails |
| Power Flavor Admirer | Enthusiast | Neat Before Dinner |
| Balanced Devotee | Adventurer | With Food |
| Chameleon Lover | Hedonist | Dessert or Afterwards |
Distiller.com review: Sweet aromas of caramel, toffee and beeswax are presented with the tasting profile of more of the same. Additionally, there's a slight nutty and wood spice finish which winds up on the dry side. –Stephanie Moreno
USC review: Hearty grain, honey pollen and buttery pastry cut though on the nose. High-toned and playful, the balanced palate delivers crisp autumn fruits, like crunchy red apples, muted clove and honeycomb, all of which follow through in a measured finish.
Josh Peters at the Whiskeyjug.com: Aberfeldy 12 is tasty stuff. The deep fruity nose compliments the oak and fruit palate that continues nicely through the finish. I'm really enjoying sitting in my recliner with my dog on my legs, laptop on my lap and this in my mouth. One moment it's light and fruity, the next some darker notes appear and then back to the lighter sweeter notes. It seems to shift in the glass, but there's always a nice balance to the Aberfeldy 12 – a fun and flavorful dram I'm enjoying more and more with every sip!