(Un) Balanced Single Malt for the Adventurer with Dessert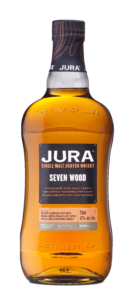 Photo: Courtesy of Whyte & Mackay
Whisky Reviewed: Jura Seven Wood
Distiller: Jura
Region:  Islay/Island
Suggested Retail Price $80
ABV: 42%
USC Rating: 94
The Whisky Reviewer: B-
Mark's Review
The guys at Scotch 4 Dummies put it well: "People are of two minds about all Jura Offerings." Seven Wood is no different. Note the huge gap in ratings.
We lead with the sea's gentle mist, a wisp of peat and bourbon's stout sweetness. Your nose dives deep in the glass because you need to make sure it's malt. As time passes, a nasal singe bursts forth and at last shouts, "Barley!"
The Kentucky whisky theme persists as vanilla cinnamon swirl pound cake with maple icing greets your taste buds. These flavors last through the mid-palate as your impatience channels your inner Clara Peller (Where's the Scotch?).
At last, white pepper heat rises in the back of your mouth. (Yay!) But where are all those promised wood barrel traits? The finish answers your question with a noticed increase in smoke.
My colleague, Kurt Maitland, at the Whiskey Reviewer was spot on as to how water brought out more oak flavors. Think of each barrel that held this spirit. Imagine them taking in the liquid like a sponge. Then as the temps fall, they squeeze out all the wood qualities to, at the end, create the final product.
The real question though is: How to decide if this bottling is for you? Some drinkers crave an unbalanced drink and until we add water, Jura Seven Wood fits the bill. That's how diverse views form. Think of this as a feature not a bug.
It's a voyage of discovery fit for the Adventurer willing to take risks. I suggest you try a dram with pecan or apple pie a la mode. Then follow with coffee or earl gray tea. The sweet sharp combination will demystify the experience and bring a smile to your face.
Mark Garbin's Evaluation
| | | |
| --- | --- | --- |
| Aromas & Flavor Appeals to: | Optimal Client Type | Great For: |
| Subtlety Aficionado | Apprentice | Cocktails |
| Power Flavor Admirer | Enthusiast | Neat Before Dinner |
| Balanced Devotee (After Water) | Adventurer | With Food |
| Chameleon Lover | Hedonist | Dessert or Afterwards |
USC review: A classic maritime malt with telltale aromas of iodine, citrus zest, baked barley, and a kiss of leathery smoke. The palate has layers fruit and more decadent flavors such as milk chocolate and café con leche. Well rounded and balanced.
Whiskey Reviewer review: An interesting rollercoaster of a whisky here. The taste is candy sweet at first blush, quickly turning lemon polish spicy before one gets to the slightly bitter end. I got hints of the wine casks that this release has been paired with, but you can tell it was a brief affair with each of the non-bourbon casks. The body of this is a bit short and I'd be curious to taste this with few more years in any or all of the casks mentioned above. The mouthfeel was semi-dry turning spicy and floral. Water pulls out some of the sweetness but the spiciness remains.