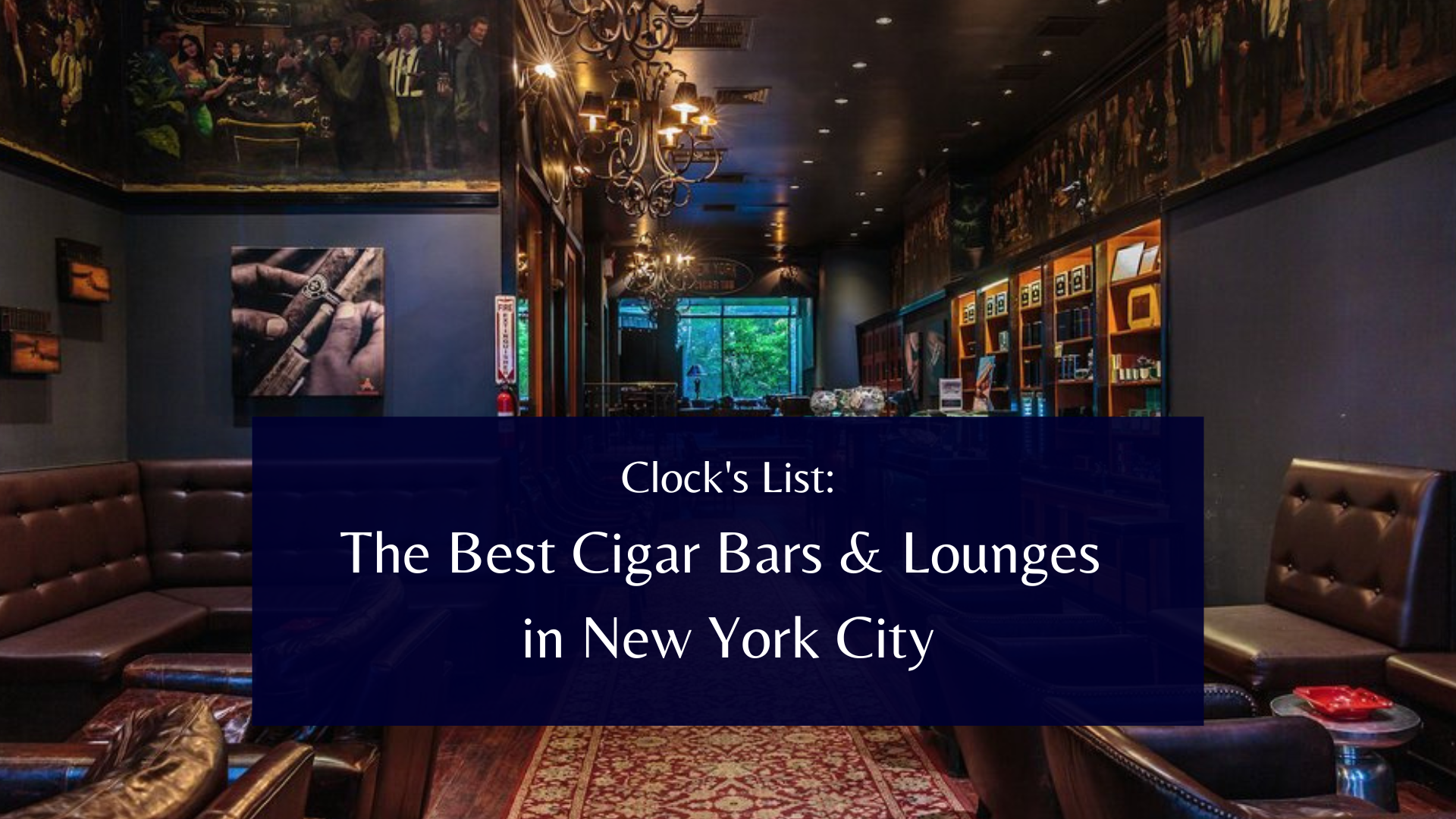 The city that never sleeps is also the city that always smokes. Not just any smokes, mind you, but premium, hand-rolled cigars enjoyed in the hallowed, hazy haunts of some of the best cigar bars in the world. Today, I'm taking you on a sophisticated puff-filled journey through these must-visit stogie sanctuaries scattered throughout the majestic island of Manhattan.
But before we begin: a word about credibility. I'm not some staff writer at yelp or Gothamist. I've been hosting cigar events at New York City's best cigar lounges and bars for nearly 15 years, and, as of this writing, have hosted nearly 190 events. All that to say: I've visited these and other bars over the years many times. I've seen them change, and in many sad instances, close down for good (as was the case with Nat Sherman in 2020, read my farewell letter). But the point is: I know a thing or two about the best spots to smoke cigars in New York City – and I'm sharing them here for your benefit, and also to attract new New York City cigar smokers to our website so that you can hear more about and hopefully join us in our monthly cigar events. We are, after all, the largest in person cigar group in the United States, and there's always room for new enthusiasts!
Back to the topic at hand – here are my top ranked spots to enjoy a cigar and/or a glass of whisky in NYC.
Casa de Montecristo
My initial stop is the famed Casa De Montecristo, an oasis for cigar enthusiasts tucked away in the bustling maze of New York City. A luxurious den for aficionados and novices alike, this cigar shop boasts the city's largest selection of cigars. From globally recognized brands to hidden boutique gems, the possibilities are endless, and so is the assistance. The staff, knowledgeable and engaging, have an uncanny knack for matching you with your ideal cigar, something akin to a smoky sommelier.
At Casa de Montecristo, the experience isn't just about the cigars, it's about the environment. As I sink into one of their plush seats, the ambiance is impossible to ignore. Nine TVs, four of them a whopping 54″ in size, dot the lounge, each broadcasting different games, making it a utopia for sports fans. Wrapped in the pleasant hum of chatter, the soft flicker of the screens, and of course, the enveloping aroma of fine tobacco, it's a slice of stogie heaven in the heart of NYC.
Location: 1016 2nd Ave, New York, NY 10022
Ph: +12127500809
The Carnegie Club
A stone's throw from Central Park and Time Square lies my next destination, The Carnegie Club. This luxurious lounge feels simultaneously grand and intimate. The minute you walk in, the meticulously carved 18th-century bookcases, the roaring stone fireplace, and the towering 20-foot ceilings leave you in awe. If the setting evokes an older, grander New York, the selection of cigars reminds you that the Carnegie Club is very much in the present.
As I light up a cigar and settle into a plush chair, the ambiance is enhanced by the smooth, velvety strains of New York City's longest-running Sinatra Show. Steven Maglio and the Stan Rubin 11-Piece Orchestra have been captivating audiences for more than two decades here, their music the perfect complement to the refined elegance of The Carnegie Club. This place is a piece of living history, a cherished part of New York City's vibrant cigar culture.
Location: 156 W 56th St, New York, NY 10019
Ph: +12129579676
Web: http://www.carnegie-club.com/
Soho Cigar Bar
My next stop takes me downtown to the Soho Cigar Bar. Stepping inside is like being whisked back to the Roaring Twenties. Once known as the iconic Circa Tabac, it has seamlessly blended old-world elegance with modern comfort. The recently renovated space exudes a golden age charm; plush leather furnishings and a warm art deco interior wrap you in an ambiance that's at once comfortable and chic.
At the Soho Cigar Bar, every detail has been painstakingly curated. The state-of-the-art ventilation system hums almost imperceptibly in the background, maintaining the air quality to ensure you savor every puff. Contemporary touches are sprinkled throughout, like the flat-screen TVs hidden behind timeless photography. With a meticulously selected range of cigars, a cocktail list that reads like a love letter to mixology, and a menu that caters to both epicureans and casual nibblers, Soho Cigar Bar is a remarkable blend of the past and the present.
Location: 32 Watts St, New York, NY 10013
Ph: +12129411781
Web: http://www.sohocigarbar.com/
Barclay Rex
As I venture downtown, Barclay Rex awaits, beckoning with a rich assortment of tobacco treasures. Nestled above the retail tobacco shop, the Rex Club – named after Rex, the Great Dane – offers a modern, intimate space to unwind. Entering, you're greeted by a life-size statue of Rex, standing guard over the space with a regal air. This is more than a gimmick; it's an embodiment of the club's commitment to quality and uniqueness.
The club's features – high ceilings, personal lockers, an advanced ventilation system, and a cozy fireplace – feel both luxurious and welcoming. Their house brand, Yaxel Ortiz, a Nicaraguan-made cigar line housed in their walk-in humidor, is a must-try. Just a few blocks from Wall Street and Stone Street, Barclay Rex stands as a tribute to the traditions of cigar smoking. With daily passes and monthly memberships available, it invites you to become part of its rich heritage and partake in its superior offerings.
Location: 126 Pearl St, New York, NY 10005
Ph: +12129623355
Web: http://www.barclayrex.com
Hudson Bar & Books
Next, I find myself at Hudson Bar and Books in the city's coveted West Village neighborhood. Established in 1990, this bar pioneered the cigar bar scene in New York City, predating many of its now well-known counterparts. True to its trailblazing status, it has remained dedicated to the art of cigar smoking through the ebb and flow of the cigar trends.
One step into Hudson Bar and Books, and I'm engulfed by a continental aura, replete with playful monkey sconces, leopard print cushions, classic wood paneling, and a shiny copper bar. Outside, a fine pavement café awaits those who prefer to enjoy their cigars alfresco during the season.
Location: 636 Hudson St, New York, NY 10014
Ph: +12122292642
Web: http://www.barandbooks.cz/hudson
Club Macanudo
Just uptown, on Manhattan's Upper East Side, Club Macanudo has been a beacon for cigar enthusiasts for over a quarter of a century. Conceived by Edgar M. Cullman Jr., CEO of Culbro Corp., it was created to fill a void in the city's burgeoning cigar scene. The objective was simple but ambitious: to construct a sanctuary where cigars reigned supreme, and everything else came second.
And reign they do. Club Macanudo is an island of elegance and relaxation in the metropolis, its appeal undimmed by the passage of time. The Food Network and USA Today have praised its upscale atmosphere, which combines food, drink, and, of course, cigars, in a fusion of epicurean delight. It's here, among the mahogany and leather, that you feel a sense of privilege, an initiation into a club that's about more than cigars. It's about style, refinement, and the sheer pleasure of the smoking experience.
Location: 26 E 63rd St, New York, NY 10065
Ph: +12127528200
Web: http://club-macanudo.com/
In the end, each of these cigar bars has carved out its niche New York City. All bear a distinct charm and an unyielding commitment the art of cigar smoking. So whether you're a seasoned smoker or a neophyte looking to explore the world of cigars, New York City's cigar bars are a passport to a world of smoke-filled sophistication and pleasure.