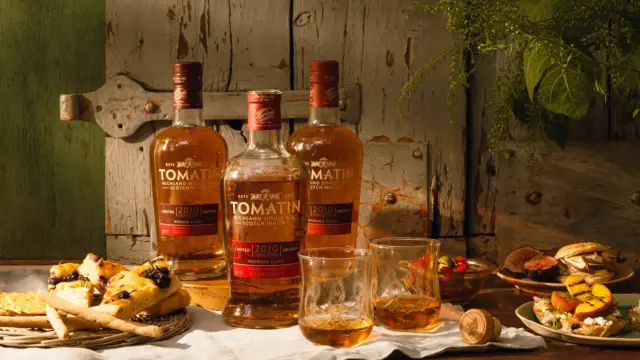 Tomatin Distillery has announced its latest limited release, "The Italian Collection." This launch introduces three single malt scotch whiskies, blending Tomatin's Highland malt with the unique attributes of Italian wine casks. The whisky, first placed in traditional oak casks in December 2010, matured for 10 years. For further depth and complexity, Tomatin aged it for an additional two years in Marsala, Amarone, and Barolo wine casks.
Each wine cask contributes distinct flavors and aromas to the whiskies:
The Marsala Edition: Aromas of panettone and candied lime lead to a palate with flavors of white chocolate, lemon truffles, and hazelnut. The finish carries notes of sweet citrus and toasted oak.
The Amarone Edition: This variant offers a scent of poached pears and rhubarb and custard sweets. On tasting, flavors of strawberry jam, Turkish delight, and light butter pastry are evident, with a finish marked by cinnamon-spiced red apples.
The Barolo Edition: This edition presents aromas of mulled wine and dark chocolate. Flavors of spiced mead, cranberry, and a hint of grapefruit define its palate, with concluding notes of light tannins and sugared almonds.
As the third installment in Tomatin's country-inspired series, "The Italian Collection" underscores the distillery's approach to cask selection. This collection acknowledges both Scotland's heritage and Italy's extensive wine history. Additionally, it aligns with Tomatin's 'To What Matters' philosophy, focusing on the importance of human connections and the contributions of those involved in their whisky production process.
Scott Adamson, Tomatin's Blender & Global Brand Ambassador, shared, "With 'The Italian Collection', we aimed to incorporate aspects of Italian wine culture into our Highland single malt whisky. Considering Italy's deep appreciation for single malt scotch whisky, this set of releases acknowledges this enduring bond." He added, "Our intention was to capture the character of Italian wine and blend it into our whisky. Each expression in this collection represents the merging of these two worlds and offers a unique tasting experience for whisky enthusiasts."
"The Italian Collection" is now available at selected specialist retailers worldwide and directly on the Tomatin website.