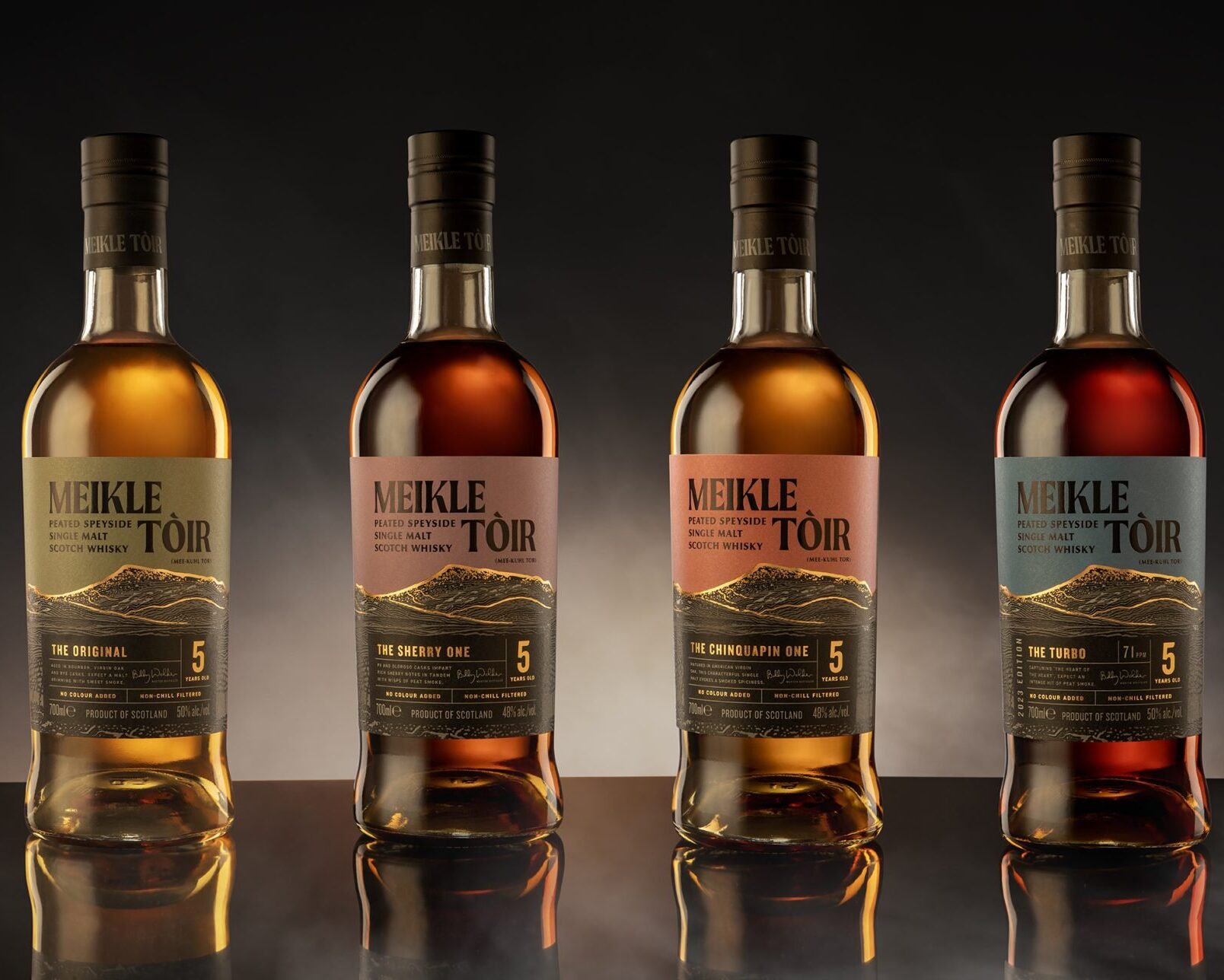 The GlenAllachie Distillery has unveiled its new peated Scotch whisky brand, Meikle Tòir, meaning "big pursuit" in Scottish Gaelic. The distillery has been running a seasonal peated production campaign since 2018, utilizing mainland peat sourced from St. Fergus. The production cycle spans roughly six weeks per year and results in approximately 100,000 Litres of Alcohol annually.
Master Distiller Billy Walker, who took ownership of the distillery in 2017, has fully overseen the launch of this new brand. Meikle Tòir's core range consists of four different expressions: The Original, The Sherry One, The Chinquapin One, and the limited annual release The Turbo 2023 Edition. Each whisky carries a five-year age statement and was subjected to an extended fermentation period of 160 hours. The whiskies offer varying flavor profiles ranging from sweet spice to smoky earthiness, all without added coloring and non-chill filtered.
The Original 5-year-old expression features aging in first-fill Bourbon barrels, American virgin oak casks, and Rye barrels. The Sherry One undergoes additional maturation in Pedro Ximénez and Oloroso sherry puncheons after an initial period in American oak. The Chinquapin One is first aged in American oak before transferring to Chinquapin virgin oak barrels from Missouri, USA. All core range products have a spirit PPM (Phenol Parts per Million) level of 35. The Turbo 2023 Edition, a super-limited bottling, has a spirit PPM of 71 and is the result of aging in American virgin oak and Oloroso sherry hogsheads.
Billy Walker said about the launch, "Five years in the making, it represents the culmination of our endeavours since we took over the reins at the distillery. One of the key decisions was to significantly extend the fermentation period to 160 hours, creating thick, ester-rich distillate."
The UK Retail Recommended Selling Prices (RRSP) for Meikle Tòir start at £50. The packaging for the new brand was created with environmental considerations, exclusively working with UK-based packaging suppliers. The new brand will be showcased at a series of tastings across Scotland, concluding at The Whisky Exchange Show in London. Availability will expand globally starting today.