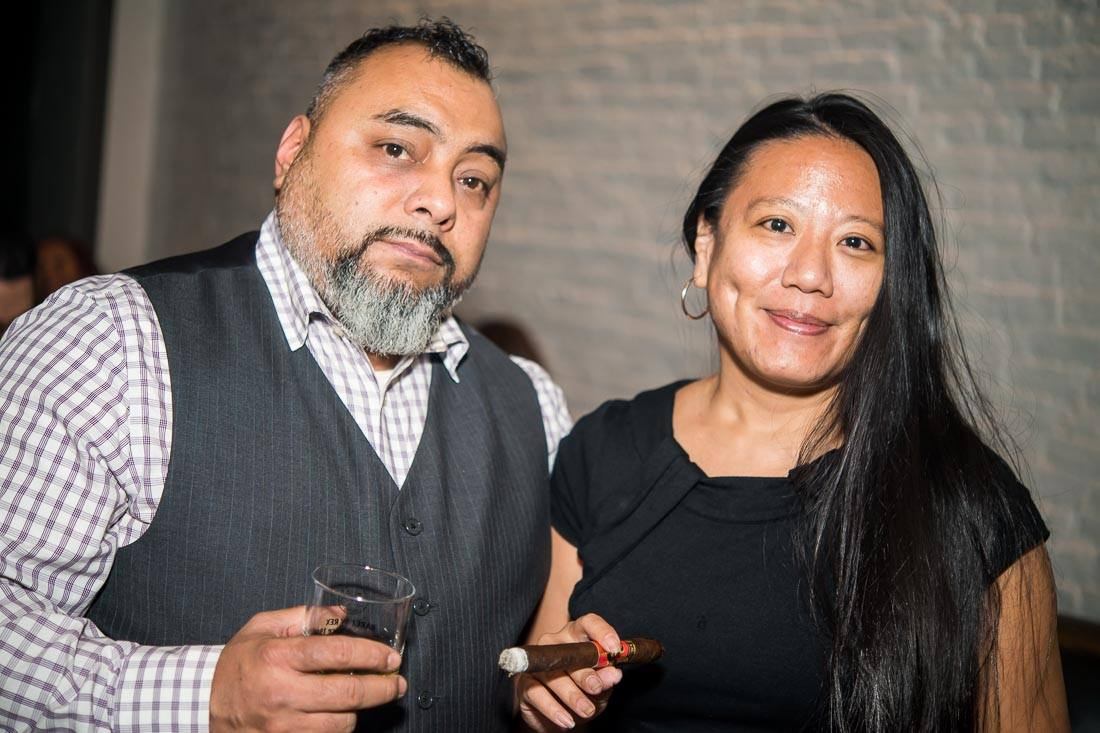 Given the global pandemic, it goes without saying that Fine Tobacco NYC events are indefinitely on hold. While we're disappointed, it does provide an opportunity to focus more on telling the stories of our members, those cigar and spirits aficionados who have attended our events over the years.
After all, events aren't abstract–it takes people to have an event. And Dave, Kelvin and I have been blessed over these last ten years to have regulars like Hazel Alvarado attend our events. As you'll read below, Hazel is a cigar and spirits event enthusiast who brings a unique perspective and personality to every event she attends.
Over the next few weeks, we'll be publishing more of these member-focused Q&As. We hope you enjoy them, and that you'll meet these friends of ours at our events once they start up again.
---
Matthias: Thanks for taking the time to let us know more about yourself Hazel. So let's start simple: where are you from, what do you do for work, and what are some of your interests and passions?
Hazel: I'm a native New Yorker with a Financial Technology background that is passionate about sharing my geeky love of whisky, books, food, and baseball with the world. I also love to travel and meet people from different backgrounds.
Matthias: And how were you first introduced to cigars?
Hazel: I worked for a financial firm and a favorite team outing was golf, cigars, and Scotch.
Matthias: Interesting. So what is it about smoking cigars that you enjoy so much?
Hazel: Initially I wasn't a fan of cigar smoking because it was introduced to me at events that involved an early tee time followed by heading right to the office. But once I was able to enjoy it leisurely with good friends and paired with whiskies, my appreciation grew as well as my thirst for knowledge. In addition to taste and texture, I love hearing the story behind a cigar as well and continue to seek out other female cigar enthusiasts.
Matthias: Take a second and remember your most memorable smoke. Where were you/who was with you/why was it special?
Hazel: On a crisp Autumn Day, I enjoyed a Rock-A-Feller Gold with the Glenmorangie Quinta Ruban. My boyfriend and I had just started dating and although he wasn't a cigar smoker himself, he set me up with a special spot out on the deck of his house in the Berkshires (Massachusetts) with a great view of the trees and the sky. Since I live in Manhattan, I enjoy this time away from the city with him and the pup and I was touched that he went out of his way to make me happy.
Matthias: That sounds beautiful and definitely like a singular moment. Speaking of special moments, do you remember your first Fine Tobacco NYC event? What was it like?
Hazel: June 3, 2015, Carnegie Club. It was a girls' night out with my friends Stephanie and Julie. We enjoyed the Eiora Natural paired with the Glenmorangie Nectar D'Or along with live jazz  performed by the Pete Maness Quartet. It was a beautiful venue with a great mix of both men and women. It was easy to check-in, get my cigars and tastings and everyone was welcoming and engaging.
Matthias: I admire your memory! So what has made you keep coming back to Fine Tobacco NYC events over the years?
Hazel: The cigars and spirit pairings are well matched and the venues are great. But what draws me back are the people: you, Dave, and Kelvin know how to run events and the Ambassadors for the cigars and spirits are top notch. I've made friends with other FTNYC members over the years. I've learned a great deal about cigars and enjoyed spending time with the other guests.
Matthias: I'm glad to hear it. Let's talk specific products. If you could only smoke one brand of cigar for the rest of your life, what would it be?
Hazel: This is a tough question for me as I'm still learning about different brands. But for now I'll say Plasencia.
Matthias: Alright, respectable choice. What's the best cigar / drink pairing you've ever experienced?
Hazel: The Tabernacle Robusto and the Glenmorangie Signet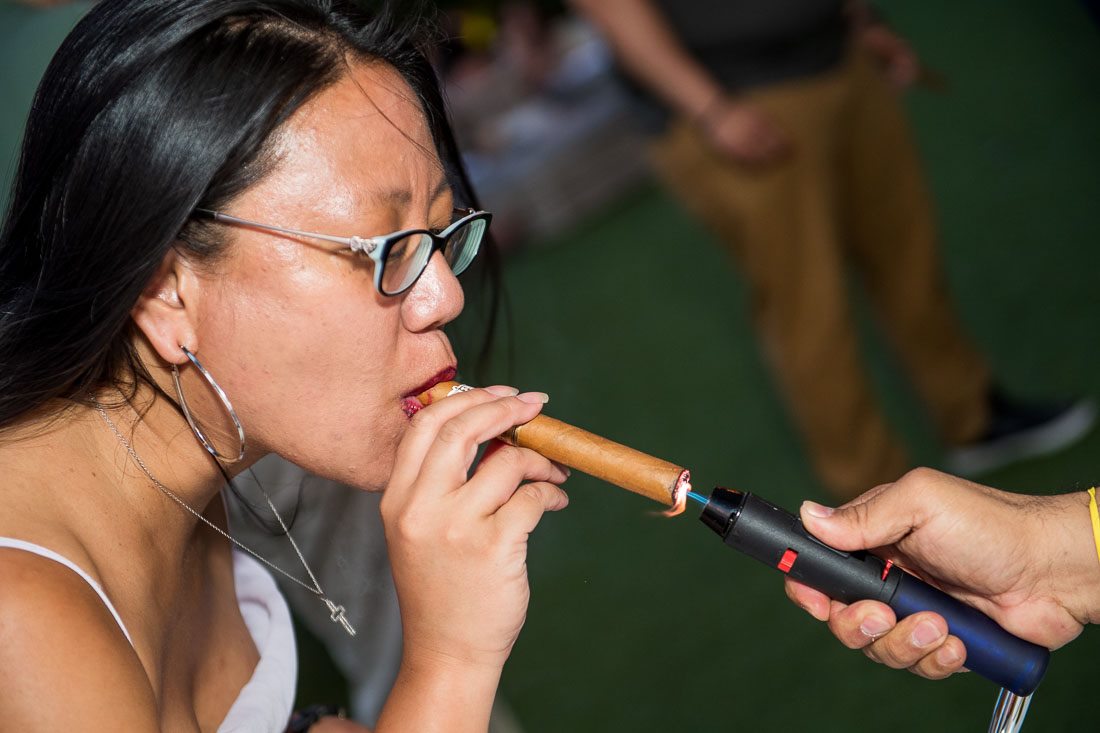 Matthias: I hear you there. Signet is up there for me as one of my all-time favorite scotches. So if you could imagine the perfect cigar event, what would it be like?
Hazel: Since I love ocean fishing, it would be on a boat out on the ocean with whisky while fishing followed by dinner at the dock or on the boat itself. (After dinner cigar!)
Matthias: That sounds great. We'll get to work on it! Taking a philosophical turn, what in your opinion is a life well lived?
Hazel: Henry David Thoreau stated "The mass of men lead lives of quiet desperation". Years ago, I heard the sarcastic response to this was "..and what do most women lead? Lives of 'noisy fulfillment'?"
I like the sound and idea of that, "noisy fulfillment". I thank God every morning I wake up and do my best to always leave people better than I found them. And sometimes I'm so busy "being productive", I don't enjoy the moment, but this pandemic has forced me to appreciate small moments more. If I can exit this world being good to other people and appreciating moments spent with them, I'll be humble and happy.
Matthias: If you could pick any historical figure to have a cigar with, who would it be and why?
Hazel: Romantic 19th century French novelist, George Sand; she was born Aurore Dupin in 1804 and "George Sand" was her nom de plume. In addition to "writing in secret", she was forced to dress as a man in order to smoke cigars. I bet she'd be delighted to know that women today can write and smoke cigars in public and that female cigar smoker groups have been created in her honor.
Matthias: That's a great answer. Thanks again for sharing with us and see you at an upcoming event!
---