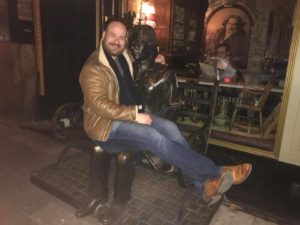 I'll start off here by saying that interviews aren't a common thing here at Fine Tobacco NYC. Generally they're a bit tedious to put together and I've often found reading interviews that they can at times be extremely long without saying much of value.
In the case of Gene Kizhnerman from Taste the Dram, though, the interview makes a bit more sense because he is knowledgeable both about spirits but also about the business of owning and maintaining a blog (and a blog that I regularly read). So for those readers here who have considered starting a blog or some kind of review site but haven't gotten around to it, this interview could give you some insight into what it takes to run a blog, particularly in the spirits space.
All that out of the way, let's get on to the interview.
Alright Gene, I'm going to do my best to avoid completely generic interview questions, but we'll see how goes.  Let's get the complete basics out of the way. Where are you from, and what is Taste the Dram?
I am originally from Moscow, Russia and I came to the United States as an immigrant refugee when the USSR fell apart with my family back in the early 1990's. Lived in New York ever since. Taste the dram was something that I started a few years ago when I first fell in love with my girlfriend Rebecca. Before Rebecca I had a major hatred for anything whisky related. From nightclubs to shots of Jameson and Johnny Black, I had no idea what good whisky was all about. I had this notion that you just shoot it fast and hold your breath. Long story short, I met Rebecca and on our first date we spoke about her love for whisky. Particularly the Balvenie 21. Now as I stated before I thought I hated anything whisky related, but here I was, trying to impress this girl. Our second date I took her to the Flatiron Room (this was the place known for whisky). At this point it was still very difficult to enjoy this spirit. It was harsh and spicy and just too much for me to handle.
On our third date, a friend recommended we check out a local bar restaurant in our area called Wheated. I think this is where Taste the dram was officially born. We met the owner of the bar and he was very knowledgeable about the spirits. He recommended I start off with a lighter approachable Japanese Whisky, the Yamazaki 12. At first sip, I thought to myself, wow yea, I could enjoy this. Then something crazy happened. An ambassador for Laphroaig and Beam Suntory walked into the bar and happened to be good friends with the owner. Out of nowhere he heard my story of being new to whisky, and bought us a round of the Bowmore 25 and the Auchentoshan 21. When I tried these spirits, I was blown away by the complex flavors and the robust profiles of the whisky. You can say I was hooked from the first sip.
Taste the dram is an online digital magazine that features spirit reviews, interviews, and spirits related lifestyle.
Why did you start Taste the Dram?
So Taste the Dram started more as a hobby. I started an Instagram and started posting the whisky I was tasting at Wheated and other whisky related establishments. From there a few months later, I began my website Tastethedram.com. I thought people would appreciate the reviews of whisky I was putting together, and make their ordering whisky at the venues more approachable. I wanted there to be a real website with real reviews.  A lot of these blogs have whisky reviews but they post photos they find from online websites. So there was no real way to tell if they truly tasted the bottle they are reviewing or just making stuff up.
From there it kind of took a life of its own. I began to reach out to distilleries and venues and other spirits eventually. And I noticed people really reacted positively to the stories we were offering. So we just kind of kept it going.
As someone who writes my own blog, I know it can take a lot of work to keep content rolling. It gets even harder when holidays roll around or life stuff comes up. What keeps you writing and producing content day after day?
I have turned this into my passion and something I truly enjoy. Also I get a lot of great feedback from my readers and followers and I know I cannot disappoint them. I try to keep the content fresh and not repetitive. There is a lot of work that goes into the articles we write. Usually we have to meet with the companies or persons we are interviewing. We prepare a detailed list of questions that pertain to their business. We then record the entire conversation, which sometimes consists of hours of work. Then we manually retype the recording, edit, add photos and post. Sometimes one interview from conception to execution can take 5-7 days.  It's a time consuming process. But it's well worth it.
I've had a few readers write in and ask how they can get started with their own blog. What would some of your tips and recommendations be for someone looking to convert their passion for whisky into a blog?
I would say do it because you want to and not because you're expecting to get money from ads or get free things out of it. Sure over the last year, we have been invited to attend and do coverage of many events at no cost to us and we have been sent free bottles. But let me tell you, it takes a lot of manual effort on our end, which pays for itself.
Content is key. You have to figure out how you will stand out from all the other blogs. Everyone has a niche. For me personally I try not to compete with the other whisky blogs out there. I simply cannot. I do not have the resources or the man power. I am a one person show. That is why I try to bring the content that I feel is both engaging and interesting and I will not have much competition from other blogs.
Lastly you really have to enjoy to write. As you know Matthias SEO is big in getting more and more readers to your site. And writing 2-5 sentences and keeping it brief will not build you any engagement. Also consider you will be paying for the domain, monthly hosting and other expenses. You almost have to enjoy writing as much as you enjoy breathing to have any type of success in this industry.
Let's switch gears a bit. In the course of your work, you've met a lot of people in the whiskey industry, from established brands like Macallan to smaller boutique whiskey companies. Given what you've seen, what would you say the ingredients (or mashbill in this case) for a successful whisky company is in 2018?
Great question Matthias. There are probably over 2000 craft whisky distilleries in the United States alone. Even more globally. Then you have the big brands like Balvenie, Macallan, Lagavulin to name a few. Then the international market has made a huge push into the whisky market with spirits such as Yamazaki hailing from Japan, Kavalan from Taiwan even Paul John or Amrut from India. To be a successful whisky company in 2018, I think you need to have the following formula.
Create a quality product. This means that if you are a craft distillery don't just start pushing out 6 month or 1 year bourbon or rye for instance. It's going to be very hard for you to compete with shelf space with some of the bigger well known players such as Michters or Elijah Craig. Also, don't just go into the business thinking you will be a millionaire. We have interviewed so many small craft distilleries, and most have done their homework and worked for another distillery and learned the craft. They sit on their products without seeing a profit because they want to release a 3-4 year aged product instead of white dog whisky.
Don't try to expand too quickly. Make sure you are well known in your area where the whisky is made. If you make whiskey in NJ, don't go for distribution in California. Make sure you're the top distillery in NJ and NY and other surrounding states.
Do not try to be like everyone else. IF you do, you will fail before you even get started. Be different.
Social Media is huge! Social media allows whisky companies to reach a major demographic of potential buyers of their whisky. Build your social media presence and find the right platform that gets you the most visibility.
Build relationships, go to events, make your product visible and known. Also do not price gauge to make a profit initially that will turn the customers off in the long run.
There's a reason some of the big companies like Macallan are the brand everyone knows about. Macallan does not spend money on marketing or billboards. When you make quality products at an affordable price, people will take notice.
Ok let's talk favorites. What is your favorite core line single malt, and what is your favorite hard-to-find whisky that you've had so far?
Oh man so many here for me. Favorite core line single malt is the Glenfarclas 17. At $99 retail this 17 year old is a true sherry bomb. I personally love anything finished in Oloroso Sherry cask. I feel it brings those inviting notes of toffee, dark chocolate and honey. Another great one in that price range is the Aberlour A'bunadh. Cask Strength sherry bomb, just cannot go wrong.
I've been fortunate to have had a lot of hard to find whisky, but I would say the once that stand out is the Rosebank 21 year old, Scotch Malt Whisky Society 71.42 Sinbad Preparing for a Journey – this whisky tastes and smells like salted popcorn. Lagavulin 1985 – 21 year old single malt bottled at cask strength was phenomenal.
What is one post on your website my readers should drop everything to read, and what is it about?
We've had so many over the years that it's pretty hard to choose just one. But if I had to I would say check out the interview we did of a whisky influencer on instagram Nate Woodruff aka @Whiskywithaview. 
Nate is one of those guys, former brand ambassador that is just a breath of fresh air. People see these instagram influencers as just someone who gets free things from whisky brands. But no one sees the hustle or the sacrifice it takes on the backend. I think Nate is a great example of what it takes to be a whisky influencer, and just a general whisky lover.
I have a lot of respect for anyone who can curate a beautiful Instagram or Twitter account in the whisky world. It absolutely takes a lot of time, hard work, and attention to detail.
What's the most surprising or even shocking thing you've learned about whisky, or the whisky industry, in the time that you've been writing?
Nothing really too shocking just my personal observations. There are some craft distilleries out there that just started out because they thought it would be cool to make whisky. They had no prior experience or knowledge of the process. Their whisky actually tastes pretty awful and expensive for what it is. I will not mention which distilleries I am speaking of in particular but there are quite a few.
The one thing that I've always had an issue with in the whisky industry was the lack of women. Women have a better sense of smell than men biologically and are some amazing bartenders, distillers, ambassadors even spirit distillery owners.  I wish more people interviewed these powerful and upstanding women of the industry. We have interviewed a numerous amount of women in the past that have contributed to such a major growth of the whisky industry as a whole, and we will continue to support them. Some of the best most outspoken and knowledgeable whisky ambassadors are women, to name a few Jordan Zimmerman (@jzimmerman_tx) formerly of Highland Park now works for Jura and Dalmore. Amanda Victoria (@ladyamandavictoria) from the Scotch Malt Whisky Society, Tracie Franklin (@glenfiddichtf) to name a few.
Thanks for taking the time to share your knowledge and experience, Gene. Where can people find you online and on social?
Thanks Matthias for doing this interview, I am really humbled by it. I am pretty active on instagram @Tastethedram and also my website Tastethedram.com has a lot of really interesting content. We have some impressive interviews coming your way soon. We have Interviews with Global Brand Ambassadors for Highland Park and Macallan, a few new craft distilleries, a few international whisky brands and local whisky/spirits restaurants around NYC, among many more in the near future.