Subtle Single Malt Neat Before Dinner or with Light Food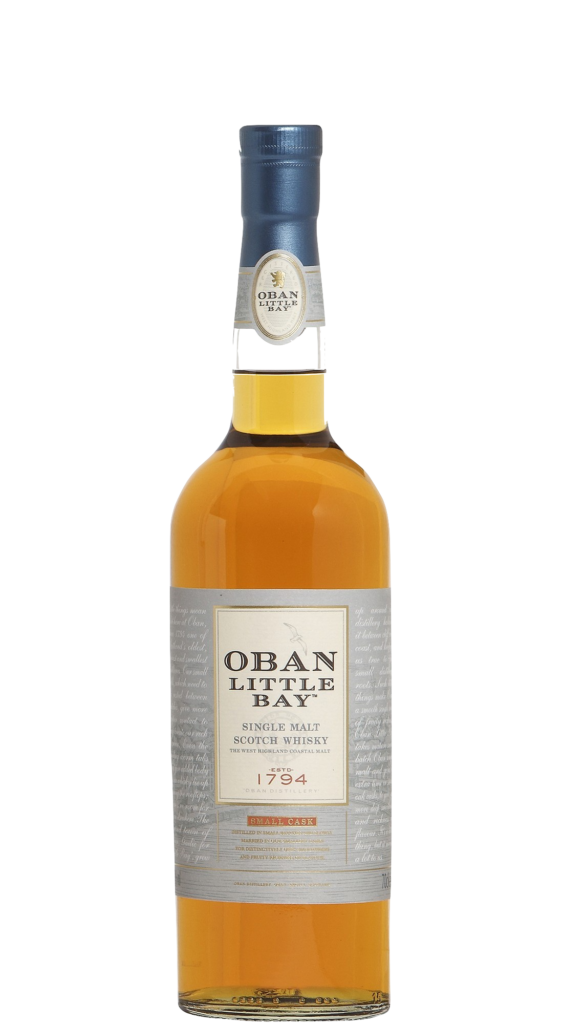 Whisky Reviewed: Oban Little Bay
Distiller: Oban (Diageo)
Region: West Highlands
Suggested Retail Price: $60
ABV: 43%
USC Rating: 94
Distiller Rating: 91
Mark's Review
The love and care Oban puts into this product is at once obvious. Start with a sweet dried fruit sensation and savor the golden liquid as it evolves into complex oak and spice notes. Its mid palate grace lingers until a modest smoke finish arises, only to vanish like the scent of a flower on a warm spring breeze. 
Oban Little Bay has such a tender balance. Try not to drown it in a cocktail. All those wonderful touches might dissolve. Neat or mixed with a few drops of water and your mouth can relish every moment.
But a word of caution if you drink this with a meal. A steak or other heavy dinner could overcome the whisky's flavors.
Here's a great idea: Pair this beauty with a first course. My wood grilled artichoke with champagne dipping sauce evoked nirvana. 
One hint: please cook (or order) your food making sure it's crafted in the same subtle manner. If you follow this advice, your taste buds will reach a spiritual plane (pun intended!)
Mark Garbin's Evaluation
| Aromas & Flavor Appeals to: | Optimal Client Type | Great For: |
| --- | --- | --- |
| Subtlety Aficionado | Apprentice | Cocktails |
| Power Flavor Admirer | Enthusiast | Neat Before Dinner |
| Balanced Devotee | Adventurer | With Food (Light Touch) |
| Uni-Directional Fan | Mountain Climber | Dessert or Afterwards |
| Chameleon Lover | Hedonist | With a Cigar |
USC rating:  Savory and earthy aromas dominate the nose, which is slightly smoky as well. Fresh grains and lightly toasted wheat crackers are subtle flavors in the mouth. The texture is suede like, with dusty notes, adding layers of depth to each sip.
Distiller.com rating: A complex nose with dried plums and apricots, confectioners' sugar, malt syrup, oak, and honeyed fig. The palate is as equally tempting, opening with nice malt tones, Granny Smith apple, citrus peel, sea spray and milk chocolate notes. Gentle oak and spice notes begin to emerge, with cardamom, ginger, and clove coming to the forefront before leaving. The finish is relatively quick and lively with orange marmalade covered scones and black tea to finish. –Distiller Staff