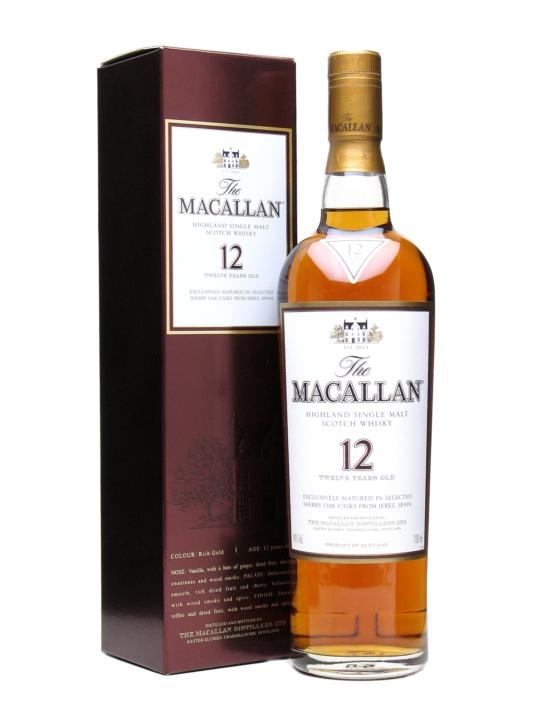 So, my usual bourbon aficionados and I were checking out at our usual store in Tampa when we spotted this prominently placed on a display. The red box immediately caught our eye, and we've had some good experiences with sherry cask finishes, so, we picked it up and enjoyed it so much we thought it deserved its own review.
Spirit Info
Distillery: The Macallan Distillers LTD
Spirit: Highland Single Malt Scotch Whiskey (matured in selected sherry oak casks from Jerez, Spain)
Age: 12 Years
ABV: 43%
Purchase Price: $57.99
Nose
A strong peat, charcoal, and sweet sherry scent immediately overtake the nose, followed by a light aroma of orange peel and floral-honey.
Palate
The sherry immediately hits you full-force and recedes into the typical Macallan single malt flavors of oaky-peat and smoky-charcoal. Undertones of citrus and dried cherries make a pleasant appearance, peaking at the middle of the taste.
Afterglow
For having such a bold flavor, the afterglow is surprisingly light. Honey and floral flavors stay on the tongue with slight tones of sherry and charcoal in the background.
Conclusion
Overall, it was a rather enjoyable pour. The depth of flavor and complexity added by the sherry oak cask finish is a wonderful addition to an already established selection. There is a very slight bite that comes a second or two after it hits the tongue, but it fades quickly and with it comes that beautiful complexity of competing flavors.
Grade:A-