Diamond Crown Robusto #3
While I was home for the holidays, a good friend of mine gave me a handful of cigars to taste and review. The Diamond Crown Robusto #3 that you see above is one of them. You may not have heard of Diamond Crown, but it is, in the words of its Public Relations officers, a "super-premium cigar." I'd describe the production background of this cigar, but the Diamond Crown website does it better than I could with my limited knowledge. The website says that "Diamond Crown cigars are handmade by the Fuente family with an exclusive Connecticut Fermented Wrapper (CFW) selected from the highest grade of silky, smooth, Connecticut Shade leaves. Unlike almost all other wrappers that are fermented once, Diamond Crown's CFW wrapper is fermented twice to develop a light rosado color and Diamond Crown's sweet, smooth, rich flavor."
I smoked this cigar late Sunday night at Velvet Cigar Lounge, located on Manhattan's Lower East Side on 7th St. between 1st and 2nd Avenue.
Specifics:
Wrapper: Connecticut Shade-Grown
Binder: Dominican
Filler: Dominican
Appearance & Construction:
The light brown wrapper is very smooth and slightly oily. Veins are very minimal, and the gold, maroon, and white band is attractive. The draw is perfect, and the cigar is firm but springy to the touch. Not a lot of smell off of the wrapper, and hints of grass and woodiness off of the foot.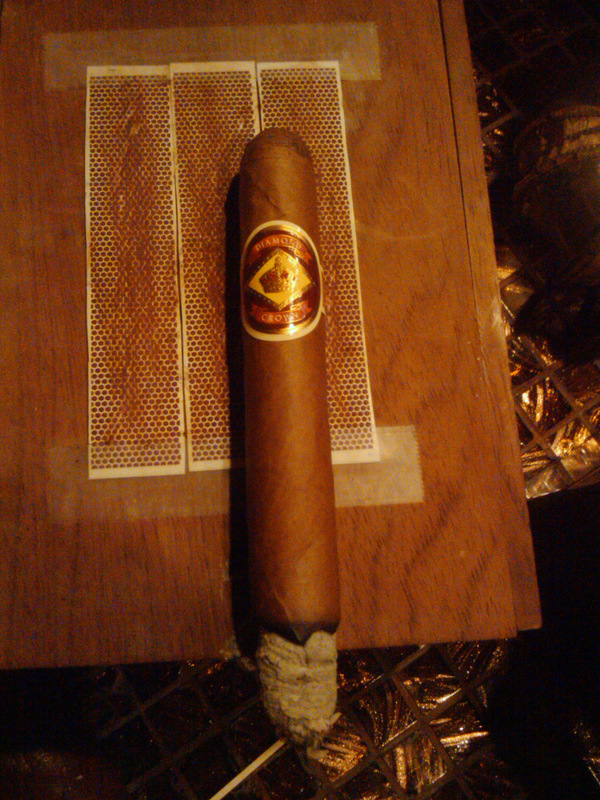 Taste & Smoking Characteristics:
The cigar opens with notes of woodiness, some grass, and faint sweetness. About an inch in, a slight savoriness enters the mix. The cigar produces an adequate but not ideal amount of smoke, but I'm guessing that will correct as I work through the cigar. About 25 minutes smoking proves the prediction true.  The ash is light grey and the burn stays razor sharp throughout the smoke. At about two-thirds, the sweetness disappears almost completely, leaving very mild flavors of grass and natural tobacco.  The final third picks up the body of the smoke as well as the sweetness. Watch out for the last inch or so, the heat might pick up quickly.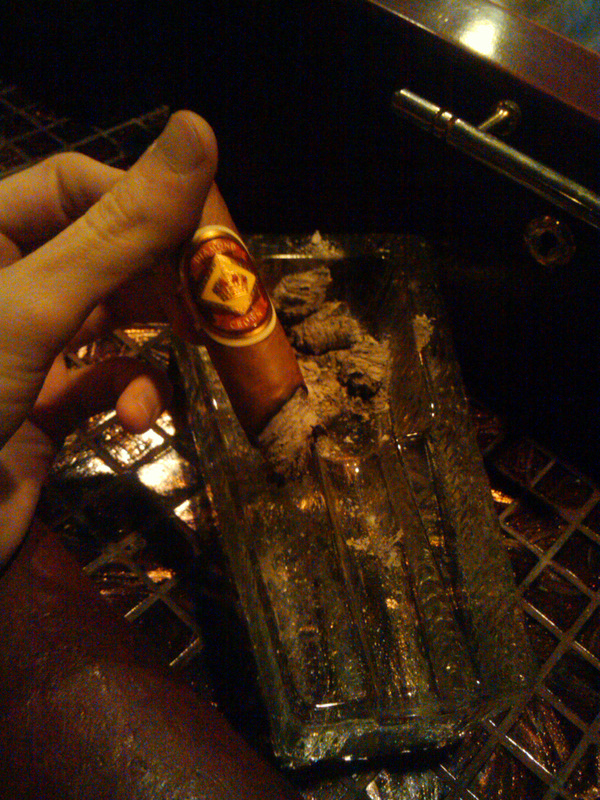 Conclusion:
At $13 a stick, this cigar isn't cheap. Still, it is an excellent smoke, and because I don't usually dwell in the land of mild and smooth cigars, I wouldn't hesitate to recommend this smoke to someone looking to purchase a quality cigar. This stick actually reminds me a bit of the Don Diego Playboy, though it is in my opinion more well-balanced.
Final Grade: B+