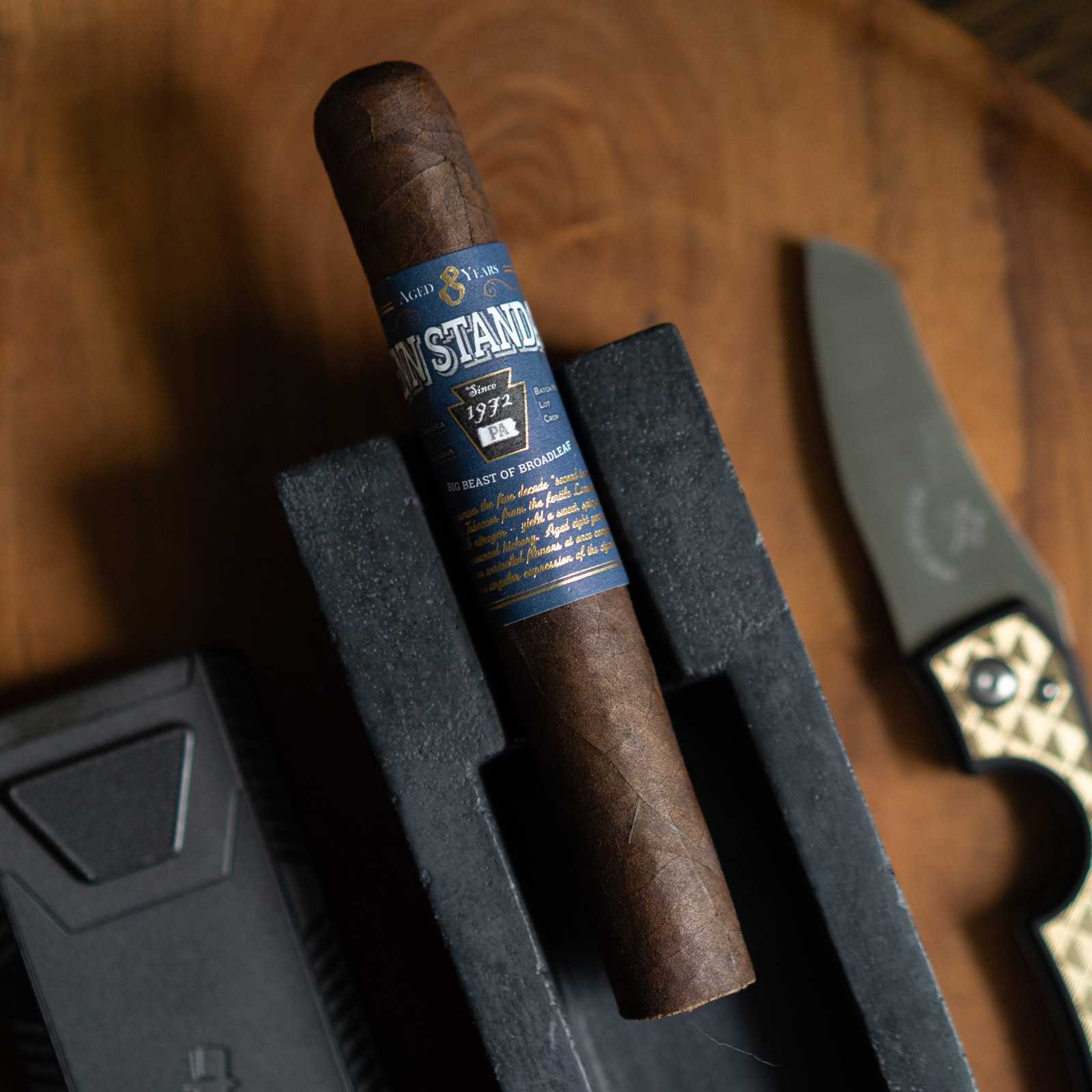 Budget friendly brand Penn Standard is cigar using a Pennsylvania Broadleaf maduro wrapper. I haven't smoked this brand before and I tend to shy away from "budget" smokes as they tend to be under fermented or underfilled. I'd rather spend more on better tobacco and enjoy the time I have to smoke. That being said if I ever find a cigar that has quality and value I am all over it. This being a blind tasting, I could only see at the beginning that it's a dark robusto that is waiting for me to smoke.
Blend Specifics
Cigar Reviewed: Penn Stand Pennsylvania Broadleaf Robusto
Wrapper: Pennsylvania Broadleaf
Binder: Nicaragua
Filler: Nicaragua, Pennsylvania
Size: 5″x 50 Robusto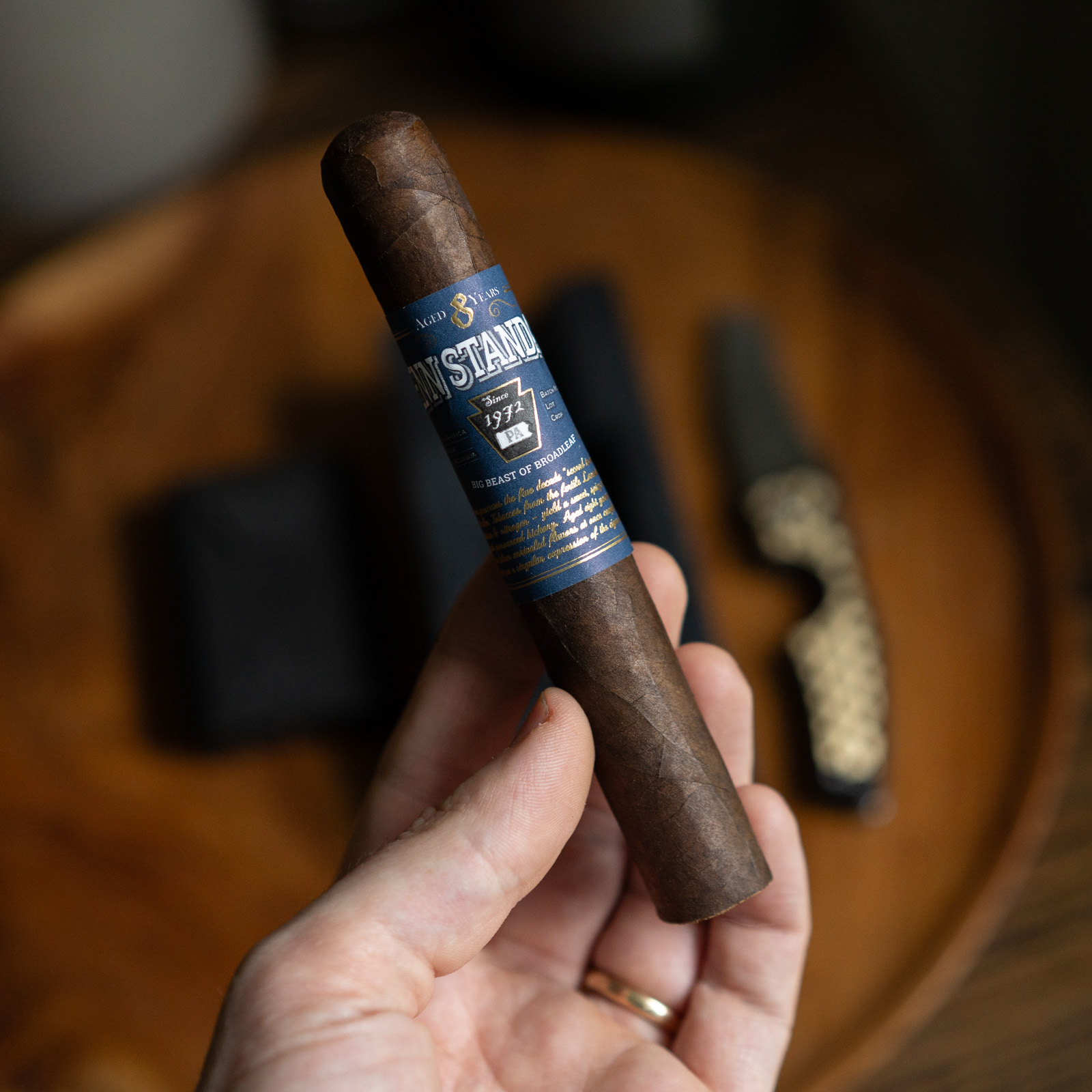 Appearance and Construction
This is a very veiny dark maduro with a rounded head and molted wrapper. To the touch it is rock solid as I give it a squeeze. Its a bit dry looking and as I give it a roll in my palm I can feel the veins in the wrapper. The foot smells of prunes and a dusty note.
Taste and Smoke Characteristics
Using my Xikar scissors I clipped the round head and the dry draw is of prunes and a bit sour. My single flame torch evenly lights the foot and the first puff is gritty and sour. I'm getting some tanginess on the end which is off-putting. The mouthfeel is chewy and the retrohale I take has a burnt almond taste that end soured. The burn line is perfect and the ash is becoming whiter. The profile is in the medium range although there isn't a substantial amount of smoke which surprises me as the cigar seems packed with tobacco.
The middle starts to develop an oak character with vegetal notes. There's a dustiness and tangy finish as take a slow draw and allow the smoke to waft into my mouth. The draw begins to become uneven and I pick up graham cracker and more wood. The retrohale brings white pepper and cedar with a short finish of balsawood. More smoke begins to appear as the robusto burns leaving a dense meaty flavor to it. The ash now turns gray with spots of white and continues its medium profile.
As I make my way to the last third there are hearty flavors of meat and oak which turn sour similar to the first half of the cigar. Over roasted coffee beans dominate the smoke and gives a burnt finish. Once again the retrohale gives white pepper and cedar without much complexity thus far. The grittiness returns with pencil lead and a longer finish than before. With a final draw the cigar dies off leaving a charry oak and cherry note that sat on my palate for a while.
Conclusion
As I said initially I am hesitate with "budget" cigars as even though I'm not expecting the most complex smoke, I find bitter notes off putting. This robusto had too many tangy and sour points for me to enjoy it as much as I could. What did appeal to me was the white pepper and cedar along with the graham cracker when it came around. Finding out this was a J. Fuego cigar and the price point I'll give it credit for its efforts however I'd seek out another cigar of better quality and value or spend a little more for something I will enjoy while I carve out a moment for a cigar.
Final Rating: 86