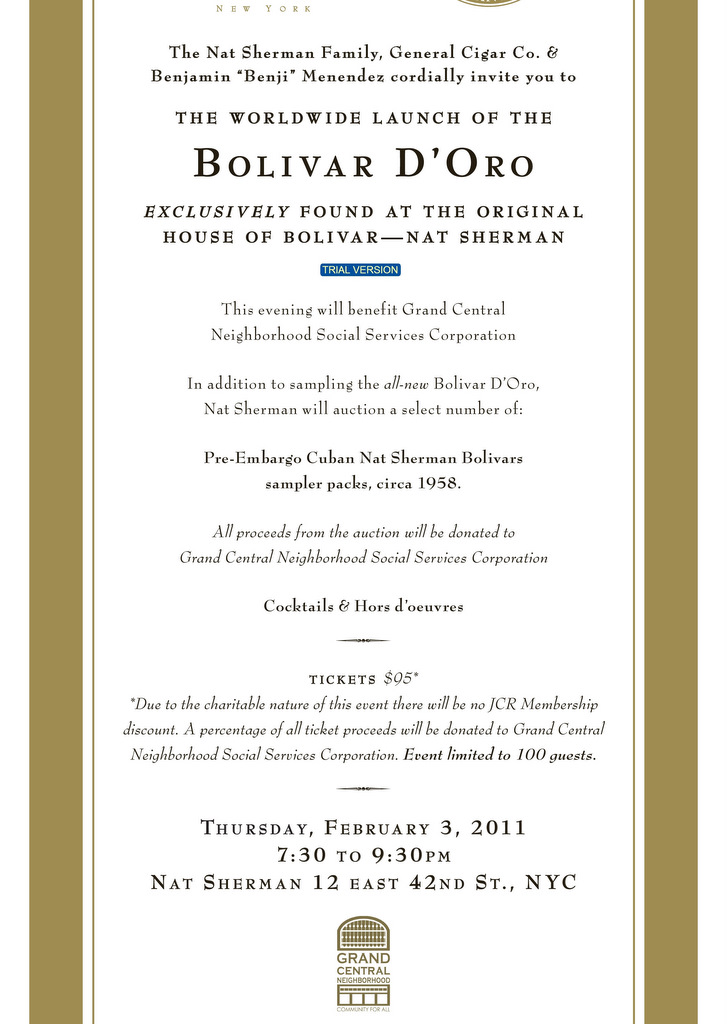 UPDATE — Due to bad weather, Nat Sherman has postponed this event. The new date/time of the event will be announced as soon as info is available.
——
Attention NYC cigar smokers! Nat Sherman International (located on 42nd st. between 5th and Madison) invites New York City cigar enthusiasts to participate in the worldwide launch of the Bolivar D'Oro line of cigars on the evening of Thursday, February 3rd. The event will benefit Grand  Central  Neighborhood Social Services Corporation, which provides services to over 300 homeless adults a day. Nat Sherman will also auction off a few pre-embargo Cuban cigar samplers that you can get more information on in the image to the left. Event entry costs $95 and the will include a sampling of the D'Oro line, cocktails and Hors d'oeuvres.
You can find the official Nat Sherman invite directly above, which I've (admittedly a bit hastily) converted from a .pdf file to a jpeg file for easier viewing.  In the future, event announcements for NYC cigar establishments will happen not in individual posts (like this one), but in an either weekly or bi-weekly aggregated announcement. I'm still not sure which it makes more sense to do, but I'll be rolling out the first few posts sometime in the next month.