NEW YORK, Oct. 9, 2012 — /PRNewswire/ — A new collection of some of the world's rarest single malts has launched at the Houston location of Spec's, one of the largest wine, spirits and fine food retailers in Texas. For the first time in the U.S., The Dalmore has released the Constellation Collection – the brand's very best whiskies created at its iconic Scottish Highland distillery between the years 1964 to 1992. The rare collection, which in its entirety will be sold for $250,000, was released to the public for sale on October 8th at an in-store unveiling.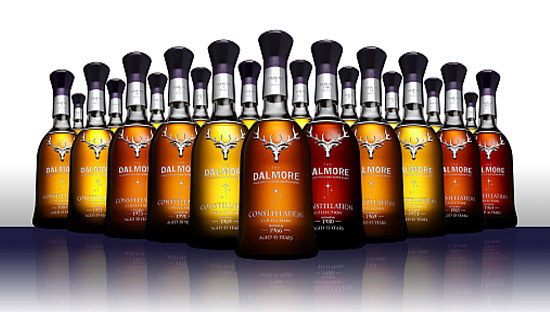 The Dalmore Constellation Collection consists of 21 individual vintage expressions, which have spent their lives finessing in the finest casks from around the world before being bottled at natural cask strength and at natural color to ensure that none of the collection's character has been diluted. Each expression is housed in a spectacular hand-blown crystal decanter, which has been engraved by hand and adorned with a solid silver stag. The Dalmore plans to only release nine full collections in cities around the world such as London, Paris, Moscow, and Hong Kong.
"It is with great pleasure to introduce the Constellation Collection at Spec's and to the United States," says David Robertson, Rare Whisky Director at The Dalmore. "These rare bottles of whisky, often referred to as Investment Grade Scotch, are rapidly becoming a hot commodity in the alternative investment market, and outperforming luxury goods such as gold and diamonds. These single cask whiskies from The Dalmore distillery are a truly remarkable piece of craftsmanship. They will certainly stand the test of time and continue to rise in value year after year."
Investment Grade Scotch has made waves in the media recently for high-ticket prices and even more so, their return on investment. In the last two years, The Dalmore has sold a number of rare and precious whiskies in record time. The Dalmore's Sirius peaked at $16,140 a bottle, and with only 12 available worldwide in 2009, the bottles sold out in four days and now have changed hands for twice that price. The Dalmore is also the fastest growing malt whisky in the world amongst the top 25 global malt brands, as verified by the IWSR (International Wine & Spirits Research), and is rated the top investment whisky by independent authority Whisky Highland.
"The Constellation Collection is an extremely rare and precious offering, and our customers will appreciate the opportunity to purchase something that only a few other people in the world have the privilege of owning," says John Rydman, CEO of Spec's. "Our customers who purchase some of the rarest bottles of scotch understand that this can be a superior alternative investment, actually outperforming some traditional alternative investment assets, and we are confident this collection will attract the right buyer."
The Dalmore distillery has been producing exceptional single malt whisky since 1839 and has some of the oldest and rarest stocks of any Highland distillery. Crafted using a process which has been perfected over the last 150 years, The Dalmore is now the world's fastest growing single malt and is home of the record-breaking The Dalmore Trinitas 64 year old and a number of other rare expressions such as Sirius, Selene, Candela and Oculus.
Parent Company History: Whyte & Mackay was founded on the docks of Glasgow in 1844 by James Whyte & Charles Mackay. As part of its award winning portfolio of spirits, Whyte & Mackay also own The Dalmore, Jura and Glayva liqueur.
Whyte & Mackay was bought by The UB Group in 2007, one of India's largest conglomerates with diverse interests in aviation, brewing, distilling, engineering, fertilizers, biotechnology, information technology and real estate. Becoming part of United Spirits Limited means that the Whyte & Mackay brands are now part of the world's second largest drinks group. For more information on The UB Group or United Spirits please log on to www.theubgroup.com
Spec's Company Information: Since 1962, family-owned Spec's has been providing exceptional service and an impressive selection of unique finds for hungry and thirsty Texans. With locations all across Texas, this once-small company now has tens of thousands of products in Texas Superstores(SM), including thousands of wines and spirits, mixers, hundreds of craft beers, walk -in humidors, gourmet foods and accessories.
SOURCE The Dalmore
Read more here: http://www.sacbee.com/2012/10/09/4894993/the-dalmore-launches-the-first.html#storylink=cpy