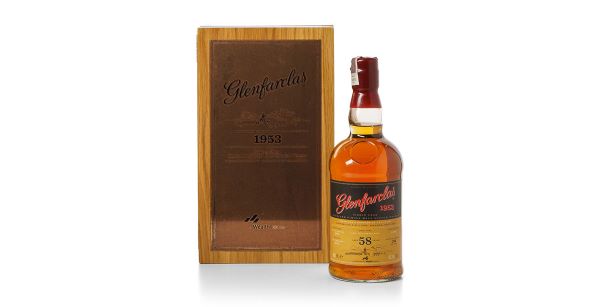 The Mark Littler Shop is currently offering the Glenfarclas 1953 58 Year Old Wealth Solutions #1674 for purchase, a rare find in the whisky market. Glenfarclas distillery, renowned for its long-aged whiskies, has no remaining stock distilled before 1953, making this vintage particularly sought after among collectors.
The Glenfarclas 1953, distilled on 20th November 1953 and bottled on 13th February 2012, is 70 years old as of this week. This single malt whisky comes from a single sherry butt, cask number #1674.
A panel of whisky experts and connoisseurs, including Serge Valentin of WhiskyFun, Ben Ellefsen of Master of Malt, Michał Kowalski of Wealth Solutions, and George Grant of the Grant family which owns Glenfarclas, handpicked this specific cask from four tasted for bottling and sale through Wealth Solutions in Poland.
Only 400 bottles of the Glenfarclas 1953 58 Year Old were released, making them extremely rare, especially in the UK market. The bottle is priced at £5,151 and is available on the Mark Littler Shop for those interested in acquiring some of the oldest remaining stock from Glenfarclas.