May 28, 2013 (Las Vegas, NV)—Enjoyment is in the details. Whether it is the finely designed cutter or lighter, the hand crafted humidor, a good drink, or the perfect music, the small things count. Yet one aspect of the art of cigar enjoyment that is often missed is the art itself.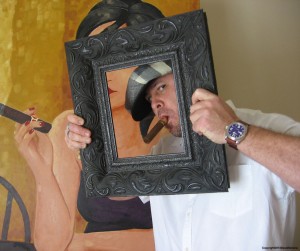 David Gerena, a midwestern based artist, wants to change that. A long time painter and cigar enthusiast, Gerena creates art to elevate the smoking experience. And now, Gerena and CigarArt.net are proud to announce plans to bring high quality prints and original artwork to IPCPR 2013 in Las Vegas.
"When I'm painting I disappear into the moment and leave the world behind," Gerena said. "Smoking a fine cigar and painting one combines two of my great joys in life, so I'm excited to share my paintings with the larger community at IPCPR 2013."
At the convention, CigarArt.net and David Gerena will display a new painting created specially for IPCPR.
In Gerena's years as a cigar smoker and painter, his creative talents have taken him from drawing comics and sketches to painting portraits of the likes of Liana Fuente. His art has appeared on numerous cigar blogs and websites and is available for viewing and purchase.
Enjoyment truly is in the details. Visit the CigarArt.net IPCPR booth for details, or log on to cigarart.net.