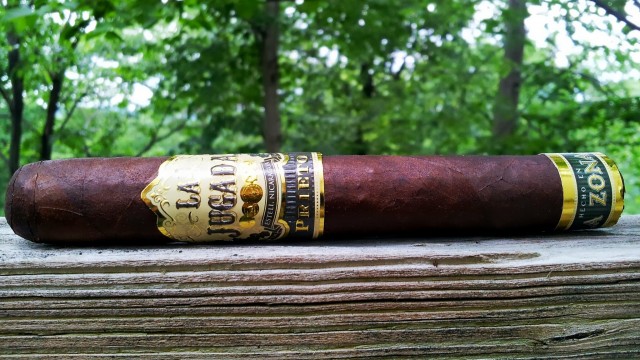 I've been hearing a lot of great things about La Jugada by Moya Ruiz cigars at shops and around the blogosphere. They're currently sold at numerous shops in New York City and New Jersey. You can also find them online. As you'll read below, I think this is a great purchase.
Blend Specifics
Wrapper: San Andreas Maduro
Binder: Nicaraguan
Filler: Nicaraguan
Size: Toro (6×52)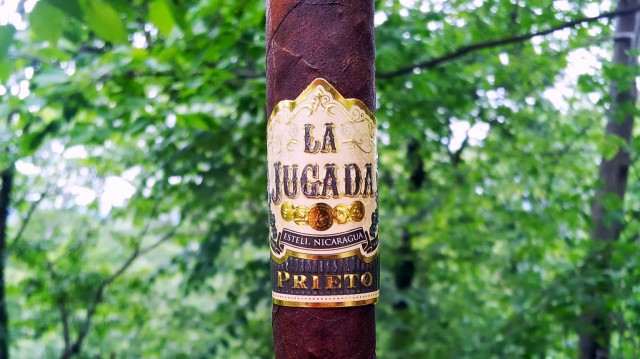 Appearance & Construction
I've seen a lot of cigars in my relatively short career smoking cigars. Few are presented as well as the La Jugada. The double-banded design features a scheme of off white, gold, and dark green, with a gold-metallic trim. Just gorgeous. The San Andreas Maduro wrapper complements the bands nicely with its warm, chocolate like appearance.
The scent off of the foot is strong, smelling of hay, granola, leather, dirt, and some coffee notes. Such a strong smell gets me excited to light up. I clip the cigar's triple cap, test the draw, and it is perfect, leaning on the slightly loose side.
Flavor & Smoke Characteristics
The La Jugada opens with a really nice bouquet of flavors including dark chocolate (very rich), black pepper, and a note reminding me of nice dark coffee with heavy cream . Very smooth, with slight spice of the retrohale. About half an inch in, the profile tones down to what I'd call a mild-medium bodied, medium strength smoke. It also becomes apparent that this is one of those cigars you have to remind yourself isn't to be eaten like a candy bar (it's just that good).
Moving in to the second third, the smoke becomes a bit less rich, revealing notes of woodiness and more coffee. Definitely medium bodied at this point. The smoke continues likes this for most of the second third, varying minimally. The burn up to this point has been wavy.
In the final third, the body builds up more to a medium-full bodied smoke. Much more prevalent is the black pepper and dry wood notes. This holds for most of the final third, but near the end a lot of the richness from the first third returns for a very nice finish.
Conclusion
La Jugada is a great addition to a crowded industry. It scores huge points on presentation, flavor, and complexity. At about $8, it isn't a cheap cigar, but it is well worth buying a five pack or even a box.
Final Grade: A-