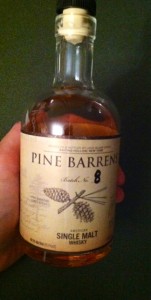 The newest small batch of Long Island Distillers Pine Barrens Single Malt Whisky is back with its 8th rendition of their premium blend. What makes this particular batch even more special is that Richard Stabile is now using his own crafted beer as the base for his Single Malt Whisky. For all the previous batches Blue Point Brewery's Old Howling Bastard was utilized and the distilling and aging was done at Long Island Distillery. With Long Island Distillers controlling the entire process they can enliven their single malt with the exact flavors they are looking for. The result is quite possibly the finest batch yet. Enjoy!
APPERANCE: A beautiful copper/gold color with delicate legs that took their time running down the glass. The rich hue of this whisky reminded me of an aged French wine with that certain level of sophistication and quality.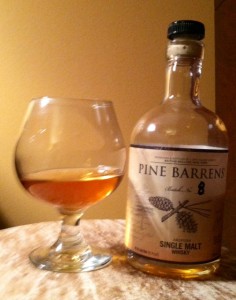 NOSE:  Initial flavors of cinnamon, spice, medicinal and heat come to the forefront. A second swirl reveals grains and some banana notes.
TASTE: This Single Malts comes at you with cinnamon/spices blending with banana and sharp oak on the tongue then developing into a sweet maltiness. The mouthfeel is lustrous and velvety with a lingering finish of hops, nutmeg, caramel and allspice. The finish literally "pops" and continues to develop on the palate.  A complex Single Malt for what is considered a young whisky.  A true connoisseur's spirit.
CONCLUSION: Having visited Long Island Distillers several times I can attest to their quality and attention to detail. Richard Stabile continues to develop high quality spirits and pushes ahead as to what flavors and textures can be achieved in a true small batch environment. I've been fortunate enough to sample other batches in the past and feel this one delivers the most unique and pronounced flavors yet.  So get on their website, harass your local liquor store and get your hands on Pine Barrens Single Malt #8 before its gone!
Long Island Distillers: http://www.lispirits.com/index.php