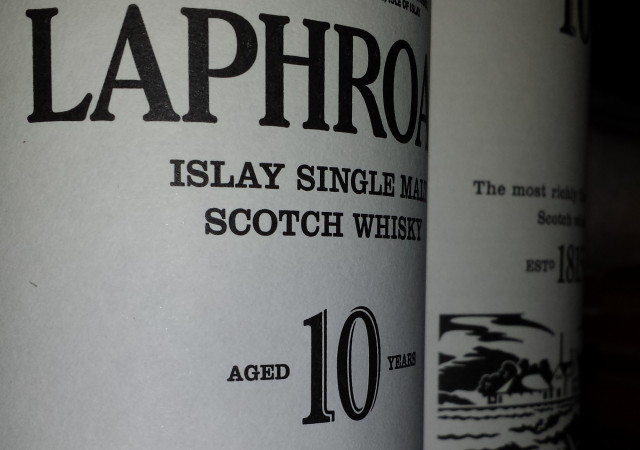 It seems like anyone beginning their journey in Scotch hears about the Laphroaig 10 Year almost immediately. It's the go-to "peaty scotch" for beginners. And what can I say? It is indeed a very enjoyable scotch, at a great price-point, that offers a good introduction to the world of peaty scotches. It wouldn't be my first scotch recommendation, but for any beginner looking to experience Islay, I highly recommend. Here's why:
Product Information
Spirit Type: Islay Single Malt Scotch
Producer: Laphroaig
Website: http://www.laphroaig.com/
Age: 10 Years
ABV: 40%

Nose
Get ready for robust, dominating peat. Smoke and black pepper up front, with an iodine (medicinal) note pushing through. As is common with Islay scotches, a whiff of sea salt is also present in the Laphroaig 10.
Taste
Heavily charred oak, cardomom, hints of vanilla, and pepper. I think in order to understand what this whisky is trying to say, you have to be vigilant in taking in the whisky's aroma as you sip. The smoke on the nose is a great compliment. The body of the whisky is a medium-full, which surprises me considering the relatively low 40% ABV.  I think the only occasional complaint I have with this whisky is the peat, though welcome, can at times be a bit distracting to the other interesting flavors present in the profile.
Finish
Surprisingly a very clean, bright finish. The lingering note is charred oak and peat. The finish is almost as good as the taste, which is saying something.
Conclusion
Are there better scotches out there? Sure, but for about $45 a bottle in NYC, this is a tough scotch to beat for anyone looking for a peaty scotch on a budget. This is a buy.
Final Grade: B+/A- (Buy)