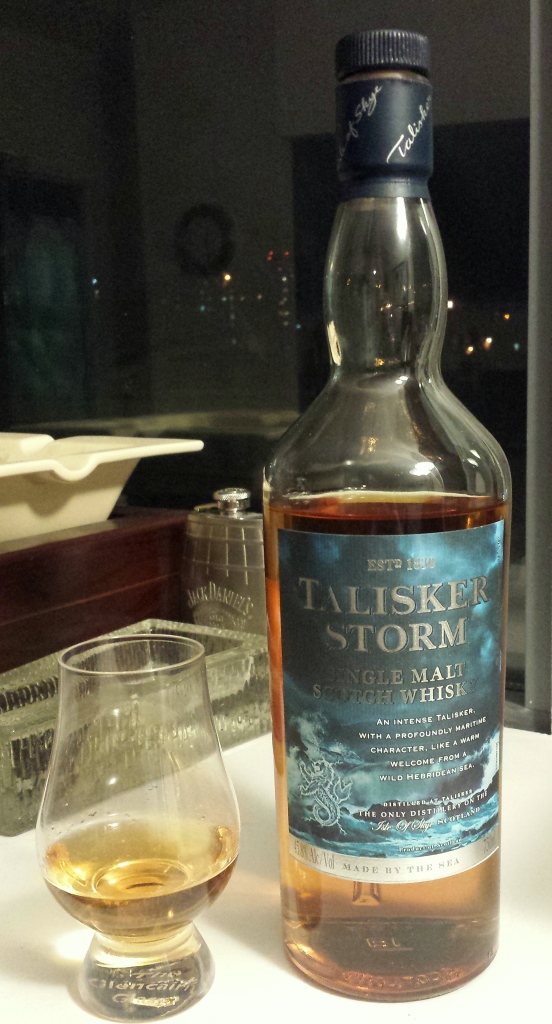 I've been a fan of Talisker single malt scotch ever since my first taste of the Talisker 10 Year about a year and a half ago.  The Talisker Storm, released by Diageo in 2013, is a No Age Statement (NAS) bottling, so there's less factually to know about this spirit.  What is immediately obvious about this bottling, however, is that it bears striking resemblance to the 10 year though with some important differences, mainly to do with a heightened strength and aggressiveness.
Bottling Specifics
ABV: 45.8%
Age: no age statement
Nose
On the nose for Talisker Storm are notes of pepper, smoke, honey, and banana.
Palate
Talisker Storm opens with a nice medium-bodied oaky sweetness. Mellow, with mild peat and slight saltiness. Gentle yet full flavored all at the same time. Some harshness betrays this is probably a younger spirit than the 10 year.
Finish
Very clean, warming, with a lingering sweetness.
Conclusion
Talisker Storm is, as one online commenter put it, like "a storm in a tea cup."  Somehow mellow yet powerful at the same time.  I'm not sure I would take Storm over the 10 Year, but it's certainly a good bottle to buy, especially since I've seen bottles of this product selling for around $50 at different shops in the city.