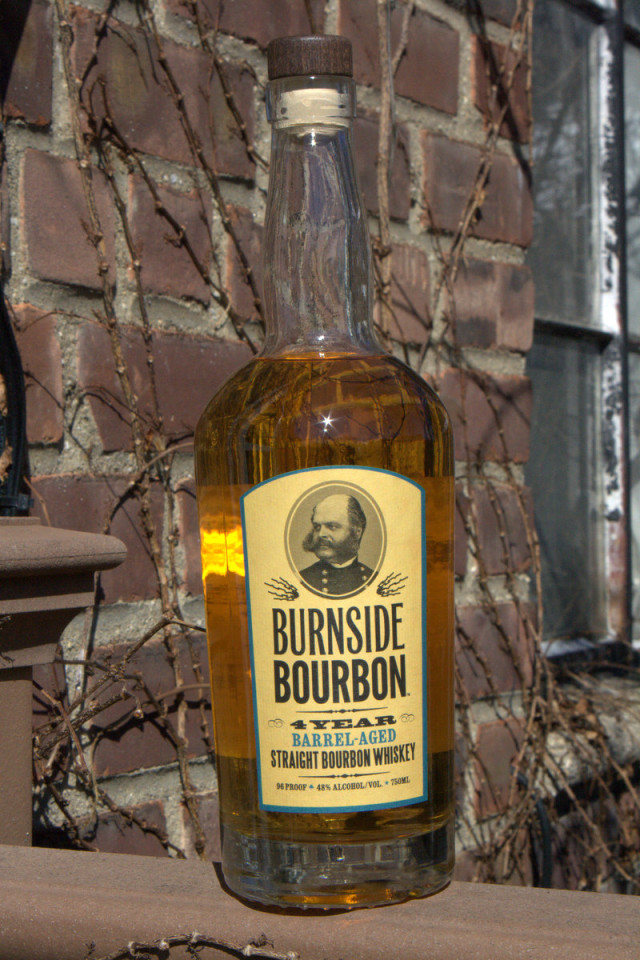 A couple of weeks back I stopped by a local liquor store in Astoria and came across Burnside Bourbon. There are lots of new boutique distilleries releasing new products every week, but not many from my home town of Portland, Oregon, so I decided to give it a shot.
And without further ado, here's the review (that rhymed, right?).
Specifics
Spirit Type: Bourbon Whiskey
Distillery: Eastide Distilling
Age: 4 Years
Proof: 96 proof

Appearance
The first thing that you notice when looking at any bottle of Burnside whiskey is the prominent portrait of none other than General Ambrose Burnside, who (you may have guessed), rocked sideburns so hard that they are named after him. The label on the bottle has a classic shape and a sort of washed out paper character that sings of the Civil War. The color of the spirit is a light amber.
Nose
On the nose I pick up heavy notes of corn, vanilla, and some oakiness, all behind a not so subtle ethanol.
Taste
I like the texture of this whiskey. Medium bodied texture starts smooth, and ends a bit rough — a bit like the Northwest in character if you ask me (though this whiskey might be a bit more on the smooth side). As for notes, I pick up oak, hints of rye, and light vanilla and caramel notes. Not exactly overwhelming on the taste side of things, but enjoyable all the same.
Finish
The finish here is medium length with about an average amount of ethanol burn. Pretty standard for what you'll get for a $25 bottle of whiskey.
Conclusion
For about $25, this whiskey is worth a shot. It has some nice offerings from a flavor and texture standpoint, but there are dozens of contenders in this same price-point competing for this market.
Final Grade: B-