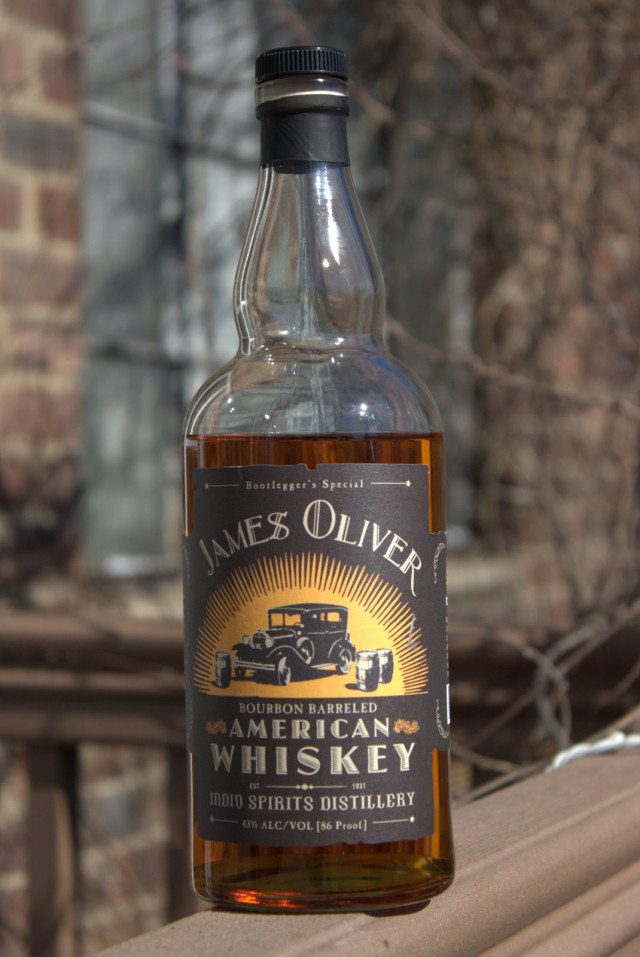 A few weeks after reviewing Burnside Bourbon, I was contacted by representatives of Indio Spirits Distillery in Portland, Oregon and asked if I wanted to review a few of their spirits.  I agreed and along in the mail came a few (very beautiful) bottles of whiskey. Three in total, including their American, Rye, and Canadian blend whiskies.
The Bourbon Barreled American Whiskey up for review today is particularly exciting to me because it is a high rye whiskey, double-barreled in used bourbon and sherry barrels. On the website, they claim the whiskey is "barreled and bottled" in Oregon, leaving some speculation open that the whiskey itself is being imported from somewhere else (UPDATE: the corn whiskey is sourced from MGP in Indiana, the rye from Bardstown, KY). In any case, this whiskey also won a "Best American Whiskey" Gold Medal at the 2015 International Whisky Competition.
With the background out of the way, let's begin the review.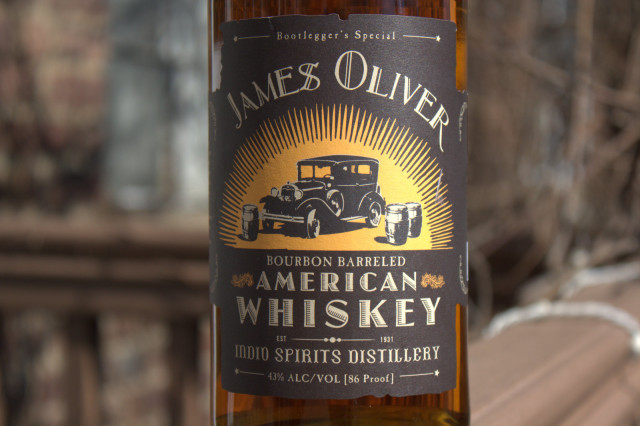 Appearance
I really enjoy the branding and appearance of all of the James Oliver bottles. There's a real retro feel going on that satisfies my inner hipster (a small, quiet voice, I assure you). The whiskey itself is golden with a slight reddishness (the sherry finish, I assume).  For what it's worth, this bottle looks great on a shelf, moreso if you collect each of the whiskies from this producer.  The only thing I'm confused about is "Est. 1931" — an impressive date but seeing as Indio Spirits was founded in 2004, I'm not sure what the reference is to.
Nose
The nose gives away that this is a high-rye whiskey. Spices, some breadiness, oak, and a touch of vanilla. The combined aromas are very pleasant, an added bonus being that there's very little ethanol burn so I can enjoy the aroma without feeling my nose light on fire.
Taste
To me, this whiskey tastes very much like a high-rye bourbon–it just doesn't bite like most of the high-rye bourbons out there. The texture of the whiskey is medium bodied, quickly coating my palate. I pick up lots of caramel, rye spices, some vanilla, and a hint of that sherry–very enjoyable.
Finish
The finish here is long and smooth, with just the slightest touch of burn.
Final Thoughts
I give Indio Spirits a lot of credit here for thinking outside of the traditional American whiskey box by double-barreling this whiskey in ex-bourbon and sherry casks.  But they didn't just think outside the box, they also delivered a quality product. I really appreciate how this whiskey packs a lot of flavor into a very smooth dram. It stacks up well against its other ~$30 competitors and it definitely deserves a bottle purchase.
Final Grade: B+