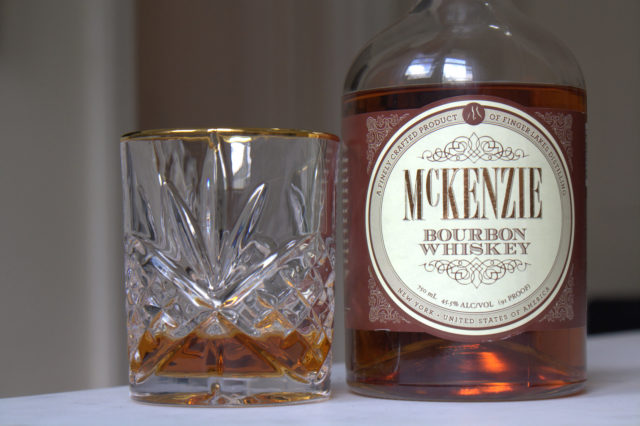 A few years ago, we did a wonderful whiskey education event at Cielo Bar in Times Square featuring our whiskey up for review today. At the event, we actually tasted both the McKenzie Bourbon and Rye. This bottle has been sitting on my shelf since then, waiting to be opened and reviewed.
The Whiskey Jug reports that this whiskey is aged first in new oak barrels, and then moved to large ex-Chardonnay casks. I didn't find this information on the Finger Lakes Distilling website, but it does explain some of the nuances of this bourbon that I enjoy.
Product Specs
Distillery: Finger Lakes Distillery
Mashbill: 70% corn, 20% rye, 10% malted barley
Age: 18 months (1.5 years)
ABV: 45.5%
Appearance
In the glass, this bourbon is a golden, corn yellow. The bottle itself doesn't scream for attention – it has some classy branding but is ultimately understated.
Nose
The nose is assertive, bright, and complex. Possibly a result of it's relatively low age, possibly as a result of the substantial rye content. Notes of kitchen spices, fresh grapes, and some caramel.
Taste
On entry, this whiskey is full of zest, with caramel, lots of fruits (green apples and plums, which I take as the influence of the Chardonnay finish), and oak. Very enjoyable.
Finish
Sweet and long, with notes of spice and banana bread.
Conclusion
Though this whiskey hasn't received rave reviews by other bloggers, I absolutely think this whiskey is deserving of at least one bottle purchase. Though this whiskey is by no means new to the market, it does offer something unique that bourbon fans will enjoy and possibly even bring into their lineup.
Final Grade: B+