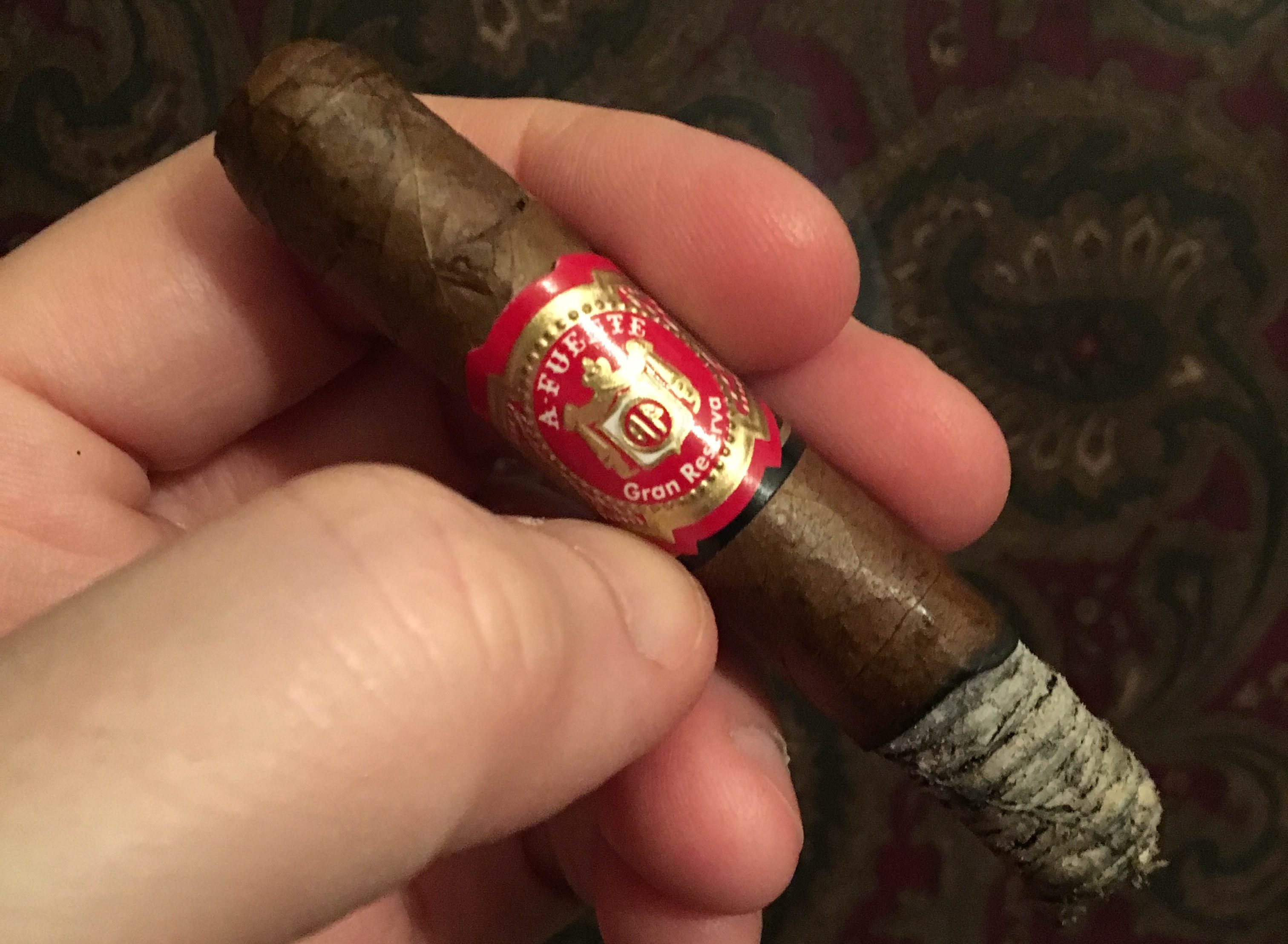 I was sorting through my humidor and came across one of my favorite vitolas made by one of the best cigar makers around. The Don Carlos Lancero which is the line that Carlito son of the late Don Carlos created to honor his father is a site to behold. What makes this cigar intriguing is it's scarcity compared to the other sizes in the Don Carlos line. The Don Carlos lancero has been sold sporadically in samplers and select stores and seems to be parceled out in limited qualities.  I find this size cigar to offer concentrated flavors in its smoke.  I've been fortunate enough to receive some bundles from good friends over the years and was looking forward to revisiting this cigar. Enjoy.
Blend Specifics
Wrapper: Cameroon
Binder: Dominican Republic
Filler: Dominican Republic
Size: 7.2″ × 41″ Lancero
Appearance and Construction
Covered in a cedar sleeve this is a well crafted cigar with few veins and a gorgeous pigtail cap. The slightly dark Cameroon wrapper showcases the Fuentes importance in the the appearance of their cigars. Long and slender this cigar tells you that you need to take time and care when smoking it.
Flavor and Smoke Characteristics
The first few  puffs give you that sweet profile indicative of a Cameroon wrapper.  A little white pepper and graham cracker on the palate  builds into a nice start.  Lanceros offer the smoker a tasting display of the wrapper that is being used and this one is something else.
Midway leather and sour cherry notes come into play integrating with raw sugar sweetness. In addition a bit of spice picks up however never too overwhelming. The lancero is a medium bodied smoke at this point with nuanced flavors.
The final third gives sweet and salty characteristics along with  cherries and a long finish. As the cigar nears closer to the end I get a honeyed tea like quality that rounds the cigar out nicely.
Conclusion
Lanceros are said to be a " Connoisseurs Smoke" as the use of quality long filler Tobacco  burned properly can yield wonderful flavors in this vitola. The Fuentes are known for their quality, creativeness and adherence to detail. The Don Carlos Lancero is a cigar that if you can find it will offer the seasoned smoker a sophisticated medium bodied smoking experience.