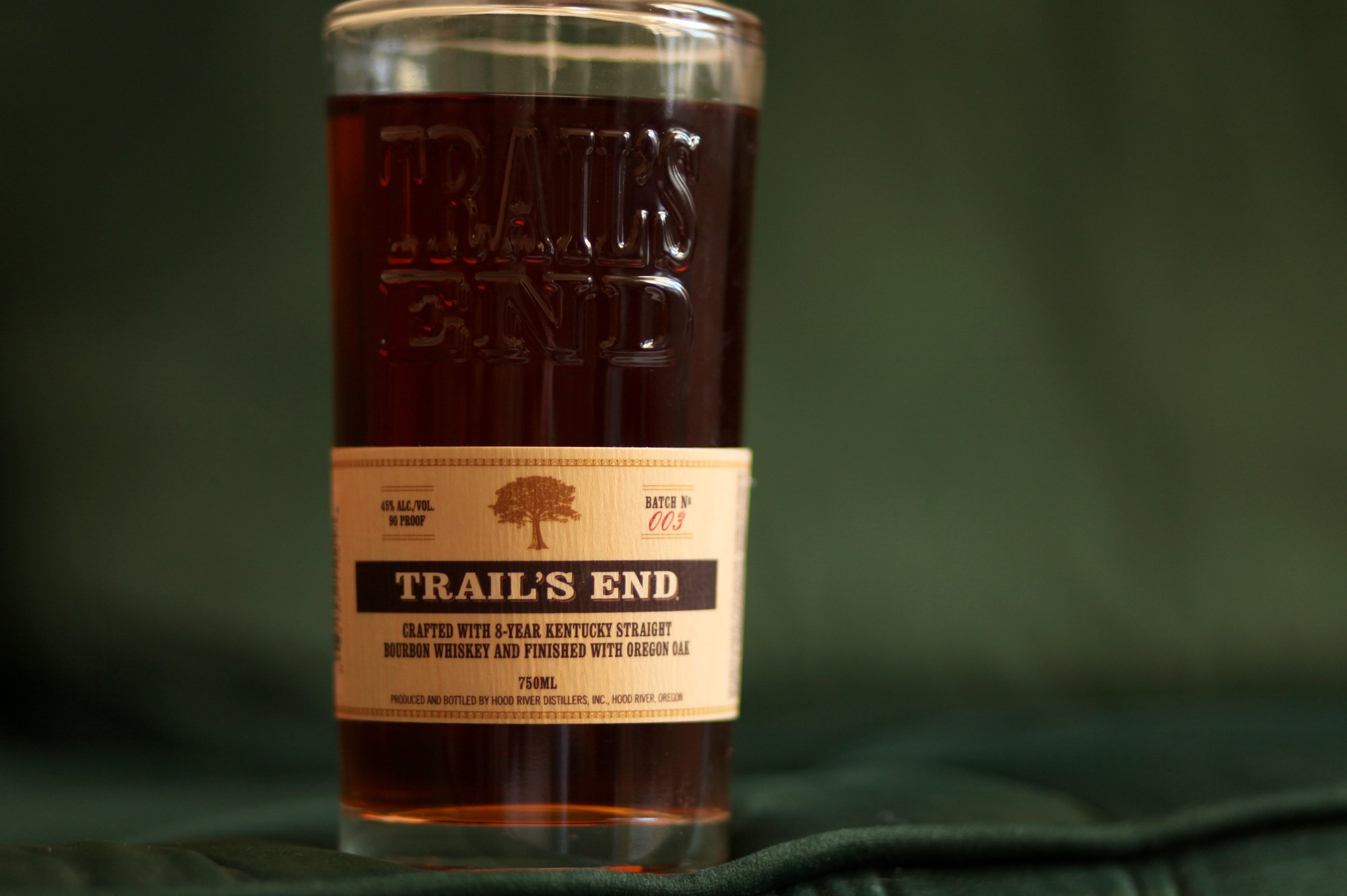 Up for review today is a relatively new whiskey from Hood River Distillers that was created in collaboration with Clear Creek Distillery.  Clear Creek Distillery is the producer behind McCarthy's Oregon Single Malt Whiskey, an extremely well crafted and popular single malt that has won the hearts of many a whiskey blogger (myself included). So, I'm excited to try this product if for no other reason than the minds at Clear Creek Distillery were involved in the making of it.
Also cool to note about Hood River Distillers is that they're not just churning out whiskey in isolation. After 2017's nightmare fire season burned huge swaths of Oregon forests, HDR partnered with the National Forest Foundation to give part of the proceeds of each bottle of whiskey to support reforestation. Bravo, guys.
Alright, on with the review…
Product Specifics
Whiskey Reviewed: Trail's End Bourbon
Distiller: sourced (not specified)
Bottler: Hood River Distillers
Mashbill: at least 51% corn, rye, and malted barley
ABV: 45% (90 proof)
Cask: New Charred Oak and finished with Oregon Oak staves
Age: 8 years
Batch: 003
Notice here the distinction between "bottler" and "distiller." Since this is sourced whiskey, we really don't know which distillery produced it. Does that mean it's bad whiskey, or somehow cheap? Not at all. Some of the most popular brands on the market today use whiskey sourced from MGP, including big names like Angel's Envy, High West (one of my favorites) and dozens more.
What matters is, does the person purchasing and blending the sourced whiskies know what they're doing? In this case because Hood River Distillers is working with Clear Creek Distillery–a distillery that has proven it knows whiskey–I have faith even before tasting this that the product will be, at minimum, thoughtfully produced.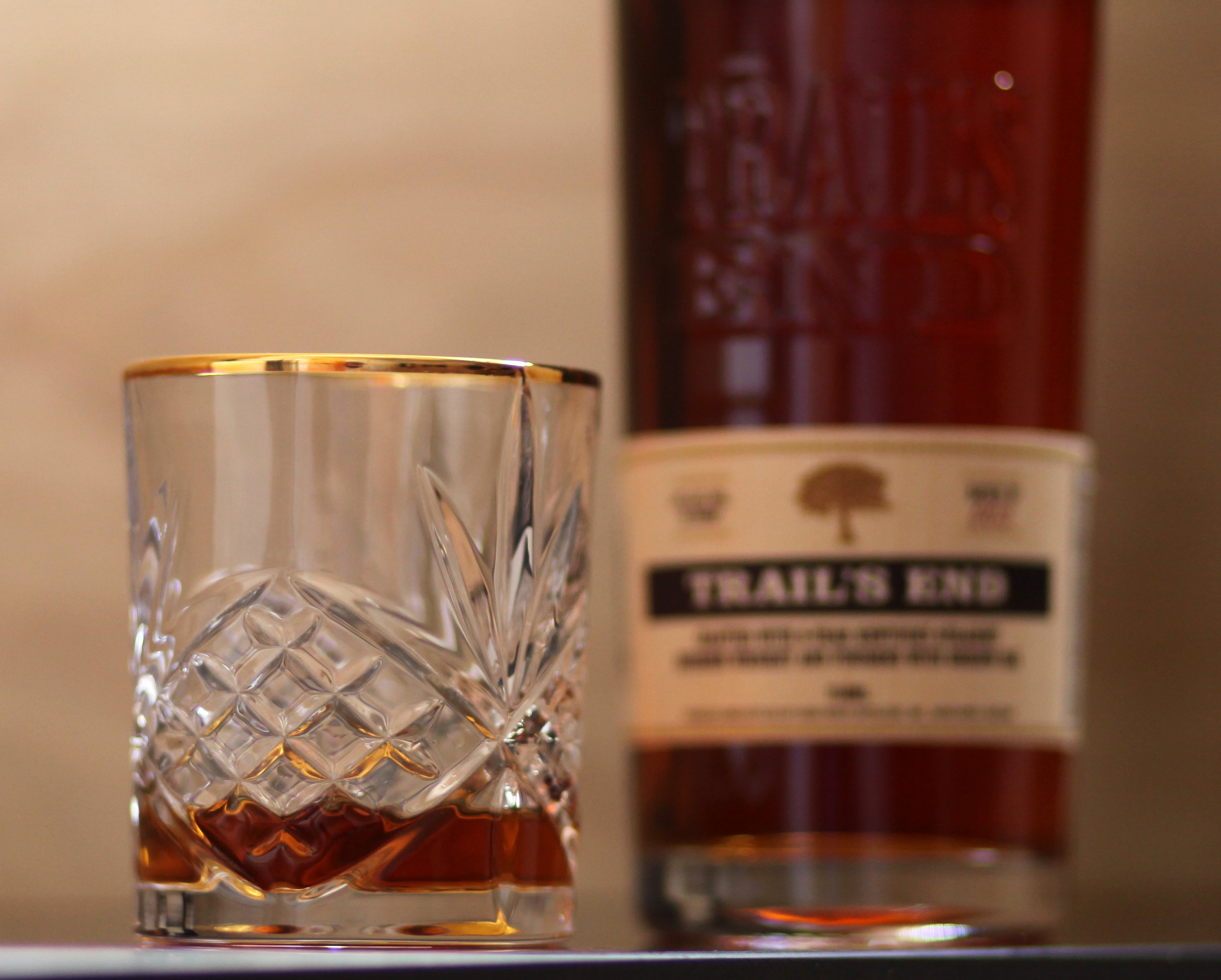 Appearance
The bottle that this whiskey calls home pays obvious respects to Oregon, its origin (at least in terms of bottling). Unlike 99% of bottles you'll encounter, this one actually has the logo and product information printed directly on to a very thin slice of wood.
The Oregonian in me is pleased.
As you can tell, the whiskey in this bottle is very red. The lighting for these shots create the impression that it is darker than it actually is, but it is still a dark copper tone with red hues.
Nose
The aromas off the glass are assertive but without much burn. Heavy doses of caramel, vanilla, rye and a bit of oak.
Palate
Other reviews have noted that this whiskey starts off hot and aggressive on entry. That isn't my experience, though to be fair I'm drinking batch 003 and other reviews have focused on batch 002. To me, batch 003 is soft on entry with butter and vanilla (this may be the Oregon Oak). Then the flavor blooms immediately, with lots of rye spice and some chocolatey character. The mouthfeel is really round (a texture I enjoy) and for that reason this whiskey is extremely drinkable.
Finish
The finish is long, with oak, vanilla, a bit of rye, and moderate ethanol burn.
Conclusion
This was a difficult review for me to write, partially because every glass of Trail's End I poured to review came loaded with my hopes and expectations that this whiskey would live up to the incredible quality of McCarthy's Single Malt. In the end, it didn't, which was disappointing.
Still, Trail's End is a very drinkable whiskey. The vanilla character pops more on this bourbon more than I'm used to, which could have to do with the Oregon Oak staves. It's a quality I really enjoy, along with the oaky roundness and rye spice. For those reasons, Trail's End is a whiskey worth buying. The chances you'll find it at a bar is nil so I'd recommend purchasing it at your local liquor store or online.
Final Score: 88
Disclaimer: the fine folks at Trail's End graciously offered this bottle for review. While I'm grateful they did, I retain all rights to speak my mind.