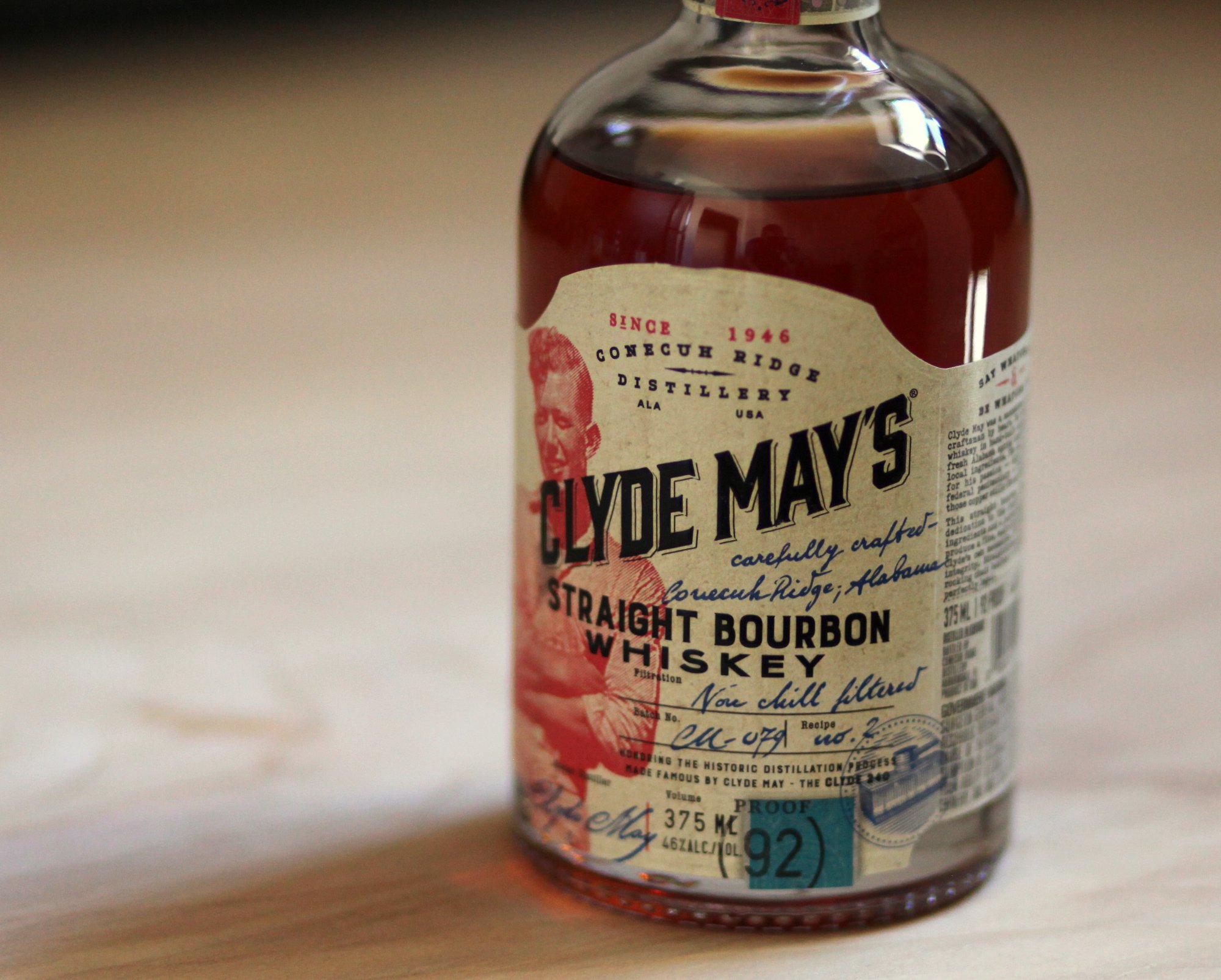 Up for review today is Clyde May's Straight Bourbon Whiskey, a whiskey from Conecuh Ridge Distillery. Clyde May, the namesake for this brand, was a legendary Alabama bootlegger famous for his moonshine which was reportedly of a higher quality than other moonshines at the time (this could be saying a lot or a little, depending on your perspective).
If you're a fan of company backstories, I highly recommend reading about Clyde May's on their wikipedia page. If you're too lazy to click the link or have some kind of grudge against Wikipedia (jerk), here are some fun facts about the brand:
Fun fact I: Clyde May's Alabama Style Whiskey (characterized by adding oven-dried apples to the barrels used to age the whiskey) was designated the official "Stage Spirit" of Alabama by the state legislature in 2014.
Fun fact II: in September of 2017, the company announced plans to build a new distillery in Troy, Alabama, roughly 20 miles from where Clyde May originally made his whiskey.
To me, Clyde May's Straight Bourbon Whiskey is interesting in particular because it's so controversial. Some reviewers enjoy it, others hate it (even if they wouldn't use those exact words).
Here's my take.
Product Specifics
Whiskey Reviewed: Clyde May's Straight Bourbon Whiskey
Distiller: Conecuh Ridge Distillery
Age: Five years
ABV: 46% (92 proof)
If you're a whiskey enthusiast, one fact to be aware of is that this is a sourced whiskey, with some speculation on the blogosphere that it may be from Heaven Hill.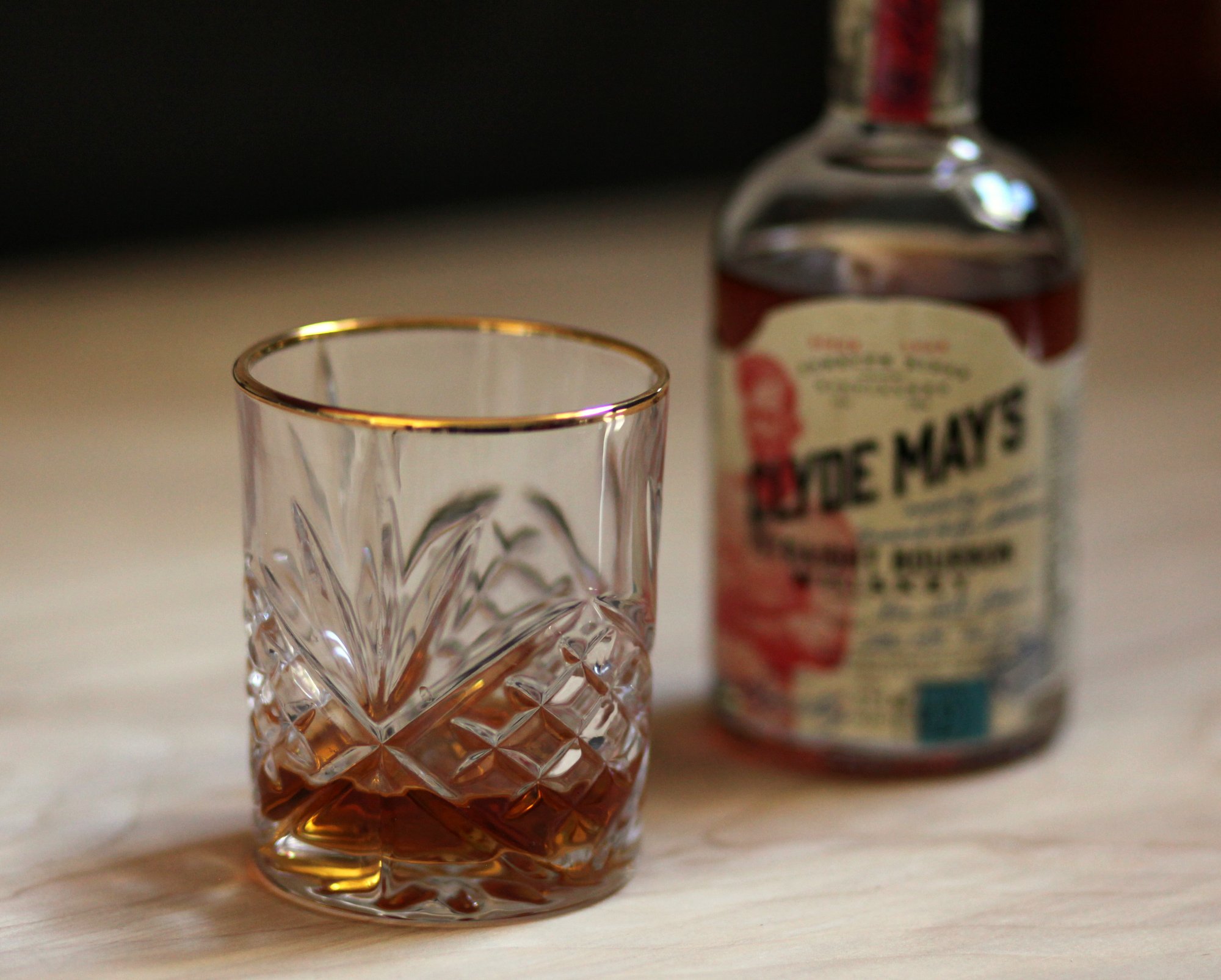 Appearance
Love it or hate it, you've gotta admit that Conecuh Ridge Distillery knows how to brand a product. Clyde May's Straight Bourbon comes packaged in a classic shaped bottle with a vintage paper label. Great color selection as well – the read and blue elements really play well off of each other.
The whiskey itself is a golden corn color with a twinge of amber.
Nose
The nose is inviting, with predominant butter and caramel notes, along with a touch of vanilla. It's a fairly standard nose as far as bourbons go, but it has a nice weight to it that cheaper bourbons don't have. It's also low on ethanol burn which is a plus.
Palate
Clyde May's bourbon hits the palate gently but immediately (and somewhat aggressively) blossoms. The flavor profile kicks off with a round, buttered caramel and vanilla note that is then complemented by peanuts, rye, and a dash of cinnamon powder. Quite enjoyable.
Finish
The finish, though decently long, has a bit more ethanol burn than I like and lingers in a way I don't entirely enjoy. The sweetness that worked so well initially a twist of bitterness that doesn't conclude the experience as well as a cleaner or perhaps spicier finish would.
Conclusion
Clyde May's Straight Bourbon Whiskey is an enjoyable bourbon, though by no means a perfect one. At $40 a bottle, it faces competition from some pretty spectacular bourbons. If you're a bourbon drinker and looking to expand outside of some of the more standard expressions on the market, give Clyde May's Bourbon a try.
Final Score: 87
Disclaimer: though not my first bottle of Clyde May's whiskey, the bottle reviewed today was gifted by Clyde May's. Though we're appreciative, we retain full rights to speak our mind.