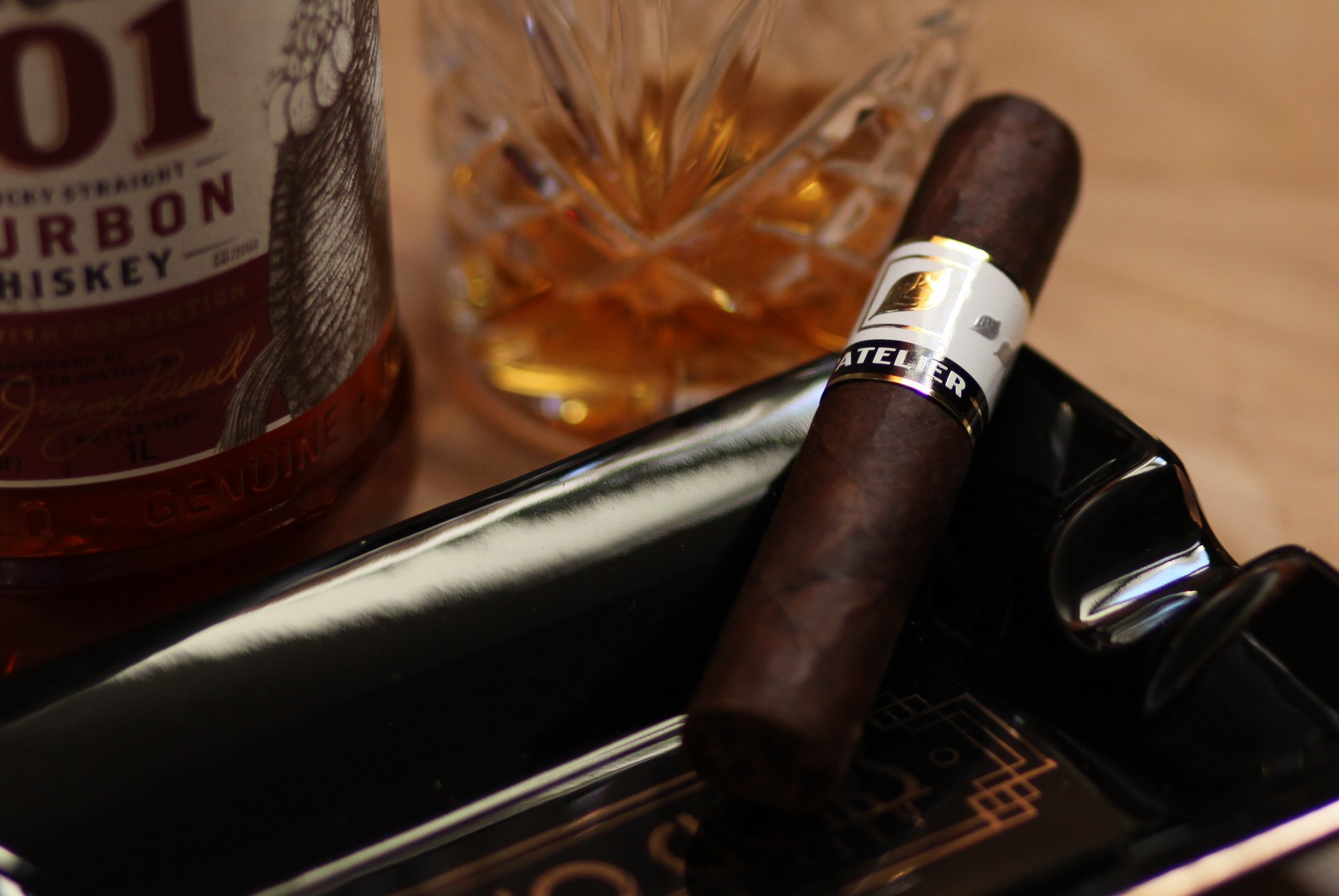 Up for review today is the L'Atelier Mad 54, another cigar from Tatuaje. The L'Atelier Maduro line was originally released in 2013, roughly a year after L'Atelier Imports was first spotted at IPCPR 2012.
This cigar in particular has received high praise from respected reviewers, so I'm excited to take it for a test drive.
On to the review.
Product Specifics
Cigar Reviewed: L'Atelier MAD 54
Wrapper: Connecticut Broadleaf
Binder: Sancti Spiritus, Nicaraguan
Filler: Nicaraguan
Size: 5 1/2 x 54

Appearance & Construction
The L'Atelier Mad 54 sports a dark, toothy Connecticut Broadleaf wrapper which plays quite nicely off of the white and reflective gold band. The cigar is slightly springy when squeezed and is packed evenly down the length of the cigar. Smelling the foot, I get a blast of pepper, salt, cedar, and steak rub. Very Pepin!
The pre light draw is lightly restrictive, probably a 5/10 on the draw scale, and reveals warm, earthy tones of cocoa and oak.
Flavor & Smoke Characteristics
The Mad 40 kicks off with a blast of pepper, hickory, charcoal, and sweet creaminess. Really interesting combo. Smoke production is excellent, and the retrohale is medium in strength and reflects the charcoal and oak from the palate.
An inch in, the ash is holding strong, though the burn is wavy. The ash is almost entirely white and could be mistaken for the band itself. The retrohale is now much stronger, and the sweetness on the palate has moved to the back seat, putting the charcoal and pepper in the spotlight. This profile is enjoyable, but I can't help feeling that it could have a bit more finesse and complexity.
At halfway, my wish is granted, at least as far as complexity goes. On top of the charcoal and oak, I pick up some Fuente-like vegetal notes and a musty kind of texture. Still, the cigar is a bit much, with the charcoal and bitter chocolate notes acting as a barrier to finesse that would otherwise be present.
Entering the final third, the smoke heats up a bit, and the retrohale moves from black pepper to a generic spiciness. The palate is still dominated by bitter chocolate and charcoal. Enjoyable, yes, but not balanced, which makes me wonder if a slightly larger ring gauge would suite this blend more.
Conclusion
The latelier mad54 had some very enjoyable moments, particularly in the second third. The smoke is extremely rich and decently complex, but struggles to find a balance between the heavy charcoal and and the sweeter notes. This would make a great cigar after a heavy steak dinner. Even then, though, I think there are better options even for that occasion.
Final Score: 86