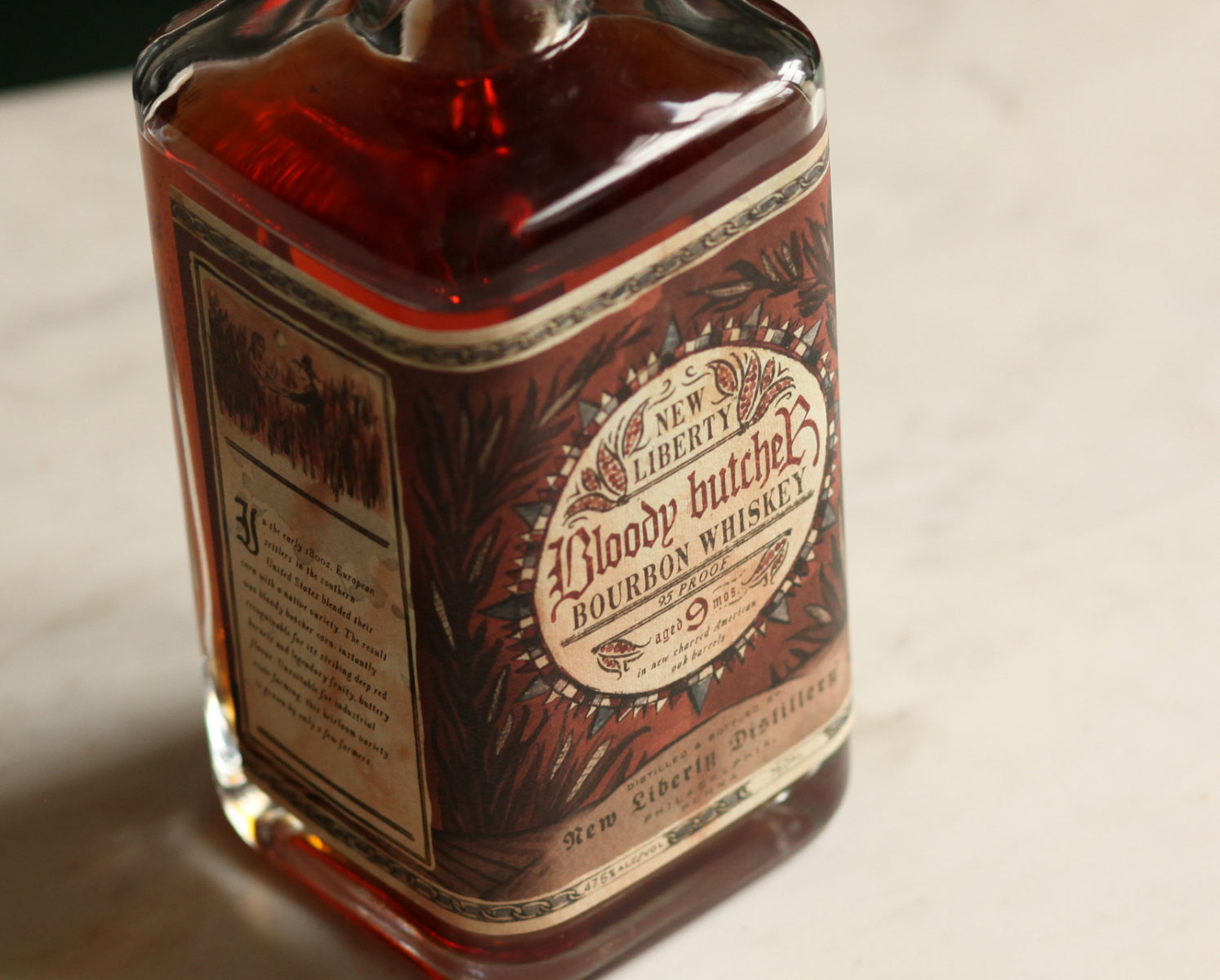 Bloody Butcher Bourbon from New Liberty Distillery caught my eye, or more accurately, my ears, a few weeks ago on a visit to Park Ave spirits in Midtown. I heard one of the salesman giving a heartfelt recommendation to try Bloody Butcher Bourbon, so after the other customer stepped aside I snatched one of these beautiful bottles up.
The claim to fame for this particular whiskey is its use of the bloody butcher varietal of dent corn which has been grown since the 1800s but almost never used for bourbon (Widow Jane distillery is one exception). The corn itself is known for having one of the reddest complexions of any heirloom corn varietal.
New Liberty is also unique among many distilleries in that it is located not outside of town next to a solitary river but just a few minutes from downtown Philadelphia. The building that houses the distillery's still and rick house was once a stable, presumably for the pre-automobile transportation industry.

Product Specifics
Producer: New liberty Distillery
Mashbill: corn, barley, rye
ABV: 47.5% (93 proof)
Age: 9 months
Aged in: new charred American oak barrels
Here's what the New Deal Distillery website has to say about Bloody Butcher Bourbon:
In the early 1800s, European settlers in the southern United States blended their corn with a native variety. The result was Bloody Butcher corn: instantly recognizable for its striking deep red kernels and legendary fruity, buttery flavor. Unsuitable for industrial scale farming, this heirloom variety is grown by only a few farmers.

New Liberty Bloody Butcher Bourbon celebrates our nation's early agricultural heritage. We sourced Bloody Butcher corn from Castle Valley Mill in Doylestown, PA, just 25 miles from our distillery, and combined it with malted rye and barley from Deer Creek Malthouse. This blend of corn, barley, and rye gives the bourbon a balanced flavor, with notes of milk chocolate, butter, leather, and stone fruit on the palate, and a dry spice on the finish.

Appearance
As you can see, in the glass the whiskey has a bright, full gold appearance with just a touch of reddish amber. In the bottle, it is a deep red, similar to stained cherry wood. The shape of the bottle is fairly straightforward, but it sports a really beautiful paper label decorated with a dark red corn motif.
Nose
A really nice nose, quite unique for a bourbon. Stone fruits up front, with additional chocolate chunks, oak, and maraschino cherry aromas. Unlike most bourbons which are very caramel/vanilla forward on the nose, this is a more fruit-forward whiskey which I like a lot.
Palate
Very similar to the nose. Bloody Butcher bourbon starts off on the palate with some oak and light vanilla notes. As the liquid coats the palate, the heavier fruit notes come into play, alongside some leather and a generic corn flavor. Above any others I get a nice dark cherry note which complements the more traditional bourbon notes immensely.
Overall, the flavor profile is unlike any other bourbon I've ever had.
Finish
The finish is where this whiskey shows its youth. There's quite a bit of ethanol burn, along with vanilla, rye and some nice spiciness.
Conclusion
Bloody Butcher bourbon is a solid "buy" recommendation from me, particularly if you're into bourbon and even more particularly if you are a follower of the American boutique whiskey scene. The flavor profile is truly unique among bourbons. I loved the cherry influence on the nose and palate.
The uniqueness of this whiskey reminds me a bit of the Copper Fox Peachwood American Single Malt. Though the two share nothing in terms of flavor or character, they both set out to produce something really unique on the whiskey scene, and both succeed (Bloody Bourbon more than CF Peachwood).
All that said, I think that a much older, carefully crafted whiskey using a similar set of ingredients could make for a truly mind-blowing American whiskey, so I'll be looking forward to further releases from New Liberty.
Final Score: 90