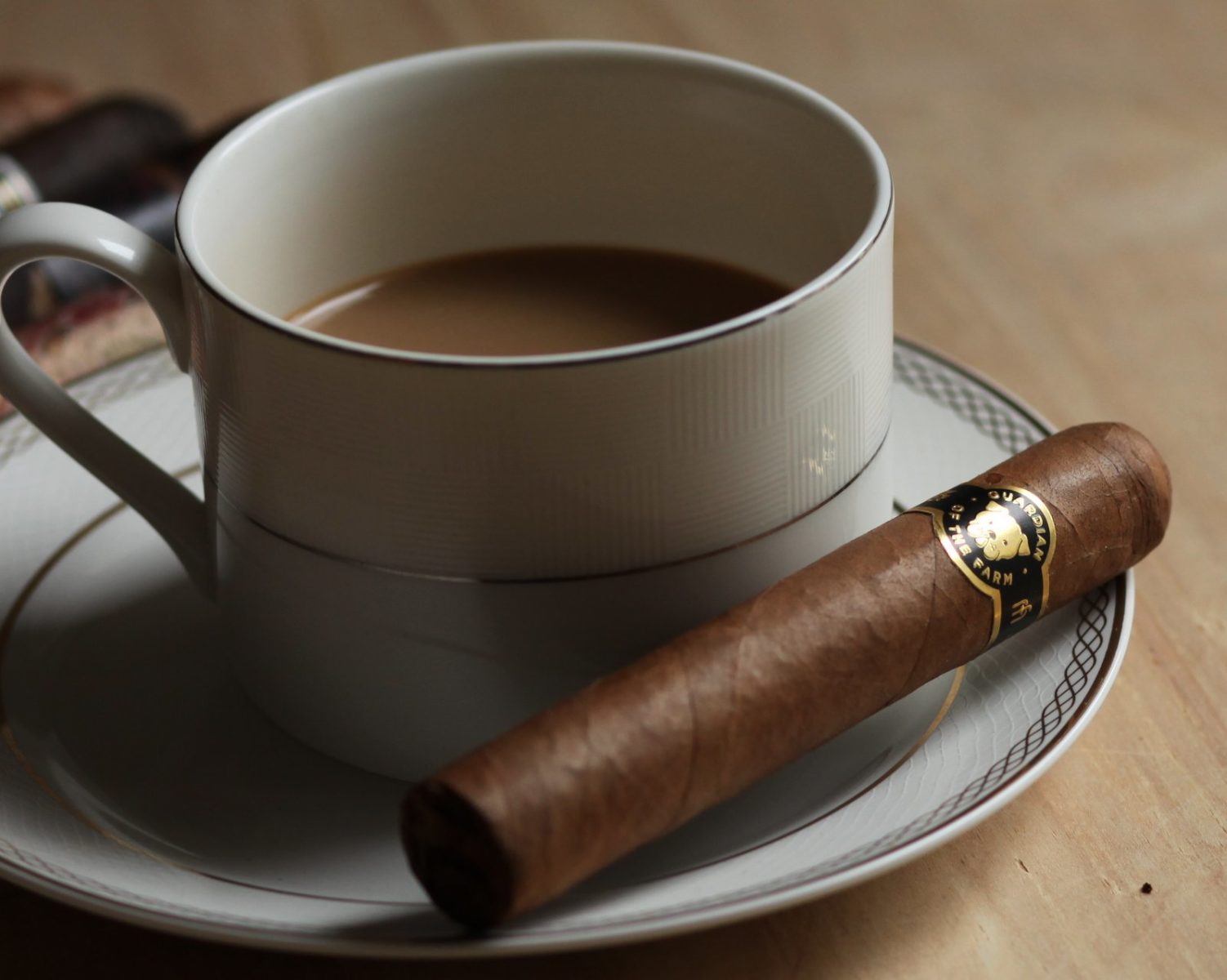 Brand owner Kyle Gellis owner of Warped Cigars collaborated with Max Fernandez of Casa Fernandez to create The Guardian of the Farm. The cigar pays homage to their dogs who live on the farm and "secure" its perimeters. Much more than just a fun attachment to their pets, the Guardian of the Farm is a well crafted cigar with serious flavor. This Nicaraguan puro once again demonstrates why the country continues to deliver some of the best smokes out there.
Blend Specifics
Cigar Reviewed: The Guardian of the Farm
Wrapper: Nicaraguan
Binder: Nicaraguan
Filler: Nicaraguan
Size: 5 1/4 x 50 (JJ)
Appearance and Construction
The Guardian of The Farm band is simple in it's labeling, with "Guardian of the Farm" and a basic picture of a bulldog in the center. The understated band is a refreshing change from many of the flashier bands out there. The cigar is firm to the touch with just the right amount of heft and full of tobacco. There are some veins to this slightly light shaded wrapper which doesn't detract from the apparent quality.
Flavor and Smoke Characteristics
Upon first lighting the Guardian you are hit with a lot of spice that's more Indian spice than pepper. The distinct taste of cardamom gives that citrus and spice character to start. The spice tapers off rather quickly to reveal leathery and savory notes.  The mouthfeel intertwines cedar and toast that coats the palate. The changes in this cigar from its onset are moving rather quickly.
The second half of the Guardian becomes rather silky on the palate with creamy and buttery notes. The spice soon returns along with earth and a swath of fresh tobacco. The flavors become really pronounced at this point with earth dominating along some salinity. The finish is of almond and wood.
The final third is where spice and leather return with a bit of drying on the palate. The toast picks up as well as a touch of minerality. Increased citrus along with leather keep this cigar interesting at its end. Cardamon returns with a coating of cedar that rounds out the final profile. The finish delivers much of the how this cigar began.
Conclusion
While the Guardian of the Farm does not deliver the most complexity I've experienced, the taste profile is quite satisfying. From spice to leather and earth, the style of this cigar hit the spot for me. I have enjoyed a lot of what Warped has put out and this smoke is an addition to the portfolio that differentiates rather than homogenizes itself into the other lines. I recommend this farm style cigar as another example of the various choices Warped offers its consumers.