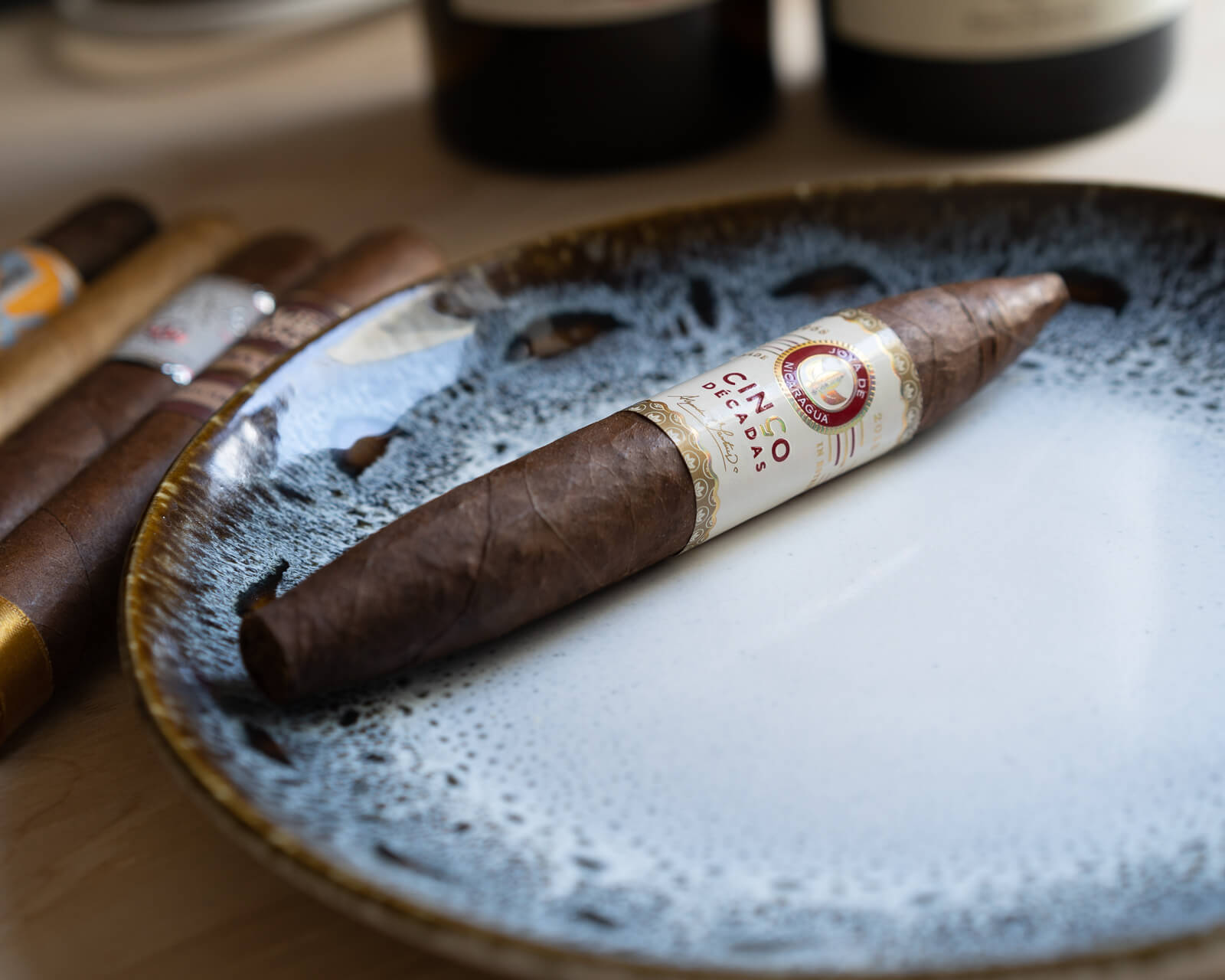 The Joya de Nicaragua Cinco Décadas celebrates the 50th anniversary of Joya de Nicaragua cigars, the first cigar producer in Nicaragua. Dr. Alejandro Martínez Cuenca, the company's owner and chairman, described the cigar in the following way:
"This cigar is intended to celebrate a special moment in our company's history and offer an opportunity to pause, reflect, give thanks – and look to the future. It is our most memorable milestone yet and the most memorable of celebrations always require that you rise to the occasion. That's what Cinco Decadas represents. We want consumers to know that in Cinco Decadas, they will find a cigar so premium that the fact that there's one in the humidor, will be enough to celebrate."
That last line strikes me as a bit gutsy, and of course is why we're here reviewing the cigar today. It's also fascinating that this cigar doesn't have blend information released, though all tobaccos would logically hail from Nicaragua.
Product Specifics
Cigar Reviewed: Joya de Nicaragua Cinco Décadas Diadema
Wrapper: Undisclosed
Binder: Undisclosed
Filler: Undisclosed
Size: 5 x 54 Diadema

Appearance & Constructions
The Cinco Décadas is presented with a flawless dark brown wrapper. Minimal veins and a light oily sheen. The band hangs together nicely as well. It is quite ornate, with gold, red, and cream as the dominant colors and a large "50 ANIVERSARIO" designation on the back.
After using a straight cut, I test the draw which is about a 7/10 in terms of restrictiveness. The cold draw is a mix of oak, fallen leaves, granola, earth and raisins. The foot smells similarly, though with more wood influence.
Flavor & Smoke Characteristics
As I light the cigar using a soft flame, it's immediately apparent that producing smoke on this cigar could be challenging. I have to puff four or five times to produce even an average amount of smoke. I'm hoping this is mainly the result of the tapering, because it's very frustrating.
When I am able to experience the smoke, it is dark and rich, with a backbone of charred oak, charcoal, leather, and bitter espresso. The aroma is another story, with sweet cream, cocoa and wood. The retrohale is very smooth and understated, mostly channeling the charcoal from the palate. Strength and body wise, it isn't far above mild, which is surprising given the size and darkness of the wrapper.
Half an inch in, the draw opens up and smoke production ramps up (thank God!).
And what a difference it makes. The bitterness tones way down, becoming much more balanced with sweeter notes of cinnamon, cream, cocoa and raisins. On the retrohale, the charcoal is joined by light baking spices and fresh bread. Overall, the smoke remains light and elegant, with constantly improving smoke production.
In the second third, the balance of flavors really hits its stride, with strength and body both at medium. Each puff enters sweet and creamy, with tangy and bitter notes adding depth and finesse that keeps the cigar interesting. There's a lot going on: sweet cream and cocoa on entry, followed immediately by wood, baking spices and leather on the tip of the tongue and bitter espresso and charcoal on the retrohale. Construction never wavers, with the burn remaining straight and the ash holding for an inch and a half on average. I can't imagine a smoker who wouldn't appreciate the experience that the Cinco Décadas has provided up to this point.
As the cigar burns into the final third, strength increases to above medium, and the profile becomes more potent. The balance of flavors with each puff, sometimes favoring bitter, other times sweet, and still others spicy. It's a hell of an experience.
The final inch of the cigar moves into full strength territory, dominated by wood, dark chocolate, charcoal and baking spices. A marvelous finish.
Conclusion
The Joya de Nicaragua Cinco Décadas presents a flavor profile that no JdN fan could miss: dark oak and charcoal, creamy cocoa, leather, and light spiciness. What Cinco Décadas achieves is to take the JdN flavor profile that we know and love and elevate it into the realm of art. I know that is high praise, but it is true, particularly given the cigar's sheer complexity and balance.
Still, the Cinco Décadas is not without flaws, struggling initially to produce adequate smoke–a flaw I've encountered more frequently with Joya de Nicaragua cigars in 2018 than I'd like to admit.
Overall, construction issues can't stop the Cinco Décadas from achieving an enviable score, and one that all but guarantees it a spot on our Top 10 of 2018 list.
Final Score: 93