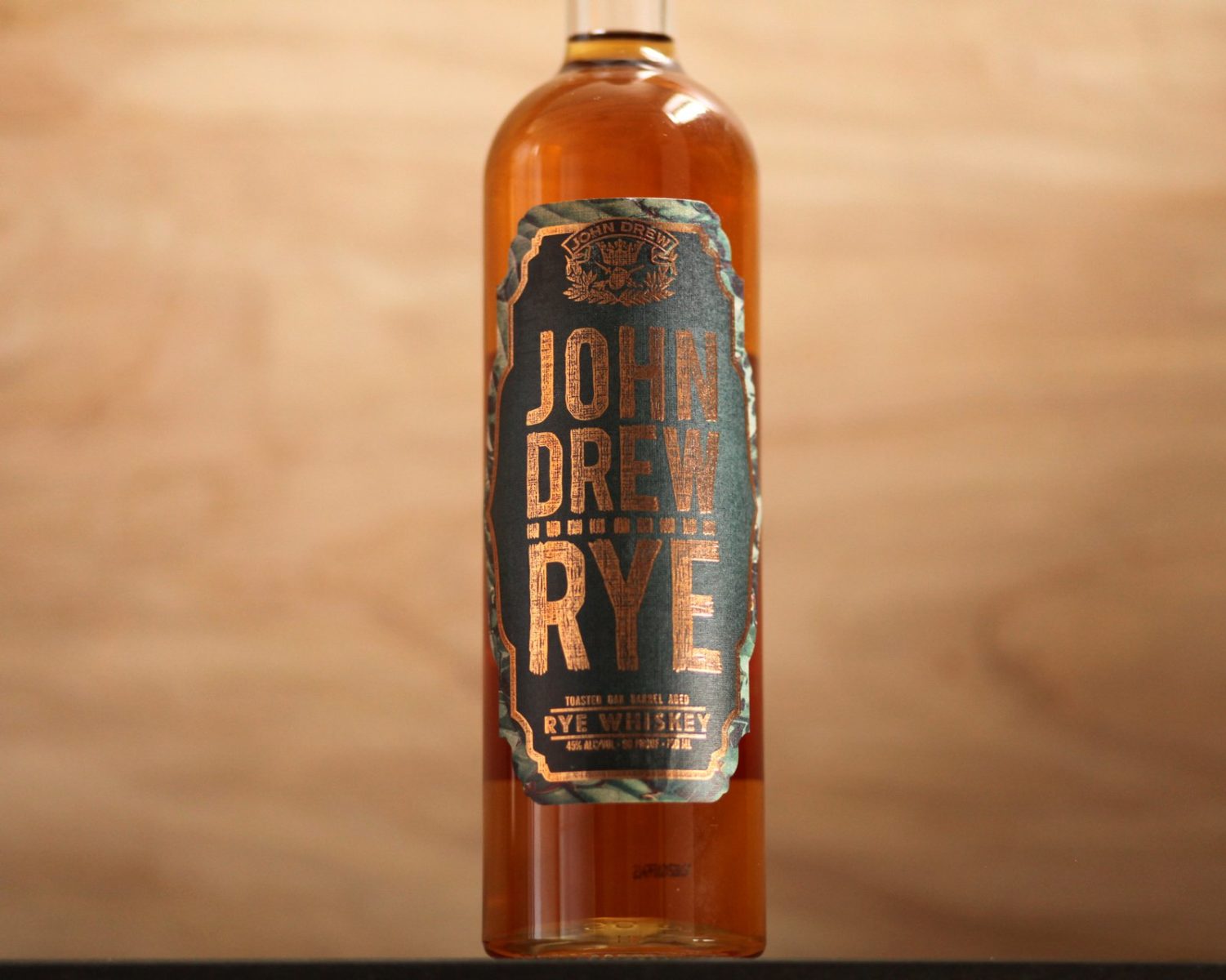 John Drew Rye is the second John Drew Brands spirit reviewed on Fine Tobacco NYC. We recently reviewed the Brixton Mash Destroyer, a rum/bourbon blend which is a damn nice dram, if a bit eccentric.
The John Drew Rye isn't quite as ambitious an undertaking as the Mash Destroyer. It's aged four years in "Specially Toasted" oak barrels. Not sure what "Specially Toasted" means in this context, but it reminds me of the brilliantly vague marketing strategy for Lucky Strike in Mad Men S1 E1: "Lucky Strike. It's toasted."
In any case, I'll say up front that John Drew Brands provided this bottle for review. Hats off to you guys, we appreciate it.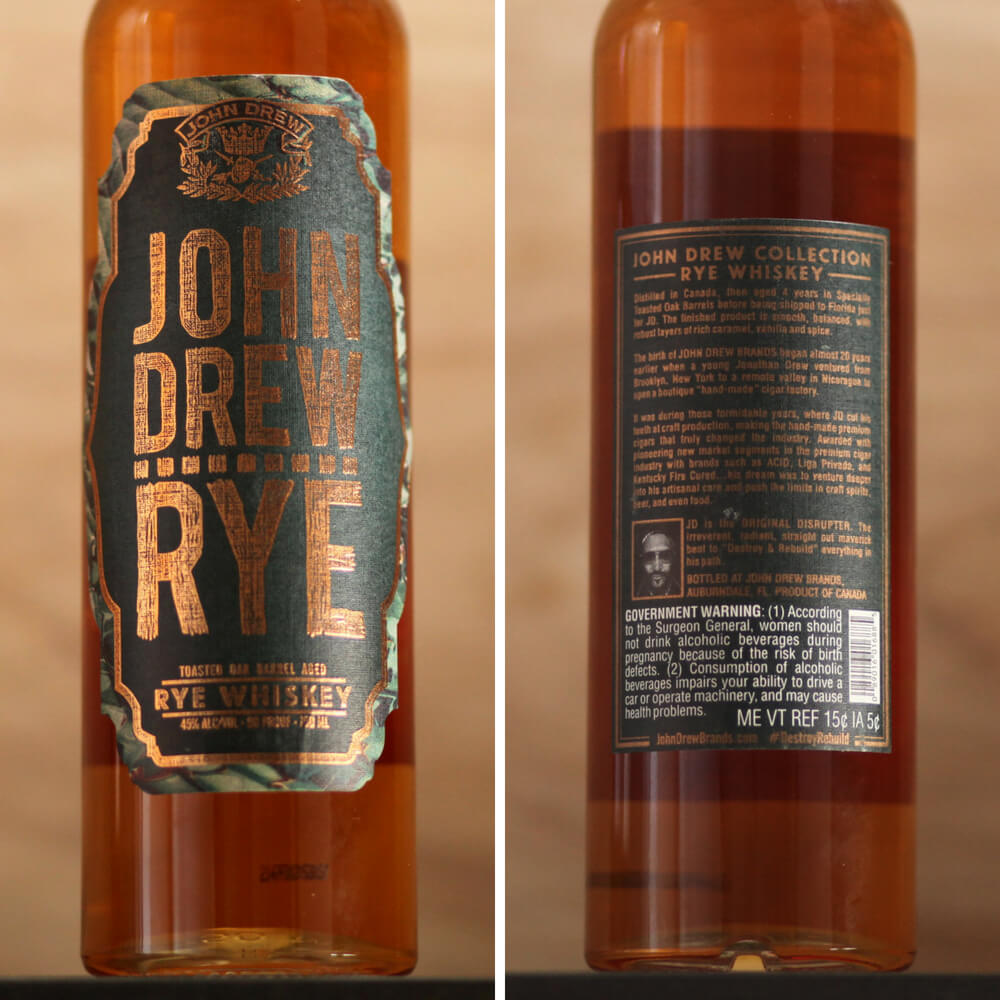 Product Specifics
Whiskey Reviewed: John Drew Rye
Distiller: unknown
Whiskey type: Canadian Rye
Age: 4 years
ABV: 45%
Strange factoid. The John Drew Brands website states of John Drew Rye:
John Drew Collection "Rye Whiskey" was distilled in Alberta, Canada, then aged in Oak Barrels for 4 years before being shipped to Florida and held for Jonathan Drew for an additional three years…
I'll be honest, the one thing that is a bit unsettling about this description is the note about the whiskey being "held for Jonathan Drew for an additional three years." What the hell does that mean? From a marketing standpoint, it certainly sounds like a way of implying 3 additional years of age. Why even note that the whiskey is "held" anywhere if it isn't actually being aged? I don't have an answer to that question, but it is marketing language that should probably be abandoned (and I'll note that it isn't included on the bottle itself).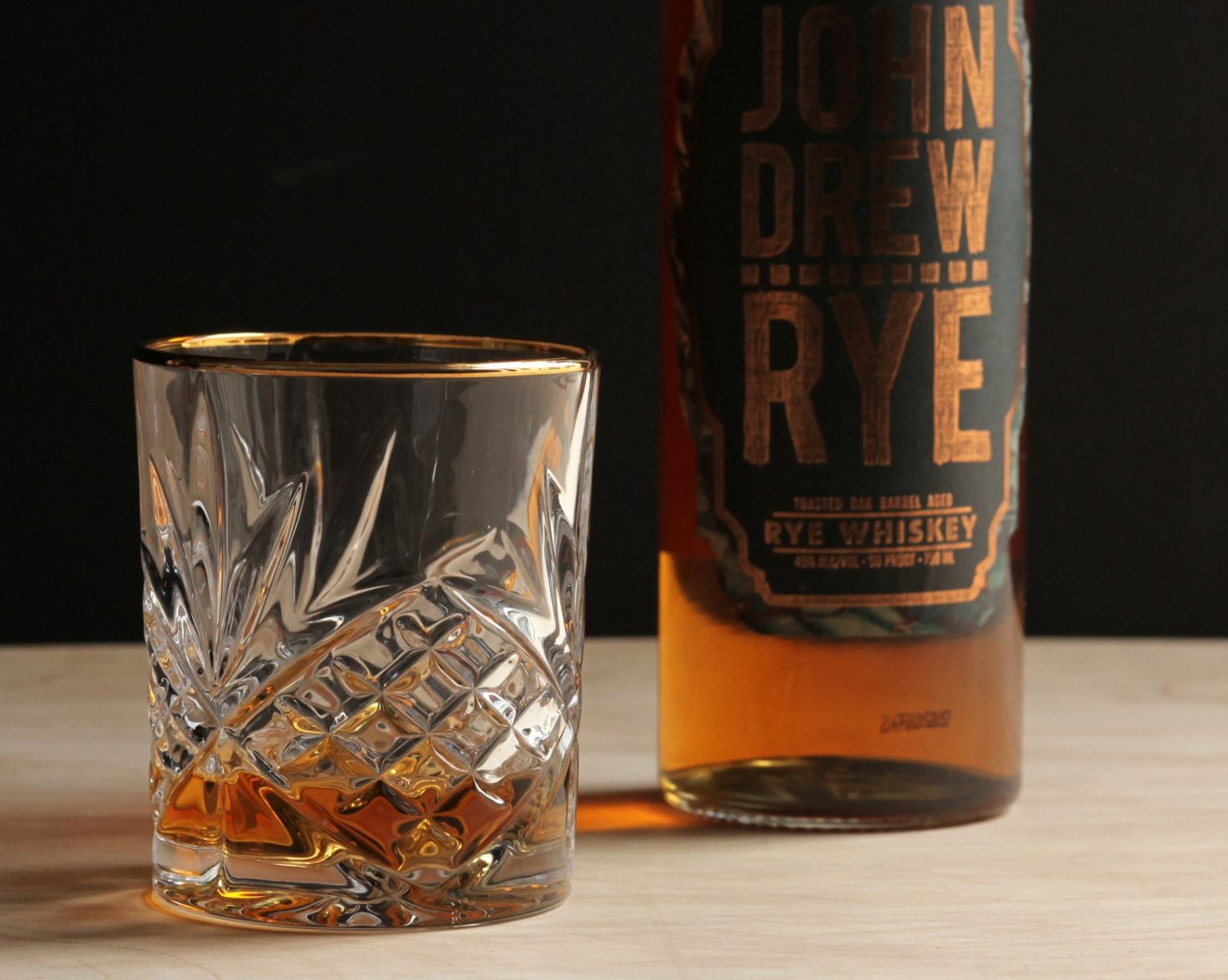 Appearance
As with any John Drew product, the branding is absolutely spot on. I don't know anyone who gets presentation right the way JD does on every product he makes. The textured paper label features bold copper-toned lettering and it's absolutely a bottle that will stand out on any shelf.
In the glass, the John Drew Rye is a warm, golden color.
Nose
Taking a whiff off of the rim of the glass, I'm surprised and overwhelmed by vanilla. There are some standard rye spice notes, along with some butter, oak, and a faint plastic smell, but everything is overwhelmed by sweet, sweet vanilla.
If you like vanilla, you'll enjoy the smell of this whiskey. It's just a bummer that vanilla dominates the show to the degree that it does.
Palate
As I take another sip, the vanilla once again takes front and center for most of the experience on the tongue. As other reviewers have noted, the mouthfeel is nice, but the whiskey itself lacks complexity.
Finish
The finish is decently long, with a bit of spice and some lingering peanut notes. It's not a particularly clean finish, lingering with a yeasty note for a bit too long.
Conclusion
As you might have guessed, I'm a bit disappointed that there isn't more going on with John Drew Rye. Vanilla dominates almost every aspect of the experience. If you're going for a flavored/infused whiskey, that's one thing. But if you're selling a premium aged rye whiskey, then it simply has to be better (more complexity, more flavor, more clarity). Especially priced at ~$50.
John Drew Rye thus receives a score of 78. It has some nice qualities (mainly texture), but falls flat because of its overly sweet character.
Final Score: 78