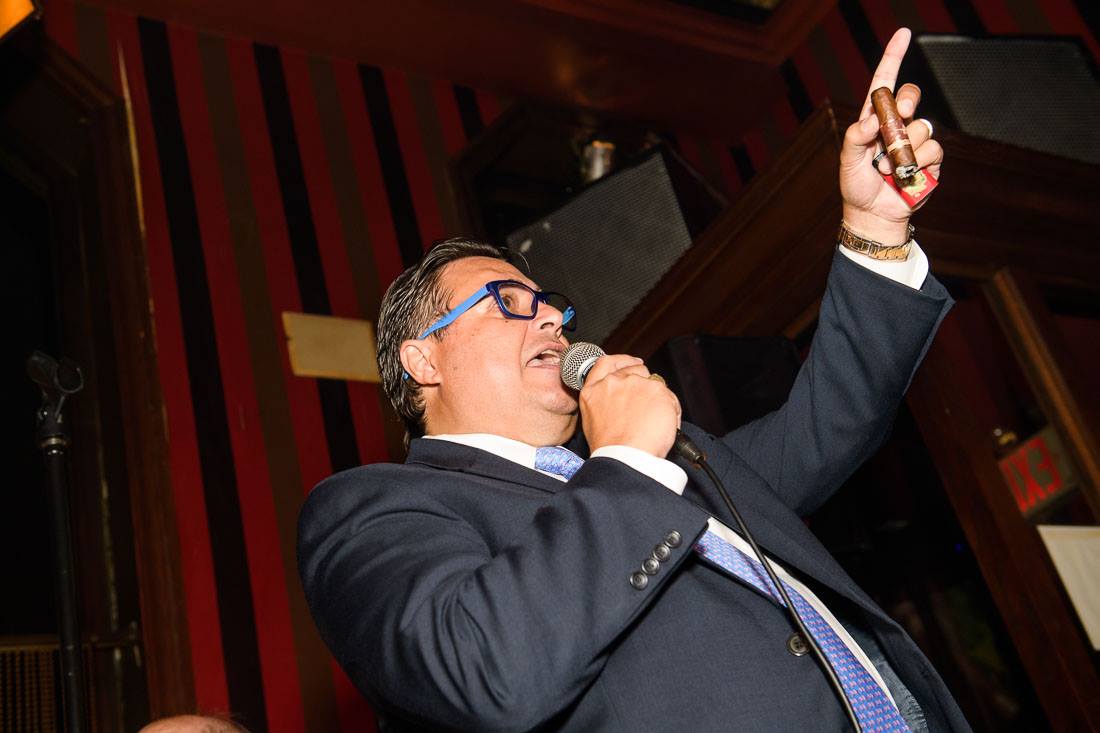 Editors Note: the following is the first in a series of articles focused on blenders, makers, and growers in the art and process of cigars. 
This article is about legendary cigar blender Rafael Nodal, owner of Boutique Blends Cigars and currentl Head of Product Capability at Tabacalera USA. The article is written from two points of view: that of Stephen Tesher, a new lover of great cigars (The Newbie) and Andrew Perelson (The Enthusiast).
Andrew Perelson: The Enthusiast
One autumn day around six years ago on the train heading into Manhattan for a couple of client meetings, I realized I would have time (lots) between customer meetings. So I searched up the nearest decent cigar retailer on Wall Street which happened to be Barclay Rex (now moved to Pearl St).  This particular NYC retailer is on par with the Davidoff experience.  Truthfully, my budget is never much and I usually look to buy only what I will be smoking and, if I love it, a couple of more for the humidor.
As I entered, I saw a well-dressed gentleman fronting several beautiful looking boxes of smokes.  He greeted me saying, "My name is Rafael and I have a small brand called Aging Room. Would you like to try some of my cigars?" After measuring me up like a good tailor with some questions about preferences he suggested his Aging Room Quattro F-55.  I looked around and realized I was one of only two customers in the premises; the other was in the lounge yacking away loudly on a cell phone (probably selling his Myspace shares).
The first thing about Rafael Nodal you notice is he smokes a cigar like most people drink an extremely fine wine or whisky.  He keeps it lit perfectly and the most persnickety person could not ever think of telling him to put it out.  I am pretty sure he could smoke a cigar with no interruption on the Capitol Veranda or in the lobby of the St. Regis without anyone blinking.
As we all know, a great cigar stirs great thoughts. I told him I had been sitting on many questions about the industry, and asked if he would mind discussing some of them.  He listened graciously and provided the level of detail only rivaled by a passionate professor. For my questions, I started slow, asking where he sourced his tobacco and where he made his cigars. Then I moved into his "who's who" of who he works with and how those relationships improve his product. I also asked about how a cigar goes to market. The conversation lasted two cigars (for me…his just kept going).
This conversation introduced me to a level of product excellence that I didn't know existed. I knew he could continue answering questions, but I had enough to chew on and some notes I would research when I hit my home office.
Beyond his expertise, I learned we had in common a love of great music and the ability to play (he classically and me rock/punk), as well as personal rule of putting family first. He is not political, but he is a patriot.  He told me how he came to this country on a flotilla from Cuba as a young man and how he wakes up each day knowing the opportunities this country provides are the stuff of dreams.  He spends those moments when he is not "preaching" just relaxing with family, looking at the ocean, or visiting the opera. It's clear to me now that my passion for cigars and everything behind them was launched by a desire to be a Rafael Nodal superfan.
Before I left, I went to the desk and counted all my cash and bought several more cigars not knowing when I would find more. Right before I walked out the door to my next appointment, I asked Rafael if I could friend him on Facebook.  To my surprise, he said yes. This is how we have kept in touch for these years.  I realized he had a hobby of living a great life while working on the road and preaching.  I am amazed at what he can squeeze into a day in Dallas, Madrid, or Lyndhurst.  In one of our many meet ups over the years we had snacks and drinks with a couple of lobbyists and Christian Eiroa in DC and after, I found out that the cigar he gave me was the very first Romeo by Aging Room released into the wild. This cigar remains my all-time favorite anywhere.
As Rafael's leadership at Altadis USA grows, I have told him about my desire to again crank up my learning by digging into the Grupo de Maestros from Tabacalero Garcia. I'd also like to understand his strategy for raising an already high bar for the Altadis brands inclusive of H. Upmann, Montecristo, and Romeo y Julieta.  One of the things that is clear to me is that the Altadis brands with the Grupo de Maestros of Tabacalero Garcia (and Flor de Copan) are in the process of performing a transformation led by Rafael and special guests.
Stephen Tesher: The Newbie
On a hot and humid New York summer evening, Andrew and I walk into The Carnegie Club for a cigar event hosted by Matthias Clock and Fine Tobacco NYC. As soon as we enter, it's like we've crossed through time, back to a day when smoking indoors was not only accepted, it was encouraged. The Carnegie Club is a true New York establishment. The greatest Jazz musicians and performers played here, and the place holds on to a time-gone-by, protecting it, preciously and joyously.
Immediately upon entering a stout man plucked an Aging Room Pura Cepa cigar from an open box, snipped the cap with a straight cut, and stuck it in my hands. Without pause, he lights a torch lighter, properly toasts the end of my cigar, and gets the thing going. With one puff I enter 1950's New York. A smoke-filled joint. A jazz band, playing classic standards. A woman's sultry singing. I'm looking for Sinatra, and Jackie Gleason somewhere in the room. Sadly, they're not there. But Rafael Nodal is, and I'm smoking his cigar.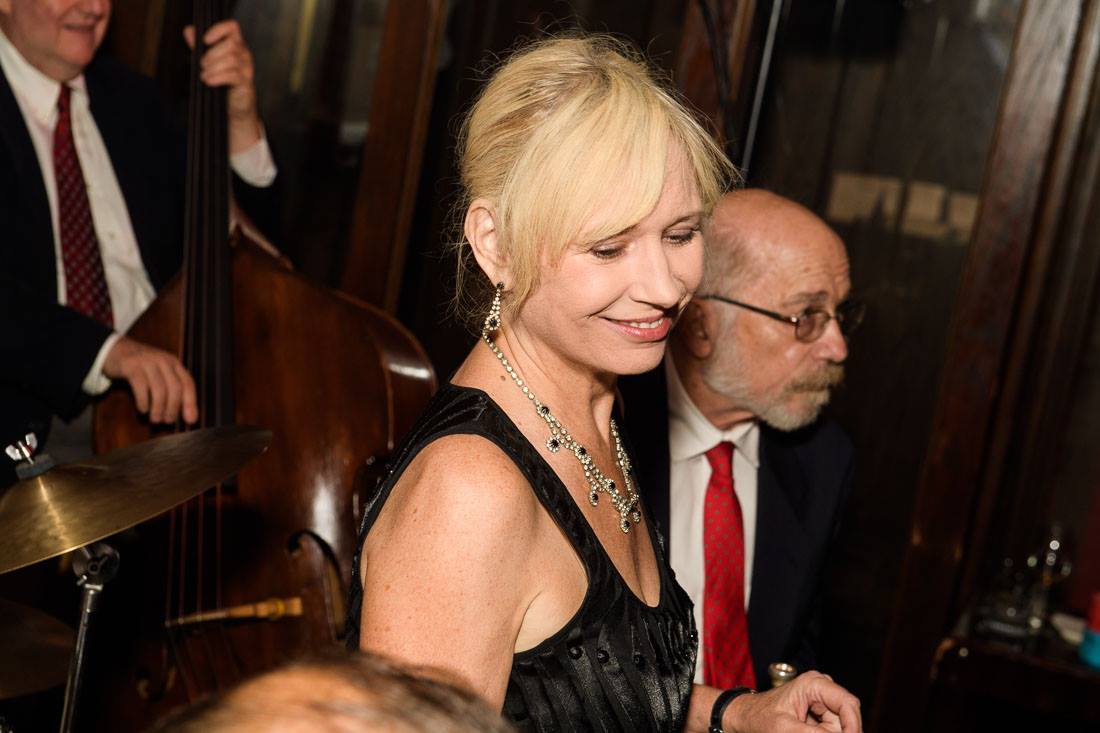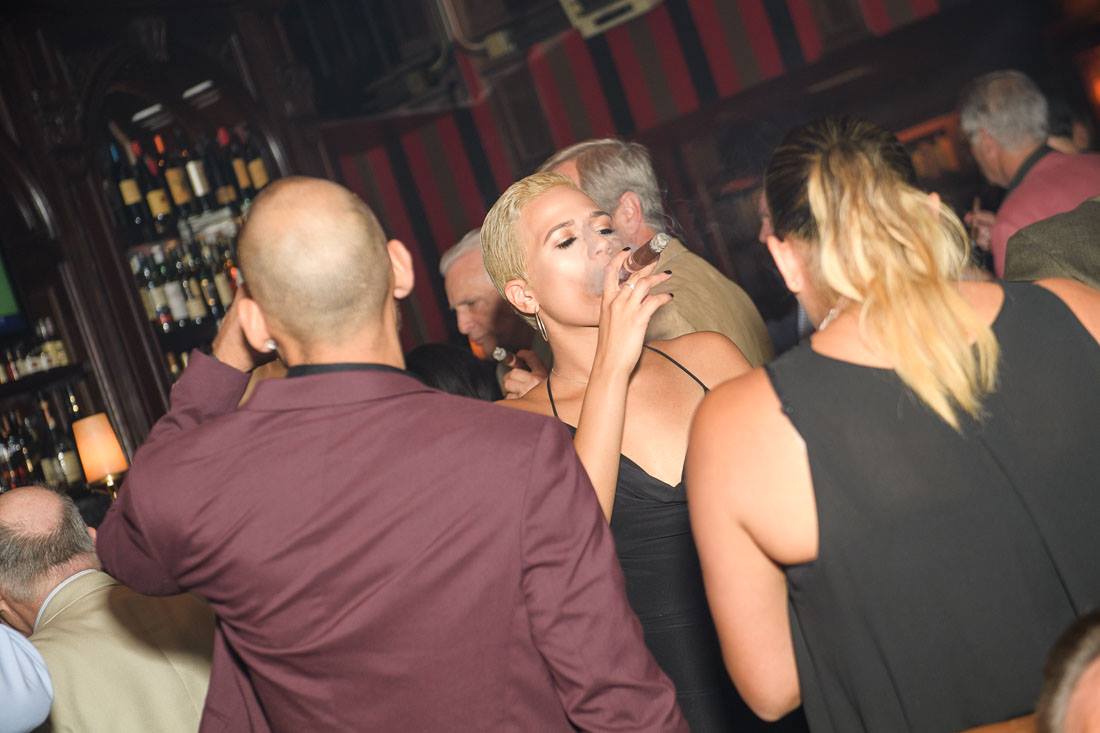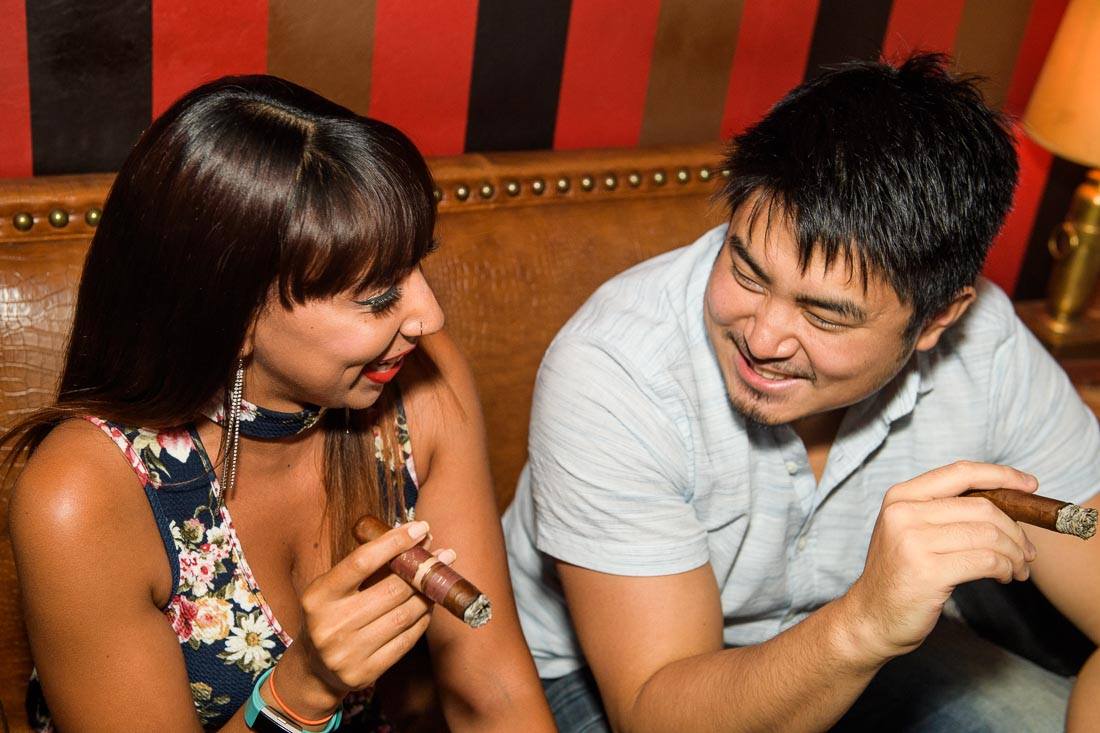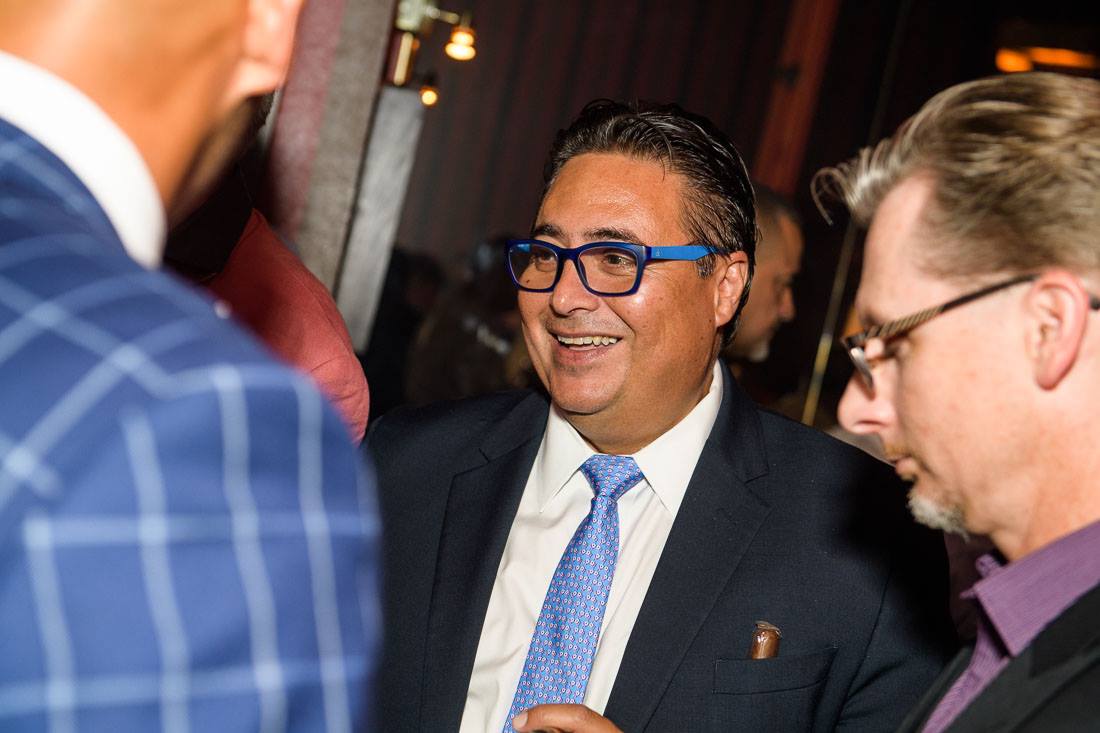 I could feel the legacy of great cigar lovers of yesterday, like Babe Ruth, or Franklin Delano Roosevelt. With plenty of couches and arm chairs, there isn't a bad seat in the house. The place was full. Mostly with men and a couple of ladies. Guys in suits, or business casual. Some in a t-shirt, but most dressed respectably. This is where a sophisticated working man comes to relax, have a drink, maybe meet a girl who like cigars, too.
Andrew's filled me in on Rafael Nodal. Andrew has a talent for painting people as larger than life figures. He is truly fascinated by people and sees the best in them. It's a gift that makes him a great salesman, and a great friend. In this case, Rafael met the description. He was generous and warm. Hanging with the cigar-smoking men of New York City is not my comfort zone, but Rafael eased me in, and made me feel part of the greater cigar-lovers family.
The Aging Room brand and its parent Boutique Blends are Rafael's creation and his stewardship is noticeable in each release under Altadis distribution.  Moreover, the Pura Cepa was made by his colleague and friend Nestor Plasencia for Boutique Blends.
As an apprentice of the art of cigar appreciation, I found this blend to be magnificent. Its flavor and intensity remained consistent and complex from end to end. It's a smooth smoke, less peppery than most of similar strength; velvety by intent, but not thick on the palette. I can tell you it paired wonderfully with the house Ginger Ale and a bottle of Pelegrino.
What's What and Who's Who with Rafael Nodal
His Company: Boutique Brands
His Distribution and Partnership:  Tabacalera USA and their Altadis division
His personal brands:  Aging Room, La Boheme, Swag, Oliveros plus the Altadis brands as he is integral to their direction
Home: Miami
His makers: Tabacalera Palma, Tabacalera de Garcia in Dominican Republic, and Plasencia S.A., and A.J. Fernandez in Nicaragua
Hobbies: Road Warrior, Cuban Coffee, Cooking, and Music
His people: His awesome wife Alina, sons Carlos and Rafael A. Nodal, Abdel  Yousef Fernandez, Grupo De Maestros de Garcia, Jochy Blanco, Nestor Plasencia, and EPC (Ernesto Carillo)
About the Authors
Andrew Perelson has been creating innovation and concepts for technically focused businesses for 25 years.  He also has some easily identified passions like his wife, kids, and family.  In the summer he splits time between Metropolitan New York and the Adirondacks where he gets to pursue a boat that runs, great cigars, and a campfire.
Stephen Tesher is a writer and educator. He writes plays, screenplays and novels. He writes a column for ProFootballTalkLine.com and maintains a blog called Teshtalk.com. Tesher is currently co-authoring a book about Universal Design for Learning (UDL) for EdTechTeam due out in early 2019. As an educator, he would like to tear apart the entire system and start over, making education meaningful in the lives of students and teachers. Until that happens, he creates real-world learning opportunities that make a positive effect in the lives of his students. As far as cigars are concerned, Stephen Tesher blames Andrew Perelson for introducing him to the world of fine tobaccos.